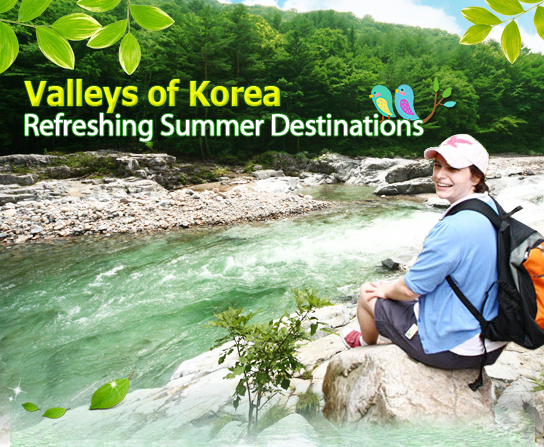 Last weekend, the temperatures were climbing and I desperately needed a break from the city and a chance to get a breath of fresh air. After poking around a bit on my own, I sought the help of a few of my Korean friends, who suggested that I go and explore some of Korea's valleys.

My friends had come through big time! With their cool shaded groves and icy mountainside streams, these valley destinations were exactly what I had been looking for. Not just a green and leafy getaway, valleys offer plenty of activities such as camping, fishing, and even sports like wakeboarding. Of course, you have to make sure you leave time for a leisurely stroll or a nap by the stream.

There are several scenic valleys not far from Seoul, but those of you who are willing to travel the extra distance to Baekdam Valley will definitely be rewarded for your efforts by the valley's natural splendor. Korea is covered with beautiful mountains, so there are plenty of valleys to discover in addition to the ones I've listed below. So put on your comfortable trekking shoes and let's explore!


Yongmunsan Valley: Thousands of years of history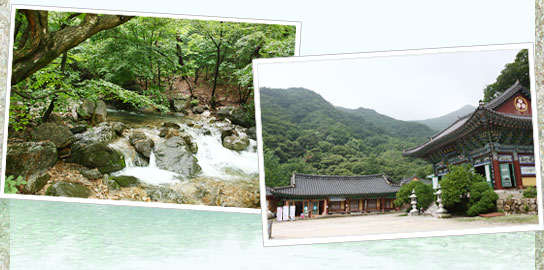 The first stop on my itinerary was Yongmunsan Valley, which is located in Gyeonggi-do Province around an hour and a half from Seoul. Even though the temperatures were hot, the valley was covered in pine trees, ferns, and all kinds of leafy greens. I felt cooler the moment I stepped into the shade.

If you follow a path deep into the valley, you will end up at Yongmunsa Temple. There's a charming teahouse from which you can watch the monks chanting and sweeping the temple courtyard, a scene that hasn't changed for over a thousand years. Standing high overlooking the valley and the temple is probably the most famous tree in Korea. At 60m high it is the largest ginkgo tree in Asia. It is around 1100 years old and is said to have been planted by the last king of the Silla dynasty. The tree has great spiritual importance to Koreans, and during his reign, King Sejong even gave the tree an official rank (the 3rd rank), which is normally only given to people.

Nestled at the top of the valley, with the icy stream rushing beneath it, Yongmunsa Temple is a world away from the bustle of Seoul. To truly experience the tranquility of the place, try the "temple stay" program, where you'll learn how to meditate under the shade of the gingko tree.

Yongmunsan Valley has several hiking routes and also a unique 70s-style theme park, which the kids are sure to enjoy.


☞ Address: Gyeonggi-do Yangpyeong-gun Yongmun-myeon Sinjeom-ri
☞ Admission Fees:
Adults: 1,800won / Youth (13-19 years old): 1,200won / Children: 900won
(Group discounts are available)
☞ Lodging Facilities: Recreational Forest
4-5 people: 35,000-50,000 won / 6-7 people: 45,000-60,000 won
* Prices may vary by day of the week and season.
Reservations can be made at www.ypforest.com (Korean)
☞ Transportation:
① Direct Bus: Seoul to Yongmunsan Valley
Direct buses run from Dong Seoul Bus Terminal (Gangbyeon Station, Subway Line 2) twice a day (08:40 & 14:20), cost: 7,400won, travel time: 1hr, 20mins.
②
* Seoul to Yongmun
Take a bus from Dong Seoul Bus Terminal to Yongmun Bus Terminal.
Buses run at 10-40 minute intervals, cost: 6,100won, travel time: 1hr.
* Yongmun to Yongmunsan Valley
From Yongmunsan Bus Terminal, take a local bus to Yongmunsan Valley.
15 times a day (07:10 – 20:50), cost: 1,000 won.
☞ More Info: Homepage www.ypforest.com (Korean)


>> Yongmunsa Temple Stay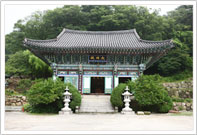 Yongmunsa Temple runs its temple stay program year round. Visitors can choose several different program lengths: 1 night, 2days (40,000 won); 2 nights, 3 days (80,000 won); or 3 nights, 4 days (120,000 won). English instruction can be provided if visitors make a reservation in advance.

Yongmunsa Temple Homepage:

www.yongmunsa.org

(Korean)
Temple Stay Reservation:

www.templestay.com

(Korean, English, Japanese, Chinese, French, German, Spanish)
Inquiries: +82-31-773-3797

Jungwon Valley: Waterfall Hideout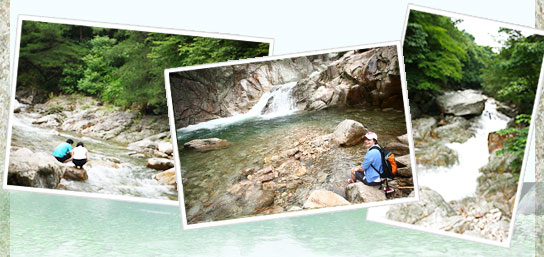 For those travelers looking for a good day trip from Seoul, an alternative to Yongmun Valley is Jungwon Valley. Yongmun and Jungwon valleys are both located in Yangpyeong County, a particularly picturesque rural part of Gyeonggi Province. As you approach Jungwon Valley you will pass rice fields with the occasional white stork and mountains rising up in the distance. Jungwon Valley is smaller in scale than Yongmun Valley, but a short walk will bring you to a rather impressive waterfall. The day before I visited, there had been heavy rain, and torrents of water were hurtling down the valley. Jungwon Valley is a must for nature enthusiasts. The valley has been largely untouched; there are no concrete paths or electric lights, just masses of wild plants. At one point when walking to the waterfall, I was suddenly surrounded by a cloud of butterflies. At the entrance to the valley, the river is shallow and slow-flowing making it the perfect place to splash around and cool off in the summer heat. On the weekends, the river is buzzing with families having picnics and children playing on inflatable rafts, which you can buy at the nearby convenience store.


☞ Address: Gyeonggi-do Yangpyeong-gun Yongmun-myeon Jungwon-ri
☞ Admission Fees: Adults: 2,000 won / Children: 1,000 won
☞ Lodging facilities:
There are plenty of guesthouses and minbaks located close to Jungwon Valley. For hotels in Yangpyeong County, check out this link.
☞ Transportation:
* Seoul to Yangpyeong
From Dong Seoul Bus Terminal (Gangbyeon Station, Subway Line 2), take a bus to Yangpyeong Bus Terminal. Buses run every 10-40 minutes, cost: 5,100won, travel time: 50 minutes.
* Yangpyeong to Jungwon Valley
From Yangpyeong Bus Terminal, take a local bus Jungwon Valley. Buses run 6 times a day.
Yangpyeong Tourism Homepage: www.yp21.net (Korean, English, Japanese, Chinese)
Baekdam Valley – Inspirational Nature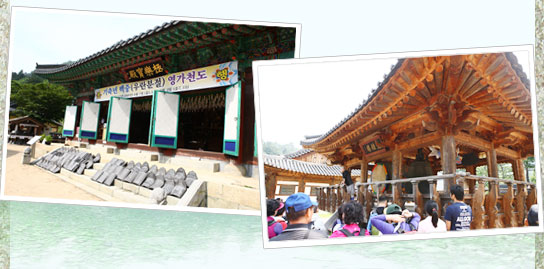 Baekdam Valley, located in Inner Seoraksan National Park, is so pristine and revered for its beauty that cars are not even allowed to enter. Visitors have to take a shuttle bus, which hurtles around sharp bends and past dramatic scenery before arriving at Baekdamsa Temple. Baekdamsa Temple's history dates back 1500 years, and you would be hard pushed to find a more splendid and remote temple location. The buildings are simple, but the eaves of the roofs are decorated with paintings of lotus flowers. When I arrived the morning mist still clung to the valley, and a monk was playing the drum in a morning ceremony. Baekdamsa Temple is a popular place for doing a temple stay program, and English services are provided for groups. The temple was the residence of Han Yong-un (Manhae), one of Korea's most famous poets, and it's not hard to see where he got his inspiration from.


Nothing quite prepares you for the majesty of Baekdam Valley. The river, which at some points is up to 100m wide, dashes around colossal prehistoric boulders and rugged forest-clad mountains stretch into the distance. There is not a house, road, or telegraph pole in sight. From Baekdamsa Temple, there is a pleasant hiking path that runs along the river. As I walked, the river glistened with the rays of the sun, but the path under the forest was cool. There was plenty of wildlife in the area, and we saw chipmunks and plenty of dragonflies. I walked slowly, enjoying what Koreans call "forest bathing", literally having the clean pine-scented air reinvigorate your mind and body. After an hour's walk, I stopped by one of the river's numerous pools and ate my lunch on a rock. It was so relaxing in the dappled shade that I fell asleep. After a while the trail leaves the river and heads up into the mountains. If you keep following the trail, it would eventually take you to the Sokcho entrance of Seoraksan Park. It is about a 2-day hike and would involve spending the night at a mountain hut near the top of a peak, but the scenery is said to be spectacular.


☞ Address: Gangwon-do, Inje-gun, Buk-myeon, Yongdae-ri
☞ Phone: 033-636-7700 (Seoraksan National Park Office)
☞ 1330 tt call center: +82-33-1330 (Korean, English, Japanese, Chinese)
☞ Lodging Facilities: Fine Valley Hotel is located right by the entrance to Baekdam Valley. Rooms start at 40,000won. Website: www.finevalley.co.kr (Korean)
☞ Transportation:
Seoul to Baekdamsa Temple
From Dong Seoul Bus Terminal (Gangbyeon Station, Line 2) take a bus to Baekdamsa Temple. Buses depart every 30–90 minutes, fare: 14,900 won, travel time 2hrs, 30mins.
☞ For more information on Baekdam Valley

Travelers' tips>>
To do a "templestay" at Baekdamsa Temple, you can make a reservation at www.templestay.com (Korean, English, Japanese, Chinese, French, German, Spanish)

>> Camping in Baekdam Valley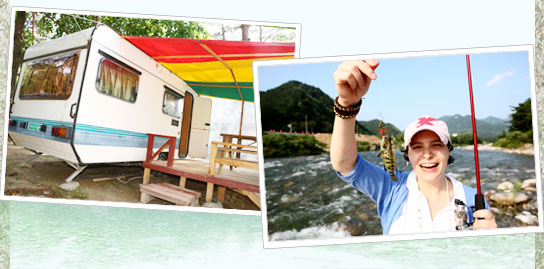 If you want to spend a day in the nature, camping might be one of the best ways to go about doing it. Just outside the gates to Seoraksan Park is Baekdam Caravan Park. The park is located along the river, allowing guests to do camping while enjoying fishing and a refreshing splash. If you're able to prove your skills as a fisherman, you'll be able to cook up your catch using the barbecue grills at the caravan park. Sitting by the river, watching the sun go down, you'll definitely feel your knotted shoulders relax and your cares slip downstream.

Caravan Park

1. Seorak Pinecone Caravan Park
☞ Address: Gangwon-do, Inje-gun, Buk-myeon, Yongdae-ri 1024
☞ Phone: +82-33-463-6114 (Korean)
☞ Prices:
Weekdays: 40,000-130,000 won per night
Weekends 50,000-150,000 won per night
During peak season (July & August) prices increase by about 200%.
☞ Location: 15-min. walk from Baekdam Bus Terminal
☞ Website: www.sol114.com (Korean)

2. Malgeunnae Pension Caravan
☞ Address: Gangwon-do Inje-gun Buk-myeon Yongdae-ri 2Ri2ban
☞ Phone: +82-33-462-6640 (Korean)
☞ Prices:
Weekdays: 70,000–110,000 won per night
Weekends: 90,000–130,000 won per night
Peak season (July & August) 160,000–200,000 won
☞ Location: 15-min walk from Baekdamsa Temple
☞ Website: http://www.finenae.com (Korean)

1330 tt call center: +82-33-1330 (Korean, English, Japanese, Chinese)
Last updated July 11, 2011