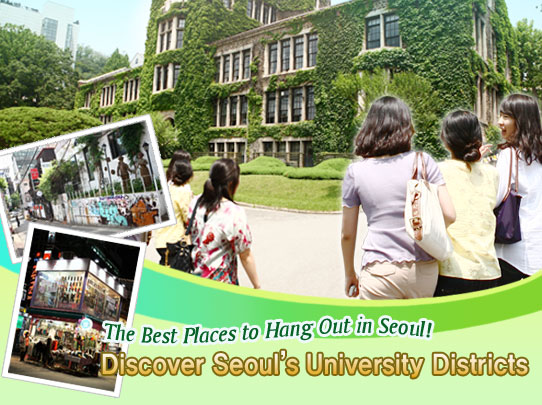 To really experience the dynamic and lively culture of Korea, a visit to one of the university districts is highly recommended! The streets around Sinchon, Hongdae, and the Daehangno are popular hot spots and just the sound of their name is guaranteed to get young Koreans excited. The streets around Ewha Woman's University are a "shopping heaven", which are only rivaled by Dongdaemun market, and the Sinchon district is a fun place to hang out with friends, relaxing with a glass of soju or beer. The area around Hongik University has a vibrant nightlife, and is famous for its dance clubs and music bars, while the Daehangno is Seoul's theater district, where visitors can catch a show and soak up the fun atmosphere. Get swept up in the atmosphere of Seoul's university districts, where you'll be sure to make new friends and have a night out to remember. Read on to find out more!

E
wha Woman's University
Dating back some 120 years, Ewha Woman's University is the leading women's university in Korea, with a prestigious history and tradition. The ivy-covered stone buildings around the campus testify to the long history of this leading private university, which is known as the educational hub of the Korea's elite women. Wooded areas and grass fields make the campus a pleasant place for an afternoon stroll. The beauty of this campus reaches its peak in spring, when the pear flowers, which are the symbol of the university, are in full bloom.

As well as its historic buildings, the university contains a state of the art underground complex, which was designed by the renowned French architect Dominique Perrault. The complex includes bookshops, convenience stores, a cafe, a restaurant, and an art house movie theatre, so it's a good place to while away the hours on a rainy afternoon. The campus also contains the Natural History Museum containing exotic creatures, such as frilled lizards and tropical crickets along with other living animals and fossils, stuffed animals and plant samples.

※ Korean Language Program at the Ewha Language Center
The academic year of this language institute is divided into four terms and offers both speaking and listening classes in Korean language. Special classes are also available, including preparatory classes for Korean proficiency tests and private tutoring classes for those in need of 1:1 lessons. Even though the university only takes women, both sexes can study in the Korean Language Institute. Ewha University's Korean Language Institute is known to be particularly strong in teaching Korean reading skills.

☞ Ewha Woman's University Ewha Language Center
http://elc.ewha.ac.kr/ (KOR, ENG, JAP, CHI)


●INFO
Location :Five minutes walk from exits 2 and 3 of Ewha Woman's University Station on subway line 2.
☞ Ewha Woman's University Website (KOR, ENG, JAP, CHI)
☞ Natural History Museum (KOR, ENG)
☞ To find more about Ewha Woman's University


Enjoy the Streets around Ewha Women's University!

Shopping Spree

The street leading from the subway station (exits 2 & 3) to the main gate of Ewha Woman's University, is the beginning of a huge shopping district for clothes, shoes, and accessories. This main street contains many major brand stores and the "Yes APM" mega store, and if you explore the small alleyways, you will find many eclectic boutiques. The items sold here are not high-end designer clothes or imported brands, but the work of Korea's young fashion designers. Here you can find the latest fashions and trends for reasonable prices. For example, shoppers can generally find a pair of shoes of the latest style for between 40,000 and 50,000 Korean won. Small street vendors sell creative and unique accessories that are often hand-made and very affordable.

Pamper Yourself at a Beauty Salon!
Something else you will find a lot of in the Ewha Woman's University district are beauty salons. These beauty salons have a reputation for high quality service at a reasonable price, and so attract not only Ewha graduates and students, but also ladies from out of town. This district is particularly famous for its hair salons; here you can get a good haircut, dye, or perm. There are also many nail care and make-up salons in this area, so you can spend a whole day pampering yourself.

Try some delicious snacks!
If you get hungry while shopping around, you should try one of the favorite snack places adored by the Ewha students. Some of these include, Gami Bunsik (가미분식), Bab (밥), and Yulchon Naengmyeon (율촌냉면). Gami Bunsik is one of the oldest snack places, and it's located in front of the woman's university. Bab offers a simple home-made Korean meal. Yulchon Naengmyeon is popular in the summer season for its spicy buckwheat noodles mixed with vegetables (bibim-naengmyeon) and buckwheat noodles in a chilled broth (mul-naengmyeon).

Enjoy a Sweet Dessert!
There are a number of charming coffee shops in this area, which serve delicious desserts. They are very popular with the college girls who enjoy the laid back atmosphere and pretty cups and plates. Migo Bakery is one of the oldest establishments in this area and is very famous. From exit 3 of the subway station, turn around and then turn right walking up the main road heading to the university, on the way you will find Li-hwa-in Waffle (리화인와플), Bueno Coffee (부에노커피) and Sweet Flour Factory, which are also recommended.

☞ Related Columns


A Woman's World – Ewha's Pull On Youngsters After The Latest Trend

Sinchon, the Street of Food Festivals


Y
onsei University
Yonsei University has an illustrious reputation as one of the top three universities in Korea. Like Ewha University, its history stretches back 120 years in history. The entire campus is a bloom with cherry blossoms and azaleas during the spring and is covered in greenery during the summer time. Then In fall, the campus turns golden when the leaves change. Yonsei University, is therefore a good place to appreciate the beauty of Korea's four seasons. The campus has lots of good photo spots, as the old ivy covered, European style buildings are very picturesque. The beauty of this campus draws visitors even during the weekends. There are plenty of benches and grassy areas, and friends or couples often come here and spend time together chatting or reading books.

※ Yonsei University Korea Language Institute
The very first officially accredited Korean language institute in the country was opened by Yonsei University. It is called the Yonsei University Korea Language Institute (KLI). This renowned language institute offers regular, nighttime, short-term, professional, summer and three-week programs, as well as other special programs. Yonsei Korean Language Institute is known to be particularly strong in teaching Korean grammar.

☞ Yonsei University Korea Language Institute: http://www.yskli.com/(KOR, ENG, JAP, CHI)
☞ Timetable and Tuition (ENG)


●INFO
Location : 10-15mins walk from exits 2 & 3 of Sinchon Subway station on line 2.
☞ Yonsei University website (KOR, ENG)
☞ For more details on Yonsei University


Enjoy the streets around Yonsei University!

Filming Location
The road on Yonsei campus that runs from Yeon-hui Hall to Underwood Hall, appeared in the movie 'My Sassy Girl', 'The Classic', as well as other movies.



Take a Stroll Along Yonsei University Alumni Street
If you'd like to take a quiet walk, away from the hustle and bustle of the main Sinchon area, we'd recommend the road that leads from the back gate of Ewha Woman's University up to the Yonsei University Alumni Hall. This road is lined with small cafes and restaurants. There is a lovely book cafe called 'Princeton Square', which is often occupied by people sitting on their own, just reading or working on their laptops.



Have a glass of beer and soak up the energy!
Go out of the main gate and follow the main road down to Sinchon and you will find many lively bars and restaurants. Despite the fact that Sinchon is a central area, most of the bars and restaurants are not expensive, since the main customers are college students. Kkeopdegi-jip (껍데기집) has been a favorite for Sinchon goers for generations, it has a cozy atmosphere and is perfect for a drink of soju with an old friend. The bar is located in the alley by Doksuri Drugstore (독수리 약국), which is right outside the main gate of the university.

☞ Related Columns


Sinchon Street, full of energy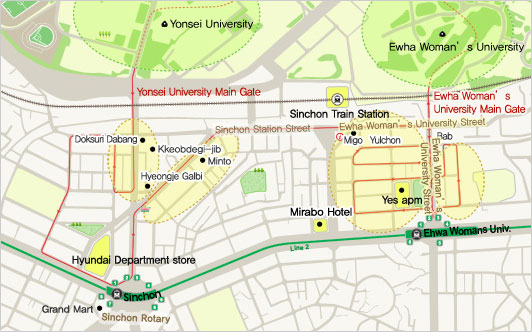 H
ongik University
Hongik University (known as "Hongdae" for short) is famous for its Colleges of Art and Architecture, and as a result this part of town has become a hot spot for artists and the young hip trendsetters of Korea. Sculptures can be found throughout the campus, and the Munheongwan Hall in the university contains a museum of contemporary art, which holds exhibitions by students, faculty members, or acclaimed professional artists. The Hongdae area is a favorite shopping and nightlife destination for many of Seoul's younger generation, as well as the expat community, and consequently, even though the campus is small, the streets around the university are always brimming with energy.

※ Korean Language Institute of Hongik University
The regular Korean language program includes four 10–week semesters that last a year (Spring, Summer, Autumn, Winter). There is also a teacher's training program, which lasts for 15 weeks and has 128 hours of classes.

☞ Korean Language Institute of Hongik University (KOR, ENG JAP, CHI)


●INFO
Location :5mins walk from exit 5 of Hongik University Station
☞ Hongik University Website (KOR, ENG, CHI)
☞ More Details on Hongik University


Enjoying the Streets around Hongik University!



Enjoy art and culture!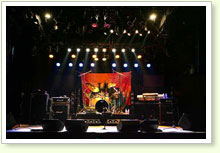 The streets around Hongik University include a number of live performance theatres. We'd recommend that travelers pay a visit to the cultural complex, 'Sangsang Madang'. This building is spread over 11 floors and contains performance theatres, movie theaters, art exhibitions, a rest area, and more.
☞ Details on Sangsang Madang



Find some bargains at the flea market!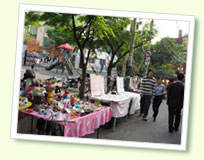 At the hongdae flea market, visitors will be entranced by the work of "craft masters". The artists display and sell their work at "noriteo" (playground) from 1pm to 6pm. Budding artists create their work on T-shirts or bags, and there are many other unique works of art. This market is often visited by those shoppers who are looking for a creative, outrageous piece of clothing to complete an outfit.
☞ Finding "Noriteo" (playground) : A pleasant park and playground is located close to Hongik University. From exit 5 of Hongik University Station walk towards the main gate of Hongik University, then turn right and go up the small hill on your right, and you will see the playground on your left.

Enjoy Shopping!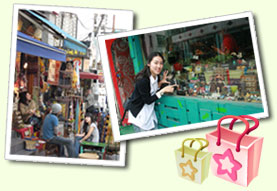 Juchajang-gil is a road well known among shopping fans. The street is used as an outdoor parking lot and is lined with various fashion shops displaying colorful clothes on stands outside. Some clothes and accessories have been designed personally by the shop-owners, and some shops sell brands that have yet to be distributed in Korea. To get to this street follow the Hongik University Noriteo-gil (Playground Road).

Food for Thought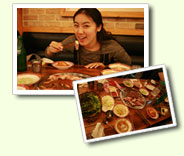 Once you are done with all the shopping, you're sure to feel a little hungry, so why not head for one of the street stalls selling various local snacks, such as spicy tteok-bok-ki. Meals at these stalls are generally only 1-2 dollars per serving. Byeotjip-samgyeopsal (볏집삼겹살) is located in one of the area's most popular streets, and it sells various grilled pork meat, such as pork belly, accompanied by soju, for a reasonable price.

Dance the Night Away in a Club!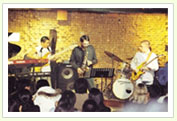 Every Friday night, the streets around Hongik University are filled with people who want to enjoy music and dancing. Most of the clubs in Hongdae have their own style and play various genres of music, including jazz, hip-hop, techno, and house. Most of these clubs open around 7-8pm and stay open until the early hours of the morning. The clubs are generally open every day of the week except Mondays. Hongdae clubs have a great atmosphere, and anyone who's a fan of music and dancing should make Hongdae a definite stop on their agenda.

Tip) Club Day : On the last Friday of each month, visitors can purchase a ticket for 22,000won, which will give them access to some 22 clubs in this area, including live music clubs and dance clubs. One free drink is also included in this price.

☞ Related Columns


Hongdae Hedonism – A Haven For Young Fashion Experts

Get Swept Away In Seoul's Swelling Nightlife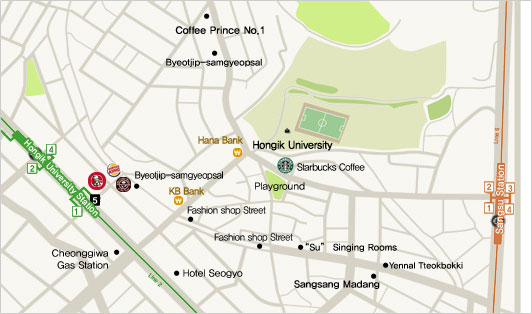 S
ungkyunkwan University
The modern restaurants, coffee shops and fashion boutiques of nearby Daehangno provide an interesting contrast to Sungkyunkwan University, which still preserves its Confucian traditions. Sungkyunkwan was the very first formal educational institute of Korea and it was founded by the Joseon dynasty as a Confucian school some 600 years ago. Indeed, there are some trees on the campus which are actually 600 years old, and there are also some well preserved historical buildings dating from the hay days of Confucianism in Korea centuries ago. The Myeongnyundang Hall, a place of great tradition and history, is located on the right side of the main gate.

※ Sungkyun Language Institute Korean Language Course
Sungkyun Language Institute offers a regular Korean language program over a four term academic year, each term consisting of 10 weeks. Other than this regular Korean language program, there are shorter three-week programs offered during the Spring and Summer seasons. The institute also offers a one-day Korean class experience, a teachers' training program, and other special programs.

☞ Website (KOR, ENG, JAP, CHI)


●INFO
Location : 10-15mins from exit 4 of Hyehwa Subway Station.
☞ Sungkyunkwan University Website (KOR, ENG, CHI)
☞ More Details on Sungkyunkwan University


Enjoy the Streets around Sungkyunkwan University (Sungdae)!

Visit a Local Theatre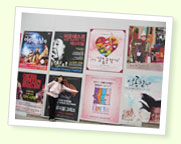 Next to Sungkyunkwan University is a lively area called the Daehangno, which is also popular for shopping and nightlife. Small performances theatres are dotted all over this area and the theatres are so intimate that the audience can almost feel the actors' breath. Various musicals, classical dramas, and traditional performances can all be enjoyed in this part of town. Come out of exit 4 of Hyehwa Station and turn to your left, and you will find the Seoul Theater Center, where a variety of information on the different performances can be obtained and today's tickets can be purchased for discounted prices. This district is buzzing on any day of the week, except for Mondays, when the theaters are closed.
 → Details on Daehangno

Take a break in Marronnier Park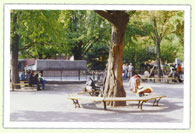 This place has long become a symbol of the Daehangno. On the weekends, B-boy performances take place outdoors, and societies who enjoy drama performances also gather here. New street performances take place every weekend, and the park is great for enjoying a glass of beer or a cup of coffee, while soaking up the atmosphere.
→ Details on Marronnier Park

Stroll around Naksan Park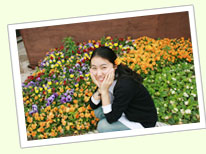 After watching a performance, why not take a walk up to Naksan Park? The park is located on a hill above the Daehangno and offers a panoramic view of Dobongsan Inwangsan, and Namsan mountains, as well as a great view of some of the highest skyscrapers in town. To get to Naksan Park from the Daehangno all you have to do is head up; there are many roads that will take you there.
→ Details on Naksan Park

International Flavor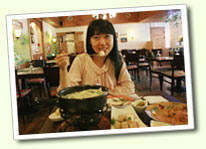 From exit2 of Hyehwa Station, turn around and then turn right into the street next to KFC. In this street, you will find a variety of restaurants from all over the world. Starting from traditional Korean food to Swiss fondue, pizza from Napoli, rice-based noodles from Vietnam, Iranian curry, and other international offerings. 'Di Matteo' which is a stone building covered in ivy, offers Napolian pizza, and 'Swiss House (작은 스위스)' does a great fondue.