Summer, spanning from June through August, is a preferred time for vacations with family and friends. Many flock to the beach for sea, sand, and sun, while others travel across the country in search of the arts, music, and culture; whichever one's destination may be, there are festivals held throughout the season from coast to coast to bring about excitement, and blow away the summer heat.
The season's highlights include beach festivals like Haeundae Sand Festival, Busan Sea Festival, and Boryeong Mud Festival, as well as cultural festivals including Puchon International Fantastic Film Festival featuring fantasy movies all night long, Incheon Pentaport Rock Festival presenting performances by famous rock stars, Gangneung Danoje Festival celebrating a UNESCO Intangible Cultural Heritage of Humanity; and Gangjin Celadon Festival featuring ancient ceramics. With such a myriad of festivals, you can easily find ways to enjoy your summer vacation.


June Festivals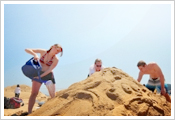 Haeundae Sand Festival
When: June 01 – 04 (Fri – Mon), 2012
Where: Haeundae White Sand Beach, Busan
Description: An eco-friendly celebration running under the theme of 'Sand,' the festival features beach-related events like sand walking paths, a Ssireum (씨름, Korean wrestling) competition, beach soccer, and beach volleyball. Hands-on experience programs are available including a 'sandboard festival' and making sandcastles. On the seashore, take pictures of the large sand sculptures created by the winners of the World Sand Sculpture Competition.

☞ Related Articles:
Guide to Beaches in Busan
Busan City Tour


Hansan Ramie Fabric Cultural Festival
When: June 08 – 10 (Fri – Sun), 2012
Where:Chungcheongnam-do Seocheon-gun Hansan Mosi (Ramie Fabric) Museum area
Description: Hansan Mosi (한산모시, Ramie Fabric) is one of the world's oldest fabric crops. On display at this unique festival are hundreds of beautiful clothes made from this humble plant. Skilled artisans guide visitors in the processing of the famed Hansan Ramie, demonstrating all the parts of the process: from how the plant is grown to how it's spun into thread and used to make clothing.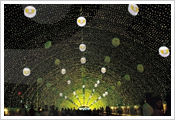 Muju Firefly Festival
When: June 08 – 16 (Fri – Sat), 2012
Where: Jeollabuk-do Muju-gun region
(Hanpungnu Park, Namdaecheon Stream, Banditbul Stadium, Bandiland)
Description: The Namdaecheon Stream in the Muju region is a very special part of Korea; it's a clean environment that provides the perfect habitat for fireflies. Visitors to the Firefly Festival are greeted by an unforgettable sight: tens of thousands of fireflies lighting up the warm summer night.

☞ Related Article :
Recommended travel in Jeollabuk-do Province


July Festivals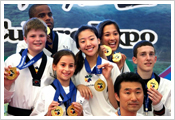 World Taekwondo Culture Expo
[Photo courtesy of: The World Taekwondo Culture EXPO Organizing Committee]
When: July 06 – 11 (Fri – Wed), 2012
Where: Jeollabuk-do Muju-gun Area (Muju Banditbul Stadium and Muju Resort)
Description: The World Taekwondo Expo, a representative Taekwondo festival, takes place in Muju and Jeonju, Jeollabuk-do Province. In addition to taekwondo competitions (Pumsae-movement, Gyeorugi-sparring, and Taekwondo aerobics) there will be various side programs including Taekwondo performances, cultural activities, and sightseeing tours of Muju, Buan and Jeonju.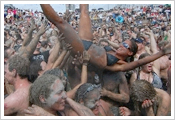 Boryeong Mud Festival
When: July 14 – 24 (Sat – Tue), 2012
Where: Chungcheongnam-do Boryeong-si Daecheon Beach
Description: At the Boryeong Mud Festival (one of Korea's most famous festivals) visitors slather themselves with mud for fun and to soak in the mud's many nutrients. This zany, action-packed festival offers mud wrestling, mud slides, and a giant mud bath. To take a break from the festival mayhem, head on over to the mud massage zone for a little R&R.

☞ Related Article:
Fun for Everyone! - The 2011 Boryeong Mud Festival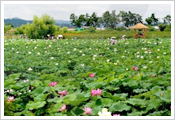 Buyeo Seodong Lotus Festival
When: July 26 – 29 (Thu – Sun), 2012
Where: Chungcheongnam-do Buyeo-gun Buyeo-eup Gungnamji Pond (Seodong Park area)
Description: The Buyeo Seodong Lotus Festival is held at the Gungnamji, the first man-made pond installed near a royal palace by King Muwang (r. 600-641) of the Baekje Kingdom (18BC-660AD). In addition to the main performance of the love story between Prince Seodong (King Muwang's childhood name) and Princess Seonhwa, other programs such as lotus face painting, lotus tea drinking, lotus soap making, photo exhibition, and art contest are scheduled to take place during the festival period.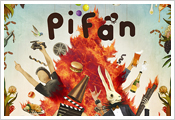 Puchon International Fantastic Film Festival
[Photo courtesy of: PiFan Organizing Committee]
When: July 19 – 29 (Thu – Sun), 2012
Where: Gyeonggi-do Bucheon-si Wonmi-gu Boksalgol Cultural Center, Citizens' Hall and City Hall
Description: Movies are shown throughout the entire festival and audiences can attend discussions with film directors. This unique film festival screens movies from all over the world, including horror, mystery, thrillers, and sci-fi.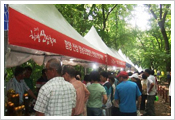 Hamyang Wild Ginseng Festival
[Photo courtesy of: Hamyang-gun County]
When: July 26 – 30 (Thu – Mon), 2012
Where: Gyeongsangnam-do Province, Hamyang-gun, Hamyang-eup, Sangrim Park area
Description: Jirisan and Deogyusan Mountains in Hamyang, Gyeongsangnam-do Province are known to produce high quality wild ginseng and herbs. The Hamyang Wild Ginseng Festival is held to promote these local products. During the festival period, visitors can participate in numerous hands-on experience programs such as crop harvesting, liquor making and pot crafts, as well as other events including a marathon, fireworks, and performances.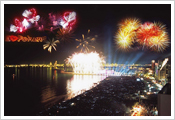 Pohang International Fireworks Festival
[Photo courtesy of: Pohang-si Festival Committee]
When: July 27 – August 5 (Fri - Sun), 2012
Where: Gyeongsangbuk-do, Pohang-si, Hyeongsangang Sports Park, Bukbu Beach, etc.
Description: Every year, fireworks professionals from around the world gather in Pohang, a port city famous for beautiful sunrise scenery, to put on fantastic fireworks shows at its International Fireworks Festival. In addition, a fireworks parade, fashion show, musical light show, beach live concert, and art contest are held during the festival period.


Gangjin Celadon Festival
When: July 28 – August 05 (Sat - Sun), 2012
Where: Jeollanam-do Gangjin-gun Daegu-myeon Pottery Kiln Site of Goryeo Cheongja
Description: The festival is held at Gangjin, the largest production site of celadon in Korea from the 8th to the 14th century. Visitors can not only gain a deeper appreciation of Korean celadon's impact on the global art community, but also have a chance to make their own pottery.

August Festivals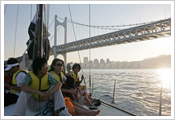 Busan Sea Festival
When: August 01 – 09 (Wed – Thu), 2012
Where: Busan-si Haeundae-gu Haeundae Beach, other 6 Beaches and Yacht Stadium
Description: The Busan Sea Festival is a huge event that combines several other events and festivals, such as a rock music festival, a beach dance festival, and a number of water sports. Having trouble deciding which thing to try first? Take some time to relax and sunbathe on the beach while you make up your mind.

☞ Related Article:
Guide to Beaches in Busan
Busan City Tour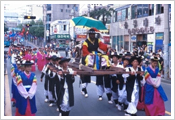 Tongyeong Great Battle of Hansan Festival
When: August 14 – 18 (Tue – Sat), 2012
Where: Gyeongsangnam-do Tongyeong-si Yi Sun-shin Park, Culture Square, etc.
Description: The Tongyeong Great Battle of Hansan Festival is held to commemorate the patriotism of General Yi Sun-shin (1545-1598), who led the Imjin War (war against two Japanese invasions between 1592 and 1598) to victory. The festival features exhibitions, ocean sports, as well as making of geobukseon (iron-clad turtle ship built by General Yi during the Imjin War) and bows.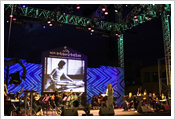 Jecheon International Music & Film Festival
[Photo courtesy of: Jecheon International Music & Film Festival Executive Committee]
When: August 09 – 15 (Thu – Wed), 2012
Where: Chungcheongbuk-do Province, Jecheon-si, Jecheon Media Center, TTCinema Theater
Description: The Jecheon International Music & Film Festival showcases films with a music theme. The opening movie is chosen among those that best represent the festival theme, while the closing movie is the winner of the World Music Film Today category. In addition to watching several recent music films, visitors can enjoy the One Summer Night Concert at the outdoor stage.

* The festival schedules are subject to change due to local circumstances.
* Last update: May 15, 2012