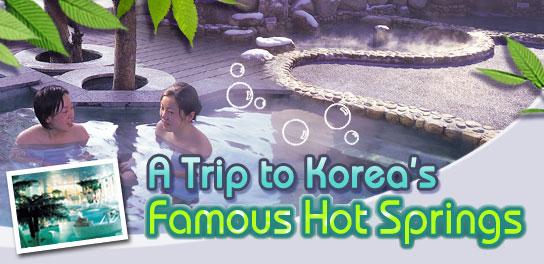 A trip to the hot springs can melt away those winter blues, relieve your stress and fatigue, and help treat skin conditions. For hundreds of years Koreans have enjoyed visiting hot springs, and the winter season is a particularly enjoyable time to experience them.

Korea's hot spring resorts are equipped with the latest beauty and spa facilities, and also have many restaurants and tourist attractions nearby. If you are planning a winter vacation in Korea, try visiting one of the hot spring resorts to soothe your body and mind.




Nearby Hot Springs around Seoul
The busy streets of Seoul bustle with people! If all the sightseeing, shopping and cultural attractions are making you a little tired, why not visit a nearby hot spring and rejuvenate your mind, body, and soul?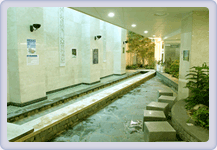 ● Riverside Spa Land
Riverside Spa Land has the best foot massage baths. There is also a "Bulgama" (Yellow Earth Room), and a variety of other facilities such as a nail art center, a sports massage center, a movie room, and more.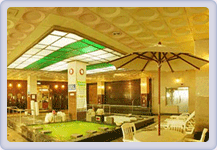 ● Hwanggeumoncheon (Gold Spa)
The Hwanggeumoncheon's waters are known to be particularly effective for the skin. The spa also provides a variety of other services including a unique "Golden Pyramid Experience Room", a fitness center, a sports massage center, sun tanning facilities, and more.
● In Spa World
In Spa World's all-natural baths have long been recognized for their health benefits. This leisure complex has a 56m water slide, swimming pool, and a traditional Korean-style Bulgama (Yellow Earth Room) made out of oak wood.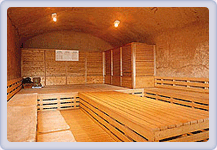 ● Jayuro Aqualand
Aqualand's all-natural hot springs come directly up from underground. It offers a variety of sauna facilities such as an underwater massage system.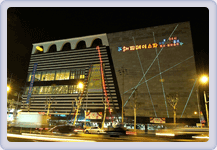 ● Happy Day
Happy Day offers all-natural hot spring waters known to be effective against gastroenteric disorders and arthritis. The Happy Day complex covers eight floors and has various leisure facilities such as a jjimjilbang, spa, and more.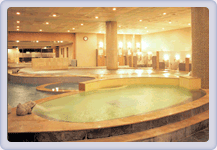 ● Spa Plus
Icheon Spa Plus' hot springs waters are known to have healing properties effective in treating eye diseases and skin troubles. Also, visitors can experience the traditional bulgama (yellow earth room) in the jjimjilbang.



Enjoy a Fun-packed at the Hot Springs
Visiting a hot springs resort isn't just about relaxing. At some of Korea's resorts you can enjoy the thrills of wave pools and waterslides in the hot spring's warm waters. Have fun and improve your health all at the same time.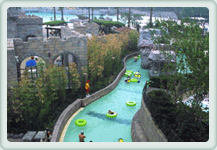 ● Caribbean Bay
If you would like to have some warm water fun during the winter season, try visiting the Yongin Caribbean Bay Spa located near Seoul. At this water theme park there are no less than twenty-two different attractions, including a free-fall water slide, water bobsleigh, and a wave pool with 1.5-meter high waves. Not only will you have the chance to play in the water, but you can also reap the health benefits of the hot spring pools or relax in the rest areas.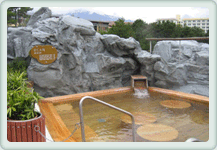 ● Seorak Waterpia
Seorak Waterpia is a hot springs theme park complex that uses 100% all-natural hot spring waters. This winter the entire family can have fun in the water, indulging themselves in a variety of hot spring pools.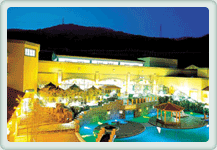 ● Asan Spavis
The Asan Spavis is about an hour away from Seoul and uses hot spring waters for its unique sports and treatment facilities. Spavis has hot springs pools, various leisure and treatment facilities, and it is suitable for the entire family.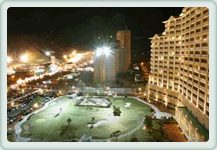 ● Daemyung Condo Aqua World (Danyang)
Located in Danyang in Chungcheongnam-do, Aqua World's hot spring waters gush out from 750 meters underground. Here there are a variety of theme pools and therapeutic pools that are open all year long.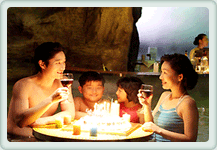 ● Duksan Spa Castle (Chunchunhyang)
Spa Castle is widely known for its specialized facilities and programs intended for medical, beauty, and leisure purposes. The widely beneficial hot spring waters are sustained at 49 degrees Celsius for a comfortable spa experience.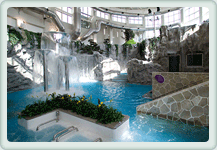 ● Gyeongju Springdome
The Gyeongju Springdome is a reasonably priced hot springs theme park with fun water activities that the entire family can enjoy. The large variety of outdoor hot spring facilities make this park especially enjoyable.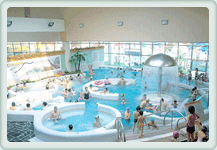 ● Spa Greenland
Spa Greenland's Outdoor Garden Foot Spa is a special feature of the complex. This is a wonderful area where visitors can walk in a specially installed forest through which hot spring waters flow.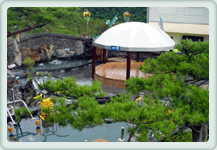 ● Daegu Spa Valley
Daegu Spa Valley offers a variety of themed experiences in its indoor and outdoor facilities including hot spring pools, water massage pools, jjimjilbangs, and more.



Hot Springs for your Health
The hot springs of Jeolla-do province have long been highly regarded for their skin and health benefits. The area's hot springs are a good vacation spot for the entire family since the waters are effective on children's atopic dermatitis as well as arthritis in adults.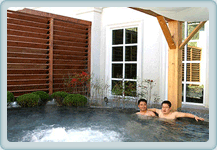 ● Damyang Resort Spa
The Damyang Spa waters purify the blood by supplying more oxygen to the blood vessels. They also effectively relieve stress, prevent strokes, treat arthritis, and are great for your skin.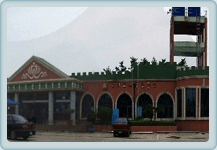 ● Gusipo Haesu World (Gusipo Seawater World)
A Haesuyakjjim (seawater bath) is believed to greatly improve blood circulation. It is also said to have positive effects against various skin diseases and obesity.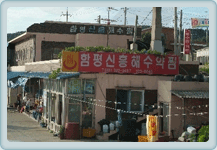 ● Hampyeong Haesujjim (Hampyeong Seawater Bath)
The Hampyeong Haesujjim is an old folk remedy that has been widely used since the 1800's. It is believed to be beneficial for women who have recently given birth as well as effectively treating arthritis and dermatitis. This is therefore an especially popular treatment for middle-aged and elderly women.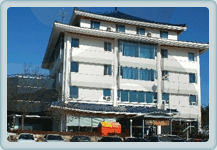 ● Cheoksan Oncheon Jigu (Cheoksan Spa World)
Drinking these hot spring waters is said to prevent tooth decay and other dental-related ailments, as well as improving blood circulation.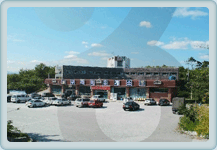 ● Gangneung Guramy Spa
The hot spring waters are hypoallergenic, making them perfect for children with sensitive skin and for older visitors. The water is effective for treating bruises and wounds, and can also be consumed to relieve constipation.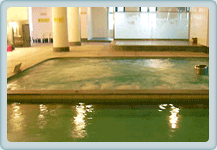 ● Mungyeong Spa
The Mungyeong Spa is unique in having two different types of hot springs. One is known to have beneficial effects for skin troubles and heart disease, while the other is said to be helpful in healing wounds and good for the respiratory organs.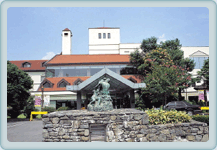 ● Onyang Hot Springs
The Onyang Hot Springs are the oldest hot springs in Korea. They are extremely effective in treating obesity and are great for the skin.



Hot Springs that are Located near National Parks
What can be a better than taking an invigorating hike in one of Korea's national parks, and then afterwards relaxing at a hot springs resort. In Korea there are many hot spring resorts located near National Parks.

● Duksan Spa Castle (Cheoncheonhyang) and Deoksungsan Mountain, Sudeoksa Temple
Go hiking in the Deoksungsan Mountains, then visit the Duksan Spa Castle where the entire family can enjoy the hot springs. As well as stunning scenery, the Deoksungsan Mountains have various attractions, including the beautiful Sudeoksa Temple, which has played an important role in the history of Korean Buddhism.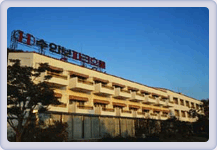 ● Suanbo Hotsprings and Woraksan National Park
Suanbo's hot spring waters are internationally renowned for their health benefits which can be felt for a month after visiting the hot springs. The Suanbo Hotsprings are located a mere 30~40 minutes from Woraksan National Park, so after a good hike in the scenic Woraksan Mountains, you can easily enjoy the spas at Suanbo Hotsprings.

Woraksan National Park
Not only can visitors to the Woraksan Mountains enjoy the stunning snow-covered scenery, but the park is also famous for its temples, pagodas, and various other cultural properties.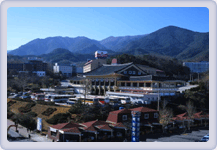 ● Baegam Hot Springs and the Baegam Mountains
The Baegam Hot Springs are the most popular on the east coast. Their waters are widely known to be effective against neuralgia, nerve paralysis, and other diseases. Not only does this hot spring resort offer a number of recreational facilities, but Baegamsan Mountain is located nearby, so visitors can enjoy hiking and relaxing at the hot springs all in one day.

Baegamsan Mountain (Uljin)
The Baegamsan Mountains are situated to the west of the Baegam Hot Springs, and are famous for their beautiful mountains and numerous historical sites.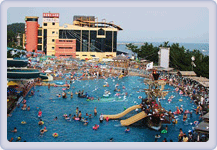 ● Yulpo Haesu Nokchatang
The Yulpo Haesu Nokchatang Spa, located at Yulpo Beach, combines hot spring waters with green tea to offer a unique and healthy spa experience. The spa looks out over the ocean, so visitors can admire the beautiful view while relaxing in the hot springs.

Yulpo Beach and Seawater Pool
Yulpo Beach is famous for its pine tree forest and clean ocean. Located near the beach are the Seawater Pool and the Haesu Nokchatang Spa, which are especially popular with families.


Hot Springs with Plenty of Food
When all is said and done, a vacation in Korea is never complete without sampling some of the delicious food! Relax at the hot springs, then eat great food at a nearby restaurant, and you'll be guaranteed to have an unforgettable vacation.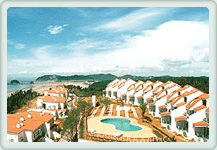 ● Anmyeon-do Ocean Castle (Aqua World)
Grilled Lobster : The Anmyeon-do Port is crowded with restaurants. serving raw fish and grilled lobster. Some of these raw fish restaurants have been running for over 10 years, such as Ddolsunihoegwan (041-673-6870), Onnurihoe Town (041-673-8966), and Ottugi Raw Fish Shop (041-672-8659).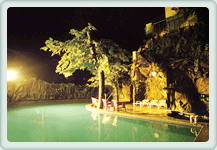 ● Ildong Jaeil Yuhwang Oncheon
Idong Galbi : Idong Galbi has always been Pocheon's local specialty. Though there are many galbi restaurants in the area, the Kim Mi Ja Halmeoni Idong Galbi (031-531-4459) and Myeongjiwon (031-536-9919) are the most popular. Absolutely no MSG is used to enhance the taste and the Pocheon Idong Galbi is cooked with oak charcoal to get juicy, succulent meat at 20,000 won per serving.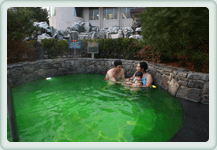 ● Deokgu Oncheon Spa World
Uljin King Crabs : Uljin is famous for its affordable and delicious king crabs. The soft and tender crabs go for about 30,000~40,000 won.
Uljin Hupohang Port
The Uljin Hupo Port comes alive in the early hours of the dawn when fishing boats reel in fresh fish, and the markets then sell off these fish at low prices.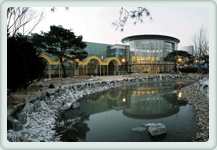 ● Icheon Termeden
Icheon Ssalbap (Icheon rice) : Visiting the excellent Icheon Termeden Spa is also a good opportunity to eat Icheon Ssalbap. This is the most delicious rice in Korea, which used to be eaten by the Joseon Kings. The rice is cooked in an iron pot and served with over 30 types of side dishes including "Doenjang-ttukbaegi" (soybean paste soup boiled in earthenware) and "Ganjang-gyejang" (crab marinated in soy sauce). Icheon Ssalbap can be found at all restaurants in the hot springs area that have a 'Ssalbap Restaurant' Sign.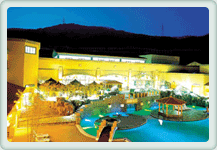 ● Asan Spavis
Grilled Clams : Asan's most popular dish is grilled clams, which are dug out of the ground at the seashore, by hand.