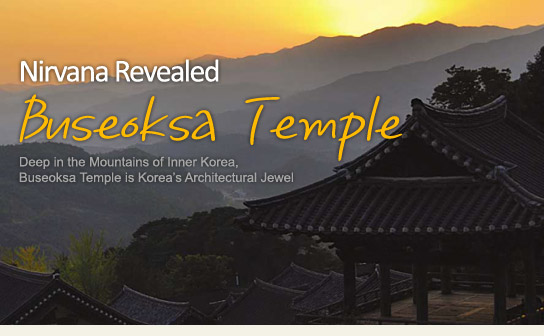 Victorian writer John Ruskin once said about Lincoln Cathedral, "I have always held and proposed against all comers to maintain that the Cathedral of Lincoln is out and out the most precious piece of architecture in the British Isles and roughly speaking worth any two other cathedrals we have."
This is how I've long felt about Buseoksa Temple and its importance in Korean architecture. Rarely will you hear me speak ill of Seoul's eminently pleasing palaces or the grand stoneworks of Bulguksa Temple, all of which occupy privileged places in the pantheon of Korean architectural greats, and deservingly so. Yet if asked for Korea's single greatest piece of architecture existent today, this humble magazine editor, travel writer and amateur architecture critic would, without hesitation, answer Buseoksa Temple.

Simply put, Buseoksa is a perfect architectural expression of Buddhism, each terrace and angle shedding new light on the nature of existence.à
For more information on the Buseoksa Temple



108 Steps ● ●
Any visit to Buseoksa begins with the hike to the temple itself. The path to the complex is preceded by a series of 108 stone steps that pass through a succession of gates. The number 108 is significant. According to Buddhism, mankind is afflicted with 108 defilements — gluttony, quarrelsomeness and lecherousness being but three of this writer's favorites. The steps, accordingly, are divided into nine blocks, symbolically representing the nine degrees of rebirth of Pure Land Buddhism. Accordingly, as you ascend the steps, you symbolically shed the 108 defilements and pass through the nine degrees of rebirth until you finally enter Nirvana.

History ● ●
Buseoksa Temple is located on the southern slope of Mt. Bonghwasan, with a commanding view of the surrounding Sobaeksan Mountains separating the provinces of Gyeongsangbuk-do and Gangwon-do. It was founded in 676 AD by Uisang Daesa,
one of Korea's greatest Buddhist scholastics and a progenitor of the Hwaeom (Avatamsaka) sect in Korea.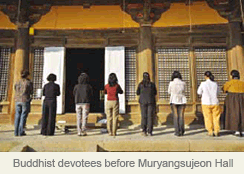 According to legend, a young woman by the name of Shan-miao fell in love with the monk while he was studying in China. When Uisang returned to Korea, Shan-miao threw herself into the sea, where she transformed into a protective dragon. When villagers refused to clear the spot selected for Buseoksa by Uisang. The she-dragon persuaded the stubborn locals to relocate by threatening to crush them with a bolder. The rock, which seems to float in the air, is still there, and it is from this that Buseoksa — "Floating Rock Temple" — takes its name.
The temple has had remarkably good fortune. In 1916, while repairs on the central Muryangsujeon Hall were being conducted, records were discovered indicating it was last reconstructed in 1376, making it the second oldest wooden building in Korea, and one of only a handful of wooden structures dating from the Goryeo era. Further up on themountain is another small hall, the Josadang, also built in the late Goryeo era.

Nirvana Land ● ●
Just before you reach the main courtyard, you pass under a wooden gateway/pavilion known as Anyangmun, or "Nirvana Gate." As you pass through, Nirvana — represented by Muryangsujeon Hall — gradually comes into view. Once you arrive, a most spectacular view greets you —the countless peaks of the Sobaeksan Mountains.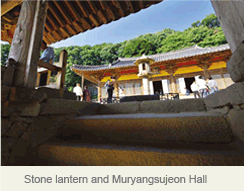 At the heart of this Nirvana world is Muryangsujeon Hall, National Treasure No. 18. The hall, with its simple adornment, presents an effortlessly refined dignity. It is noble yet inviting, an architectural expression of the Western Paradise of Pure Land Buddhism. Appropriately, enshrined in the western end of the hall is a magnificent clay statue of Amitabha Buddha, the Buddha of the Western Paradise. It is the oldest clay statue in Korea and National Treasure No. 45.
In front of Muryangsujeon Hall is a handsome stone lantern dating from the Unified Silla period. With its finely carved lotus leaf pedestal and Bodhisattva reliefs, it is a masterpiece of Silla art. The lantern is designated National Treasure No. 17.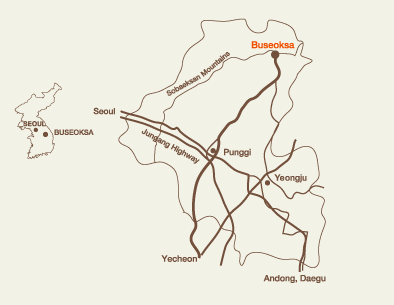 Getting There
Buseoksa Temple is best approached via the provincial city of Yeongju in Gyeongsangbuk-do. You can reach Yeongju via bus from Seoul's DongSeoul Bus Terminal or Gangnam Express Bus Terminal. The trip takes about two and a half hours.
You can also take a train to Yeongju from Seoul's Cheongnyangni Station. This takes about three and a half hours, but the scenery is particularly nice in autumn.From Yeongju, there are frequent city buses to Buseoksa — it's probably easiest to catch the one that leaves from the bus stop opposite Yeongju Intercity Bus Terminal. If you've taken the train and arrived at Yeongju Station, take a taxi to Yeongju City Bus Terminal and take a Buseoksa-bound bus from there.

What to Eat ● ●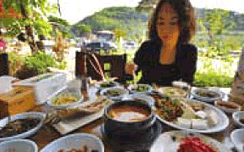 Yeongju is famous for its ginseng and its apples — you should be able to purchase apples along the path to the temple. If you'd prefer to reach Nirvana a bit early, stalls along the way sell — by the cup — milky Korean rice wine, or dongdongju, with added ginseng.
Like most major Buddhist temples, there's a number of good restaurants near the temple parking lot. The Buseoksa Sikdang (Tel: 054 633-3317) does a really good gangodeungeo jeongsik (about 10,000 won a person) — rice, soup and plenty of side dishes along with salted mackerel, a regional specialty. You can also try insam mukbap, a mixed rice dish with ginseng and acorn jelly, for 6,000 won a person.

Places to Stay ● ●
The Rich Hotel (Tel: 054 638-7070) near Yeongju Station isn't bad for 40,000 won a night. There are a couple of cheaper but dingier options near the station as well.
→ Accommodation Search in Yeongju City

Written and photographed by Robert Koehler
The article courtesy of Seoul magazine