Korea's very first Cheese Village, in Imsil, Jeollabuk-do, offers visitors the opportunity to take part in cheese-making programs, as well as experience life in a countryside-farming village. The area is very popular with families with children, and now foreigners have started journeying to the Cheese Village to taste original Korean cheese.
The famous Hanok Village of Jeonju is only a 30-minute drive away, so visitors can experience staying at a traditional Hanok (Korean-style house) as well as visiting the Cheese Village. VisitKorea wants to recommend a trip to the Imsil Cheese Village to all its members.

Main Hiking Courses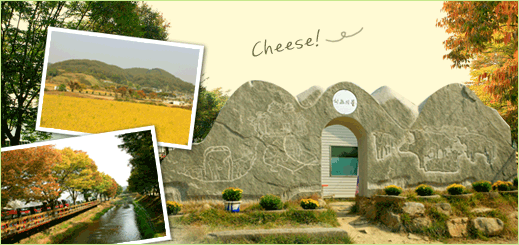 The Imsil Cheese Village, located in the province of Jeollabuk-do, was the very first village in Korea to start making cheese back in 1966. The village's citizens personally manage a cheese-making experience program for guests. Experience programs are available daily all year long, excluding Mondays, but reservations are required, and you must be sure to call at least three days before visiting. The village offers one-day programs for individuals, and two-day programs are available for groups of twenty or more. Lunch and other optional experience programs are available depending on the time you visit. The programs start at 10:10 am, 11:30 am and 1:30 pm and last between three and three and a half hours.

Programs
Those who chose the one-day program will experience riding a cultivator, making cheese, a choice of two further optional experience programs, as well as getting to eat delicious Cheese pork cutlet.

Program

Experience Type

Program Length

Price

Notes

Cheese-Making Experience Program
(Basic Package)

Riding a Cultivator

10~15 minutes

16,000 won

* You may select 1~2 optional experience programs (these will have separate costs)

Making Cheese

1hr ~ 1hr 30min

Cheese pork cutlet Meal

1 hour

Selected Experience Programs

1hr ~ 1hr 30min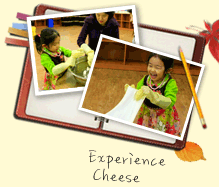 ● Choosing Optional Experiences
In order to provide a more complete farming village experience, visitors may choose one or two optional experience programs (maximum of two) to accompany the basic program. Optional programs include feeding milk to calves or harvesting various seasonal vegetables. Fees for the optional experience programs are not included in the basic package prices, but are only 3,000-4,000won per program. (Grassland Sledding / Calf Milk-Feeding / Mill Experience / Goat milk Soap Making, and more)



Photo Gallery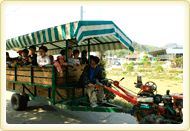 Riding a Cultivator
In this program, which is included in the basic experience package, an old man will drive you around the Cheese Village on a cultivator. This machine is used regularly in farming to prepare the ground for the planting of rice or other crops, and it is also used for transporting crops.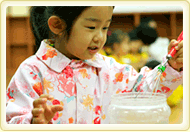 Making Cheese
In this program you will get to make mozzarella cheese by stretching the cheese with your own hands, and then you get to taste the cheese you make. You will also have a fun time taking quizzes on milk, cheese, and yogurt to win prizes.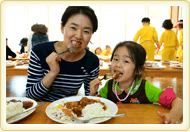 Cheese Dongaseu (pork cutlet)
Eat delicious Cheese pork cutlet made with plenty of mozzarella cheese produced at the Imsil Cheese Village.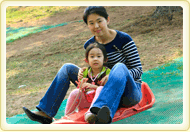 Optional Experience Program 1
Grassland Sledding (Program Fee 3,000 won / 30min ~ 1hr)
After being briefed on safety instructions, take a thrilling sled ride down grassy slopes.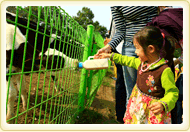 Optional Experience Program 2
Calf Milk-Feeding (Program Fee 3,000 won / 30min ~ 1hr)
Come meet the cute calves of Imsil Cheese Village! In this optional program you will get to pet the calves and feed them milk in their stalls. This is an especially popular program for children.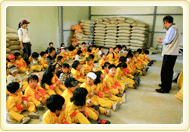 Optional Experience Program 3
Rice Mill Experience (Program Fee 3,000 won / 1hr)
In this program a farmer with twenty-five years of experience in producing rice, will explain the 'eight things to know when producing rice'. At the end of the lecture you will receive a 500g bag of chemical-free, organic rice.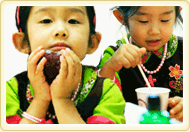 Optional Experience Program 4
Goat Milk Soap Making (Program Fee 4,000 won / 1hr)
In this popular program you will get to make natural soap out of goat's milk. It's surprisingly easy to make. You can even add pretty colors and carve cute shapes, and then you get to take your goat milk soap home.

[Detailed Information]
You can make reservations for the programs by calling the Imsil Cheese Village Information Center. Non-Korean speakers should call the tourist information center for help with this.
Contact: Imsil Cheese Village +82-63-643-3700 (Korean) / Tourist Information +82-63-1330 (English, Japanese, Chinese)

→ Click here to go to the Cheese Village
→ Program Introductions


Imsil Cheese Village Experience and 1-Night/2-Day Tour

Since the Imsil Cheese Village Experience Program begins early in the morning, it's a good idea to leave Seoul the afternoon before, and take a tour around the Jeonju Hanok Village first. After spending a night at one of the Hanoks (traditional Korean houses) in the Hanok Village, you can then make the thirty to forty minute journey to the Imsil Cheese Village the next morning, and this way your trip will be more relaxing and enjoyable.

Itinerary
Day 1

Day 2

13:00 Leave Seoul
16:00 Arrive at the Jeonju Hanok Village
~18:00 Tour the Hanok Village and have dinner

19:00 Lodge at the Hanok Village Yangsajae

08:30 Breakfast at Yangsajae
09:30 Drive to Imsil Cheese Village
10:10 Participate in the Cheese Village programs

14:30 Finish the Experience Programs
Course Information
● Day 1 Leave Seoul: 13:00
To get to Jeonju you can take an express bus or train from Seoul. It usually takes about three to three and a half hours to get to Jeonju, but make sure you leave early if you are planning on taking the express bus, since there might be traffic. On arrival in Jeonju you can take a city bus to the Jeonju Hanok Village.


[Transportation Information]
① Express Bus
Dong Seoul Bus Terminal (departs every 30min, bus fares – first class 17,900 won / general 12,200 won), Sangbong Terminal (3 buses daily, bus fare 18,800 won) to Jeonju Terminal – estimated travel time of 2hrs 50min ~ 3hrs
② Train
Yongsan Station to Jeonju Station (13 trains daily, train fee 16,300 won) – estimated travel time of 3hrs 10min ~ 3hrs 30min


● Hanok Village Tour and Dinner: ~18:00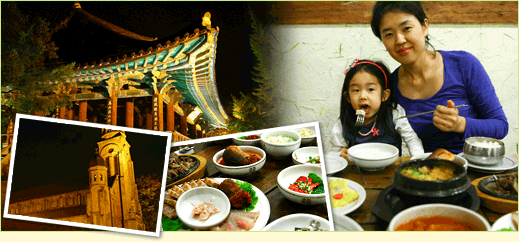 The Jeonju Hanok Village possesses over 700 traditional gaoks (Korean houses) along with other attractions including the Gyeonggijeon Shrine, Jeondong Catholic Church, Jeonju Korean Museum of Traditional Wine, Hanok Life Experience Hall, Jeonju Traditional Craftworks Exhibition Hall, and much more. Before heading off to explore the area, you may want to pick up a guidebook at the tourist information center first. Not only does the tourist information center provide various travel related information, but they also will advise you on the best routes for exploring the Hanok village. You can also enjoy a Hanjeongsik (traditional Korean meal) dinner at one of the many traditional restaurants in the area to complete your traditional Hanok Village experience.



● Day 1 Leave Seoul: 13:00

The Yangsajae is a Hyanggyo (a school belonging to a Confucian temple) that was built over 40 years ago, and was where the Yuseong (Confucian scholars) were educated. Currently, the Yangsajae is operating as a guesthouse where visitors can enjoy traditional Hanok Gudeul rooms (a room with heated floors) as well as sample wild teas. If you wish to stay here, you should make a reservation over the phone at least a day in advance.
Reservations can only be made in Korean, so non-Korean speakers should call tourist information for interpretation assistance.
☞ Reservations: Yangsajae +82-63-282-4959 (Korean) / Tourist Information +82-63-1330 (English, Japanese, Chinese)
→ Yangsajae


● Day 2 Yangsajae Breakfast: 08:30

A delicious breakfast is served to guests in their rooms at 8:30am. Since breakfast times cannot be changed, it may be a good idea to notify them if you need to leave earlier in the morning. The Yangsajae breakfast is a traditional Korean meal that comes with rice, soup, grilled fish, and wild vegetables.



● Travel to the Imsil Cheese Village : 09:30
Buses run from Jeonju bus terminal run to the Imsil Cheese Village, or you could take a taxi there from the Jeonju Hanok Village. The tourist information center inside the Jeonju Bus Terminal can provide lots of information on the best way to travel to the Imsil Cheese Village. Cheese experience programs start at 10:10 am, 11:30 am, and 1:30 pm, so be sure to arrive at the village before your reservation time.


[Transportation Information]
① Bus
Jeonju Terminal (departs every 10min from 6:05am ~ 10:00pm, 3,000 won) – estimated travel time of 30~40 minutes to Imsil
Contact: +82-63-281-2739 (English, Japanese, Chinese)
② Taxi
Estimated travel time of 25~30 minutes from the Hanok Village to the Imsil Cheese Village (around 25,000 won ~ 30,000 won)