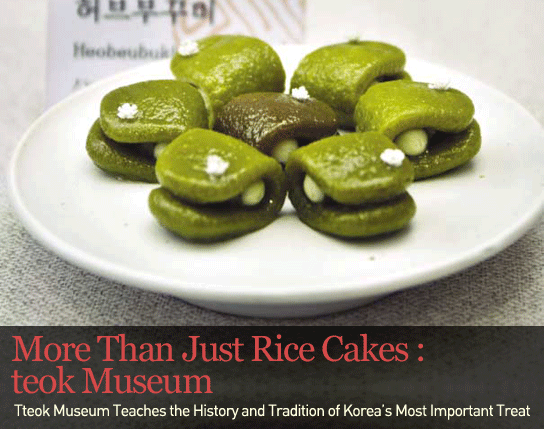 The rice cake, or tteok. You might think of Korea's ubiquitous glutinous rice dessert as nothing more than a tasty treat, but it's so much more than that. Tteok is deeply ingrained into the daily lives of the Korean people — wherever there is a major rite of passage, there is tteok. The Tteok Museum, located on the second and third floors of the Institute of Traditional Korean Food, takes visitors through the rich history and tradition of Korea's favorite dessert. What's more, it gives you a chance to learn the tteok-making process through hands-on programs and, of course, sample the wares in the first-floor cafe.

A Unique Institution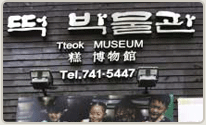 The Tteok Museum opened in 2002, and is the only museum of its kind in Korea. Explained guide Youn Young-sim, "Tteok is deeply ingrained in the daily lives of Koreans, but there were no museums for it. The museum was opened to show people the many kinds of tteok and disappearing tteok traditions."
The museum is run by the Institute of Traditional Korean Food, one of Korea's premier research and educational bodies dedicated to Korea's national cuisine. The first floor of the museum examines the diverse world of the Korean rice cake, with displays breaking them down by season and preparation method. The second floor, however, looks at the use of rice cakes in the many rites of passage that traditionally marked the lives of Koreans.

2,000 Years of Tradition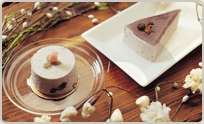 Tteok is not only one of Korea's most symbolic foods, but also one of its oldest. Youn explains, "Korea has been producing tteok for about 2,000 years, going back to the Three Kingdom's Period. Now there are about 200 forms of rice cake — 198, precisely speaking."
Indeed, one of the things most fascinating about the displays is the mind-boggling diversity of sizes, shapes and colors in which tteok manifests itself. And the color is important, too — quite often, rice cakes are chosen for particular occasions thanks to their color and the role they play in Korea's traditional yin-yang cosmology. Take, for instance, the white garae tteok commonly consumed sliced in tteokguk soup on New Year's Day. New Year's Day is traditionally considered a day with a lot of yang, or positive energy. White, too, symbolizes yang, hence the use of white garae tteok.

Other colors have their uses, too. Red, for instance, was commonly believed to be effective in scaring away ghosts, goblins and all other manners of things that go bump in the night. On Dongji, the winter solstice, red-bean porridge with rice cakes was served —the long night and its attendant beasties requiring culinary caution. Likewise, on the table of a first birthday, or dol, you'll find rainbow-colored tteok. This symbolizes the hope that the child's dreams will grow like a rainbow.

Region plays a major role, too. Take, for instance, songpyeon, the half-moon shaped rice cakes with chestnut paste eaten en masse during the Chuseok holiday. Its color and even shape will change from place to place — along the North Korean coast, for instance, they take the shape of a clam shell, in the hope that the rice cakes will bring in a good catch in that shell-fish dependent region.



How to make Songpyeon

Disappearing Traditions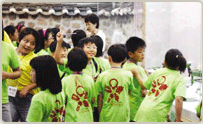 The spring Dano festival, for instance, is nowhere near as celebrated as it used to be. Yet through the museum, we can learn about the unique food that used to be consumed on this important holiday, including the bright green charyunbyeong, made from a kind of marsh plant. The summer yudu, on the 15th day of the 6th lunar month, was at one time celebrated with outings to local mountain streams and waterfalls, accompanied by fortifying meals that included sanghwabyeong rice cakes.

Four Kinds of Rice Cakes

Despite the dizzying variety of tteok, ultimately, there are only four basic methods of preparation. They are:
Boiled Tteok: Most often encountered in gyeongdan, the small, powdered sticky rice cake balls that often come in many colors, depending on the powder.
Steamed Tteok: Many forms of rice cake are steamed, including the Chuseok treat songpyeon.
Pounded Tteok: Rice cake made from pounding rice with a large hammer — you can see this in action at many folk villages and folk festivals around the country. The most common pounded tteok is injeolmi.
Fried Tteok: You can even prepare tteok in a frying pan — hwajeon, a rice cake often decorated with a flower pedal design, is made this way.

An Educational... and Delicious Experience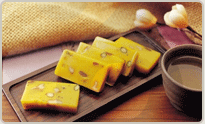 If you're interested in doing more than just looking at the exhibits, you can also enroll in one of the Institute of Traditional Korean Food classes. The institute has classrooms on the fourth to 10th floors of the building, and offers three classes for foreigners — a tteok-making course (30,000 won), kimchi-making course (50,000 won) and traditional food making course (70,000 won). In the last one, you learn to make two kinds of food, and a translator is provided (the other two classes require the student to bring his or her own translator). You also get to wear a hanbok throughout the class. To participate, you should sign up at the museum homepage (www.tkmuseum.or.kr) or call (02) 741-5447.

Of course, there's always the first floor tteok cafe, where you can enjoy some rice cake with a cup of tea. As part of the museum's educational mission, it also sends out teachers to local schools to teach children about tteok and traditional Korean cuisine.
[Getting There]
The museum is a short walk from the front gate of Changdeokgung Palace in the direction of Jongno 3-ga Station, Exit 6. It is open Monday to Saturday, 10:00—5:00 and on Sunday, 12:00—5:00. It is closed on Seollal and Chuseok. Entrance is 3,000 won.

[Find out more!]
- Tteok Tteok Revolution!
- Tteok and Kitchen Utensil Museum
Written by Robert Koehler / Photographs by Ryu Seunghoo
The article courtesy of Seoul magazine