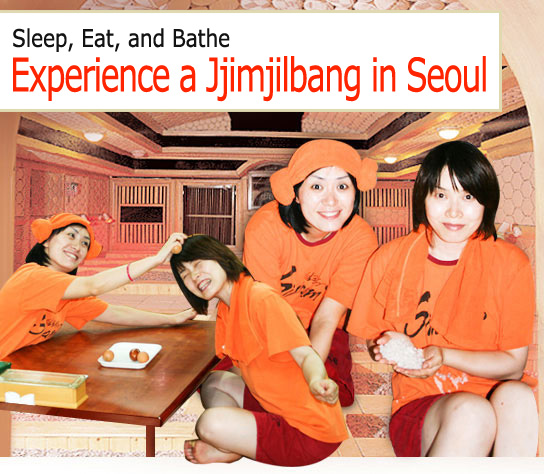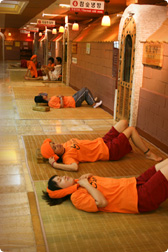 In Korea, the Jjimjilbang-Korean Spa is a place where one can not only enjoy the spa, shower, and sauna but also sleep overnight at an affordable price. They are a popular getaway for Korean families, couples, and friends. You can enter various heated rooms each designed with a particular theme. These are great places to sweat and relax.

In a Jjimjilbang-Korean Spa, you will also find many recreational facilities such as a snack bar, fitness club, PC bang, and noraebang. One can have a fun time in a Jjimjilbang-Korean Spa at any time, whether the weather is hot, cold, or rainy, or when one feels bored. Open 24 hours a day, Jjimjilbang-Korean Spa have already become well known among foreign travelers as a clean and affordable place to stay overnight and relax after an intense day of sightseeing. Join visitkorea as we visit two of Seoul's most famous Jjimjilbang-Korean Spa.


Jjimjilbang(Korean Spa) Orientation
Enter a jjimjilbang Jjimjilbang

usually operate 24 hours a day. A nighttime premium applies after 8pm, so expect to pay 2,000 won or 3,000 won more than during the day.
Get a locker key
You will walk through the doors titled "men" or "women" and store your shoes using a given key. Once inside, you will have your shoe locker key exchanged with another locker key to store your clothes and belongings.
Take a shower and change clothes

Walk into the gender-segregated bathhouse area and take a shower. Then, put on the

jjimjilbang

clothes (usually a T-shirt and shorts) that you received with your locker key.
Meet friends

Once dressed for the

jjimjilbang

, you can go out to the unisex area and find your friends. You can go in one of the saunas, watch TV, or just relax in a rest area where you will also find pillows and blankets for a nap.
Visit jjimjilbang rooms

In a

jjimjilbang

, you will find many rooms with a varying themes including: a jewelry room, a salt room, and a series of rooms with different temperatures ranging from 60 to 100 degrees Celsius. There is even an ice room. Be sure to check the temperature sign outside before entering.
Have a snack

In the cafeteria, you will find cold beverages such as ice green tea, ice coffee, or ice

sikhye

(a traditional, sweet Korean drink with floating rice), snacks, or simple meals.
Enjoy other facilities

You can sleep in the sleeping room or read in the book corner. Also available for free is a fitness room and movie room. For a fee, you can use the

noraebang

(a singing room), massage shop, nail care shop, and sitz bath.

[Tip]
Jjimjilbang operate 24 hours a day and have gender-segregated bathhouses and locker rooms. The unisex area consists of themed sauna rooms (called jjimjilbang), public rest areas, and sleeping rooms. There are also various other facilities so it is a good place to have fun with your friends or loved ones.

| | |
| --- | --- |
| | When done with the sauna, take a shower and get changed to wrap up your jjimjilbang experience. |


Jjimjilbang(Korean spa) in Seoul
| | | |
| --- | --- | --- |
| Name | Location | Tel |
| Seoul Leisure Sports Club | Subway Line 5, Bangi Station, Exit 1, walking distance | +82-2-404-7000 (Korean) |
| Spa Lei | Subway Line 3, Sinsa Station, Exit 5, walking distance | +82-2-545-4113 (Korean, Japanese) |
| Gold Spa | Subway Line 2, Gangnam Station, Exit 3, taxi | +82-2-581-4888 (Korean) |
| Happy Day | Subway Line 2, Guui Station, Exit 4, walking distance | +82-2-452-5656 (Korean) |
| Yongsan Dragon Hill Spa | Subway Line 4, Sin Yongsan Station, Exit 4, walking distance | +82-2-797-0002 (Korean, Japanese, Chinese) |
| Central Spa | Subway Line 3, Express Bus Terminal Station, Exit 4, take escalator and go up | +82-2-6282-3400 (Korean) |
| Banpo Hanjeungmak | Subway Line 3, Express Bus Terminal Station, Exit 7, walk into alley of Useong Apartment and Hanshin Apartment, B1 of building (2~3 minutes) | +82-2-3477-8880 (Korean) |
| 24-hour Sambu Geongang Land | Subway Line 6, Eungam Station, Exit 1, walk straight 50 meters | +82-2-302-7737 (Korean) |
| Bellita 24 hour Bulhanjeungmak | Subway Line 2, Hongdae Station, Exit 1, alley behind Cheonggiwa (Blue roof) Gas Station, building (F7) across from TGI Friday (5 minutes) | +82-2-322-4000 (Korean) |
| Dongmyo Sparex | Subway Line 6, Dongmyo Station, Exit 6, building (F12) in front of subway exit | +82-2-763-8888 (Korean, English, Japanese) |
| World Cup Spa Land | Subway Line 6, Sangam World Cup Stadium Station, Exit 1, building (F1) facing South Gate of World Cup Stadium | +82-2-308-4006 (Korean) |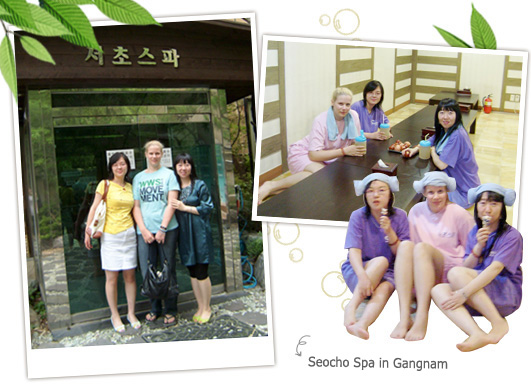 Jjimjilbang in the Gangnam area are a recommended stop for those who want to relax after shopping in Apgujeong or at COEX. They usually have good facilities and are not too crowded. The Seocho Spa in Gangnam, in particular, is a huge facility of about 4958.7m².
Don't miss the Bul-hanjeungmak room: it is heated in the traditional way by burning pine tree firewood twice a day. Seocho Spa has the following auxiliary facilities for you to enjoy at an affordable price.
→ Go to Seocho Spa


Theme-style Jjimjilbang(Korean spa) Rooms
Boseokbang (Jewelry Room)

Decorated with precious stones, the Boseokbang is a favorite among women. The special stones have a cleansing effect for the skin and absorb the body's bad energy.
Sogeumbang (Salt Room)

Heated to a temperature of over 69 degrees Celsius, the room is very hot but helps people discharge bad substances or viruses from the body through sweat.
Hannyakbang (Oriental Herb Room)

Equipped with antique furniture and Oriental herb pouches, the room is particularly popular among foreign visitors who like to take pictures there.
Eoreumbang (Ice Room)

This is the coldest room in Seocho Spa. One can cool down one's body temperature through cold air, eliminate wrinkles, and firm the skin.

Seocho Spa's Special Bul-hanjeungmak


Though heated in the traditional way by burning pine tree firewood two times a day, the
Bul-hanjeungmak
is not too hot. You can sit in it for a while and sweat. It is the most popular facility in Seocho Spa and is great for taking a rest or a nap.
Convenience Facilities

There are both facilities that are free and others that require a small payment. You can charge any services to your key and make a payment when exiting the facility, so you don't have to carry around any cash with you.

Free Facilities

The book corner and children's playroom are free of charge.


[Charged Facilities]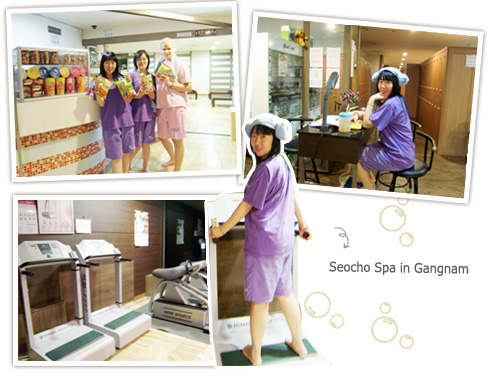 Juice Snack Bar
There are a variety of snacks to choose from: sikhye (rice punch), ice cream, fried eggs, snack foods, and a host of other simple meals.

Fitness Club
You will find riding exercise equipment, vibration sport equipment, and massage chairs. The fee is 1,000 won for 10 minutes.

Nail Art Shop
Nail care service includes basic care and coloring. The price is 15,000 won for hands and 22,000 won for feet.


☞ MORE INFO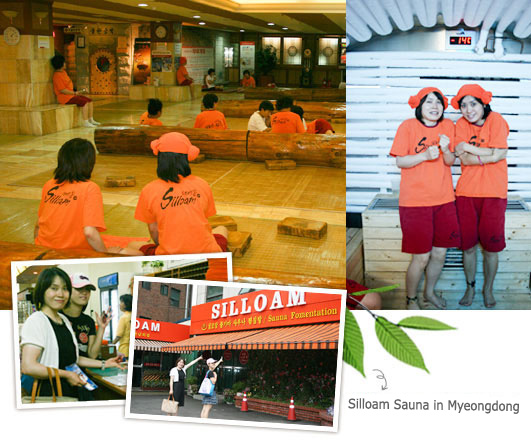 The jjimjilbang in and around the Myeongdong area are mostly located near Myeongdong and Seoul Train Station. They are especially large so one can enjoy a day full of fun, eating, playing, resting, and sleeping.

The Silloam Sauna, which is located only two minutes away from Seoul Train Station, has all types of sauna and recreational facilities in its five-ground level plus one-basement level building. It is also quite famous among foreign travelers. The following is an overview of their sauna rooms and auxiliary facilities.
→ Go to Silloam Sauna


Theme Jjimjilbang(Korean Spa) Rooms
Jagal Jjimjilbang (Pebble Room)

You can lie down or sit on a mat covering heated pebbles. This helps discharge body wastes, reduce muscle pain, and enhance blood circulation.
Ok Hanjeungmak (Jade Sweating Room)

Made of jade, a precious stone with a transparent blue color, the Ok Hanjeungmak is particularly popular among women. It is good for warming the bodies of those with cold hands and feet.
Hwangto Bulgama (Yellow Earth Room)

Far infrared rays discharged from yellow earth that is heated to a temperature of over 60 degrees Celsius is said to be beneficial for relieving fatigue. So if you are stressed out or feel tired, this is the room to go to.
Sanso Togulbang (Oxygen Cave)

The room has walls made of yellow earth bricks and floor covered with jade and is lit with an infrared ray lamp. You can actually sleep in this room, which is separated for men and women. You will feel much more invigorated after sleeping here.。
Chamsut Naengbang (Charcoal Cold Room)

Unlike the heat of other rooms, the coolness of the charcoal room is particularly good for stabilizing the mind, relieving stress, and fighting fatigue.
Special Ssuk Bul-hanjeungmak


The patented Ssuk Bul-hanjeungmak (Mugwort Fire Sweating Room), which is available only in the Silloam Sauna, has an ideal temperature for sweating. It makes the skin smooth and shiny.


Convenience Facilities

There are a variety of free and charged facilities. Only cash is accepted, so you must carry your wallet to use charged services.



[Free Facilities]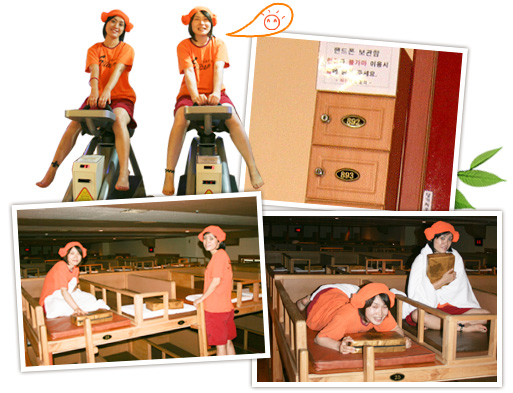 Fitness Center
Opened from 6am to 11pm, the fitness center has a variety of equipment such as running machines and vibration sporting equipment.
Lockers
Every floor has lockers for storing large-size bags, shopping bags, and other items.
Sleeping Rooms

The large sleeping rooms of 400 or 300 beds are separately available for men and women. Visitors who don't like to sleep in jjimjilbang can choose the sleeping room for a comfortable sleep.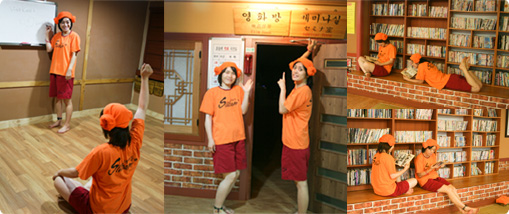 Seminar Room, Conference Room
For important meetings or discussions, call in advance for a reservation.
Movie Room, Book Room
These facilities are available for those who want to watch a movie or read a book.



[Charged Facilities]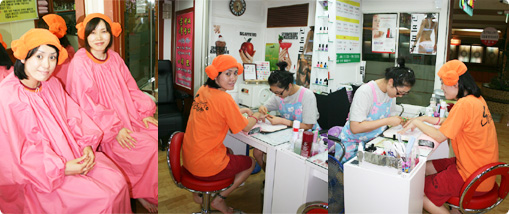 Sitz Bath
☞ Price: Oriental mugwort herb 10,000 won / Oriental mugwort herb + aroma 12,000 won (as of July 2008)
Located on the first floor, the sitz bath helps women warm the body and lose belly fat. It uses the smoke from burnt herbs like mugwort.
Nail Art Shop
☞ Price: Hand basic care + color 13,000 won / Feet basic care + color 25,000 won (as of July 2008)
Located on the second floor, the Nail Art Shop offers basic nail care as well as other nail care services.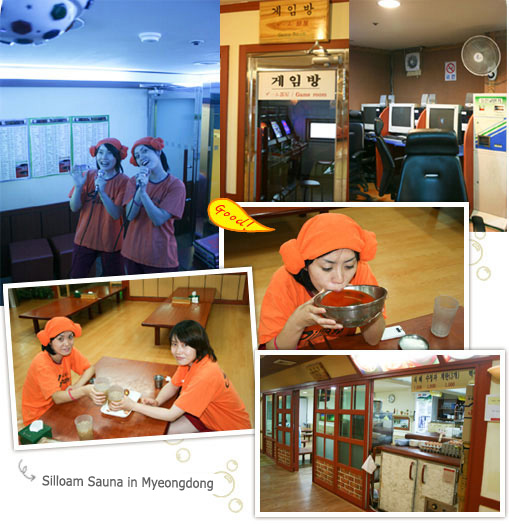 Recreational Facilities
Located on the third floor, the noraebang (singing room), PC bang (computer room), and game room are all available for a fee.
* Restaurants
Each floor has a restaurant serving Korean food or snacks. Prices range from 3,000 won to 9,000 won.


☞ MORE INFO
→ For more information on the saunas and spas in Korea, click here!