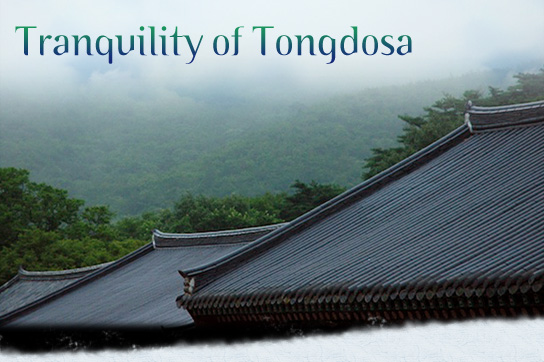 Temples in Korea have always held a strong sense of appeal for me. As sanctuaries for preaching Buddhism, many of the ones I was fortunate enough to visit were idyllically situated in lush surroundings and boasted beautiful, intricate framework. Yet, the more I learned of their significance, the more I grew to know that there are three on the peninsula where the rivers of Buddhism run deepest: Haeinsa, Songgwangsa and Tongdosa. In fact, all three elements of Buddhism - bul (Buddha), beop (teaching) and seong (monk) – are collectively manifested among them. But whereas Haeinsa, which houses the woodblock collection of Triptaka Koreana, and Songgwangsa, known for producing sixteen state monks since the highly revered Bojo state monk, it is here at Tongdosa where Buddha's sarira and surplice are enshrined.

The Buddha's sarira refers to the parts of his body, and his sacred bones of beads. This is the essence of the three Buddha sciences and considered to be the most sacred. And here, preserved within the Geumgang Commandment Altar, a gorgeous stone sanctum just behind Tongdosa's main hall, are the precious remains of the Buddha. Visitors will notice the absence of statues commemorating the great figure; the reason being that there is no need for such display as the remains themselves are buried here. Its main hall does not house a Buddha image but rather a Buddhist altar that spans east to west. In fact, the place a Buddha image should be placed has a window, unlike the temple's other main halls. Korea's most sacred temple and quite arguably the country's most picturesque as well, Tongdosa remains a highly revered, tranquil place to explore the best of the Buddhism's three treasures.

Located in Yangsang, South Gyeongsang Province, the verdant, mist enveloped grounds of Tongdosa Temple are dotted with over fifty temples, of which several are equipped with full monastic training facilities. Strolling the peaceful premises, we were led through ceremonial music performances and witnessed the traditional praying practices within grand halls lit by glowing lanterns. The steady rain was of no hindrance, and instead provided a sense of overwhelming calm. The distant hillsides were draped in mist and made this writer even more eager to venture out and explore, heeding the silent call of nature.

Legend tells that long ago, at the time of Tongdo's conception, there lived nine evil dragons in a large pond that often brought harm to the villagers. To free the people of further danger, master Jajang, founder of the temple, boiled the water with his magical power and expelled them all save for one – a blind dragon who pleaded for his life and promised to protect the temple should the master spare his life. Our group was led around this ancient pond; it rests beside the temple's main hall.

Nestled on the southern foot of Mt. Yeongchuksan, 1,050 above sea level, Tongdosa Temple is flanked by the Nadonggang River and the East Sea. It is said that both Munsu Bodhisattva and Beopgi Bodhisatta once lived on this mountain, further cementing Korea's long-held ties to Buddhism. The glorious backdrop of pavilions, pagodas and stone lanterns all woven in to the surrounding nature reminded us of the revered monks who once took practice here and how times must have been like for them back then. The mountain is linked with India's Mt. Yeognchuksan, where Buddha originally taught Buddhism, thus giving Tongdo its name; the word 'Tong' means linking or communicating.

It is interesting to note that the practices of worship dictated that monks pray to Buddha's sarira.

Monks considered the sacred remains to be the Buddha itself and it wasn't until Buddha entered Nirvana that an image of Buddha was conceived. Even after an image was created, monks continued to worship the sarira. There are five Jeokmyeolbogung shrines that house Buddha's sarira that Jajang, a monk from the Shilla Dynasty, brought from the Tang Dynasty. They are in Yangsan's Tongdosa Temple, Woljeong Temple on Mt. Odae in Gangwon Province, Mt. Seorak's Bongjeong Shrine, Jeongam Temple on Mt. Taebaek and Mt. Saja's Beopheung Temple. Exclusive to Tongdosa Temple is the Geumgang Commandment Altar that enshrines Buddha's sarira thus marking it as Korea's principle Buddhist commandment temple.

If a journey to Tongdosa Temple is in the cards for you, be sure to grant yourself ample time to comfortably scale its solemn, peaceful grounds. A trip made in haste would only defeat the purpose entirely and limit your scope of understanding the temple's enriching grandeur.

Written and photographed by Gregory Curley