Visitors wishing to learn more about Korean traditional arts can now do so while waiting in the departure hall. Incehon's newest cultural installment, the Traditional Experience Hall, welcomes guests from 7:00am to 10:00pm and provides translators to guide guests with any inquiries in English, Japanese and Chinese. The Traditional Experience Hall remains a very popular alternative for guests on lengthy layovers to gain hands-on experience of Korea's unique culture. Guests are also able to take home any artwork they make as souvenirs.
| | |
| --- | --- |
| | Traditional Arts Experience and Fine Arts Performance |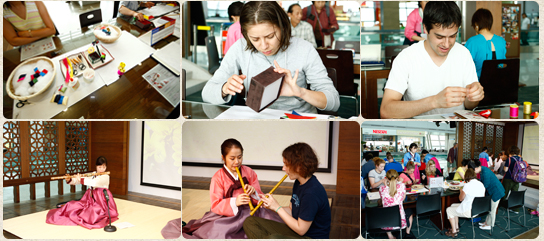 Enjoy a traditional arts experience and fine arts performance all under one roof. There are two traditional arts experience programs available with courses lasting less than 30 minutes. Visitors may choose to cut and paste traditional Hanji (Korean paper) to make jewelry boxes or use traditional sewing techniques to make unique cell-phone accessories.
Also, on Mondays, Fridays, and Saturdays, visitors can enjoy traditional performances twice a day at the Experience Hall featuring the gayageum (a wooden instrument with 12 strings plucked with the fingers), geomungo (an instrument similar to the gayageum, but with 6 strings), and Janggu (a double-headed percussion instrument shaped like an hourglass). After the performance, the performers teach guests how to play the danso (a short bamboo flute).

- Location: After being screened for departure, visitors can visit either of the two Traditional Experience Halls that are located at either end of the departure hall.
(East) Located 5m from the 3F Departure Area Gate #24 next to <Fizz and Jazz>
(West) Located across from <Nescafe>, 5m from the 3F Departure Area Gate #40
- Hours of Operation: 7:00am ~ 10:00pm
- Contact: +82-32-741-3215 (English, Japanese, Chinese)
- Homepage: http://www.kous.or.kr/kous/ (English, Japanese, Chinese)
- Fine Arts Performance: 2 performances daily
(East) 12:15pm ~ 1:00pm / 6:15pm ~ 7:00pm
(West) 11:00am ~ 11:45am / 5:00pm ~ 5:45pm

| | |
| --- | --- |
| | Traditional Arts Exhibition Hall |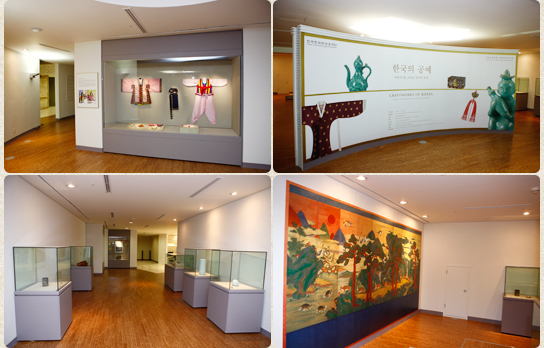 Admission to the Traditional Arts Exhibition Hall is free and the facilities are open 24 hours a day. Currently, the exhibition hall displays over 70 pieces of work made by artisans including Korean ceramics, clothing, trinkets, and more, under the theme of "The Elegance of Time, and the Seduction of Decorations". Furthermore, if you visit at anytime from Monday to Friday between 10am and 6pm, a guide will be available to introduce guests to each item on display in English.

- Location: Located kitty corner from the 4F Departure Area <Snack Bar>
- Hours of Operation: 24 hours a day (English guides available Mon ~ Fri 10:00am - 6:00pm)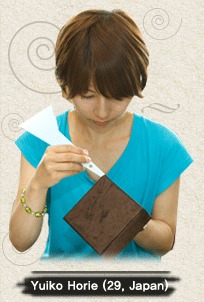 Q: How did you find out about this place?
A: I had free time before my boarding and saw this place as I was walking by.
Q: Which program were you trying out?
A: I was making a jewelry box out of Hanji. It's really fun.
Q: Have you ever tried a Hanji program or ever heard about it before?
A: No, we didn't even hear about Hanji jewelry boxes in Japan. I just thought it looked interesting and fun, so I chose to try out this program. It wasn't difficult at all, and they let me take the jewelry box I made, so I made very productive use of my time.
Q: If you had more time, what other program would you like to try out?
A: There was a fan-making program in the corner. It looked fun. I'd like to try making one.
Q: What did you like most about the Traditional Experience Hall?
A: I was tired of waiting around the airport. At the Traditional Experience Hall, I was able to experience traditional programs for free, and time flew by very quickly. The traditional fine arts performance was also impressive. The gayageum sounded beautiful. I've never heard the gayageum before today. If you're at the Incheon Airport, don't forget to stop by~