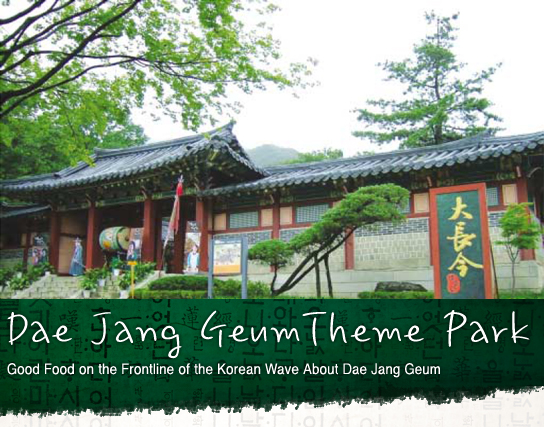 Folk village or living set? Historical accuracy or pop culture appeal? There is no shortage of recreated villages and palaces dotting the Korean countryside and punctuating cityscapes. The close quarters and low gateways are pretty much a prerequisite to the menu of tourist aperitifs. After a while, curious visitors run the risk of having them blur together — the "seen one temple, seen 'em all" syndrome.
Set in the relatively pastoral Yangju area north of Seoul, Dae Jang Geum Theme Park (named after the successful MBC Drama) is a draw for fans of the series, but does it measure up for TV dilettantes?

In brief, because there are enough twists over the course of the single-season series to make M. Night Shyamalan blush, Dae Jang Geum follows the adventures of the title character, Seo Jang Geum — the "Dae" title being bestowed later in life — loosely based on a early Joseon Dynasty-era figure as she rises through the court's ranks from kitchen apprentice to medicine woman to royal doctor.
If you thought Dr. Quinn was met with consternation from the locals, try being a low-ranking woman (having even undergone exile at one point) in a 15th-century court.
The show gained in popularity part because of its difference from previous period dramas, this time adding an element of humor and correlations to modern tribulations faced by young folks chasing their dreams.

It has also been hailed as one of the hallmark exports of Hallyu, the "Korean Wave" of pop culture exports to other (mainly Asian, but spreading) countries. On the day of the author's visit, a rather cold and dismal afternoon, the parking lot was still full of tour buses and the grounds fairly swamped with Chinese fans thrilled to be able to explore in person the very place they had seen some of their favorite plot lines come to fruition.



Not Entirely Historic, But Great for Photos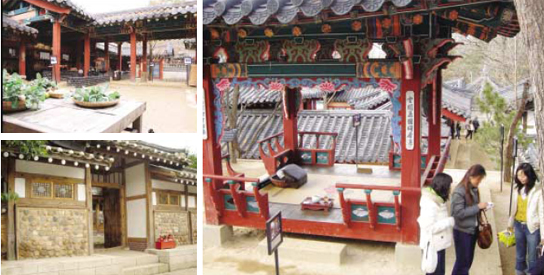 First and foremost, keep in mind that the now-park was built to be a functional film set. Buildings are not constructed with historical methods and materials; on camera they appear to be hewn by the same hands that toiled to create some of the country's still-standing semi-archaeological draws.
Several of the buildings still have remnants of filming past within; buckets of cooking oil and bottles of water can be seen through the greasy plastic sheets(,) which serve as window and doorway coverings.

Counter that, however, with the fact that nearly every space can be entered. Sure, you might have to step over some rubble from an apparently hasty retreat from the set, but you can also get right in there for some great photos.
The site is dotted with signage detailing some significant events that occurred or lines that were muttered by characters at each spot. The cage where Jang Geum kept the golden pheasant? Yup, you can get right in there and breathe the same musty straw that Jang Geum (and, of course, the pheasant) did.
The prison where she was held, weeping on a harsh, rainy evening? Go ahead and pick your way down the gully behind the wall — you can snap a pic of yourself wailing in the very same cell.

There are some regular events for entertainment as well; traditional costumes — replete with elaborate wigs for women é are at your disposal for a 5,000 won photo-op. There are also some sports and games, such as archery, hoop-driving and eunori, as well as the teeter-totter and tuho (throwing arrows into a pot or metal cylinder) that are popular hands-on pastimes at other villages and during cultural events.



Food Fit for a King
However, one of the major themes of both the show and the park is that of royal court cuisine. After all, it is what Jang Geum originally came to the palace grounds to do, and what was the source of a lot of the drama and mystery of the series, with the attempted poisoning at the hands of the Queen Mother.
Toxic substances or not, royal cuisine consisted of 12different side dishes, although the actual number of treats spread over three tables was usually much larger. Not too shabby, considering a commoner might have enjoyed their rice and soup with one or two hard-come-by extras.

Nowadays, of course, any old serf can walk into any number of specialized restaurants and order up a table full of dishes fit for a king or a queen. At Dae Jang Geum Theme Park, visitors can not only have a glimpse at the interior of an early-Joseon kitchen, and are invited to tuck into the regal grub at the on-site restaurant (near the gift shop at the entrance).
Fresh, pan-fried and pickled veggies; chilled, dried and roasted meat or fish; a type of porridge or gruel; poached eggs, and sashimi all jostle for space on the low-slung tables of old. Choose your drinks wisely, as real estate is at a premium with this type of meal!

Due to the wide variety of side dishes, all immaculately prepared and presented, the average visitor will be sure to find something that pleases their palate. Pickled lotus roots not doing anything for you? Try the fresh sprouts in the next dish over. Cold fish not your cup of tea? Stretch out those arms for the steamy beef at the other end of the table.



Getting There

Transportation to and from is fairly easy. Getting off at Yangju Station (line 1), it's about a 15,000 won taxi fare (you may be able to negotiate 10,000), or 15 minutes on a local bus. Not many taxis seem to swing by the park, so for a speedy return the best bet is to walk to the bus stop at the end of the entrance's long driveway, across the road from the park entrance.
The park is open for exploration 09:30-17:00, seven days a week, with an admission fee of 5,000 for adults, 3,000 for children and 4,000 per person for groups of 10 or more. English service is available at (031)849-5141, and if no English-speaking operator is available when you call, leave your phone number and they'll call back promptly.
All in all, a nice day out which may be enhanced if you have the chance to catch the series on DVD (English subs available) beforehand.



Written by Andrew Langendorfer
The article courtesy of Seoul magazine