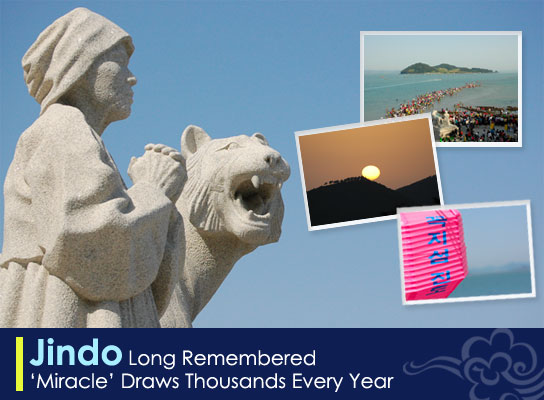 For such a quaint little seaside town, the heralded sea-parting event certainly attracts its fair share of visitors every year. An impressive feat given the area's relatively out-of-the-way location to many of the country's more touted tourism highlights. Yet every spring, thousands flock to the shores of Jindo to walk the mysterious route that stretches roughly three kilometers from Hoedong to the distant island of Modo. Materializing from the rise and fall of the tides, the divide can reach as wide as forty meters and beckons visitors, who stop along the way to pick up fresh seaweed or snap photos, to walk its sandy ocean bottom.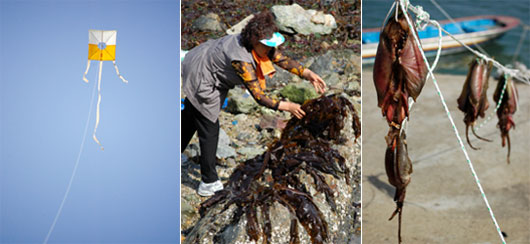 Of particular interest to festival-goers are the many traditional celebrations that take place, including Jindo Ssitgimgut (a shamanistic ritual believed to purify the soul), Jindo Dasiraegi (a performance consoling those who have lost family members), Jindo Bungnori (traditional ancient rhythms played with two sticks), and Sopogeolgun Nongak (an upbeat form of farmer's music sung by soldiers who scouted enemy camps during the Imjin War). Performed at either one of the two stages flanking the statue of Old Lady Pong, the main entry passage to the sea-parting event, they are truly worth watching and a definite highlight to the overall experience. The larger of the two is Hoedong Stage and the other is Gagye Stage. Both feature the festival's main performances and take place shortly before and after the crossing of the sea. Several other smaller forms of cultural entertainment that take place along the boardwalk bordering Hoedong's coastline are also on hand and quite enjoyable.
Many onlookers can even be seen participating in the various rituals that arguably bridge social barriers and seem to warmly welcome all to have a truly memorable experience. At the time of this writer's visit, everyone appeared to be a member of the community, laughing and cavorting about – exactly as one should when breaking away from the arduous routines of city life.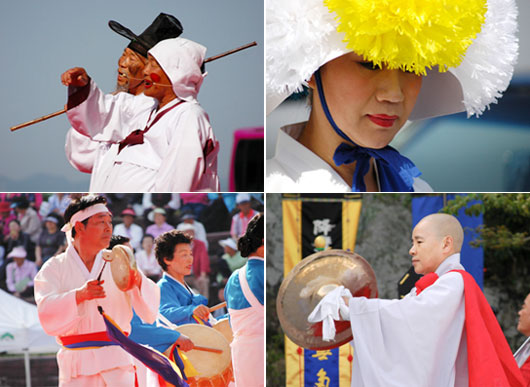 Several decades ago, the much-celebrated event swept far beyond Korea's borders and gained considerable international appeal when French Ambassador, Pierre Rendi, wrote about it in a French newspaper at the time of his Jindo tour in 1975. He spoke so highly of the phenomena, praising it as 'a modern version of the miracle of Moses', that the seasonal celebration continues to pull many from every corner of the globe. In 1996, Japanese pop sensation, Tendo Yoshimi, even penned a song titled 'A Story of Jindo' about the enigmatic ocean passage, sparking renewed interested from abroad and continues to bring hordes of Japanese tourists every year.
Jindo remains a coastal haven, a gorgeous traditional hideaway inviting all with open arms to soak in the warm hospitality, colorful ceremonies and, of course, the parting of the sea – an occasion that gives the town its long standing appeal. For several days in early May, the miracle can best be witnessed between five and six o'clock.
◑Jindo's Fabled Origins Are Rife With Struggle

The fabled origins of Jindo's 'Moses Miracle' speak of considerable suffering. It is said that many years ago, a criminal, who was exiled to the island of Jeju, wound up getting shipwrecked during a fierce storm on what is presently known as Hoedong Village. After settling nicely in the village, he soon decided to flee with the rest of the villagers to a nearby island as tigers were frequently invading the area and taking many lives in the process. However, after the escape, one elderly woman remained. Referred to as Old Lady Pong, she hadn't been as fortunate as the others. Wishing to be with her family but unable to swim across the divide, she prayed continually to the Sea King everyday.
Over time, the Sea King answered her prayers and granted Old Lady Pong her wish. When the sea eventually parted, many came from the distant island of Modo, playing gongs in search of the elderly lady. Yet, the strife and heartache had taken its toll on the woman and she soon died of exhaustion. Before passing away, she whispered feebly, "my prayers have been answered… the sea route has opened so I could see you now. Now that my wish has been granted, I can now die in peace." The area's original name of Hodong was later changed to Hoedong, meaning the 'Village of Return', to commemorate the inspiring story of Old Lady Pong.

◑What To Bring Back

The southern province of Jeollanam-do is most notable for its abundantly rich and fertile soils. A visit south would not be complete without either sampling or bringing home several goods that are both healthy and arguably the tastiest in the country.
A common sight along the shoreline is the long string of locals picking fresh seaweed. Known as Jindo wild brown seaweed, it is said to have been presented to ancient kings because of its extraordinary taste and enormous health benefits. Black Rice is another delicacy native to the area. Receiving a tremendous of exposure from the sun, the rice is heralded for its effect in removing cancer cells and curing stomach ulcers. Grown in soils that are rich in organic matter, the famous black rice remarkably contains up to four times the amount of vitamin B and F found in ordinary rice.
Also worth bringing back is Jindo hongju. The traditional liquor is praised by wine lovers for its pleasant taste and for the fact that it doesn't cause hangovers because it includes the herbal medicinal ingredient, jicho. Another herbal medicinal agent found in both tea and liquor is gugija. According to donguibogam, an old book about traditional Korean medicine, it has the effect of protecting the body from ageing-related diseases and improves immunity.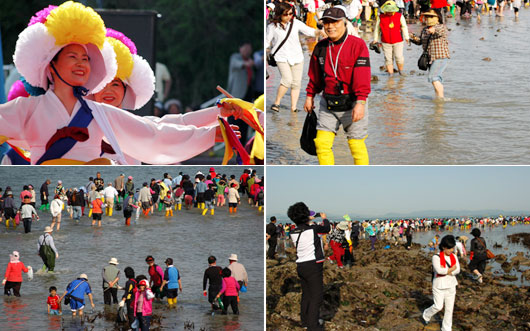 Undoubtedly, Korea's most picturesque locations are often the peninsula's best-kept secrets. Granted Jindo hasn't exactly stayed below the radar, but it has retained a sense of purity that is often lost or overlooked at more commercialized travel destinations. As no great journey comes without a little trekking and healthy dose of adventure, Jindo remains no exception. Supremely rich in not only hospitality, but also its sheer abundance of all things healthy and natural, this coastal gem is one destination worthy of a visit and a great place to keep returning to.
Getting There There is a direct bus to Jindo from Seoul. Despite the long journey, it remains the most ideal method of transportation, as the scenery is quite beautiful. Take subway Line 3 to Express Bus Terminal and proceed to Central City, the new wing of the station. There are several buses leaving daily. Be forewarned that given the distance, it is best to leave early in the morning to get there in decent time. Once arriving at Jindo Bus Terminal, there is a local bus that leaves every hour to Hoedong Port.
Those with time constraints; the other option is taking the KTX to Mokpo and then taking a bus to Jindo. Take Line 1 or 4 to Seoul Station and proceed to the KTX terminal. Once in Mokpo, take a bus to Jindo Bus Terminal. From there, take the local bus to Hoedong Port.
Travel Tips As the annual event brings many people to the coast, it's best to book ahead when staying in Jindo. Although the island is not very large, there are several cozy places to stay and many great restaurants serving fresh seafood. For a list of lodgings, be sure to visit Jindo's official website http://tour.jindo.go.kr for further details. You may also telephone the Department of Culture and Tourism and speak with an English representative. The number is: (061) 540-3254. Or call the Korea Travel Phone at 02-1330. In the event that everything is booked, an alternative would be to stay in the nearby city of Mokpo. There are plenty of accommodations and restaurants there. You can also catch the KTX from there. Mokpo is less than three hours away from Seoul by KTX.


Written and photographed by Gregory Curley