Chuncheon
Korea's Lake Country Makes for the Perfect Weekend Retreat

Chuncheon has always been one of this writer's favorite weekend getaways. Nestled in the rugged snow-capped peaks of the province of Gangwon-do, this warm and inviting provincial capital is a land of mountains, lakes and rivers. A mere hour and a half from Seoul (by either bus or train), it gives world-weary Seoulites a place to escape the urban jungle for a day or two, rejuvenate amidst beautiful scenery and - perhaps above all else - eat good food before returning once again to the daily grind.
╠ Go East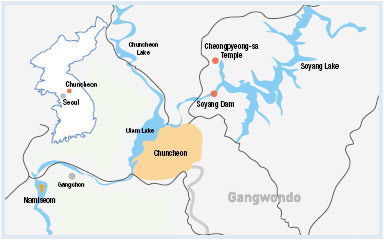 In the winter, there's perhaps nothing more romantic than taking the train from Seoul's Cheongnyangni Station east into the mountains of north-central Korea.
Sure, nowadays, there are much more glitzier ways to get from Point A to Point B. But Cheongnyangni Station, located in the northeast part of Seoul, gives you a chance to experience train travel like it used to be just a decade ago. Yes, it's a bit dingy compared to the glass and steel of Seoul and Yongsan stations, and don't bother looking for the Starbucks. It's a humble station headed to humble mountain towns in the Korean interior. And in its simplicity is its charm.
It's best to take an early morning train, preferably around dawn. The train will chug along the Bukhangang River, amidst splendid mountain scenery. In the early morning hours, the river and reservoirs (resulting from large dams) are shrouded in fog - a beautiful sight indeed.

Through your train window, gaze out upon the winter scenery. If you're lucky, you'll head out in snow - the mountains will glisten in a blanket of white. Grab a cup of coffee and snuggle up with a loved one.
Along the way you'll pass several small Korean resort towns, including Gapyeong, Cheongpyeong and Gangchon. In the summer months, these towns bristle with tourists and students who flock here to enjoy the water sports. In winter, people come here to take in the scenery and enjoy a cup of coffee at one of the many cafes.

If you're not on a schedule - and here, you shouldn't be - it's worth getting off the train at one of these stops to have a drink, perhaps eat lunch and walk around a bit before continuing your journey to Chuncheon (either by train or bus). Britons, Canadians, Australians and New Zealanders with a taste for history will probably want to stop at Gapyeong, the site of the April 1951 Battle of Gapyeong between Commonwealth forces and the Chinese during the Korean War. Monuments to the British, Canadian, Australian and New Zealand troops can be found here.
╠ Land of Lakes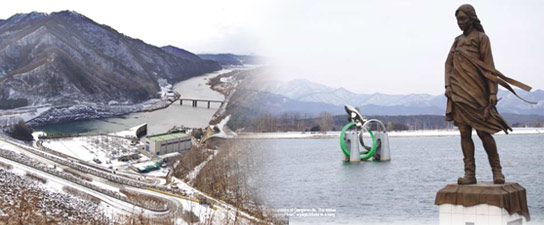 Chuncheon sits on a large lake, as you'll no doubt notice as your train pulls into Chuncheon Station. Once upon a time - not so long ago, in fact - Chuncheon was known as a city of mountains. In addition to mountains, however, the town was blessed with fast flowing rivers, a blessing that did not go unnoticed by civil engineers, who - starting in the 1960s - proceeded to build some of Asia's largest damns and hydroelectric plants in the area. This turned Chuncheon from a mountain railway junction to a city of lakes. Today, the town is surrounded by Uiam Lake to the west, Chuncheon Lake to the north and, further east, the massive Soyang Lake, which is so large to almost qualify as an inland sea. Home to numerous resort islands, including Namiseom, Jungdo (of which there are actually two) and Wido, the lakes provide visitors with tons of water sport activities in the summer months, and beautiful vistas in the winter months. Downtown Chuncheon, which sits on Lake Uiam, is a relatively large provincial capital and a major educational center, with several universities. It's a pleasant enough place to walk around, and although by Korean standards, it's relatively new, it does have a few historical sites of interest, including a number of Korean War memorials and two old Catholic churches founded by Irish missionaries in the mid-20th century.

[Related Article]
Chuncheon, City Surrounded by Water
╠ Namiseom Island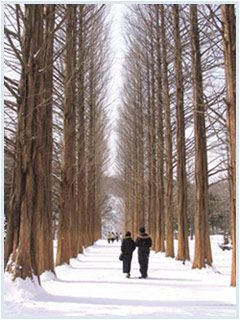 The most famous of Chuncheon's islands is Namiseom, located in Gangchon, about 30 minutes southwest of downtown Chuncheon. Namiseom is a beautiful island of tree-lined walking paths that are especially beautiful when the snow falls in winter. One redwood- lined path is particularly famous as a film set in the popular Korean drama Winter Sonata (see below).
The natural surroundings here are absolutely beautiful, and much effort has been put into preserving the island's environment - you'll find no telephone polls, for instance. Namiseom is also home of the place to stay in Chuncheon, the beautiful Naminara Hotel (see below).
To reach Namiseom, it's best to get off the train at Gapyeong Station and taxi it to the ferry pier - there are frequent ferries from 7:30 am to 9:40 pm.

→ For more information, click here!
╠ Winter Sonata
Chuncheon has become something of a pilgrimage site for fans of the Korean drama "Winter Sonata," which set Asia - and Japan in particular - ablaze after it debuted in 2002. Throughout Chuncheon, you'll find signs and banners - usually in Japanese - marking the various locations that appeared in the drama. These include the lakeside area, Myeong-dong alley and, most prominently, Namiseom Island, where there's an actual statue of the show's two starts, Bae Yong-joon and Choi Ji-woo.

→ For more information, click here!
╠ War Memorials
Because of its strategic location, Chuncheon is known as something of a military town. Several large Korean bases ring the area, and until last year, there was also a sizable US military base in the city across from Chuncheon Station. Along Lake Uiam, you'll find Peace Park, a memorial to the Battle of Chuncheon, fought at the very opening of Korean War on June 25, 1950. In the battle, South Korean defenders badly mauled a superior North Korean force, holding the invaders at bay and buying the South Korean army valuable time. One of the more intriguing war memorials in Korea can be found along the Gongjicheon Stream. A large hall built in the shape of three African huts marks the Memorial Hall for Ethiopian Veterans of the Korean War, built to honor the Ethiopian troops who were sent to Korea in 1951 as part of the Kagnew Battalion.
╠ Jungnim-dong Cathedral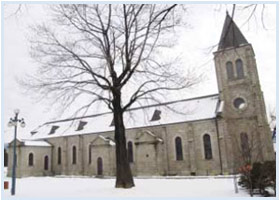 This simple but beautiful stone church, completed in 1952, is the work of Irish Catholic missionaries who served in this region of Korea. In back of the church is a small cemetery that includes the graves of Irish missionaries martyred by invading North Koreans troops in the early days of the Korean War. Nearby is architecturally interesting Soyangno Catholic Church, also designed by Irish missionaries. Both churches have been registered as cultural properties.
╠ Myeong-dong and Chicken Galbi Alley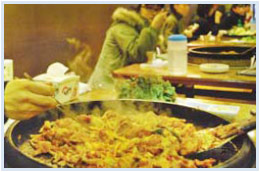 In the center of downtown Chuncheon, not far from Chuncheon City Hall, is Myeong-dong, a shopping street that greatly resembles its more famous Seoul cousin, albeit smaller and less crowded. On a weekend, you'll find tons of young people - both tourists and locals - strolling around, doing a bit of window shopping and people watching. The highlight of Myeong-dong, however, is Chicken Ribs Alley. For many, in fact, this is the highlight of coming to Chuncheon, period. Located in the alley are some 20 restaurants specializing in one of Chuncheon's two most famous contributions to Korean cuisine - Chuncheon-style Chicken Ribs, or in Korean, Chuncheon dak galbi. You ll find restaurants serving this dish all over Korea, but nowhere will you find it as authentic - or as good - as you'll find it here. To make Chuncheon Chicken Ribs, seasoned boneless chicken, vegetables, noodles, sweet potato, rice cakes and other ingredients are pan-fried on a large steel pan at your table. While you watch the food cook, you can talk with your friends over a shot of Korean liquor, soju. If you like spicy dishes, this is one dish you'll adore. After you've finished the chicken, you can take the remaining sauce and vegetables and fry them up with rice, or you can sample some of Chuncheon's other specialty, Chuncheon makguksu, a buckwheat noodle dish served cold. A meal of Chuncheon Chicken Ribs is a great way to spend a winter evening, and is bound to leave you feeling warm - and quite full - inside. A note, though - be sure to bring along at least one friend, because the dish isn't served in solo portions. One serving will cost you about 8,000 won.
╠ Soyang Lake and Cheongpyeong-sa Temple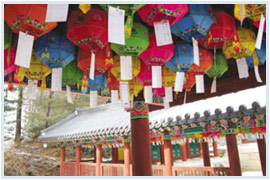 A short bus ride (or a 10,000 won taxi drive) to the northeast will take you to Soyang Lake, a massive reservoir that actually serves as a transport conduit in the mountainous Korean interior. Because of its size, the lake is often referred to as an "inland sea."
The lake is the creation of Soyang Dam, the largest rock-filled dam in Asia. Built in 1973, the dam is an impressive sight, and the ride to the top - along a winding rode that runs up the side of a scenic gorge - is breathtaking. The dam's massive sluice gates look like they'd put on quite a show if opened, but don't count on it happening during your visit - the gates have been opened only seven times since the damn was built.
The dam is surrounded by numerous restaurants and a cafe that boasts panoramic views of the lake. A wintertime specialty is icefish tempura-grab a bag for 10,000won. If you're so inclined, you can take a boat from the dam to Yanggu County in the heart of Gangwon-do. When water levels permit, you can even travel by lake all the way to Inje and the spectacular Mt. Seoraksan National Park-the trip takes about three hours. If you don't have that sort of time, or you're looking for something a bit more relaxing, take the 10-minute boat ride to Cheongpyeong-sa Temple - a roundtrip ticket will cost you just 5,000 won.

Cheongpyeong-sa Temple is one of Chuncheon's most famous tourist attractions. It's not one of Korea's biggest temples, granted. Nor is it one of its most architecturally significant. It is quite remote, however, requiring a boat ride and a four-kilometer walk to reach. Be sure to bundle up, because it can get quite cold, but the winter scenery is impressive. The path to the temple follows a mountain stream with a beautiful waterfall.
The front gate of the temple is registered as Treasure No. 164. Isolated high in the mountains of this remote part of Korea, you really feel as if you've entered a new world. Have 1,000 won handy to pay the entrance fee. If you're feeling hungry, there are several restaurants along the path to the temple.
╠ Places to Stay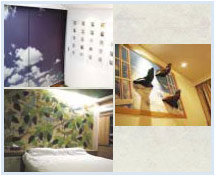 As a popular tourist destination, Chuncheon has a wide range of accommodations, including the relatively upscale Chuncheon Sejong Hotel (033) 252-1191, Chuncheon Bearstown Tourist Hotel (033) 256-2525 and Doosan Resort (033) 240-8000. There are also plenty of cheaper motel and yeogwan as well. They key here, however, is to book early, especially on a weekend, since rooms fill up fast.

The best place to stay in Chuncheon, however, is the Naminara Hotel on Namiseom (see above). Not only is the hotel surrounded by terrific scenery, but the hotel itself is a work of art - quite literally. The hotel's rooms - done up in a variety of themes - have been decorated with the works of noted artists, turning a night here into a cultural experience. A stay here is highly recommended, but book early! On a weekend, a night in one of the "gallery" rooms will cost 99,000 won. Give them a call at (031) 580-8000 or, if you read Korean or Japanese, visit its homepage (www.namihotel.com).
The article courtesy of Seoul magazine