Regional Flavors in Seoul :
Top 3 Restaurants of Gyeongsang-do & Gangwon-do Food


Regarding the provincial region of Gangwon-do as not having developed a food culture because of its infertile environment, Koreans have long referred to the cuisine of Gyeongsang-do as being hot and salty. Recently, however, the two regional foods are considerable attention under the title, "healthy-food."

In particular, Andong area, Gyeongsangbuk-do (north Gyeongsang-do), an area that still keeps a strong tradition of yangban (noble class) culture, inherites its unique food tradition of setting the table and preparing food for ancestor ceremonial worship. On the other hand, Andong-jjimdak (Andong-style braised chicken) that was once sold on Andong's street corner markets has gained nation-wide popularity and now is expanding globally. Gyeongsangnam-do area, embracing Seomjingang River, is famous for the cool tasting jaecheopguk (clear shellfish soup) made with jaecheop caught from the clean river.

Gangwon-do people are often called gamja-bau (potato rock), which reflects the fact that Gangwon-do's foods are usually made of common ingredients such as potato, corn, buckwheat noodles, and acorn. Therefore the foods taste quite plain and yet tasty. Gangwon-do's symbolic foods are memil-guksu (buckwheat noodles), gamjajeon (pan-fried potato), dotorimuk (acorn starch jelly), gamja-songpyeon (potato-filled half-moon rice cake), etc. Gangwon-do foods famous on the beach area include ojingeo-hoe (raw squid) and ojingeo-sundae (stuffed squid). We visited famous Gyeongsang-do and Gangwon-do restaurants in Seoul with Elena, a Spanish editor at Korea Tourism Organization.


[Find out more!]
- Regional Flavors in Seoul : Close Encounters with North Korean Foods in Seoul
- Regional Flavors in Seoul : Top 5 Jeolla-do Restaurants in Seoul
- Gourmet Restaurants in Seoul

The Symbol of Gyeongsangnam-do Food: Seomjingang River Jaecheopguk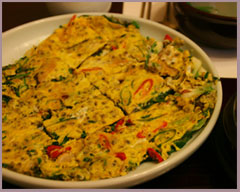 jaecheopjeon

The clear and beautiful river crossing Gyeongsangnam-do Hadong is Seomjingang River. This river's specialty is, after all, jaecheopguk. You don't need to travel hundreds of miles to enjoy this refreshing delicacy, there's a great venue for enjoying jaecheopguk here in Seoul.

When you walk the corner of Insadong 7-gil (7th street), you will see an interesting tile on the ground. It is a tile art, initiated by Insadong 7-gil residents and created by Lee, Jeong Seok's Pottery Studio, showing what restaurants are located on the street. As the tile's drawings illustrate, the restaurant Seomjingang is located on the far edge of the street. The restaurant, with reformed hanok (Korean traditional house) architecture, has a refined yangban atmosphere resembling that of its owner, an elegant woman.

Restaurant Seomjingang's menu includes jaecheophoe muchim (raw marsh clam with vinegared red pepper paste), jaecheopjeon (pan-fried clear shellfish), and jaecheopguk (clear shellfish soup) that feature the savory and cool jeacheop (clear shellfish) that grows only at Seomjingang River where river water and the sea meets. For lunch there is a jaecheop jeongsik (set menu) with which you can try several different menus. For dinner they have Korean course food. Of all the impressively diverse dishes, the most strongly recommended set menu would be jaecheop jeongsik which comes with a variety of jaecheop dishes.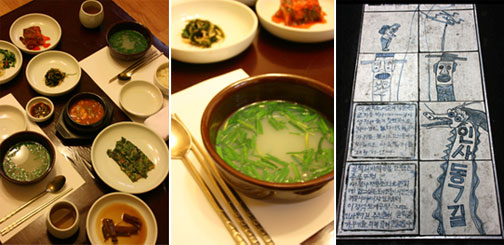 | | | |
| --- | --- | --- |
| Jaecheop jeongsik (clear shellfish set meal) | Jaecheopguk | Insadong 7-gil Tile Art |
• Detailed Information
Location: Insadong 7, Jongno-gu, Seoul
Tel: +82-2-732-2544
Hours: Lunch 11:30-14:00 / Dinner 18:00-22:00
Closed: none
Menu & Price: jaecheopguk ₩6,000 / jaecheop jeon ₩20,000/ hanjeongsik (Korean traditional full course meal) ₩20,000/ jaecheophoe (small) ₩25,000
How to get there: Anguk station (Line 3) → Insadong main road → among right side roads: Insa 7 → End of the road
Gyeongsangbuk-do's Specialty Andong's Symbolic Food of Sweet and Spicy Flavor: Bongchu Jjimdak


| | |
| --- | --- |
| Andong jjimdak 2~3 servings | Andong jjimdak's sticky noodle |
Several years ago, all of Seoul's street corners were conquered by Andong jjimdak (Andong-style braised chicken) restaurants. Andong jjimdak was originally sold in a small corner of traditional street markets in Andong, Gyeongsangbuk-do. It came to Seoul and gained tremendous popularity when three young countrymen transformed the area into a commerical product and brought them to Seoul.

The three young countrymen's product Bongchu jjimdak has even expanded to Japan and grew into a big franchise company. The sweet and spicy taste of bongchu is so addictive that not only Koreans but people world wide are fond of it. It is made by steaming chicken with Cheongyang-gochu (Cheongyang's pepper is known for being extremely spicy) and garlic to tenderize the meat and then cooked with sweet and spicy sauce, sticky noodles, potato, and cucumber. Dongchimi (watery radish kimchi), which comes as a side is also deliciously cool and crunchy. There are chain restaurants located at tourist attractions such as Myeongdong, Jongno, Daehangno, so it is easy to find places to try Bongchu jjimdak. Strongly recommended by Elena!
• Detailed Information
Location: 33-9, Myeongdong 2-ga, Joong-gu, Seoul
Tel: +82-2-318-6981
Hours: 11 :00-23 :00 Open all year round
Price: ₩18,000 (2servings) ₩22,000(3servings) ₩30,000 (4servings)
How to get there: Get off at Myeongdong station (Line 4) and go out of Exit 8 → Walk the one-way road on the left side → Walk 150meters and you will see it on the left.
We are in charge of the health of world's citizens !
All memil food is here !
Seongbuk-dong memil sujebi (soup with buckwheat dough flakes), nurungji baeksuk (stuffed chicken stew with browned rice)


1. The menu board with pictures easy for ordering
2. memil sujaebi
3. memil bibim guksu
4. memil jeon
Seongbuk-dong Memil Sujebi Nurungji Baeksuk is located in the entrance of Seongbuk-dong, known well as a rich village even within Seoul. The restaurant expertly cooks memil (buckwheat), a specialty of Bongpyeong, Gangwon-do region. All of its menus except nurungji beaksuk are made of memil. The restaurant's representative menu, memil sujebi has excellent rich flavor of deulkkae (perilla seeds). Memil buchimgae (pan-fried buckwheat), which tastes just right for foreigners and is cut into pieces like pizza, tastes best when wrapped with organic sprouts and eaten; the pleasant scent expands in the mouth and brings a host of different flavors to the palate. The restaurant's memil guksu (buckwheat noodles) has high concentration of memil and has savory seasoning, which makes the restaurant draw attention for making such attractive taste. Above all, however, the menu that actually represents this restaurant is nurungji baeksuk (stuffed chicken stew with browned rice). Baeksuk (stuffed chicken stew), boiled with ginseng, jujube, gingko nut, garlic, etc. for hours to be made tender, is so delicious it engulfs the mouth. Nurungji-juk (browned-rice porridge) made with the baeksuk soup has special flavor. If you order, nurungji set meal, memil buchimgae (pan-fried memil) – a popular menu- comes along.

• Detailed Information

Location : 281-1, Seongbuk 2-dong, Seongbuk-gu, Seoul
Tel : +82-2- 764-0707
Hours : 10:00 ~ 22:00
Menu : nurungji baeksuk & memil jeon ₩35,000 (3~4 servings) / memil sujebi ₩5,500 / memil bibim guksu ₩5,500/ memiljeon ₩7,000
How to get there : Hanseong Univ. station (Line 4) → 10m facing Seongbuk-dong → take bus 1111, 2112 and get off at the last stop
Enjoy the Korean Traditional Snack Culture; Korean Traditional Café: Jilsiru
A famous Korean food expert and the manager of Korean Tteok (rice cake) Research Institute, Ms. Yoon, Sukja runs this tteok café, Jilsiru. Tteok is Korean's favorite snack similar to cake for Westerners. Jilsiru has fifty different kinds of quality tteok and Korean traditional teas to enjoy together. Jilsiru's tteoks are too pretty to eat, and thus the beauty of looks added to the taste makes it gain even more popularity.

Highly recommended is boseuldanja, made of sticky glutinous rice flour stuffed with filling made from jujube, chestnut, walnut, honey, and covered with sponge cake powder; daechucha (jujube tea), which has a strong jujube flavor, and hongsi shake (soft persimmon shake). Daechucha and hongsi shake are healthy drinks that are both healthy and extremely tasty..
→ For more info on Korea's Tteok, click here !

• Detailed Information
Location: Gwanhun-dong 10, Jongno-gu, Seoul
Tel: +82-2-733-5477
Hours: 10:00 ~ 22:00
Closed: none
Menu & Price : boseuldanja ₩1,500 / sujeonggwa (cinnamon punch with dried persimmon), daechucha ₩5,000/ hongsi shake ₩7,000
How to get there: Get off at Anguk station (line 3) and go out of Exit 6 → Walk through Insa-dong main road → 100m before you get to Insa-dong intersection, on the right side.
Photography & Article by Mikyung Hong