Regional Flavors in Seoul
Top 5 Jeolla-do Restaurants in Seoul

It has been said for hundreds of years that women in Seoul are soft-spoken, those in the Gyeongsang-do province are independent, and those in the Jeolla-do province are great cooks. As this statement highlights, the food of the Jeolla-do province boasts an abundant variety and great taste using the plentiful grains and vegetables harvested from the region's expansive plains as well as the seafoods from the nearby oceans. In particular, Jeonju is home to a number of well-known families where secret recipes have been handed down from one generation to the next, giving it the reputation of being the hometown of flavors.
Regardless of the price of food, traditional Jeolla-do cuisines are characterized by a table presented with over 10 main dishes. Among those, are a number of salted fish called jeotgal and spicy seafoods, which shows the local people's ingenious methods of preserving seafood in a hot region. As such, Jeolla-do is uncomparatively the best in terms of the variety of foods and flavors. In this edition, we take you to the best restaurants in Seoul serving traditional Jeolla-do cuisines including Jeonju bibimbap, kongnamul gukbap, and doenjang bibimbap. Jan and Ja, two German students studying at Koryeo University, shared their views on the flavors of the Jeolla-do province.
[Find out more!]
- Regional Flavors in Seoul : Close Encounters with North Korean Foods In Seoul
- Gourmet Restaurants in Seoul

1. Daejanggeum– High-class Traditional Jeolla-do Hanjeongsik Restaurant
     Catering to Korea's Noted Politicians and Businessmen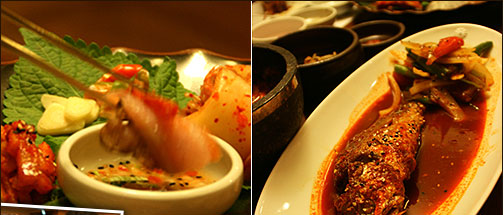 The restaurant is all about the traditional Korean style right from the entrance, where the manager nicely dressed in hanbok greets you with a smile at the door. The restaurant is named after the Korean drama Jewel in the Palace (Daejanggeum), which was one of the main drivers of Hallyu with the theme of royal palace food. To be recognized as the best restaurant to emulate the traditional flavors served to the King, the restaurant passed stringent evaluations from MBC.
Kim In-Sook, the restaurant owner, was highly influenced by her maternal grandmother's cooking, who was from the Jeollabuk-do province. Her restaurant became very popular in Seoul by serving delicious dishes, made by Kim herself, and by presenting an upscale ambience. The restaurant has been widely used by families for pre-wedding meetings, as well as, leading politicians and businessmen

Starting with patjuk and dongchimi, over 15 dishes come served in elegant porcelain dishes, and the true feast begins, pleasing both the eyes and the mouth. Waitresses dressed in silk hanboks serve food while briefly explaining the dishes. The most recommended menu is the Daejanggeum Jeongsik Jin, Seon, or Mi: all foods are naturally made without using any MSG. If you find the price of Jin, Seon, or Mi on the high end, try Uri Jeongsik or Buan Jeongsik.


Photo 1: Entrance to Daejanggeum
Photo 2: Inside of Daejanggeum
Photo 3: A Western-style table for foreigners on the 1st floor

Feedback from Jan and Ja
In terms of both ambience and taste, Daejanggeum was chosen as the best of the four restaurants. The food is served in an upscale and traditional Korean ambience, and the taste is simple and delicious. They were both very pleased with the elegant serving by the waitresses who explained the dishes.

● Information
Telephone : 02-2233-3113
Hours : 11:30AM~ 3:00PM (Lunch) / 5 :00PM~10:00PM (Dinner)
Closed : Chuseok and Lunar New Year
Menus : Uri Jeongsik 20,000 won, Buan Jeongsik 30,000 won, Tobang Jeongsik 40,000 won, Daejanggeum Mi 50,000 won, Daejanggeum Seon 60,000 won, Daejanggeum Mi 90,000 won
How to get there : Seoul Subway Line 3, Dongguk University Station, exit #5; at Jangchung Stadium, turn right into the first alley. You can see Daejanggeum in a remodeled house.
Reservations required (+82-2-2233-3113 / English, Japanese, Chinese)
Languages : English, Japanese, Chinese
2. Namdo Iyagi
– Traditional Jeolla-do Restaurant Where Baggy Pants are
     a Must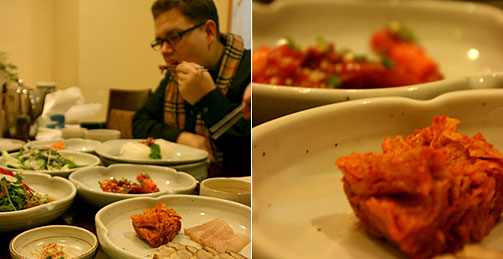 Namdo Iyagi is a traditional Jeolla-do restaurant serving foods more catered to the general public than Daejanggeum. Run by two sisters from the Jeolla-do province, the restaurant serves the region's local foods adapted for the people of Seoul. Both sisters are in charge of the kitchen and they are keen on getting the freshest ingredients. Everyday, fresh seafood is supplied straight from the sea. Of the many foods, ganjang gejang is a specialty with shiny crab meat and orange-colored eggs. Using only the freshest ingredients is the key to this dish, which is generally served to the most important guests.

The food of the Jeolla-do province is largely determined by their kimchi and salted fish. The mugeun kimchi godeungeo jorim of Namdo Iyagi gives out the best flavors of mugeun kimchi (old kimchi), showing how the restaurant became so popular. Also served are vegetables, salads, raw fish, gulbi fish, and even hongeo (skate fish), which is a specialty of the region. The food is served in quality porcelain dishes and all servers are dressed in modernized hanboks. The most recommended menu items are Iyagi Jeongsik (35,000 won) that comes with dozens of dishes plus octopus, skate fish, kimchi godeungeo jorim (braised mackerel with kimchi) and tteokgalbi (grilled minced beef ribs), If this is too pricey, try one from a list of ilpum yori, which comes with a main dish and a variety of side dishes.


Photo 1: Jan and Ja drinking bokbunja, a specialty liquor of the Jeolla-do
              province
Photo 2: A table full of dishes that is characteristic of traditional Jeolla-do
              meals
Photo 3: Hongeo muchim (skatefish), a specialty of Jeolla-do

Feedback from Jan and Ja
Jan particularly liked this restaurant. He said he likes it because of the more humble ambience compared to Daejanggeum. Overall, he gave it a similar rating as the one he gave for Daejanggeum. He thinks it is more for the common people, comfortable, and the food is much more like the common Korean foods he usually has. He was particularly impressed by bokbunja, a traditional liquor of Jeolla-do. He gave a high mark for the convenient transportation as the restaurant was located in Daehangno, easily accessible by subway.

● Information
Telephone : +82-2-3675-5004
Hours : 11:00AM~11:00PM
Closed : Chuseok, Lunar New Year's Day, New Year's Day
Menus : Namdo Jeongsik 25,000 won, Iyagi Jeongsik 35,000 won, Urideul Jeongsik 45,000 won, Teuk Jeongsik 55,000 won, Hongeo Samhab (S) 35,000, Hongeo Samhab (L) 55,000 won, 3-Legged Octopus 3~40,000 won (seasonal), Godeungeojorim (Lunch) 7,000 won, Godeungeojorim (Dinner/S) 25,000 won, Godeungeojorim (Dinner/L) 38,000 won
How to get there : Subway line 4 Hyehwa Station exit #1. Go straight for 30M, then you will see a building to the right with a blue sign with Namdo Iyagi written in white on the 1st floor.
3. Toenmaru Doenjangyesul
– Healthy Doenjang Bibimbap at an
     Affordable Price


Photo 1: Doenjang Bibimbab table setting
Photo 2: The restaurant's characteristic doenjang recipe for making
              Doenjang Jjigae (not served)
Photo 3: Ja, mixing the Doenjang Bibimbab
Doenjang is one of the best health and diet foods developed over thousands of years. It is made by boiling soybeans to make meju, which is then dried for fermentation. Once matured, the liquid form produced is the ganjang (soy sauce), and the solid form is doenjang. The doenjang used at Toenmaru Doenjangyesul is made using only home-grown soybean of the best quality. Since the process of making ganjang is skipped, all the nutrients are absorbed into doenjang. Steamy, warm rice is topped with crispy leek and lettuce, and then a spoonful of doenjang is added to the mix, and there you have doenjang bibimbap, Korea's best health food. Eat this with fresh yeolmu kimchi, fried anchovy, and jangjorim. The restaurant is located in Insa-dong, which is currently the heart of tourism in Seoul and the center of traditional Korean culture, especially popular amongst foreign tourists.

● How to Eat
Top your rice with shredded leek and lettuce and put one or two spoons of doenjang and mix well. In Korea, bibimbap is not eaten by itself but always with side dishes. Enjoy your doenjang bibimbap with a variety of side dishes.



Feedback from Jan and Ja
Ja was particularly pleased with this restaurant for its price. The ambience is Korean, and the foods are both healthy and delicious, so it is a good and readily accessible restaurant. Its location in Insa-dong is a plus since visitors can stop by after sightseeing, but being inside an alley makes it difficult for foreigners to find it, which is the downside.


Photo 1: The Seoho Art Gallery located on the corner of the Insa-dong
              intersection
Photo 2: Alleyway to the Toenmaru Doenjangyesul restaurant
Photo 3: Ja and Jan in front of the Toenmaru Doenjangyesul entrance


● Information
Telephone : +82-2-739-5683
Hours 11 : 30AM~10 :30PM
Closed : New Year's Day, Chuseok
Menus : Doenjang Bibimbab 6,000 won
How to get there : Subway line 3, from the Anguk Station, head straight onto the Insa-dong street. Face the Seoho Art Gallery at the intersection and make a left into the alleyway, then when you see the alleyway from Photo 2 and make another left into the alleyway. Go 30M straight and you will see the sign from Photo 3 to your right. The restaurant is located on the basement 1st floor and the 2nd floor.
4. Jeonju Yu Halmeonijip
- Kongnamul Gukbap and Bibimbap Have Been
     Savored by Seoul City Hall Officials for More 40 Years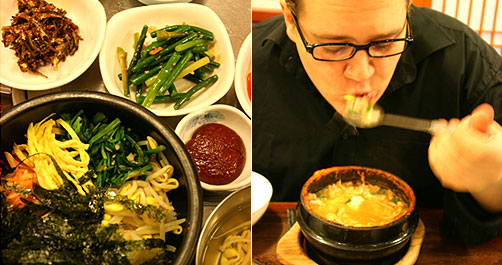 Jeonju Yu Halmeonijip is one of the few restaurants in Seoul that can make kongnamul gukbap in the same way as it is prepared in Jeonju, being famous among Seoul City Hall officials. Particularly, the kongnamul gukbap is a must to relieve a hangover. The dish is made using only kongnamul (bean sprouts) grown by Grandma Yu, a native of Jeonju herself, giving it a solid reputation for 46 years.
The base is an anchovy broth mixed with the remaining broth from boiling bean sprouts. In here goes cooked rice, salted shrimp, seasoned bean sprouts, spring onions, garlic, sesame seed, sesame oil, and red pepper flakes in a stone pot, and then boiled at a high temperature. This hot dish is particularly good in winter time. The well-done kkakdugi (diced radish kimchi) and side-dishes are all made using fresh ingredients bought by Grandma Yu. The sesame oil and red pepper paste, which are the key ingredients for the flavors, are also made in the restaurant using the ingredients from the Jeolla-do province.
During the weekends, the restaurant is less busy, so generous Grandma Yu works alone. The side dishes, which during weekdays are only three, are increased to six types. Avoid times between 12pm and 1pm on weekdays since many are always waiting in line to be served.

● How to Eat
Mix the soup and everything else in the kongnamul gukbap well and eat by the spoonfuls. As you eat, also have some well ripen kkakdugi that comes as a side dish.
For bibimbap, add some gochujang red pepper paste in the bowl with the rice and vegetables and mix well. Normally, Korean people put one full tablespoon of gochujang, but foreigners who are not used to hot, spicy foods should start with a smaller amount and then add more on later. When mixing, use chopsticks. When eating, use a spoon.



Feedback from Jan and Ja
After eating kongnamul gukbap and bibimbap, both Jan and Ja said they don't see much difference between the same dishes they had in other restaurants. Despite using good ingredients and no MSG, they didn't think the dishes had any particular flavors, so they both gave it the lowest rating. However, this restaurant has already received much media attention and is still visited by many Japanese and Chinese travelers.



Photo 1: Articles introducting the restaurant in a number of medias.
Photo 2: Restaurant sign
● Information
Telephone : 02-752-9282
Hours : 7:00AM~10:00PM
Closed : Chuseok, New Year's Day, National Holidays
Menus : Bibimbab 6,000 won, Haejangguk 5,000 won, Samgyeopsal 8,000 won
How to get there : Seoul Subway line 1,2 Sicheong Station exit #6 then head for the Shinhan Bank located behind the Plaza Hotel. Face the bank and go into the alleyway to the left and walk straight for 2min, then you will see a sign.
5. Gogung - Famous Jeonju Bibimbap Restaurant
Jeonju is known as the birthplace of bibimbap. This dish that comes with a lot of ingredients in a bowl is both a good choice for nutrition and a good meal. There is also a place serving Jeonju Bibimbap in Myeongdong, Seoul.
First opened in Jeonju in 1971, Gogung expanded its chain by launching its first store in Myeongdong, Seoul in 1999. Most ingredients like bean sprouts and gochujang are brought from Jeonju to retain the original flavors of Jeonju bibimbap. A variety of ingredients top the rice: zucchini, cucumber, spinach, bracken, bellflower, radish, and minced raw beef. Five types of nuts are added to the mix: jujube, pinenuts, walnut, gingko, and chestnut. All these ingredients make for a healthy and flavorful meal. The side dishes that come together with bibimbap are also responsible for the restaurant's popularity. All in all, seven side dishes including kimchi, kimchi jeon, and salted squid are served.
The overall traditional ambience is enhanced by the interior design using Korean hanji paper as well as the servers dressed in hanboks. The restaurant is popular among both local people and foreign visitors alike.

● TIP
When mixing bibimbap, use chopsticks rather than a spoon. Then, you can keep the rice and all the ingredients fresh and intact. But when eating it, it is better to use a spoon.

● Information
Telephone : +82-2-776-3211 (Korean)
Hours : 11:00AM~10:00PM
Closed : New Year's Day, Chuseok
Menus : Jeonju Bibimbab 10,000 won, Dolsot Bibimbab 8,000 won, Nakji Bibimbab 8,000 won, Gogung Jabchae 13,000 won
How to get there : Seoul Subway line 4 Myeongdong Station exit #10. As soon as you exit, you will see the Sejong Hotel. While facing the hotel, go into the righthand side alleyway and soon, you will come across an intersection. Make a left and go 60m, the restaurant will be located to your right.
Written & Photographed by Reporter : Hong, Mi-Kyung