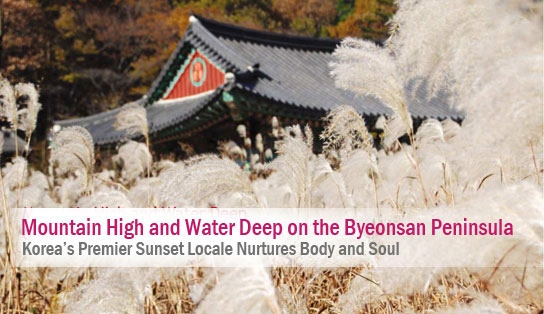 "Have a cup of tea before you go," reads the sign on the tea house of Naesosa Temple. This weary traveler, not one to turn down such a welcoming offer, steps inside the teahouse of Naesosa Temple and boils himself a nice kettle of green tea, a welcome treat on this chilly day. Outside the open sliding doors sits a weathered old stone pagoda and beyond that, the tile roofs of the temple; further still are the forested hillsides of the beautiful mountains.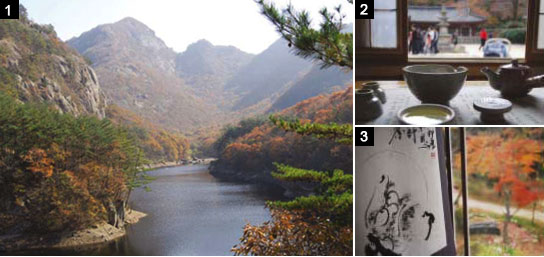 1. Beautiful mountain scenery, Inner Byeonsan
2. Green tea setting, Naesosa Temple
3. Bodhidharma painting in shop of Gaeamsa Temple
In a land filled with beauty, few places match the natural splendor of the Byeonsan Peninsula. Jutting out from the small town of Buan in southwestern Jeollabuk-do province, the Byeonsan Peninsula - long protected as part of Korea's National Park system - has something for everyone. Its beautiful mountains, dotted with dramatic cliffs, waterfalls, lakes and ancient Buddhist temples, beckon the hiker and cultural tourist, while lovers flock to its beaches to take in spectacular sunsets.
Inner Byeonsan
Inner Byeonsan, or "Naebyeonsan" in Korean, is the lovely mountainous interior of the Byeonsan Peninsula. It's here you'll find most of the quality hiking opportunities with Jikso Waterfall and Nakjodae Peak (roughly 450m) as two popular options. The interior is also home to Naesosa and Gaeam-sa, two of Korea's most underrated Buddhist temples.
• Naesosa Temple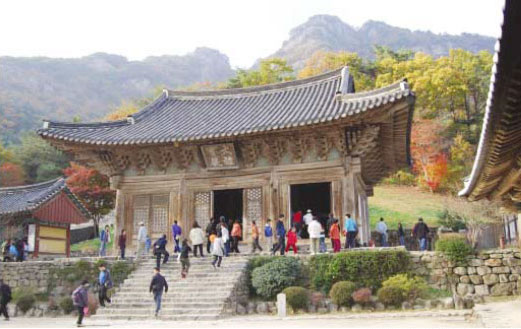 Main Hall of Naesosa Temple, Treasure No.291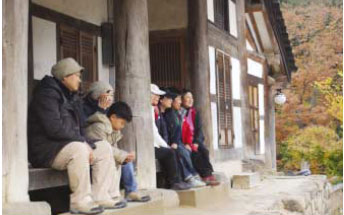 Visitors taking a break at Naesosa Temple

Naesosa Temple is the Byeonsan Peninsula's most visited temple. It's not hard to see why - the stroll to the temple set amidst towering pine trees is simply magical. The temple itself is blessed with a dramatic mountain backdrop and is home to two treasures: a temple bell from the Goryeo era (Treasure No. 277) and an absolutely spectacular Main Hall (Treasure No. 291). Be sure to check out the designs on the finely crafted doors. Also, look around the many other buildings on the compound - it's a literal treasure trove of Korean traditional architecture.

→ For more on the Naesosa Temple, click here!
• Jikso Waterfall
Jikso Waterfall is one of the peninsula's best known scenic spots, and one of the easiest to reach in interior Byeonsan - it's a short hike from the Naebyeonsan Ticket Office. The scenery along the hike - past beautiful mountains, rivers and stone faces - won't leave you unmoved. From Jikso Waterfall, you can hike to Naesosa Temple.

→ For more on the Jikso Waterfall, click here!
• Nakjodae Peak
Nakjodae Peak is reputed to have the finest sunsets in Korea. You have to work hard to see that sunset, though. The hike to the peak from Namyeochi Ticket Office isn't easy - it's one hard hour-long slog. Bring your hiking boots - you'll need 'em. Not far from Nakjodae is Wolmyeong-am, a small Buddhist hermitage. If you're really ambitious, try to visit the hermitage before dawn - you'll be greeted with unforgettable views of the mist hanging in the hills.
• Gaeamsa Temple
While not quite as visited as Naesosa, Gaeamsa allows you to enjoy your temple experience in peace and tranquility. And amidst some fine mountain scenery, one should add. The Main Hall, which dates from 1636, is a masterpiece of Korean wooden architecture. If you're the meditating sort, be sure to spend some time sitting inside.

→ For more on the Gaeamsa Temple, click here!
"The interior is also home to Naeososa and Gaeamsa, two of Korea's most underrated Buddhist temples."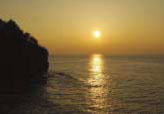 Outer Byeonsan
Once you've had enough of the mountains, come down to Outer Byeonsan, or Oebyeonsan, and enjoy some of the peninsula's maritime scenery


• A Seaside Drive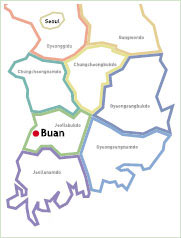 If you've got a car, take it for a leisurely drive along the seaside road - start on Route 30 and keep going. Once you get to Gosapo Beach, the road will split off into a "seaside drive road" that will eventually meet up again with Route 30.




→ Buan is 200 kilometers south of Seoul.
    Approx. three hours by bus from Gangnam
    Express Bus Terminal.
• Chaeseokgang and Jeokseokgang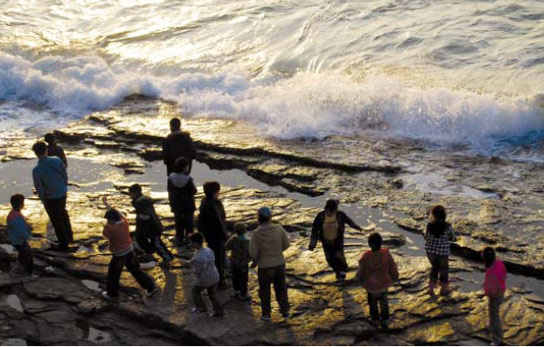 Children at play, Chaeseokgang
Chaeseokgang is a rocky, stratified cliff overlooking the sea. At the bottom of the cliff are a series of caves that you can enter at low tide. While the cliffs themselves are quite impressive, the spot is more famous as a place from which to take in the sunrise. About 1km away is a similar set of cliffs known as Jeokseokgang, which is also a great place to witness the dawning sun.

→ For more on the Chaeseokgang, click here!
• Buan Movie Theme Park
Near the port of Gyeokpo-hang is Buan Movie Theme Park where the film, "The King and Clown," and the TV drama, "The Immortal Yi Sun-sin," were shot. The folk village comes complete with an immense royal palace. Also nearby, on the coast, is a reconstruction of Admiral Yi Sun-sin's command post, used in the aforementioned drama.

→ For more on the Buan Movie Theme Park, click here!
Getting There
Express buses to Buan-gun leave hourly from Seoul's Gangnam Express Bus Terminal. The trip takes about 3 hours, 10 minutes. From Buan, there are local buses that take you to the major tourist sites, such as Naesosa and Chaeseokgang.

Places to Stay
While there are accommodations in downtown Buan-gun, the place you really want to stay is one of the seaside hotels in Byeonsan Bando National Park itself. Ones to try are Chaeseok Jang Resortel (063-583-8046), the Sunset Festival Pension (063-582-0405) and Dongjin Castle (063-583-0179), to name a few. Prices usually start at 40,000 to 50,000 won for a two-person room.
Written and Photographed by Robert Koehler
The article courtesy of Seoul magazine