When Night Falls
Seoul's Nocturnal Attractions

If it's a cliche to say that a city never sleeps, then let it be said that Seoul is a city that barely catnaps. It's entirely possible to have fun in this sprawling metropolis every single hour of the day — and night. Some round-the-clock Korean businesses even have "25 hours" on their signs to boast the fact that they're always open.
When you've finished visiting palaces and mountain climbing, it's time to see what Seoul by night has to offer.

Casinos: Trying Your Luck
Korean gambling laws mean that Korean citizens aren't allowed to gamble except at the specially designated casino in Gangwon province. That means the three casinos in Seoul (7 Luck Casino at the Millennium Hilton Hotel and COEX, and the Paradise at the Sheraton Grande Walkerhill, are the exclusive domain of non-Korean passport holders. You wouldn't know this by being in any of the establishments since the language most often heard is Korean, although the dealers do deal in English. The lion's share of the clientele is Korean holders of foreign passports or permanent residency permits (demonstrating an interesting legal loophole). Nevertheless, these places are distinctly "foreigner friendly," so long as you carry your passport or alien registration card (to prove that you're not a stray Korean citizen trying to sneak in).

These casinos offer a range of both lowand high-cost entertainments. There are, of course, slot machines, card games (blackjack, baccarat, and Walkerhill only offers poker), roulette and several games that were — at least to this author — completely unfamiliar. Much money is won here and even more is lost — remember, the house always wins!

One plus is that all food and drinks are free for those who are gambling, so if you're prepared to lose a few thousand won at the blackjack table (the lowest value tables are usually 2,000 won per bet) you can have a great midnight snack and an alcoholic or non-alcoholic beverage at no cost other than your bets. Be forewarned: some hapless souls have been known to stay in these places well over 24 hours, dining on the largesse of the establishment and leaving only when their money has dried up.

Nightclubs: Dance the Night Away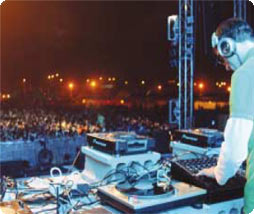 DJ performance at the 2007 Hi Seoul Festival

For the dancers among us, there are nightclubs aplenty in Seoul. Nightclubs seem to belong to two basic types: a bottle service-oriented Korean-style nightclub and an admittance fee-based Western-style club. The key difference is payment to enter. Traditionally, a group of people enters a club en masse and "buy" a table, complete with a set of liquor and snacks for the evening. The initial outlay here can be substantial, but over the night there's less extra expense and one always has a "home base" to rest and drink. In the more modern clubs, each individual pays a single entry fee (in some cases only men pay and women are allowed free entry) and then per drink.

Gangnam is an area of many nightclubs, generally of the Korean style. Thousands of university students and other young adults make their way here on weekend nights to live it up. One interesting aspect of Korean nightclubs is what's called "booking." A waiter will drag an often (ostensibly) unwilling young Korean woman to a group of men seated at a booth to sit and make small talk, and see if there's any chemistry. If she likes who she meets, she may stay and talk and dance. Otherwise, she makes an excuse (telephone, bathroom, waiting friends or curfew) and flees the scene.
"Gangnam is an area of many nightclubs, generally of the Korean style. Thousands of university students and other young adults make their way here on weekend nights to live it up."
In recent years, a chain of nightclubs in Gangnam called "Don't Tell Mama" has opened, catering to a clientele of older singles, divorced people back on the dating market or married people looking for some adventure. One can be found behind the Ramada Hotel not far from Seolleung Station.

The neighborhood around Hongik University (or Hongdae) has long been a popular haunt with foreigners wanting to dance and party. So popular, in fact, that it's occasionally garnered some negative local press, and US Forces Korea has banned its soldiers from even being in the area after 9pm — a ban that's not been completely successful.
This is where Western-style pay-as-you-go clubs really took off in Korea. The last Friday night of each month is Club Day, and a fixed fee of around 20,000 won buys entry into 11 clubs and one free drink. This gives people a good chance to sample the musical and aesthetic styles of the major clubs on the strip.

Another place that's a comparatively recent addition to the Seoul clubbing scene is Club Circle in the trendy, pricey Apgujeong area south of the Hangang River. A former Hard Rock Cafe, it's since been totally remodeled and reopened with much fanfare as an upscale, exclusive dance club. Entry costs 20,000 won, and some people have been known to be turned away on the basis of dress or appearance. Drinks and tables are by no means cheap, either, but if you want to hang with Seoul's "A-list," this is the place to be.

Bathhouses & Jjjimjilbang: Squeaky Clean & Sleep, Too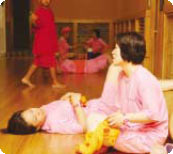 Relaxing in a jjimjilbang

Looking for a place to wash up and rest overnight, but want cheaper options than a hotel? Then an all-night public bathhouse or jjimjilbang is just the ticket. A bathhouse can be found in almost any Korean neighborhood, sometimes as part of a hotel and often stand-alone. An average bathhouse has three to four baths (hot, cold, warm and perhaps a special one with green tea or other herbs) and two to three saunas (wet and dry). There's also usually a place to lie down and have a nap.

There are three crucial differences between a Korean and European bathhouse. The first is price.Whereas a bathhouse in Europe might cost 20 euro or more, an average Korean bathhouse will set you back no more than 5,000 won, Secondly, while in European bathhouses men and women are together — naked — in saunas or baths, Korean bathhouses enforce strict separation of the sexes. Thirdly, many Korean bathhouses are open 24 hours a day.

In the last 10 years, jjimjilbangs have entered the market. A jjimjilbang is to a bathhouse what a fine restaurant meal is to instant noodles — both achieve the same purpose, but one is a much nicer experience. When one first enters a jjimjilbang, there isn't much noticeably different from a sauna — men go one way, women go another, and there are the same shower facilities, baths and saunas as in a bathhouse. However, there's also a large common area. This is where men and women don identical cotton T-shirts and shorts and share the same facilities.

Here, the fun begins. Entire families can be seen wiling the night away at a jjimjilbang. There's usually a large central space with a big-screen TV where patrons communally watch the latest drama or sports match, sprawled out over the ondol floor. A room off to the side offers various kinds of massages. As well as juices and beverages being available, there's often a simple restaurant where basic Korean dishes can be enjoyed and a PC room where one can check email, chat, play games or read blogs.

Finally, there's a selection of different sauna-type rooms, each with various "well-being" effects: charcoal, oxygen saturated, salts or mineral infusions. Then there's the cooler room, which is like sitting inside a fridge (or sometimes a freezer, complete with walls of ice). A personal favorite is the beehive-like sweat room, where people sit on hessian sacks until they can bear it no longer, then crawl through the very low doorway to escape the sweltering heat. Some jjimjilbangs even offer manicure services and a gym room is not uncommon, either. All jjimjilbangs are open 24 hours a day and cost anywhere up to 10,000 won to enter (there's frequently an extra charge after 8pm or so). One large and popular jjimjilbang is called Dragon Hill Spa, and is located right next to Yongsan Station.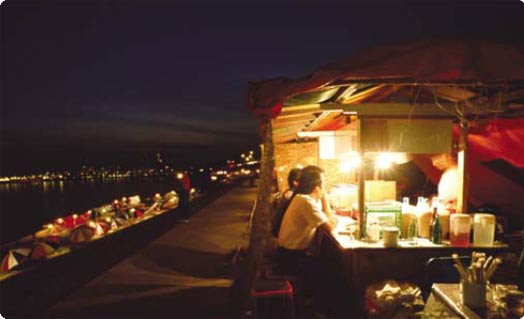 Enjoying some street food at pojangmacha on the banks of the Hangang River
"A Jjimjilbang is to a bathhouse what a fine restaurant meal is to instant noodles both achieve the same purpose, but one is a much nicer experience."

Pojangmacha & Street Eateries: Last Call Never Ends
All this gambling, dancing and bathing is bound to make you hungry, so you wander out to the street to look for some refreshments. In addition to 24-hour restaurants, Korea has a unique night-time feature of street dining and drinking called pojangmacha. These are temporary street bars that spring up every evening and disappear by morning rush hour. They're most often inside large plastic tents, and tables and chairs are likewise plastic for ease of set-up and removal.

The menu is fairly uniform, with the food being limited in variety (and usually quite spicy), to be eaten merely as accompaniment to copious amounts of soju and/or beer. On offer are noodles, odaeng (processed fish cakes), grilled or fried items and Korean-style pancakes. The conviviality in these tents can be quite infectious, as long as there're no angry drunks amidst the crowd. A street especially famous for its strip of pojangmacha is Dosandaero, not far from Apgujeong. However, every built-up neighborhood has its own soju tents. They're open year-round, with electric or gas heaters in winter to keep patrons warm.

With all this drinking and activity, one might wonder how the average Korean salary man is to get home with his car without driving while intoxicated or falling asleep at the wheel. There's the ingenious option of the daeri-unjeon, or proxy driver. For a relatively small fee (and certainly less than a taxi ride home followed by another ride to retrieve the car the next morning), you can be driven home in your own car. The driver then gets picked up and taken back to the base. Proxy drivers provide a cost-effective way to discourage drunk-driving accidents, and incidents of people waking up at home wondering where their cars are. This also explains the preponderance of paper leaflets wedged beneath windshield wipers of all cars near entertainment districts (with telephone numbers so large that even a half-asleep or drunk person can read them).

And so, after a night's revelry in Seoul, it's time to collect your remaining reserves of energy and head home to bed — or drag yourself to the office and settle for a catnap.

Shoppers' Delight: Night Markets
Not everybody wants to gamble, bathe, dance or drink their Seoul-filled nights away. For those poor souls, there are the night markets.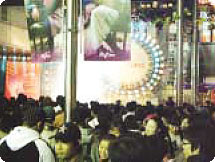 Nakwon Ddeok Bakery,
near Insa-dong

For clothing, there's no other place than the infamous Dongdaemun market. Any time of the day or night, or whenever you have a fashion emergency and need a new outfit, you can pop in one of the 30,0000 individual shops here. These stores run the gamut from small stalls lit by a few bare incandescent bulbs run by old-timers, to the trendy Migliore and Doosan Towers filled with hip young vendors vying for your attention. Dongdaemun is where many early post-Soviet entrepreneurs congregated in the early 90s to buy clothes cheaply and resell them (at a mark-up, of course) in Russia. Generally, the place is open till 5am in the morning (although things start losing steam around 3am and you'll find some stalls already closed), when the sellers need a little respite before the whole ordeal starts again at 10am (Mondays excepted). Luckily, for those not engaged in the garment game, there are plenty of places to sit and eat or just watch people.

The legendary Namdaemun Market, located close to Seoul Station and City Hall, also has clothing stores, but oh so much more: tableware, flowers, health products, watches, towels, shoes, textiles — you name it. Like Dongdaemun, the market seems to never sleep. By late afternoon, the pojangmachas start setting up to ply their food and alcoholic wares. From midnight to 6 in the morning, wholesalers rule the roost. This is a place to practice your Korean bargaining skills, so brush up before you come!

Noryangjin Fish Market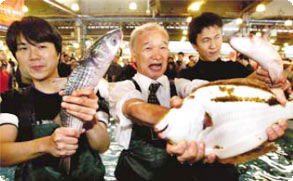 Some fine-looking specimens Noryangjin Fish Market

Fancy some fresh fish at four in the morning? Noryangjin, just south of the Hangang River at Noryangjin Station, is the place for you. More than 700 shops stock and sell seafood of all stripes and sorts, from the lumpy meongae (sea squirt) and disturbingly phallic gaebul (marine sea worm) to still-slithering octopus and other cephalopods. As well as being a place where you can eat and for retail sales, seafood for most restaurants in and near Seoul is sourced from wholesalers here. The auctions begin at 1am and end around 6:30am, when the retailers take over.
Written by Jacco Zwetsloot / Photographed by Ryu Seunghoo and Yonhap News
The article courtesy of Seoul magazine
Jacco Zwetsloot works as a corporate trainer for R Global Net (www.rglobalnet.co.kr) and has lived in Korea for 7 of the past 11 years.