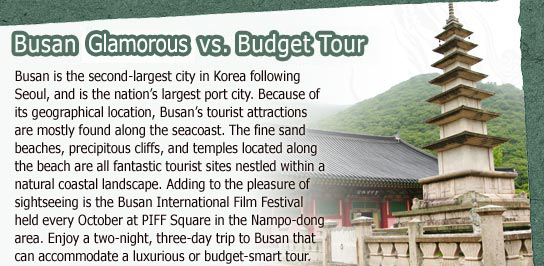 Busan Tour: 2-night, 3-day of elegant vacation on the beachside



The port city of Busan offers fantastic seaside experiences and luxurious views of the deep blue ocean. In early morning, enjoy a quiet walk on the beach or spend a leisurely hour in the hotel's outdoor pool. In the afternoon, go sailing on a yacht and feel the sea breeze against your skin. Then to cap the evening off, take a dinner cruise and enjoy a fantastic night view of Busan. This tour offers a short but romantic weekend in Busan.


Day 1
▶ Day 1, Morning - Departure from Seoul
▶ Day 1, Morning - Arrival in Busan
The trip takes about 2.5 hours to 3 hours by KTX from Seoul Station to Busan Station. If you depart early in the morning, you will arrive in Busan in time for lunch. The first train departs at 05:15, and the trains departing for Busan are plentiful throughout the day.

• Tip: If your hotel is located close to Busan Station, it is advised to check-in before you start sightseeing. However, if you are staying near Haeundae or downtown, which is farther away, put your luggage in a public locker inside the train station and start your tour immediately. It takes about an hour from Busan Station to the first destination, which is Taejongdae.

▶ Day 1, Afternoon - Visit to Taejongdae Park's coastal cliffs


Famous for its odd-shaped rocks and cliffs, Taejongdae Park offers a great sightseeing course along a 4.3-kilometer coastal road. The site was previously included in a military facility, limiting access until 1969. Fortunately, now it is open for visitors, offering magnificient vistas over Busan's natural beauty. Related maritime attractions are also available, in addition to the walking trails designed for both forest and ocean views.

This park was treasured as a holy site to hold a ritual praying for rain during the Silla Dynasty and Joseon Era.

More info about Taejongdae Park
▶ Day 1, Afternoon - Sailing the sea
Take a pleasure boat if you want to view Taejongdae Park from the sea. The boat passes Yeongdo Lighthouse, Suicide Rock, Mangbuseok Rock, Sinseon Rock, and Oryukdo Island before making a turn at Korea's Maritime University.

There are 4 different ferry docks available for passengers to partake in a sailing tour around the area, including Deungdae (등대유람선), Taewon (태원유람선), Gonpo (곤포유람선), and Eunhasu (은하수유람선). However, please note that all ferries return to the dock they departed from, except the Deungdae service. Each journey takes about 40 minutes round-trip, and the price is set for 10,000 won per person. For safety reasons, the ferry tour service may be unavailable depending on the weather and other unforeseen reasons, therefore visitors are advised to confirm the schedules in advance.

More info about Oryukdo Island
▶ Day 1, Evening - Check-in at the hotel and have dinner


Most accommodations are located near Haeundae and downtown. In fact, many famous hotels line Haeundae Beach as there are numerous tourist sites and convenience facilities nearby. After checking in, if you are hungry, why not have dinner at the hotel or a nearby restaurant. Then, enjoy a cocktail in the hotel lounge as you gaze at the night view of Haeundae Beach or perhaps take a nice stroll along the beach. The popular scenic spots include Busan International Film Festival (BIFF) Plaza and luxury hotels located nearby, offering unhindered ocean views by day and night. Sip a refreshment while gazing over these priceless sights presented right below you.

More info about Haeundae Beach
Day 2
▶ Day 2, Morning - Breakfast at the hotel




▶ Day 2, Morning - Walk along Haeundae Beach and visit the SEA LIFE Busan Aquarium



In the morning, enjoy a walk on Haeundae Beach. You can sit on the fine sand to enjoy the sea or take a plunge in the water on hot summer days. During the vacation season of July and August, the beach is packed, so it is better to go in early morning.


SEA LIFE Busan Aquarium

is home to 50,000 marine creatures in 100 themed tanks, an 80-meter acrylic tunnel, and a 3 million liter-aquarium. To make the most of your time here, be sure to check the feeding schedule for sharks and other fish as well as for the otters and penguins.

More info about Haeundae Beach
More info about SEA LIFE Busan Aquarium
▶ Day 2, Afternoon - Visit Nurimaru APEC House and the walking path


Nestled in a thick camellia and pine grove, APEC house was home to the 2nd APEC Summit in 2005. The three-story building is an attraction in itself with its modern architectural take on a traditional Korean pavilion. A hidden gem is the shady walking path connecting the Chosun Hotel and APEC House. Many tourists enjoy visiting for the great coastal cliff viewss.

More info about Nurimaru APEC House


▶ Day 2, Afternoon - Sailing the sea on a yacht!


Hoisting a white sail for a yacht cruise is one of the best ways to enjoy the open sea around Busan. This option is especially popular among foreign tourists who have been exposed to yachting since childhood. The Busan Yacht Association operates yacht programs at the Yacht Club for tourists. The yachts are mostly smaller (sailing yachts) without an engine or cabin. The basic program is usually 2 to 4 days including basic sailing theory as well as actual sailing, but tourists with less time can participate in a 2, 4, or 8-hour program. A professional sailor on board teaches the basic skills.

Visitor Information
Price: 10,000 won (Minimum number required: 5 people / Travel duration: approx. 50 min.)
Inquiries: +82-2-1330 (Korean, English, Japanese, Chinese) / +82-51-747-1768 (Korean)
Website: www.bsaf.or.kr (Korean only)
Directions: Dongbaek Station (Busan Subway Line 2), Exit 3. Walk for about 15 min.
▶ Day 2, Evening - Night cruise!


Take an evening cruise to enjoy the fresh sea breeze and the night sky. The most recommended is the dinner cruise Tiffany 21, which takes approximately 1-2 hours. Advance reservations are required. The highlight of the cruise can be seen near Gwangandaegyo Bridge. Go to the third-level deck for a great view of the city skyline. This trip is accompanies by a luxurious dinner, either offered in course meal or all-you-can-eat buffet style depending on the ships and your choice of tour.


Visitor Information
Operating hours: 11:00-23:00 (The cruise runs 5 times a day, but may be unavailable due to harsh weather conditions. Please check the latest schedule through the official website.)
Price: 27,500-99,000 won (The price varies by time and meal option.)
Inquiries: +82-2-1330 (Korean, English, Japanese, Chinese) / +82-51-743-2500 (Korean)
Website: www.tiffany21.co.kr (Korean only)
Directions: Dongbaek Station (Busan Subway Line 2), Exit 1. Walk for about 10 min.

More info about Tiffany 21 Night Cruise
Day 3
▶ Day 3, Morning - Breakfast at the hotel




▶ Day 3, Morning - Relaxation at Paradise Hotel's outdoor pool and hot spring!



If you don't enjoy swimming in the sea, try the outdoor pool of a hotel. Overlooking Haeundae Beach, the outdoor pool at Paradise Hotel is located on the 4th floor of both the Bongwan and Singwan buildings. Open year-round, the pool offers a great view of the blue sea beyond the pool. You can enjoy a more romantic ambience by going to the pool in the early morning or night-time when the view is at its loveliest. Next to the pool is a hot spring to relax and rejuvenate your body. Fed by Haeundae's hot spring water, there are five theme springs with temperatures of 40 to 44 degrees Celsius.

▶ Day 3, Afternoon - Visit Yonggungsa or Beomeosa Temples
Because of their unique geographical surroundings, Yonggungsa Temple and Beomeosa Temple have totally different features. While Yonggungsa Temple, located on a coastal cliff, offers a beautiful view of the sea, Beomeosa Temple, which is nestled deep in the mountains, has a different ambience. You can choose either of the two temples depending on personal preference. A round trip to Yonggunsa takes an hour by taxi (public transportation is not recommended) and two hours by subway to Beomeosa, so make sure to allocate enough time for the temple visit. If a temple tour isn't how you want to spend your time, you can top off your Busan trip with a leisurely shopping trip to a duty free shopping center.

More info about Beomeosa Temple
More info about Yonggunsa Temple
More info about temple stay program in Busan, TempleStay in Korea



▶ Day 3, Afternoon - Visit Centum City Shopping Mall


The Shinsegae Centum City Department Store is registered in the Guinness Book of World Records as the largest shopping complex in the world. The department store has countless numbers of items, all under one roof. Shinsegae, which opened the first department store in Korea, reflects decades of retail experience in this flagship location. Visitors can also enjoy numerous entertainment options in the complex. Some entertainment facilities include a spa and an ice rink. Globally renowned experts such as Italian architect Claudio Silvestrin and American architecture and design firm Callison completed Centum City under the concept of a "golden sea." The department store has emerged as a defining landmark in Busan.

More info about shopping in Busan, Sinsegae Centum City Department Store
More info about beauty and spa exprience in Busan, Spa Land in Centum City
▶ Day 3, Afternoon - Departure from Busan
▶ Day 3, Afternoon - Arrival in Seoul