Recommended Summer Tourist Spots in Busan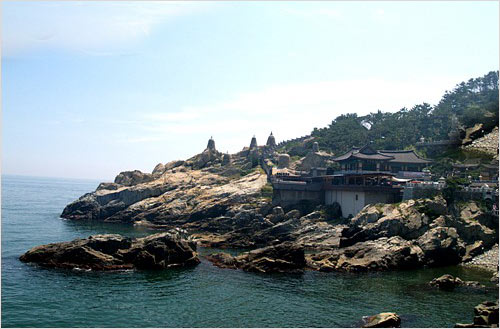 It's like summer all year long in Busan. This is because all the vacation spots such as Haeundae Beach, Songjeong Beach, Taejongdae, and more are all closely gathered together.
But for first-time tourists to Busan, they are likely to be overwhelmed by all the people.

People often come to Busan for vacation or for sightseeing, but more than anything, they come to see what Busan's all about. This is why we have prepared this article about Summer Tourist Spots in Busan to give a better and more comprehensive idea of other beaches there are in Busan besides Haeundae Beach.

Let's try to find some more secluded, quieter beaches located also in Busan. When people are headed for the ocean, they can also visit the mountains, and when people are enjoying the beaches, let's enjoy the cool summer's evening breeze while taking in the ocean air on a cruise.
Avoid the Surging Crowds, Visit Songdo Beach and Ilgwang Beach!
| | |
| --- | --- |
| | |
| Songdo Beach | Ilgwang Beach |

Busan's Haeundae Beach and Gwangali Beach are among Korea's most popular, congested beaches. However, if Haeundae Beach is too crowded for you, try Songdo Beach, located just a little to the south. Since this beach is smaller in size compared to Haeundae, that is also the reason why it is less crowded. This is a beach where more Busan natives often visit to enjoy its tranquility.

If you listen to the area's guides, or the taxi drivers, they will tell you that Gijang-gun's Ilgwang Beach or Ulsan's Jinha Beach are also worth visiting if you want a relaxing, quiet time. The water's temperatures aren't that low, and this beach differs from the other beaches that are popular spots, as it still possesses the original charm of its past.

→ Haeundae Beach Details
→ Gwangali Beach Details
→ Songjeong Beach Details
→ Busan Aquarium Details

Not only does Busan have great views of the Ocean but Mountains too. Why not try going to a Buddhist Temple in the Mountains!
Yongungsa Temple, Where One of Your Wishes Comes True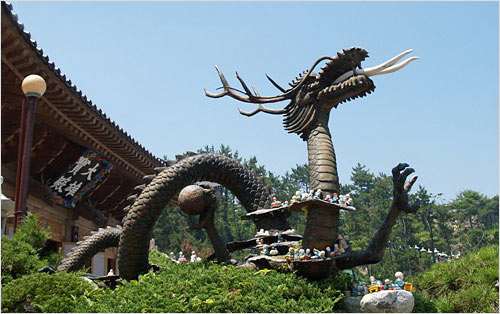 Yonggungsa Temple


There are many people from Korea and abroad that come to visit Yonggungsa Temple, a place where a visitor's wish always comes true. If there is one place in Busan you must visit, it's Yonggungsa Temple. Yonggungsa Temple is unusually located along the ocean. To be more precise, the temple is situated on top of a large rock along the ocean. Its visitors can enjoy the melodic tunes of the East Sea's ocean waves and sutra chanting together at one place. The "picturesque" Yonggungsa Temple is a sight that one will not want to miss.

Hakeupbul (a Buddha statue granting successful studies), Deuknambul (a Buddha statue granting the birth of an offspring), and other statues are placed here and there welcoming its visitors and allowing them to make wishes. Yonggungsa Temple is a place where nature is largely prominent and outstanding rather than religion. Since each visitor is granted one wish, be sure to make a wish before you go.

→ Yonggungsa Temple Details
Making Faint Memories at Jagalchi Market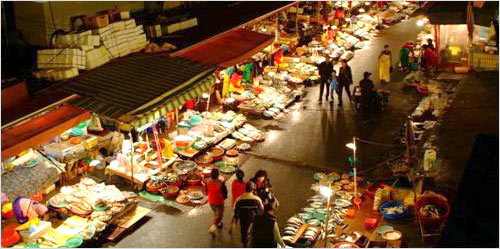 Jagalchi Market


Jagalchi Market is Korea's largest fish market, and the salty smell can be noticed from the subway station. The Busan National Market resembles the atmosphere of Namdaemun Market. Jagalchi Market also offers special quality fish that is inferior to no other.

→ Jagalchi Market Details
The Excitement of an Ocean Cruise in Busan
A cruise offering lodging and an option of meals along with the remedying cure-all of the summer ocean waters is what most people fantasize about!

"Wherever you look, Busan is surrounded mostly by water.  Taking a boat around Haeundae, Gwangan Bridge, and Oryukdo Islets gives a great sensation."  Taking a cruise in Busan's ocean is another great way to brush away the heat rather than swimming at the beaches.

Busan Cruise Tours

The cruise that tours the summer's evening waters around the glimmering lights of Gwangan Bridge offers rates that differ depending on meal and lodging options. The course that is widely chosen makes its rounds around Haeundae (Nurimaru), Gwangali, Taejongdae, Oryookdo, Haeundae, and Gwangan Bridge. Although these are all popular tourism spots, touring them from the oceans give a refreshing sense of openness to the cruise guests.

At night, there is a special spectacle that is presented that cannot be seen in the daytime.
The beautiful lights of Gwangan Bridge light up, and the ambience of the summer night gives a different feeling than in the day. Guests may choose to depart from either Haeundae Terminal or Yeonan Passenger Terminal. The rate for the shortest course is 10,000 won, a 1-hour course. If you choose to have a meal on the cruise, rates will be from 50,000 won to 100,000 won, and the course length is from 2 to 3 hours. If you plan to sleep on the cruise, accommodation rates will cost from 100,000 won to 300,000 won.

→ Taejongdae Details
→ Oryukdo Islets Details