An Overnight Temple Stay at Mihwangsa Temple in Haenam Ttangkkeut Village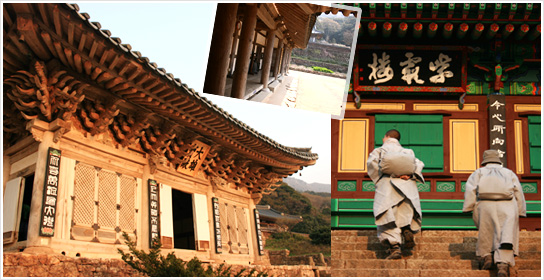 Mihwangsa Temple is recognized as having one of the best temple stay programs recommended by the temple stay management organizations.

Mihwangsa has a panoramic view of an artistic rock formation (Dharma Mountain) that appears to have a number of monks praying to Buddha. This is set in front of the backdrops of the southern seas holding dozens of strategically placed islands. Around sunset, Mihwangsa illuminates a mysteriousness, the temple's main focus of attraction. The red sky glows in the evening as if the Daeungbojeon Hall's (main building of the temple) sun is summoning all of its energy for this one last show. The mystique of this act is one that cannot be described with words.

Mihwangsa Temple is not a temple of many Buddhist monks, nor does it have as many followers as the third generation temples such as Haeinsa, Tongdosa, and Songgwangsa. Rather this temple is a place that shines of the hard work and time invested by the few monks and servants. That is why this is known as a one of the best temples to experience a temple stay.

Of the 42 temples in the nation that offer a temple stay program, Frederic, a French foreign exchange student, and I visited Mihwangsa Temple together.

Frederic's 24 Hours at Mihwangsa Temple


Fredric, learning how to bow.
Freedom is the best way to describe Mihwangsa's temple stay program. The lack of a strict itinerary gave Frederic the chance to enjoy a calming stroll and time to write in his travel diary during his 24-hour stay at Mihwangsa Temple.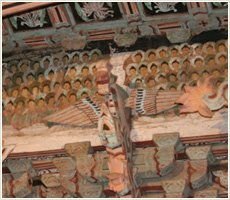 Daeungbojeon's Cheonbulhwa


The manager in charge of the temple stay program, Park Jong-Sun, personally taught Frederic how to bow to Buddha. Manager Park Jong-Sun, noticing that Frederic was worried about how many times he should bow, comforted him by telling him that performing one bow at Daeungbojeon (the main building of the temple) is like performing a thousand bows elsewhere. The reason is because the ceilings of the Daeungbojeon are filled with Cheonbulhwa (paintings of a thousand Buddhas). Since there are a thousand Buddhas in front of you when bowing, three bows will suffice for the 3,000 bows that you would normally have to perform at a regular Buddha sanctuary.

Frederic was able to show off his newly learned bowing skills during his Buddhism lessons. After dinner and the Buddhism lessons, there was a Zen-Buddhist meditation session led by the head priest. Whether or not you decide to attend the meditation session is entirely up to the guest. In fact, about half of the temple's followers remained at the Daeungbojeon to perform bows, or to have their own meditation time. The other half followed the head priest into the Zen-Buddhist meditation room for meditation, usually lasting anywhere between 30 minutes to an hour. Unlike other temples, Mihwangsa doesn't force you to sit in the Gaboojwa form(meditation sitting form) and allows you to sit comfortably on a cushion, to Frederic's relief.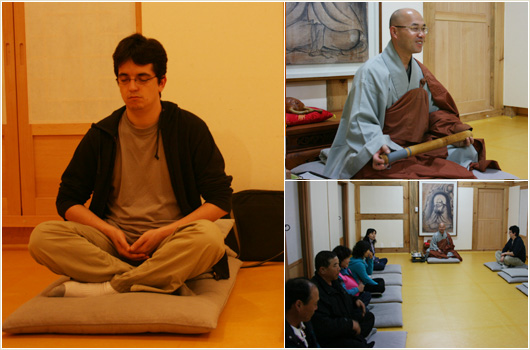 Fredric, the master priest, and temple-stay participants practicing Zen-Buddhist meditation.
Frederic's favorite event was tea-time. This is an opportune time for one to sit down and have a private conversation about the philosophy of religion with the monks while sipping on a cup of tea.

| | |
| --- | --- |
| The master priest pouring tea. | An enjoyable conversation with the temple-stay participants. |

| | |
| --- | --- |
| The delicious green tea the master priest poured. | A picture taken with the master priest in the tea ceremony room. |
The tea room is unique at the Mihwangsa Temple. A great number of books and tea are prepared for anyone who would like to have a cup of tea or read a book at any time. However, not too many people know of this fact, so this room is used mostly by temple stay guests as a place to spend leisure time. When the daily routine has ended, you retire from the day into a dimly lit Hanok (a traditional Korean-style room), made of wood and loess.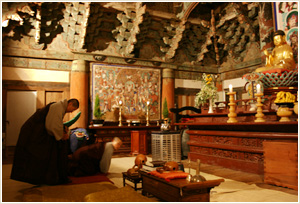 The 4a.m. Buddha worship at dawn is one that can be described as being extremely devotional. Your lungs fill with the fresh dawn air, and the bells from the Mihwangsa Temple can be heard throughout the southern sea. The Buddha worship only lasts about 15 minutes. After the worship, you can have your own meditation time, pray at the Daeungbojeon, or have time to straighten out your thoughts while walking around the Buddhist temple. You may also get some more needed rest.

When breakfast is finished, there is time to lend a hand at the temple. Most people help with the cleaning, but we, on the other hand, including Manager Park Bong-Sun and Frederic, swept the large yard, and cleaned every corner of the temple. We were rewarded with a snack from the Buddhist saint for our work. With the cleaning done, there was still about 5-6 hours of free time left. How the time is spent is up to the guest, whether it be spent reading, drinking tea, hiking, or taking a simple stroll around the area. Frederic decided to spend his time strolling around the temple, and writing in his travel journal.

Pictures of the Mihwangsa Temple Monks

| | |
| --- | --- |
| Buddhist priest alerting everyone of Mihwangsa Temple's dawn worship. | A visiting Buddhist priest finding his way to Mihwangsa Temple. |

| | |
| --- | --- |
| Buddhist priests talking with the master priest. | Female Buddhist priests visiting Mihwangsa Temple. |

Mihwangsa Temple Stay's Daily Schedule
| | |
| --- | --- |
| 16:00 | Registration and room assignment, Free time after learning how to perform a proper bow |
| 18:00 | Dinner |
| 19:00~20:00 | Evening worship of Buddha, then Zen-Buddhist meditation |
| 20:00~21:00 | Tea and conversation with a monk |
| 21:00~22:00 | Free time after washing up |
| 22:00 | Bedtime |
| 4:00 | Wake up and worshipping of Buddha at dawn |
| 4:30~6:00 | Free time |
| 6:00~8:00 | Breakfast, then temple cleaning |
| 8:00~12:00 | Free time |
| 12:00 | Lunchtime, then depart for home~ |

Recommended Activities During Your Free Time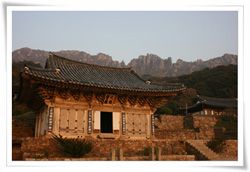 Dharma Mountain Hike ★★★★★ :
At the top, you are able to take in the whole southern sea in one view. The hike lasts about 2 hours to go up and come back down. This is a rare and priceless opportunity to look down at the ocean from atop a mountain, so seize this chance as long as the weather permits.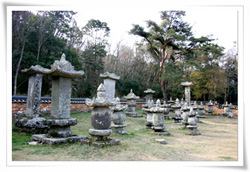 Walking Course and Looking Around Mihwangsa Temple ★★★ :
The walk from Mihwangsa Temple to the Budo Garden is the most popular course. The start of the course has a flourish of Camellia Trees, and only the singing of birds can be heard in the serenity of this place. Having a look around Mihwangsa Temple also has its rewards. If you ask Manager Park Bong-Sun, he will tell you many secrets about the temple.

Sightseeing Areas Around Mihwangsa Temple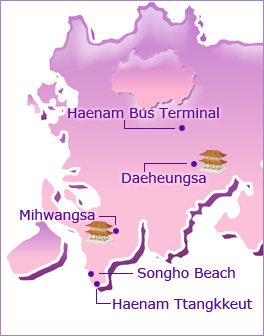 Mihwangsa Temple is situated at the very end of Hanbando, of the Haenam County. Being situated in front of the beach, this is a very popular area known for Hanbando's Ttangkkeut Village. The Ttangkkeut tourist site is made up of a port and an observatory. On a clear day, you will be able to appreciate Namhae's picturesque scenery. Although the Songho Beach, located near the observatory, is small, it is a quiet and cozy beach surrounded by Korean red pine trees. Haenam's last area of interest, is Daeheungsa Temple, which has a much greater history than that of Mihwangsa that dates back thousands of years. Daeheungsa and Mihwangsa's temple stay programs are brilliantly run together.

More detailed information is available by clicking on the picture.

Daeheungsa Temple

| | | |
| --- | --- | --- |
| Buddhist priest giving a tour of Daeheungsa Temple for the visitors. | Haenam Rape Field | Songho Beach |

Detailed Information on Mihwangsa Temple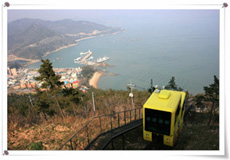 Address: 247 Seojeong-ri Songji-myeon Haenam-gun Jeollanam-do
Telephone: +82-61-553-3521(Korean)
Homepage: http://www.mihwangsa.com/home.html (Korean)
Application: +82-61-533-3521(Korean)/ ts2002@buddhism.or.kr (English)
How to Apply: E-mail reservations, fees to be paid in person at Mihwangsa Temple in Korean currency
Operating Dates: 365 days a year
Special Programs: 'The Scent of True Love' trip takes place once a month for a 7-night, 8-day period
Fees
Fees
Standard
2~4 Person Rooms
1 Person Room
19 years and older
₩30,000
₩50,000
Middle School and High School Students
₩20,000
Elementary School Students
₩10,000
Preschool Students
None
※ 1Night Standard, Weekend fees paid on the same day
* 'The Scent of True Love' (7-night, 8-day trip): Fee – ₩350,000 for guests between 14 and 65 years old

Directions to Mihwangsa Temple
• Seoul → Haenam
Departure
Arrival
Intervals of Operation
Estimated Time of Travel
Contact Information
Rates
Terminal
Location
Dong Seoul Bus Terminal
Subway Line 2 Gangbyeon Station
Haenam
5 Times a Day
(First Bus) 07:10 (Last Bus) 17:10
5 hours 10 minutes
02-446-8000(Korean)
www.ti21.co.kr(Korean)

₩28,400
Seoul Gangnam Express Bus Terminal in Honamsun Terminal Central City
Subway Lines 3, 7
Gangnam Express Terminal Station
Haenam
7 Times a Day
(First Bus) 07:30, (Last Bus) 17:55
5 hours 50 minutes
02-6282-0600(Korean)
www.easyticket.co.kr(Korean)

₩19,100
~
₩28,400
• Haenam → Mihwangsa Temple Entrance (Seojeong-ri) : By City Bus
| | | | | | |
| --- | --- | --- | --- | --- | --- |
| Haenam Terminal | Arrival | Intervals of Operation | Estimated Time of Travel | Contact Information | Rates |
| Haenam Terminal Bus Towards 'Ttangkkeut Village', 'Seojeong-ri' | Get off Seojeog-ri (Mihwangsa Temple Entrance) – Then walk 20 min.s. | Refer to the schedule below | 40 minutes | 061-533-8826/3521(Korean) | ₩2,900 |
* By Taxi: Take the bus towards Wando from Haenam Bus Terminal (comes every 15min. intervals) and get off at Wolsong → from Wolsong take a taxi to Mihwangsa Temple (about ₩5,000)
• Haenam → Mihwangsa Temple Entrance: Time schedules

Haenam → Seojeong-ri (Mihwangsa Temple)
(Mihwangsa Temple) Seojeong-ri → Haenam
Time of Departure
Time of Arrival
Time of Departure
Time of Arrival
06:20
07:00
09:00
09:40
08:20
09:00
10:00
10:40
10:50
11:30
14:00
14:40
14:10
14:50
17:30
18:10
16:50
17:30
18:30
19:10

* The above information is accurate from April 2007. / Changes in the schedule may be possible.

Written & Photographed by Reporter Hong, Mi-Kyung