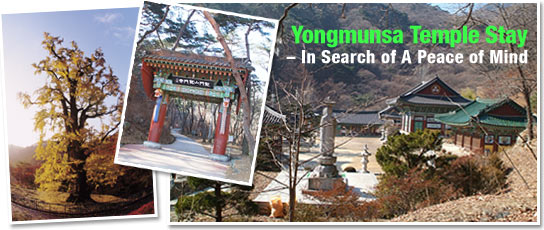 In the fast pace of modern life, a temple-stay offers the chance to rest the mind and soul, while experiencing the reflective lifestyle of a monastery. The temple-stay program is gaining popularity, not only among the Korean locals, but also with foreign visitors.

The 1-night 2-day weekend schedule and the weekday temple-stay programs differ. Weekend visitors, who are expected to follow the same daily routine as resident monks, will find the schedule relatively tight. This program is therefore, recommended for first-time visitors or those who want an authentic first hand experience of temple life. The weekday program, on the other hand, consists of a basic evening service, an early-morning service, and some meals. Since the remaining time is free, this is recommended for those who prefer a less restrictive schedule and some peaceful relaxation. There are pros and cons to each schedule, so choose the one that best suits you.

Especially known for its 1,100-year-old gingko tree, Yongmunsa Temple is an easy 2-hour drive from Seoul, and is conveniently accessible by public transportation. In this edition, our report joined Ms. Kim Hee-jeong on a trip to a weekday temple-stay.
*Schedule of Weekdays Yongmunsa Temple Stay
14:00
Arrival at temple, room assignment, and free time
16:50
Dinner and free time
18:00~18:15
Striking of the Bell and evening service
18:30~19:30
Talk with the Buddhist priest and have tea
19:30~22:00
Wash and free time
22:00
Bedtime
4:00
Get up and get washed
4:30
Early morning service and 108 bows
5:50
Breakfast and free time
12:00
Lunch and return home
Weekdays at Yongmunsa Temple Stay

①
Yongmunsa ticket booth: As a temple-stay participant, you do not need to purchase a ticket.
The temple is a 10-minute walk from the front gate. Drivers are allowed to drive their cars directly to the temple.
②
Room assignment and clothing: After filling out a form and paying the 40,000-won participation fee, you will be assigned a room and be handed temple clothing, which is quite comfortable. Once you change clothes, you are ready to start the temple-stay program. One of the first steps is to learn a simple bow. It is not that difficult and you may as well learn it well in advance so that you don't feel confused during religious services.
③
Free time: Until dinner, you have time to unpack your bags, open the windows, read a book, or take a stroll around the temple and enjoy the peaceful ambience.

| | |
| --- | --- |
| ④ | Dinner: The evening meal consists of rice plus eight side dishes, soup, and rice cakes. You can choose whatever and however much you want to eat. However, the rule that is strictly observed is not wasting food, so make sure you take only what you can eat. After the meal, everyone washes their own dishes. |
| ⑤ | Bell chimes: At 6pm, the bell will chime 33 times. Temple-stay participants are given the opportunity to perform this unique ritual, and we especially recommend that you try this even if you are shy. |
| ⑥ | Evening service: This service is mandatory for all monks and temple-stay participants. During the 15 minutes, you will bow with the monks and listen to the service. |

| | |
| --- | --- |
| ⑦ | Conversation over tea: This is the highlight of the temple-stay program. Usually, weekday participants benefit more from this relatively intimate gathering than weekend visitors do. Since weekday groups are relatively small, the one-hour conversation is like an individual session. Participants ask the monks questions ranging from religious practices to life advices. After this service, participants get ready for bed and lights go out at 10pm |
| ⑧ | Early morning service and 108 bows: After waking up at 4am, everyone washes up. The sound of a gong, which is rung at 4:30am announces the time for the early morning service. Only early birds enjoy waking up at this hour, but the effort is worth it, as the service is especially inspiring. After the service, you can perform the optional 108 bows, which we highly recommend. The act of bowing is believed to relieve troubling thoughts and worldly desires. |
| ⑨ | Breakfast – Free time – Lunch – Return home: After breakfast, you have about 5 hours of free time, which allows for hiking or enjoying traditional tea at the teahouse. After a leisurely morning, you will have lunch and then depart for home. |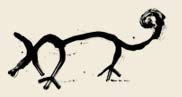 [An Informal Interview with Monk Yujin]

As the only participants in this weekday temple-stay program, the reporter and Ms. Kim Hee-jeong, enjoyed an in-depth conversation with Monk Yujin.
Although he requested that we didn't take his picture, he certainly shared some inspiring thoughts.

Reporter : Buddhism preaches that Buddha is in your own heart, so you must work to create purity and peace in your mind. If Buddha is in your own heart, why do we need to come to a temple to bow?
Monk Yujin : The act of bowing is to lower yourself as much as you can. As you lower your body, your mind becomes humble and you become more pious towards spiritual enlightenment. You are not required to come to a temple, but since human beings are weak creatures, it is very difficult to maintain the practice without help or guidance.
Reporter : How does Buddhism view Protestant and Catholicism?
Monk Yujin : We recognize all types of religion because we do not believe that gods are different. A god as a savior of human beings exists everywhere. As long as one is able to righteously accept a god into his/her heart and to control mental and emotional conflicts accordingly, what religion one chooses is not important.
Reporter : Do temple stay participants also seek advice for personal concerns?
Monk Yujin : Yes, more so than you might expect. Some even come to me about their marriages (smile). I once refused to comment since I wasn't sure if I would be able to give good advice as I was never married myself. On the other hand, just listening can be helpful. So, if someone is troubled, I try to listen carefully. But I am not a fortune teller, so visitors shouldn't expect that.
[Notes]
1. When you meet a monk or what's called in Korean, a "Seunim", put your hands together and bow your head. Do the same when you go in and out of the service hall. Inside the hall, put your hands together and bow in front of the Buddha.
2. Refrain from running inside the temple.
3. Refrain from drinking alcohol, smoking or speaking loudly inside the temple.

[Visitor Information]
Location: Yongmunsa Temple, Yongmun-san, Sinjeom-ri, Yongmun-myeon, Yangpyeong-gun, Gyeonggi-do
Telephone: +82-31-773-3797 (Korean)
Period: 1 night and 2 days
Participation fee: Adults 19+: 40,000 won / Children 6~18 years old: 30,000 won
How to apply: Korea Buddhism Culture Foundation Temple Stay Program +82-2-732-9926~7 (English, Japanese)
Website: http://eng.templestay.com/ (English)
Transportation: Depart from Dong Seoul Bus Terminal (Subway Line 2, Gangbyeon Station) – It takes 1 hour and 20 minutes to Yongmun, Bus Fare: 6,300 won – Take a shuttle bus from Yongmun bus terminal to Yongmunsa Temple
What to bring: Toiletries and sneakers