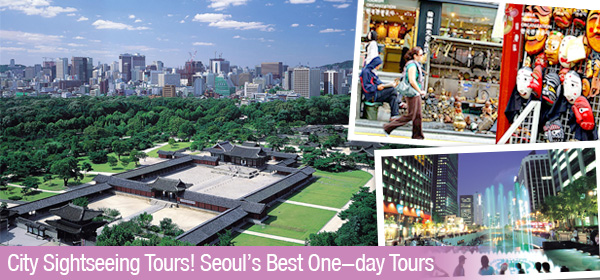 For those of you having arrived in Seoul and only one day to look around, one of your first thoughts would probably be, "What is this city most famous for?" At that point, you'll need some advice from a tour expert about the best sightseeing tours. So, look no further – KTO is here to provide you with some of the best one-day tours. The following is an overview of the most visited tourist destinations in Seoul, and suggestions on the best walking tour in terms of time and convenience.
Walk and Enjoy a One-Day Tour around Seoul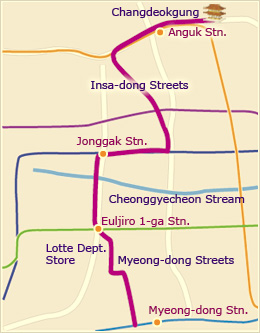 These Seoul tourist sites come highly recommended:
1) the five royal palaces that are symbolic of Seoul's long history (it has been the nation's capital for 600 years); 2) shopping areas such as Myeong-dong, Insa-dong, Namdaemun and Dongdaemun markets, and Itaewon 3) streets that attract the city's youth including Daehangno, Sinchon, Hongik University, Ewha Womans University, Apgujeong, Gangnam, and Jongno 4) the night-time views from N Seoul Tower atop Mt. Namsan; 5) a cruise along the beautiful Hangang River; 6) the National Museum of Korea, the 6th largest museum in the world (reopened in October 2005 following 8 years of reconstruction); 7) the Plaza in front of Seoul City Hall (where thousands of fans in red cheered the 2002 FIFA World Cup); and 8) the Namsan Hanok Village with its beautiful Korean traditional houses.
Viewing all these notable sites in one day is practically impossible. So if you are on a short trip, why not make the most out of your limited time. Here are the four most recommended tourist destinations in Seoul that you can enjoy on foot. The first is Changdeokgung Palace. Listed as one of the two UNESCO World Cultural Heritages in Seoul, this royal palace is praised for best preserving a unique traditional Korean style. A mere 5 to 10-minute walk from the palace is Insa-dong, an area abounding in traditional culture, Korean cuisine, and traditional shops. From there, follow the vibrant streets of Jongno to Cheonggyecheon Stream, where you will step from the grey city streets into a beautiful promenade. By walking along the stream, you will reach Korea's most popular shopping area of Myeong-dong. Now continue on to explore the hidden secrets of the city!
Seoul's Best One-day Tours
Changdeokgung Palace (창덕궁) → Insa-dong (인사동) → Cheonggyecheon Stream & Jongno (청계천 & 종로) → Myeong-dong (명동)
Guided Tour of Changdeokgung Palace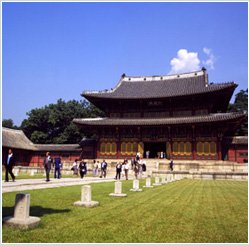 Changdeokgung Palace

Built in 1405, Changdeokgung is said to be the most beautiful Korean-style palace whose architecture was designed in order not to change the natural topographical features of the site. In 1997, it was designated as a World Cultural Heritage by UNESCO. Its garden, which sits within a thick wooded area, is especially beautiful with its pond and rest areas. For decades it was closed to the public, but it was re-opened in 2005.
Because it is a World Cultural Heritage, surrounded by trees that are hundreds of years old, visitors must take a guided tour to ensure the protection of the cultural assets and natural environment. Guided tours for international tourists are available in English, Japanese, and Chinese and conducted according to schedule, so check the times in advance before your visit.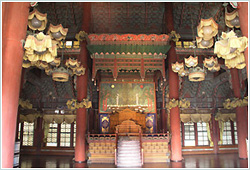 Inside the Injeongjeon

The guided exploration of this world cultural heritage lasts for 1 hour and 20 minutes from the time you enter the palace from Donhwamun Gate (Treasure no. 383). The highlights of the tour, taking you into the heart of the Joseon Dynasty's 600-year history, are Injeongjeon, where major royal events were held, and Daejojeon, the queen's living quarters.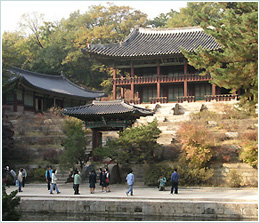 Juhapru

After Daejojeon, the tour continues on to Nakseonjae, where members of the Joseon Dynasty lineage lived after the end of the dynasty until 2005, when the last descendant, Ku Lee, passed away. It may be for this reason that the décor of Nakseonjae did not follow the traditional green and red color scheme of other palaces. Instead, it was designed in the most humble and common style without color, creating an ambience of a nobleman's residence rather than royalty. Despite its modest appearance, patterns with a variety of symbolic meanings can be found on the doors, walls, and other parts of the buildings, making it a favorite place for historians and photographers to visit.

The guided tour ends with the visit to Buyongjeong, a pavilion (Juhapru) on a beautiful pond, where the king and his subjects studied together.

→ For more information on the Changdeokgung Palace

♠ Visitor Information
Admission: adults: 3,000 won / English Guided Tours: 11:30, 13:30, 15:30 / Chinese Guided Tours: 11:00, 15:00 / Japanese Guided Tours: 09:30, 10:30, 12:30, 14:30, 16:30 (The last scheduled tour is not offered from November to February)
♣ What not to miss

Find bingpaseon (Cracking ice pattern)
Numerous symbolic motifs decorate the palace, and an especially interesting mosaic pattern can be found in the Nakseonjae. Since the traditional heating method (ondol) required very hot air (and possibly, sparks) to flow beneath the floor, this pattern on the front of the chimney represents cracking ice, to symbolically guard against a house fire. Besides this one, keep a close eye on the various patterns on the lattice doors, fence walls and chimneys. If you are curious about the meaning of the patterns, ask the guide.
Find the only blue-tiled roof building in Changdeokgung!
Treasure no. 184, Seonjeongjeon is the only building in Changdeokgung Palace with a blue roof. Although it is not included in the tour, you can still get a glimpse of this unique blue tiled roof building along the way. This is where the king and his subjects gathered for public affairs. The Blue House, where the President of the Republic of Korea works and resides, follows this tradition.
Don't miss a visit on New Year's, Lunar New Year's, day and Chuseok
During these holidays, all visitors wearing a hanbok are admitted free including international visitors. You will see many Korean people wearing traditional costumes and playing a variety of traditional games. This is a great opportunity to experience Korean traditional culture first-hand.
♣ What not to do
After the funeral of Ku Lee in 2005, the last heir of the Joseon royal family, his memorial tablet was placed in Nakseonjae. Out of respect for the dead, please refrain from any boisterous activities. In particular, don't peek around or go inside the building.

Walk from Changdeokgung Palace to Insa-dong 
You can easily find Changdeokgung Palace as you get off from Subway Line 3, Anguk Station, and go out of exit 3. The palace is also easily accessible by the airport limousine. The walk from Changdeokgung Palace to Insa-dong only takes between 5 to 10 minutes.
From the main gate of the palace, walk to the right for about 5 minutes until you reach a 5-way intersection. Cross the street and walk a little more to the right and you will find the entrance to Insa-dong. There is a small tourist information center there.
Full of Korean Arts - Insa-dong


Insa-dong Street
Just like Changdeokgung Palace was the residence of the royal court of Korea, Insa-dong was home to the aristocracy and public officials working for the king. After the end of the Joseon Dynasty, antique shops opened and sold the possessions of fallen aristocrats and noblemen. Numerous galleries soon followed, exhibiting and selling art. Today, the area is an established street of tradition and art, where local people and international tourists come to browse and buy.

If you want to treat yourself to traditional Korean cuisine, try one of the restaurants in the area. Many serve hanjeongsik (traditional Korean set meal) in a hanok building, offering great food in a quiet and traditional ambience. The price is not too pricey either. Lunch specials range from 5,000 to 7,000 won, while dinner costs between 10,000 and 15,000 won. Most of these traditional restaurants can be found along the narrow side streets off the main road. Restaurant signs are located at the entrance to these narrow streets, so look for any restaurant you have in mind.

More than anywhere else, Insa-dong is the best place to buy souvenir gifts. High-end design items and the widest variety of souvenirs are available, attracting both foreign and Korean shoppers. You can find three information centers here, one at each end of the main street and one in the middle. The centuries-old streets are narrow and labrynthine, so we recommend getting a map before sightseeing.

→ For more information on the Insa-dong shopping street
♣ What not to miss!

Ssamziegil (쌈지길)
Insa-dong's newest and hottest attraction is Ssamziegil, a design gallery that exhibits and sells the art of nationally recognized artists. Artful creations are all throughout the building, making it a favorite place for photographers.
Insa-dong's Starbucks (스타벅스)
Visitors will find a Starbucks located in Insa-dong that is unique among all others in the world. It was felt that the Western signage of a multinational corporation was incompatible with the ambience of a traditional area, so Starbucks added a Korean touch to the exterior of this branch.
♣ Recommended Restaurants in Insa-dong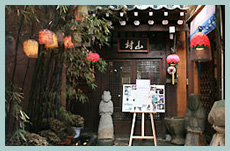 Sanchon (산촌)
This restaurant, which offers temple food, is so well known that not only the local media, but even the international media has covered it. There is one menu, and more than 16 dishes are vegetarian. In the evening, the restaurant offers a traditional dance performance between 20:00 and 20:50.
Tel: +82-2-735-0312 (Korean) Hours: 12:00 ~ 22:00
Closed: New Year's, Lunar New Year's, and Chuseok holidays
Price: Lunch 19,800 won / Dinner 35,200 won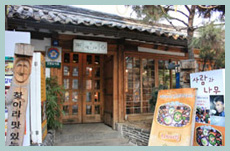 Saram & Namu (사람과 나무, Human & Tree)
This restaurant gained recognition as one of the favorites of Coach Guus Hiddink, who brought the Korean football team to the semi-finals in the 2002 FIFA World Cup. The cuisine is Korean with some fusion-style additions. Located in the Hanok building, the interior is decorated in a spiritual, zen decorum, making the ambience just as satisfying as the food. The recommended lunch special is priced at 7,000 won and comes with seven different dishes.
Tel: +82-2- 723-3323 (Korean)
Hours: 10:00~24:00
Closed: Open all year round
Price: Lunch special: 7,000 won / Dinner special: 29,800 won (for two people)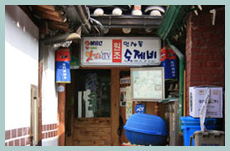 Insa-dong Sujebi (인사동 수제비)
This deliciously chewy sujebi is served in a small jar. Also try the oyster pajeon (Korean style pancake) and golbaengi muchim (spicy freshwater snails).
Tel: +82-2-735-5481/3361 (Korean)
Hours: 11:30~21:30
Closed: New Year's, Lunar New Year's, and Chuseok holidays
Price: Insa-dong sujebi: 5,000 won / gul (oyster) pajeon: 8,000 won / golbaengi muchim: 10,000 won

→ For more information on the restaurants in Insa-dong
♣ What not to miss!
Hotteok / ₩500
Injeolmi rice cake / ₩2000

In Insa-dong, you will find crowds of people lining up in front of street stalls or small shops. One of the first you'll see is the street vendor selling hotteok (Korean-style pancake stuffed with sugar and peanuts), and the second is a cart manned by vendors in white, selling sweet kkultare (honey snack). These are among the most visited snack stalls in Insa-dong, and they have received numerous media coverage.
Another busy place is a traditional rice cake shop near the entrance to Insa-dong from Jongno side. There, you'll not only see how rice cakes are made, but you can also sample and buy them.

Walk your way from Insa-dong to Jongno, and then to Cheonggyecheon Stream!
The other entrance to Insa-dong connects with Jongno 2-ga. As you walk out from the main street of Insa-dong and come to the wide avenue of Jongno, make a right turn. Walk about five minutes and you will reach the Jonggak subway station (line 1). Go into the station and take exit 5 (Korea Tourism Organization exit). Walk about a minute and you will find yourself on the road right next to the stream.
Before the renovation of the stream, this road was much wider. The pavement over the stream was dismantled, however, and the remaining roadway is so small that you will feel tempted to jaywalk. Turn right and walk along the small pedestrian sidewalk by the stream for about five to ten minutes until you reach Cheonggye Plaza, where the stream starts.
From the Young Streets of Jongno, Head to Cheonggyecheon's Hottest New Area!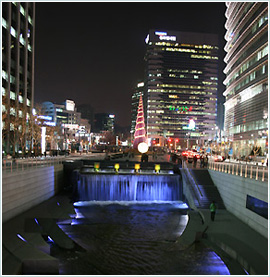 Cheonggyecheon Stream

The street from Jongno 3-ga to Jongak is lined with foreign language institutes, shopping centers, wholesale jewelry stores, coffee shops, and restaurants that cater to the needs of young clientele. From Insa-dong to Jongno and then to Cheonggyecheon Stream is a mere 10-minute walk.
There is an interesting story behind Cheonggyecheon Stream. The miraculous economic development of Korea in the 1970s spurred the construction of new roads and bridges, and for decades, the stream had been covered by concrete. After more than two years of renovation, it was unveiled on September 30, 2005.
Today, it is the most talked-about tourist destination in Korea. The total length is 5.8 kilometers and the water is clean. Spanning the stream are twenty-two beautifully designed bridges, and during lunch time, the area is filled with office employees sipping take-out coffee or enjoying a leisurely walk. In the evening, the stream area is perfect for meeting a date or sightseeing. At night, colorful illuminations provide an array of fascinating sights.
What not to miss!

Cheonggye Plaza (청계광장)
Gracing the entrance to Cheonggyecheon Stream is Cheonggye Plaza with its lovely fountains. Standing above the plaza is the sculpture Spring, jointly created by American pop artist Claes Thure Oldenburg and his wife. The design is based on an Indian Ocean conch shell and cost 3.4 million dollars to create. Recently, the fountains are attracting more people who want to toss in coins and make a wish. So why not come to the fountain and try to make your wish come true.

Walk your way from Cheonggye Plaza to Myeong-dong!
Walk about five to ten minutes along the stream towards Gwanggyo Bridge (광교) where you first entered Cheonggyecheon Stream from Cheonggye Plaza. Take the stairway leading to the upper street level and cross the street. Then walk ahead for about three minutes to Euljiro 1-ga subway station (line 2). Enter the subway station and exit through the Myeong-dong exit.
Vibrant Shopping Area – Myeong-dong

In Myeong-dong, you can feel the vibrance and fashion sense of Korea. On the one hand, you can see young ladies walking together hand in hand (they are not lesbians) looking at the vending stalls full of accessories or taking off their shoes to try on a pair of inexpensive shoes that may be pretty, but will probably not last long. On the other hand, you'll find shoppers loaded down with luxury-brand shopping bags like Polo or Gucci.
There is even a shop selling T-shirts, socks, cups, and other souvenir items with printed images of Hallyu stars. Many Japanese tourists visit the area, and restaurant signs written in Japanese appear on every corner.
In short, there is almost nothing you can't find in Myeong-dong. While most shops sell clothing, accessories, shoes, and cosmetics, there are also many restaurants and coffee shops. It is best to go to Myeong-dong after 5pm, when there are more street vendors selling their own hand-crafted items or products bought from wholesalers or other stores.

→ For more information on the Myeong-dong shopping streets

♠ Recommended Restaurants & Coffee Shops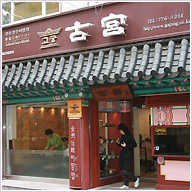 Gogung (고궁, +82-2-776-3211 (Korean) / Hours 11:00 ~ 22:00)
If you want to try the most traditional, yet ubiquitous Korean food, we strongly recommend bibimbap. This dish appeals to the palates of foreigners and is one of the favorite dishes on the menu of Korean Airlines. The restaurant Gogung offers a great bibimbap selection, and the best is Jeonju bibimbap (10,000 won). We also recommend the kimchi-food restaurant Samkim next to Gogung.

How to Get There: Gogung restaurant is behind Sejong Hotel in Myeong-dong.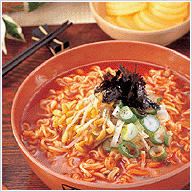 Teumsae (틈새라면, +82-2-756-5477 (Korean) / Hours 10:00~21:30 (Weekdays) 11:00~20:30 (Weekends) / (eng.teumsae.com (English)eng.teumsae.com )
This ramyeon noodle restaurant is not only famous in Korea but also in Japan. It has become so popular that it now franchised throughout the nation and produces its own instant ramyeon product. If you are brave enough to try some really hot food, try the ppalgeydduck ramyeon as shown in the photo (3,000 won).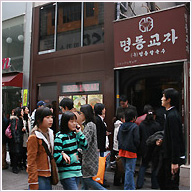 Myoungdong Kyoja (명동교자, +82-2-776-5348 (Korean) / Hours 10:30~21:30))
Actually, the reporter's favorite is the beef-soup restaurant next to Myoungdong Kyoja. Both restaurants are well-known and the food is tasty, but after seeing the long lines of eager patrons outside its door, Myoungdong Kyoja won hand's down. Their most popular choices are the modest, yet delicious Myoungdong kalguksu (noodles) and mandu dumplings, each costing 6,000 won.
How to Get There: Walk up the block of the Korea Foreign Exchange Bank, and turn left into the corner of Chungmu Gimbap restaurant. Teumsae restaurant is on the second floor of the building at the far end.
How to Get There to Myoungdong Kyoja: Take the the main road into Myeong-dong from Lotte Grand Department store area and walk up until you see WHO.A.U clothes store. Turn at the block, and you will see the restaurant.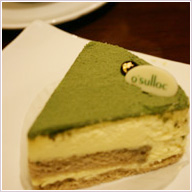 O'sulloc Tea House (오설록 티하우스, +82-2-774-5460 (Korean) / Hours 9:00~22:30 / Closed at 23:00 on Fridays and Saturdays)
This green tea house is operated by a major company that produces the most popular green tea in Korea. Here, visitors will find a clean and modest interior, unassuming, yet aromatic green tea, and a wide variety of green tea cakes that are almost too pretty to eat. This is a great place to relax during a walking tour and popular leisure activity for females! Green cappuccino: 4,800 won, green tiramisu: 4,200 won
How to Get There: Take the main road into Myeong-dong from Lotte Grand Department store area and you will see O'sullok Tea House to the right.

→ For more information on the O'sulloc Tea House
→ For more information on the restaurants in Myeong-dong
♠ What not to miss!
Namsan N Seoul Tower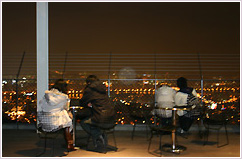 N Seoul Tower 1st FL, open terrace


If you still have time and energy left after visiting Myeong-dong, take a taxi to Mt. Namsan, a mere five-minute drive from Myeong-dong. Take the cable car to N Seoul Tower. Remodeled in 2005, the highlight of the tower is the night view of Seoul. If your budget does not allow a visit to the observatory restaurant, try the outdoor terrace on the first floor and enjoy a beer as you feast your eyes on the twinkling lights of the cityscape.
→ For more information on the N Seoul Tower
Total Costs
Admission to Changdeokgung: 3,000 won
Lunch special at Saram & Namu: 7,000 won
Myeong-dong's O'sulloc Tea House specialities: green tiramisu and green cappuccino: 9,000 won
Total: 19,000 won
[Related Articles]
Seoul Highlights
Enjoy a Tour of Mt. Namsan for Free