As the largest port city as well as the second-largest city in Korea, Busan offers many attractions. From its bracing sea air to low-rising hills, the city draws tourists year round. Especially impressive are the coastal people with their strong local accents and relaxed openness. Join us for an exciting shopping excursion along the streets of Busan!

Shopping Tips in Busan

1. MUST BUY
-Craftwork and traditional ware
Busan's dinnerware is unique to the Southern region and unlike any found in the capital city of Seoul. Also, thanks to Japanese influence in their products, lovely traditional goods are available.

-Try C1, Busan's preferred soju / Cheonnyeonyaksok (천년약속)
Like wine, the characteristics of Korean liquor (soju) vary from one region to another. Every locality has its own brand, each preserving the unique traditional flavor. For those who have a preference for Korean soju, Busan's C1 is a recommended item. A well-known alcoholic beverage is Cheonnyeonyaksok (A Thousand Years), which comes from a different area of Gyeongnam. It gained an international reputation after being selected as the official drink for celebration toasts at the 2005 APEC Summit held in Busan.

2. Tourist Information Center in Busan
The best way to begin your shopping spree is to first go to the Tourist Information Center in Busan since they will have plenty of information on where to go and how to get there. However, be aware that in many parts of Busan, tourist information centers are not as widely available as they are in Seoul.

Busan Railway Station
Location: It is located next to the ticket booths within the station. Maps and various tourist information materials are available.
Telephone: 051-441-6565
Languages: English, Japanese, Chinese

Busan International Traveler Service Center
Location: The center is located at the first right-hand side street in Sanghae Street (상해거리) inside Sanghae Gate across from Busan railway station. It is less crowded than the one at Busan Railway Station, and visitors can get various information and help.
Telephone: 051-441-3121
Languages: English, Chinese, Russian

International Passenger Terminal
Location: This is convenient for travelers visiting Busan by sea.
Telephone: 051-465-3471
Languages: English, Japanese, Russian

Haeundae Beach
Location: In front of Busan's Aquarium
Telephone: 051-749-4335
Languages: English, Japanese, Chinese

3. Foreign Currency Exchange
Foreign Currency Exchange - Since vendors at Jagalchi Market and other local markets deal only in cash, be sure to exchange your money into Korean won. Foreign currency can be exchanged at most commercial banks.

4. Hours
The Jagalchi Market, Gukje (International) Market, and other local markets are open from 9 am to 8 pm; however, many privately-owned shops are open until 9 pm. Most are closed on Sundays.

5. Communicating
If visitors don't speak Korean, they may find the language gap quite challenging in Busan – just as in Seoul. Also, shopping in Busan is mostly at boutique or small shops or local traditional markets, so learning basic Korean shopping language will certainly smooth the process of shopping as well as negotiating a good bargain.
→ Go to Let's Learn Korean Language "Going Shopping"
Jagalchi Market - The Largest Fish Market in Korea and a Major Tourist Attraction of Busan "Oiso! Boiso! Saiso!"


Major Stock Items: Various Fish & Seafood
Jagalchi Market is the largest fish market in Northeast Asia and the most popular tourist attraction in Busan. Undeniably the biggest attraction is the Jagalchi women, busily preparing fish with their thick, wet fingers throughout the year, regardless of the weather. And wherever you go, you'll hear the continuous chanting of Oiso! Boiso! Saiso! (Come! See! Buy!).

At Jagalchi, the basic routine is to sample a plate of raw fish, enjoy the unique mari-time atmosphere, and buy local specialties of Busan and Gyeongnam region such as dried fish, seaweed, kelp, and dried laver. In particular, the dried anchovies and seaweed are recognized as the highest quality in Korea.

Every October, the Jagalchi Festival takes place at the market. During this period, a local folk ritual is held to pray for an abundant catch. The festival also features a fishing event and a seafood surprise auction, offering more affordable prices than usual.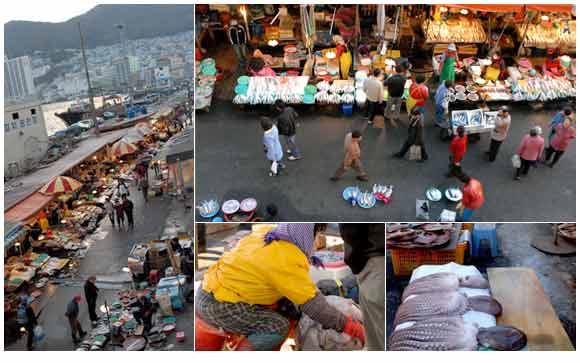 How to Get There:

Take Subway Line 1 and get off at Jagalchi Station; go out of Exit 7
→ Link to Jagalchi Market
→ Link to Busan Jagalchi Festival
Gukje Marke·Kkangtong·Bupyeong Market – Where Visitors Can Find Everything


Major Items: Foods, manufactured goods, gold and silverware, everyday necessities, imported goods
The equivalent of Namdaemun Market in Seoul is Gukje Market in Busan. Not far from Jagalchi Market, Gukje Market leads to Bupyeong Market, which then leads to Kkangtong Market through narrow alleyways. As you make your way, you'll find everything you could possibly need in the small shops that line the narrow streets.

Gukje Market has witnessed two major historical events: the liberation of Korea and the subsequent Korean War. Right after the liberation, Japanese goods entered in bulk and Korean refugees who had fled to Busan started businesses at this market, which was once the nation's largest center for business and logistics. Today, it is a great place to buy traditional Korean ware, traditional bedding, and hand-made crafts. Bupyeong Market shares the same history as Gukje Market. There are many Hanbok shops around here, so visitors looking for the perfect souvenir should definitely buy a hanbok in Busan.

In Kkangtong Market, the tiny stores can barely accommodate one customer. Visitors can find all sorts of imported goods. Actually, the market got its name from the word "can" (kkangtong) because everything that comes in a can or bottle is available here. Adding to the joy of shopping in these narrow streets are the culinary pleasures including red bean porridge, pumpkin porridge, and the famous Busan odeng (fish cake). All three markets are conveniently located close to Jagalchi Market and the commercial area of Nampo-dong, making it a favorite destination for both locals and international travelers.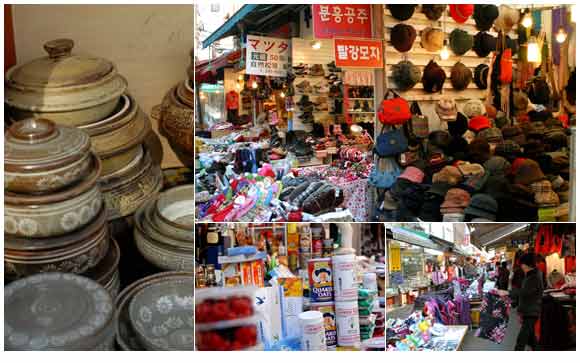 How to Get There:

Take Subway Line 1 and get off at Nampo-dong station; then go out of exit 1. Take the street behind the PIFF Plaza.
Nampo-dong – Going Shopping at the PIFF Plaza


Major Items: Clothes & Accessories
Nampo-dong is the site of PIFF Plaza, the venue for the Busan International Film Festival. The area isn't known for its cinematic attractions just because of the international film festival. Its history actually started in the mid-1930s when theaters sprang up one after another, and there are still many theaters and restaurants in the area.

Across the main road is Jagalchi Market. To the Northwest of PIFF Plaza is the Gukje Market. However, the shopping in Nampo-dong and Gwangbok-dong is totally different from other local markets. Here, the streets are clean and well-organized with famous, upscale designer brands. It is considered the leading fashion street of Busan. The area between Nampo-dong and Jagalchi station is Busan's chief shopping center, providing visitors with three uniquely different shopping experiences all in one area. Offering everything you'll ever need, shopping couldn't be easier.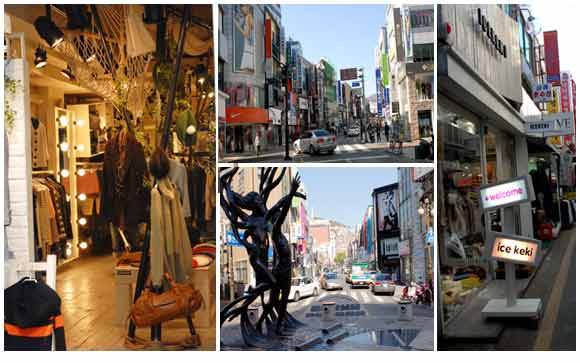 How to Get There:

Take Subway Line 1 to Nampo-dong Station; then go out of Exit 2
→ Link to Nampo-dong
Seomyeon – Mega Shopping Malls in an Upcoming Neighborhood


Major Items: Clothes & Miscellaneous goods
Seomyeon is the leading commercial district in Busan and the center for transportation, industry, logistics, and finance. Located at the subway interchange of lines 1 and 2, it is still growing. Here, you will find about 600 shops selling clothes, shoes, accessories, jewelry, and electronic goods. There are also numerous restaurants, multiplex theaters, and bookstores, attracting throngs of young people for shopping and entertainment.

Once you are off the subway, head to Lotte Grand Department Store or Milliore Mall to catch up on the latest trends. Lotte offers famous international and local designer brands, while Milliore carries a large selection of clothes and accessories at lower prices. Another feature of Seomyeon is the underground arcade, which is always bustling with shoppers day and night regardless of the weather.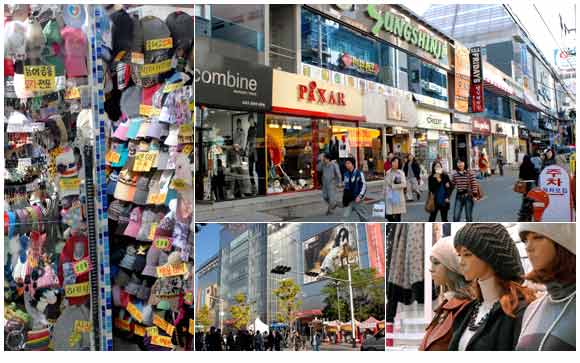 How to Get There:

Take Subway Line 1 or 2 to Seomyeon Station
Pusan University – Youth!! Trends!! Character!!


Major Items: Clothes & Accessories
If you want to feel the excitement of youth, head to Pusan University. Here, you will find the latest trends and unique designs for the younger generation. The area, which extends from the subway station to the gate of Pusan University, consists of two sections.
First, brand shops or brand discount stores selling items at 30% to 90% discount are located on both sides of the street at the first intersection of the front of the university. Here, you can find clothes designed by major Korean fashion shops at affordable prices.
One block further in the direction of the subway station, you will find more mainstream clothing and fashion items at various stores that sell low to medium priced goods.
Many stores sell their own clothing designs and accessories. Wander through the narrow alleys and you are sure to find fashion items to express your personality at a reasonable price. Also, between 3 pm and 4 pm street vendors appear, selling a wide selection of accessories.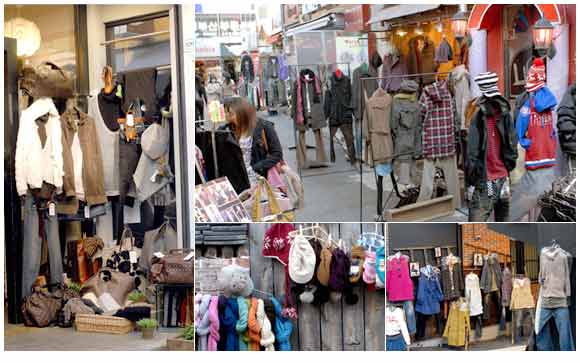 How to Get There:

Take Subway Line 1 to Pusan University Station, and go out of Exit 1
*Duty Free Shops in Busan



Busan Lotte Duty Free Shop
Location: 503-15 Bujeon-dong, Busan Jin-gu, Busan
Telephone: 051-810-5000
Hours: 09:30~19:30 (No closing dates)
Transportation: Take Subway Line 1 or 2 to Seomyeon Station; then go out of Exit 5 or 7. The Duty Free Shop is on the 8th floor of Lotte Grand Department Store.
→ Link to Busan Lotte Duty Free Shop

Paradise Hotel Duty Free Shop
Location: 1411-1 Jung-dong, Haeundae-gu, Busan
Telephone: 051-749-0181
Hours: 09:30~19:00 (No closing dates)
Website: www.paradisemall.co.kr
Transportation: Take Subway Line 2 to Haeundae Station; then go out of Exit 3. The Duty Free Shop is located across from Paradise Hotel.
→ Link to Paradise Duty Free