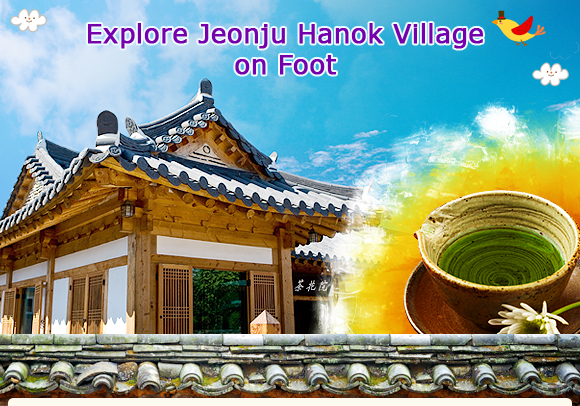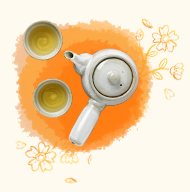 In the heart of the city of Jeonju stand numerous heritage sites, including Pungnammun, Gyeonggijeon Shrine, Jeondong Cathedral, Crafts Exhibition Hall, Jeonju Treasures Center and the Museum of Traditional Wine. All are well-preserved and located so closely to one another that they have together become a popular walking tour. Of the sites, however, one in particular stands out. Jeonju Hanok Village is home to some 700 hanoks (Korean traditional houses) and traditional teahouses, which can be found in virtually every corner of the village. In this section, we present three traditional teahouses in Jeonju Hanok Village that we hope will add excitement to your tour of Jeonju.
Jeonju Hanok Village One-day Walking Tour
Recommendation #1
Gyodong Dawon (교동다원), Best tea flavor and ambience - ★★★★★
Gyodong Dawon is a local favorite, and is considered by visitors to be among the best teahouses in Jeonju Hanok Village. Its interior aesthetics and authentic tea flavors continue to attract tea manias and visitors from all over the country.
Inside the teahouse compound, two hanoks stand parallel to each other with a narrow yard in between. Six to seven short, fine-grained wooden tables are set up inside the main hanok built over 80 years ago. In addition, Korean traditional decorations can be found throughout the teahouse.
The most popular tea at Gyodong Dawon is hwangcha or yellow tea, which, moderately fermented, has a light, clean taste. It is also called 'goppulcha,' as it is believed to be an effective cold remedy. Also, the fish painted inside the teacups give an illusion that they are actually swimming in the tea. Finally, the wheat crackers served with tea go perfectly well with it, enhancing the pleasure of tea drinking.
[Visitor Information]
Business hours: 11:00-23:00 (Open all year round)
Menu:
Hwangcha (황차, Yellow tea) 5,000 won, Nokcha (녹차, Green tea) 5,000 won,
Boicha (보이차, Puer tea) 5,000 won, Wheat crackers (우리밀 과자) 3,000 won
Inquiries: +82-63-282-7133 (Korean)
Recommendation #2
Dalsaeneun Dalman Saenggakhanda (달새는 달만 생각한다), Cozy ambience - ★★★
Dalsaeneun Dalman Saenggakhanda, which translates to 'A lark thinks only about the moon,' is very cozy with its quaint interior and pretty decorations. It is often called the 'niche teahouse.'
The blackboard on the outside of the building announces the 'tea of the day,' while the owner's self-drawn paintings of flowers, trees and landscapes on the walls inside create a sentimental ambience. Dim lighting by shaded lanterns enhances the coziness, as well as minimal furniture of only four tables. Of the four tables, the one with the best view is located by the window draped with ramie fabric. Dalsaeneun Dalman Saenggakhanda is a must-see for romantics.
[Visitor Information]
Business hours: 11:00-21:00 (Closed on Mondays)
Menu:
Ujeoncha (우전차, Prime picked green tea) 6,000 won, Ssanghwatang (쌍화탕, 'ssang' – energy, 'hwa' – balance, 'tang' - tea) 6,000 won, Daechucha (대추차, Jujube tea) 5,000 won
Inquiries: +82-63-287-2336 (Korean)
Recommendation #3
Gosin (고신), Harmony of past and present – ★★★
Gosin ('go' means old; 'sin' means new) is a hanok teahouse that strikes a balance between traditionalism and modernity.
The first thing that comes into view as you enter the hanok compound is a white parasol and matching white chairs set against pine trees and shrubs in its yard. Then, the 'modern' section of the hanok has a wooden table by the window and a pristine white couch on the opposite side, while the 'traditional' section has short wooden tables and floor cushions on ondol (underfloor heating).
Even the beverages bolster the meaning in the name of the teahouse. Visitors may try a range of traditional teas like mogwacha (Quince tea), ssukcha (Wormwood tea), nokcha (Green tea) and yujacha (Citron tea), as well as modern drinks like fruit juice and coffee. The owner recommends trying the flavorful kkotcha (Flower tea) at Gosin.
[Visitor Information]
Business hours: 10:00-23:00 (Open all year round)
Menu:
Kkotcha (꽃차, Flower tea) 8,000 won, Yujacha (유자차, Citron tea) 5,000 won, Mogwacha (모과차, Quince tea) 5,000 won, Fruit juice (kiwi, tomato, banana, strawberry) 7,000 won, Coffee 5,000 won, Cake (green tea cake, cheesecake, sweet potato cake) 4,000 won
Inquiries: +82-63-232-8922 (Korean)
Travel Tips
1. Jeonju Tourist Information Center provides Jeonju city maps and guidebooks for free at two different locations : Jeonju train station and Jeonju bus terminal.
2. 1330 tt call center : +82-63-1330 (Korean, English, Japanese, Chinese)
3. Transportation (Seoul - Jeonju)
Tourist Information
| Transportation | Travel Time | Interval Time | Fare | Departure |
| --- | --- | --- | --- | --- |
| Express Bus | 2hrs 45mins | 5-10 minutes | 12,200 won - 17,900 won | Seoul Gangnam Express Bus Terminal (Gangnam Express Bus Terminal Station, Subway Line 3) |
| Train | 3hrs 10mins | 1 hour | 25,400 won | Yongsan Station, Subway Line 1 |