When there is not much to do with friends or if your muscles are feeling soar, Koreans go to a place referred to as a "jjimjilbang" which is a unique Korean-type sauna to relax and enjoy. Jjimjilbang is a complete relaxation spa, offering various thematic sauna facilities, rooms to lounge in or take a nap, snack bars, and more. During the cold winter season, it is popular to frequent these places; particularly the Dragon Hill Spa, a most recent popular spot. Korea Tourism Organization staff visited the Dragon Hill Spa to report their first-hand experience.

→ Basic Sauna Etiquette in Korea

What is so Special about the Dragon Hill Spa?
The Dragon Hill Spa is an all-inclusive health and relaxation complex that is seven-stories high. On the underground level, there is an indoor golf range, a PC room and a video room. On the 1st floor, there is a common jjimjilbang area, an outdoor pool, a food court, a children's playroom, etc. The women's sauna is on the 2nd floor, and the women's jjimjilbang, massage, and esthetics, and locker room are on the 3rd floor. The 4th floor has a fitness center. On the 5th floor is the men's sauna and locker room. The 6th floor has another men's sauna and co-ed rooms for napping and resting. The rooftop has a barbeque, a cinema, and a garden. Dragon Hill Spa is one of the largest, most luxurious jimjilbangs in Seoul; first opening its doors to the public in October of 2006.

A Visit to Dragon Hill Spa


① At the front desk, get your electronic locker key and clothes, which usually is a pair of shorts and a t-shirt.
② Store your shoes in the locker that's marked with a number on your electronic key.
③ After taking a shower, enjoy what the sauna facilities have to offer.
④ Change into the clothes that were given to you and get ready to indulge yourself in a wonderful spa experience! (Use the locker marked with a number on your electronic locker key.)
⑤ Enjoy the pine tree wood fire sweating room: The room is heated with pine tree wood fire to induce sweat that will make your body discharge body wastes and stimulate blood circulation. The pine tree scent is also good for relaxing your body and spirit. Use the room for about 10~20 minutes, and rest for about 10 minutes. Repeat if desired.
⑥ Play with the snowman in the rock icehouse: The cold temperature lowers your body temperature which will rise due to the high temperatures as well as contracts your skin pores leaving your skin healthy and resilient.
⑦ Finish off the jjimjilbang experience with a shower in the sauna.
⑧ Return the electronic locker key and pay the amount used on your key, and leave the spa only after you receive an exit card.
STEP 1 "Preparations"
When you enter the spa, you'll receive an electronic locker key and some clothes to change into. This key is also used like a debit card inside the spa facilities. Carry the key on your wrist at all times, and you can use it to purchase the services you want by placing your key on the induction machine. All purchases you make on the key should be paid with cash or credit card on your way out.
STEP 2 "Enjoying the Sauna"
The women's sauna includes an outdoor natural rock seawater bath, a functional hot water bath, functional cold water bath, a Goryeo ginseng bath, a full-body water massage bath, a rainbow bath, and an aroma gold hydrometallurgy bath, an emperor's sitz hip room, and the mud pack room. The most popular facilities are the emperor's sitz room bath and the outdoor natural rock seawater bath.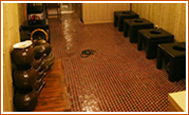 The Emperor's Sitz Hip Room
There are holes in the center of each chair, and from the holes rise steam from various herbs, which seep into the skin and womb. This steam removes body wastes and stimulates blood circulation. The steam is good for various feminine maladies and skincare. You can use the facility for up to 50 minutes. Admission costs 12,000won.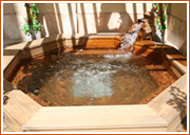 Outdoor Natural Rock Seawater Bath
The 20ton seawater for the outdoor natural rock seawater bath is pumped up from deep-sea waters of 500M. The water is rich with various minerals, sodium chloride, magnesium, and more, which is good for removing body wastes and stimulating blood circulation as well as helps control obesity. If you sit in the water for about 5 minutes, and rest for about 10 minutes, then repeat this 3 times, you'll receive the best effect from using this bath.
STEP 3 "Enjoying the Jjimjilbang"
The jjimjilbang facilities are mostly located on the first floor. The most popular facilities are the conventional oak wood charcoal oven, the crystal salt room, and the pine tree wood fire sweating room. Other jjimjilbang facilities include a hinoki forest bath, a rock icehouse, a yellow earth pyramid meditation room, a natural nephrite experience room, and more. Most jjimjilbang facilities are high in temperature except the cold rock icehouse and the hinoki forest bath, which is at room temperature.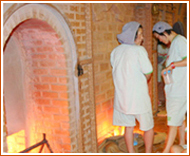 Conventional Oak Wood Charcoal Oven
This oak wood charcoal oven is the only one of its kind in Seoul, and uses oak wood charcoal to heat up the room. The generated heat is good for stress relief and relaxation, and is one of the most popular facilities.
There are four rooms, ranging from high temperatures to moderate temperatures. If you want to use one of the two higher temperature rooms, it is recommended that you wear socks before entering the rooms. Also, be sure to take off all your jewelry, for they may change color due to the high temperature.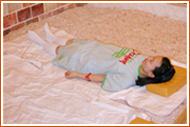 Crystal Salt Room
Even the bricks of the walls are made of salt, and before you enter the room, you have to put on a pair of cotton socks and spray saltwater on a vinyl cloth and lie down or sit on it, where you can feel the body wastes leave from your feet. A pair of cotton socks cost 1,000won
STEP 4 "Finishing"
Best of the Best: Pictures of the Jjimjilbang
Top 3 Snacks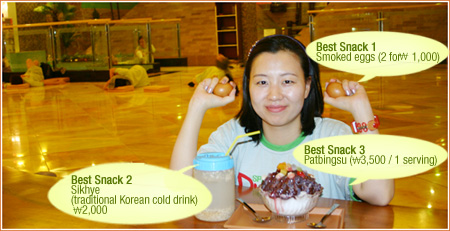 Top 2 Meals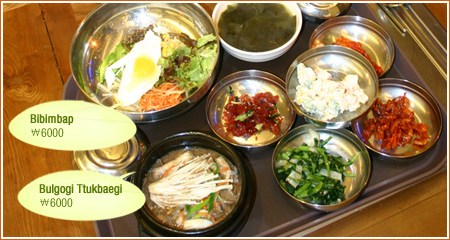 Bibimbap : A variety of vegetables, eggs, and rice are mixed in a Korean pepper sauce. Bibimbap is one of Korea's most popular dishes, enjoyed by many foreigners.

Bulgogi Ttukbaegi : Meat and vegetables are mixed in with soy sauce, sugar, and more. This dish is very popular among foreigners, especially those new to Korean food.
Top 1 Massage Programs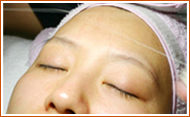 Tread-shaving facial : Fine facial hairs are removed by thread shaving, and makes putting make-up on better and improves the blood circulation to the face and gives a healthier looking skin.
Rates: 12,000won / Takes about 40~50 minutes / Location: 3rd floor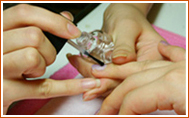 Nail Care : You can receive nail care at the care center in front of the crystal salt room.
Rate: 7,000won~ / Time it takes depends on type of nail care you chose.
TIPS
The thread-shaving facial and nail care are not the only services available. Other care services include various types of facials, body maintenance, hair care, and massage programs. Most are located on the first floor in the skin, hair, the sports massage center, but the thread-shaving facial is available only on the 3rd floor open to women only.
Interview
KTO had a short interview with Dragon Hill Spa Manager, HAN BU HEE.

KTO Reporter: Hello, the facilities here are excellent. I was wondering if you have many foreign visitors that come to the spa.
Manager: Yes, we mostly have Japanese visitors.
KTO Reporter: Do you have special features for foreign customers?
Manager: Yes, we have managers who speak English and Japanese, and the front desk employees all speak basic English and Japanese to provide better communication. Also, all our signs are available in both languages. In the women's sauna, we have separate body-scrubbing facility for foreigners only.
KTO Reporter: If a customer needs foreign language services, then he or she can inquire at the front desk?
Manager: Yes, or at the customer center by the entrance for more assistance.
KTO Reporter: What is the most popular facility in the Dragon Hill Spa?
Manager: Our female customers seem to enjoy the emperor's sitz hip room the most, and the conventional oak wood charcoal ovens are most popular among both men and women. The outdoor pool is also very popular, although there are fewer people who use it these days because of the cold weather. It seems swimming in warm waters is enjoyed by both men and women of all ages. I would personally recommend the seawater bath. The seawater we use is of the highest quality.
KTO Reporter: How long does it take to enjoy everything here?
Manager: (with a smile ~) Oh, probably all day.
KTO Reporter: Would you like to say anything to your foreign customers?
Manager: We have many services for both foreign customers and female customers. I would like to invite you to come and enjoy our spa and have an enjoyable and relaxing time.
[Reporter's Recommended Tour Course]

Dragon Hill Spa is located at Yongsan Station district, which has been developing into a more modern area as of late. On both sides of the station are Hyundai I'Park Department Store and E-Mart. Also, inside E-Mart is a large multiplex, and the CGV movie complex. Also, one subway stop away from Yongsan Station is the National Museum of Korea, or you can also reach the museum on foot from Yongsan if you enjoy walking.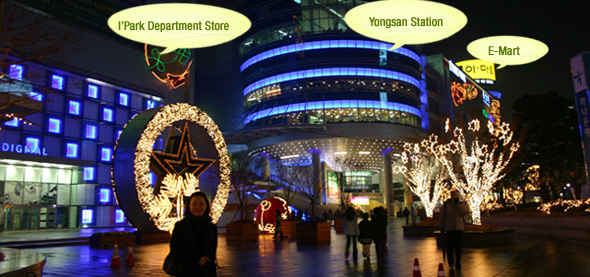 * Day Course: Go to the National Museum of Korea → Then go to Dragon Hill Spa
* 2 Days Course: Shop at I'Park Department Store → Watch a movie at CGV movie theater → Then go shopping at Yongsan Electronics Complex → Then go to Dragon Hill Spa (sleep) → Lastly, go to the National Museum of Korea

→ Shopping at Yongsan Electronics Complex
→ National Museum of Korea
Directions and Information about Dragon Hill Spa
1. Location: 40-713 Hangang-no 3-ga, Yongsan-gu, Seoul
2. Contact: +82-2-792-0001 (English), +82-2-797-0002 (Japanese)
3. Business Hours: 24 hours / 365 days (open all year round)
4. Admission Fee: Day rates: 6 years old and above: 10,000won / 5am~8pm
♣ Night rates: 6 years old and above: 12,000won / 8pm~5am
♣ Children under 5 years of age is 6,000won. (daytime or nighttime)
5. Directions: Take Subway Line No.1 to Yongsan Station, and go out of exit in the direction of Yongsan Station Plaza (Gwangjang). Cross the small street on the right of Yongsan Station Plaza toward Yongsan Convention Hall (a wedding hall). and you'll see Dragon Hill Spa next to the wedding hall.