Unlike any other palace, Changdeokgung is quite different. While Gyeongbokgung is impressive with its rationalist form of geometry, Changdeokgung suggests harmony from its topology. If Gyeongbokgung is yang, then Changdeokgung is yin.

Built in 1405, Changdeokgung is the most representative example of the Joseon era palace architecture. Beautifully integrated to its surroundings and remarkably preserved, it was registered on UNESCO's World Cultural Heritage List. Let's take a closer look at this palace!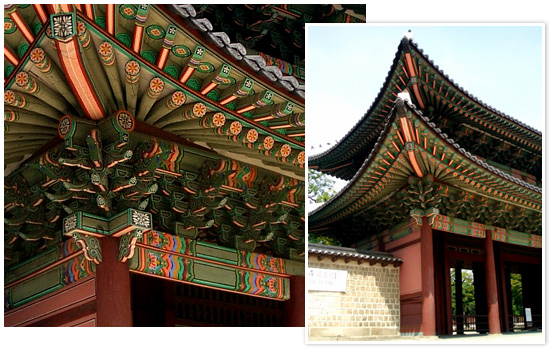 The Donhwamun gate guards the entrance to the palace. Built in 1412, it's the oldest gate in the country. Despite its size, it doesn't intimidate but welcomes, enticing you to come in. An invitation that just cannot be refused.

Crossing the threshold of the gate, you come up to Geumcheongyo, the oldest stone bridge in Seoul, built in 1411. Architects from the Joseon period thought that the stream, which used to flow through the palace was bringing positive energy.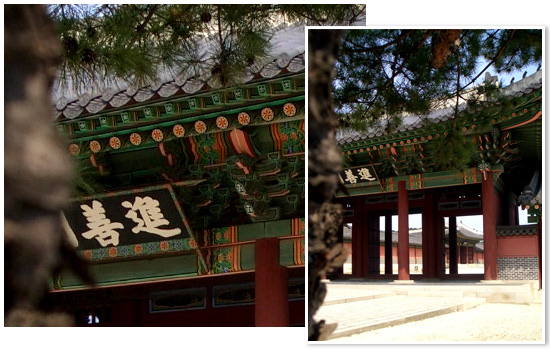 Since the stream is now dried up, could it be that negative energy is floating around the palace?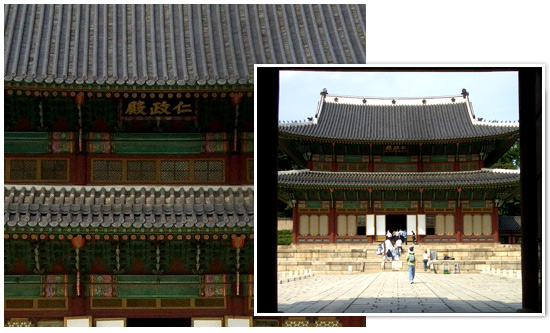 Wary, I hesitate a little, but the other visitors don't seem to share my concerns and make a beeline for Injeongjeon Hall, where the seat of the royal throne was built in 1405.
| | | |
| --- | --- | --- |
| | | |
| These stones (pumgyeseok) line up the pathway leading to the Hall on both sides. Each is inscribed with the rank of an official. During formal ceremonies, officials stood in front of them, according to their rank. | Far away from big structures, the beauty of Changdeokgung often lies in simple things such as this door… | the tip of this roof… |
| | | |
| --- | --- | --- |
| | | |
| or the simple yet refined elegance of these roofs. | It is said that whoever passes under Bullomun gate will not grow old. Hand in hand, this couple peacefully makes their way towards a life of eternal bliss. | Changdeokgung, also known as the "secret garden" (Biwon), a jewel located a distance behind the palace for solitude or privacy. |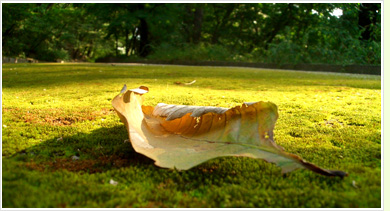 On my way home, a dead leaf whirls around and lands on the moss-covered path. Autumn is on its way. Soon, the whole palace will bask in the red glow of autumn leaves.
Practical information:

How to Get There:
By subway: Take Line 3 (orange) to Anguk station, and go out of exit 3. Walk straight for 2-3 minutes, you'll see the palace on your left.
By bus: Take bus no.2,6,8,20,84,153,205 or 543

Details:
Admission fee: ₩3,000 (adult) / ₩1,500 (youth – 7-18 years old.) / free for children under 7 and seniors over 64.
Individual tours: ₩15,000 (adult) / ₩7,500 (youth)
Hours:
① Open for guided group tours only except on Thursdays when individual tours are possible.
② Guided tours are available in English at 11:30 AM; 13:30 PM and 15:30 PM. Guided tours last 1 hour and 20 minutes.
③ On Thursdays, the palace is open from 09:15AM to 18:30PM (last admission is at 16:30PM).

→ Although a tad bit expensive, we strongly recommend that you visit the palace on Thursdays during the individual visits to truly appreciate all that the palace has to offer. Guided tours are too short and incomplete to give you an idea of the beauty of the palace.
→ Individual tours are not available from December to March.

Tel: (02) 762-8261/8262/9513    Fax: (02) 762-2070
Website: http://www.cdg.go.kr


Written by Mathieu Deprez