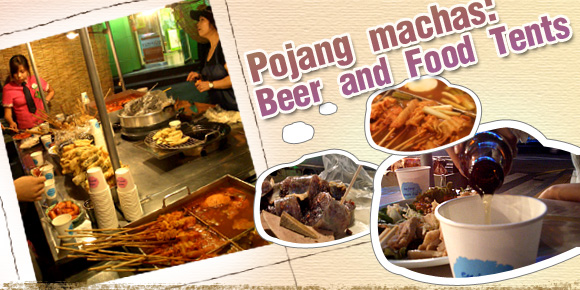 Ah, pojang machas! How to describe them? Pojangmachas (포장마차 or 포차) are symbols, shelters, guiding people in search for a bit of comfort in the dark and inhospitable night of the metropolitan city of Seoul.





"The what? What are these pojang things? What is he on about?" I can hear you say. Sorry, yes, I got carried away. Let's start over. Pojang machas can be best described as "outside tent-restaurant". However, no need to bring your sleeping bag here, no, one comes here to sleep…which, it's true could lead to some several cases of "drowsing" in some people, but you got the point, one comes here to eat, drink, and chat. Other little precision: "restaurant" is a big word, there's no decorum here, the style is simple and convivial, just the way we like it.

Now, I can see a question you're dying to ask, "So, what's for dinner?"

Well, dear reader, you won't be disappointed. Let me tell you first though that it is not haute cuisine; that said, if you want to have a bite to eat while chatting with your friends with a drink, it can't get much better than that. Because pictures are worth a thousand words, here are a few dishes commonly found in these surprising little tents: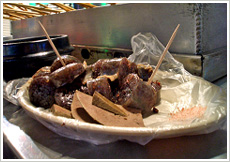 Let's start with sundae (순대) one of my favorites, which is Korean traditional sausage made by steaming pig's intestines filled with a mixture of chopped vegetables, glass noodles and pig's blood. It is served with a pinch of salt and a few liver slices. It may not sound too appetizing, but it is actually quite tasty, try it!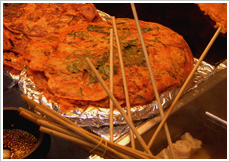 Kimchi pancake (김치 전) is an all time classic. Personally, I think kimchi tastes even better when cooked. Goes well when dipped in soy sauce.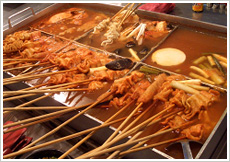 Fireworks? No, it's odeng. It's made of processed fish paste placed on long wooden sticks. Sticks in hand, simulating a deadly sword duel with your friend once you're done eating is de rigueur.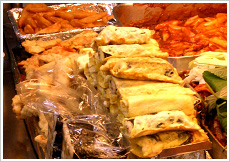 Food galore! Let's see. In the top right corner, we have tteokbokki, a favorite snack food amongst Korean people, personally I am not too fond of it since it's a bit bland but spicy! Opposite, we have two kinds of fried fritters: fried mandus (dumplings) and fried chopped vegetables. The yellow rolls are gimbaps (rice rolled in laver) rolled in egg yolk.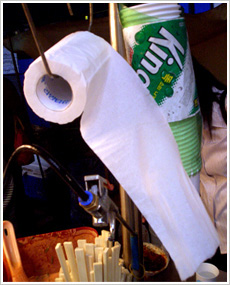 Let me introduce you to the Korean napkin. Granted, it's lacking in the elegance department but its efficiency has been proven time and time again! An amusing example of Korean pragmatism.

But that's not all! It would be impossible to list all the dishes you can find at pojang machas as some of them have their own specialty (seafood, spit roasted pig, etc.). Pojang machas come in all shapes and sizes: big, small, permanent, temporary (majority are the latter), some with table and chairs, some without, just small stands.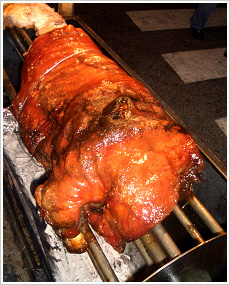 Meat lovers check this out! Here's an example of what can be found in "specialized" pojang machas. Isn't it just beautiful?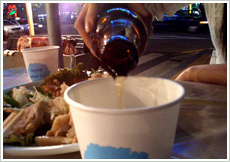 Alcohol is central to pojang machas. Two types of alcohol are widely available: domestic beer and the ever-present soju. The most popular soju has an alcohol content of 20% and is diluted from pure ethanol. Its taste is comparable to vodka, if only slightly sweeter.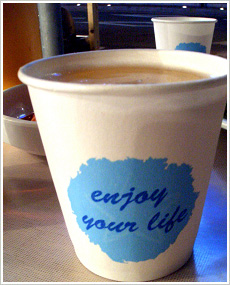 It's time to say goodbye but don't forget, like this cup says, which captures the spirit of pojang machas, 'enjoy your life!'

Some Practical information :
Pojang machas are quite ubiquitous in Korea. In the city center, you'll find some in the districts of Jongno, Myeong-dong, Euljiro, Namdaemun and Dongdaemun. Prices vary depending on the type of pojang macha. In a smaller pojang macha where you have to stand, you can eat for 2-3,000 won (about US$2 ~ 3). Prices are higher in the pojang machas with table and chairs, ranging from 5,000 to 30,000 won depending on the dish.
Written by Mathieu Deprez