Pottery is one of the major cultural properties of the peninsula. Since its introduction in Korea between 6000 and 5000 B.C., pottery and its methods of production kept on evolving and improving. Today, Korean ceramics are among the most popular and sought after for their finesse, elegance, and style. Let's discover together this art that contributed to the fame of Korea in Asia.

Prehistoria
Comb-pattern vessel
Neolithic period 4000-3000 BC.
H 38.4cm
Kyonghui University, Seoul
The most ancient Korean ceramics date back to 6000-5000 B.C. during the Neolithic period. They were porous-type potteries fired at low temperature (approximately 700C). The comb pattern was the most popular design. The Iron Age (approximately 300 BC.) saw the apparition of the potter's wheel. Shapes and design became gradually more complex. Around those times also appeared the first ceramics with legs.
Three Kingdoms Period (57 BC. – 668)
Cup with Handle
Early 6th century
H 8.6cm L 9.5cm
Potteries were fired in close kilns, which created higher temperatures, resulting in stronger wares and different surface finish (from the lack of oxygen from the closed kiln). Two types of pottery are characteristic from this period: 'Yongil', which color is reminiscent of the Iron Age potteries and 'wajil' which has a bluish-gray tint.
Unified Silla Period (676-918)
Long-Necked Bottles
8th – 9th Century
H 9.5cm D 10.8cm
Pottery underwent many changes. Lidded recipients became popular and the feet of the vessels became shorter. Long-necked bottles and flasks also appeared. Under the Buddhist influence, funerary urns were in demand and celadon was introduced. Pottery underwent many changes. Lidded recipients became popular and the feet of the vessels became shorter. Long-necked bottles and flasks also appeared. Under the Buddhist influence, funerary urns were in demand and celadon was introduced.
Goryeo Period (918-1392)
Goryeo dynasty ca.1100
Celadon with incised and carved design of geese, water birds, and reeds
H 26.6 cm
The Metropolitan Museum of Art
Fletcher Fund, 1927 (27.119.2)
The Goryeo period is characterized by the predominance of celadons. Korean celadons are different from foreign celadons in that their decorations are inlaid as opposed to painted. It can be said that the art of celadon really escalated in Korea. Celadons were reserved for members of the aristocracy. They were also popular ornaments inside Buddhist temples.
The production of celadons rapidly declined with the Mongol invasion of 1231, which heralded the end of the golden age of celadon in Korea.

Joseon Period (1392-1910)
Flask-shaped Bottle
Choson dynasty (1392–1910), 15th century
Punch'ong ware with incised design of fish
H 25.6 cm
Ho-Am Art Museum, Yongin-si
Two styles coexist during this period: porcelain and buncheong style wares. Buncheong potteries are characterized by a rather free and informal style. They are often grayish-green with white motifs or white with black motifs. Buncheong style ceramics were produced until the middle of the 16th century.
Porcelains were produced throughout the Joseon dynasty and came in various shapes, forms and techniques such as undecorated, inlaid, cobalt blue painted, copper painted, iron painted, etc.,

Did you know?
'Celadon' comes from the name of the main character of 'L'Astrée', a XVIIth century pastoral novel in which the character is wearing an attire adorned with light green ribbons.

Korean traditional ceramics have been experiencing a kind of revival lately. Numerous artists throughout the country have rediscovered forgotten production techniques (notably because of the looting and destruction of means of production during the various foreign invasions).

Today, various workshops are inviting tourists to come and see how ceramics are made and give them the opportunity to try their hand at making pottery. We have selected for you a tour that will enable you to learn more about Korean ceramics as well as try your hand at pottery. Don't miss this opportunity!

Ichontour: Create your own ceramics!
The company Ichontour - located in the town of Icheon, 1 hour away from Seoul – proposes a one-day introduction program to Korean ceramics. The rather comprehensive program includes:
- Presentation on Korean traditional pottery (history, characteristics)
- How to make ceramics with the potter's wheel
- Making your own pottery under the supervision of a potter
- Lunch - Visit of the exposition hall and shopping
- Visit of the Ceramics Museum or the World Ceramic Center
A handmade pottery done by yourself will without a doubt be a great and memorable souvenir to bring back from your trip to Korea. You will have the choice to decorate already made, unvarnished potteries or do your own with or without the potter's wheel. In any case, you'll quickly realize that it's more difficult than it seems! Even if your work looks more like a melting object from a Salvador Dali painting than anything else, you will still love it, like your baby and that's where the fun of it is.

This tour will also be the opportunity to learn more about the history of Korean ceramics and to see some wonderful pieces by some of the best potters in the country. The manager of the tour, Mr. Park Chan-bong, speaks English and will be able to answer all of your questions. A great way to discover one of Korea's most precious cultural properties.

Detailed Information:
Place: Icheon-si, Gyeonggi-do province
To get there: Take a bus to Icheon from Dong Seoul Bus Terminal (subway line 2, exit 4, cross the zebra crossing and enter the building in front of you). Ticket price: 3,800 won / bus every 15-20 min from 06:10 to 22:40 / On your ticket, '승차홈' means gate number.
Once in Icheon, call Ichontour and they will come pick you up.
Contact: Mr Park Chan-bong, tel: +82-31-631-3302, mobile: 018-283-3393, e-mail: ichontour@ichontour.com
For more information: http://www.ichontour.com

Places of interest nearby:
There are a lot of interesting sites in Icheon, one of the three biggest centers for pottery in the country with Gwangju and Yeoju.
Haegang Museum: You'll get to see traditional kilns and wonderful ceramics from the Goryeo and Joseon period.
Price: 2000 won / Tel: 031 634 2266 – http://www.haegang.org / Open from 09:30 AM to 5:30 PM / Closed on Mondays, seollal, chuseok and January 1st.
Icheon World Ceramic Center: a contemporary look on the world of ceramics with pieces sometimes serious, sometimes funny, ingenuous or bizarre. Price: 2000 won / Tel: 031 631 6507 – http://www.worldceramic.or.kr / Open from 09:00 AM to 06:00 PM from March to October and from 09:00 AM to 05:00 PM from November to February / Closed on Mondays and on January 1st
Ceramics Village: The ceramics village is actually located in town.. It's the perfect place to buy souvenirs, as there are a lot of pottery shops concentrated here. To get there, ask a taxi to take you to Icheon Doyechon (이천 도예촌).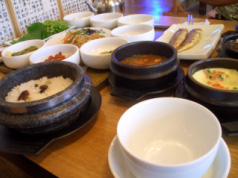 Special Menu: Icheon Ssalbap Jeongsik (table d'hote)


Icheon rice is said to be the best in the country. Salbap Jeongsik is served with highly appetizing banchan (side dishes) including grilled fish, steamed eggs, bulgogi, pork stew, japchae (potato noodles stir-fried with vegetables), doenjang jjigae (soybean paste stew) and more. It will come as a welcomed and mouth watering break after having made your first steps as an apprentice potter.
by Mathieu Deprez