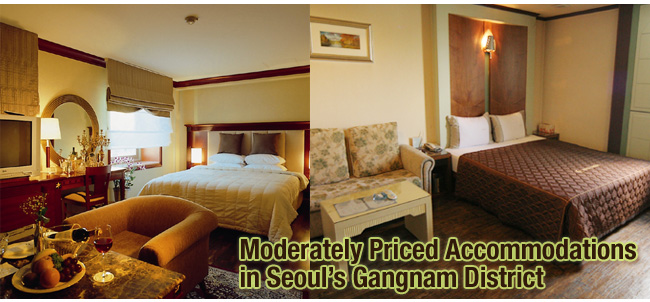 There are many types of accommodations in Seoul's Gangnam area ranging from world-class hotels, residence hotels, motels, etc. The Gangnam district is sought out by more businessmen than tourists; therefore the accommodation facilities are usually designed to meet the needs of businessmen.

The Gangnam transportations are convenient, along with various facilities conveniently located nearby. Many accommodations are located in the areas of Samsung, Yeoksam, Seolleung, Gangnam, and Jamsil, all along subway line No.2. Many businessmen can be seen in the area around Samseong near COEX.

☞ Hawaii Hotel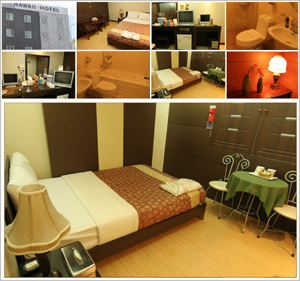 About a 5-minute walk from COEX, Hawaii Hotel is small but clean and cozy. It is located on the same block with Bongeunsa Temple, and is especially clean inside compared to the outside appearance. Hawaii Hotel has 36 guestrooms with twin, double, and ondol (traditional Korean style) rooms. All guestrooms provide computers equipped with internet access, and since the computers automatically reprogram themselves when they are shut down, make sure to save all your files on your own disk or email account, or upload the files onto your personal homepage.

One other nice appeal about this hotel is the contents of the refrigerators in the guestrooms. Instant cup noodles, dried seaweed, sodas, and more are offered free of charge. In addition, each guestroom is designed under different themes, making each room unique. For an extra 3,000 won, you can have a light breakfast at the restaurant located on the first floor, consisting of bread, bacon, eggs, coffee, etc.

Location: 77-9, Samseong-dong, Gangnam-gu, Seoul
Inquiries: +82-2-547-9663 (Korean, English) / e-mail: hotelhawaii@korea.com
Homepage: http://www.hotelhawaii.co.kr/
Directions: Take Subway Line No.2 to Samseong Station and go out of Exit No.6 → Pass the COEX, and cross the next intersection, then walk about 50m


Rates: Ondol, Deluxe 65,000 won / Twin, Double 80,000 won


☞ GREEN GRASS HOTEL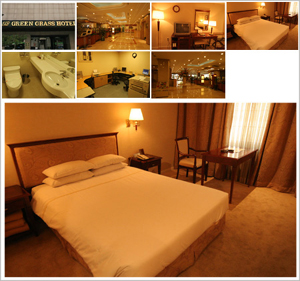 Located at Seolleung Station, the Green Grass Hotel has 10 floors with a Japanese restaurant and a coffee shop. Guestrooms are between the 4th and 9th floor, and the hallway is carpeted with thick carpets for more of a quieter and cozier atmosphere. The guestrooms are simple and clean.

A business center is located on the first floor providing internet access, computers, printers, and photocopy machines for free. All rooms have internet access, but it is not free-of-charge, so it is recommended for you use the business center which is provided without any extra cost. The hotel is located about 5 minutes from Seolleung's Royal Tomb, a nice area to go walking or jogging in the morning.

Location: 141-10, Samseong-dong, Gangnam-gu, Seoul
Inquiries: +82-2-555-7575/ FAX: +92-2-554-0643
Homepage: www.greengrasshotel.com
Directions: Take Subway Line No.2 to Seolleung Station and go out of Exit 10 → Walk toward Samseong Station and make a left at Hana Bank, and walk about 100m


Rates: Ondol, Double bed: 100,000 won / Twin, Deluxe Double beds: 120,000 won

* The current rates are discounted rates applicable until December 2006. From 2007, normal rates will apply.


☞ JELLY HOTEL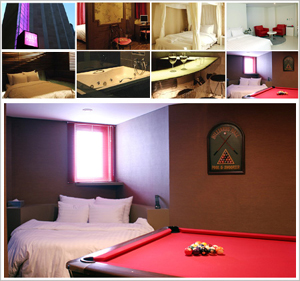 Jelly Hotel is especially popular among young couples because each room is designed in its own unique style. Check-in time is 7 pm on the weekdays and 9 pm on the weekends, which can make your stay a bit inconvenient especially if you have arrived early. However, once you see your room, you'll realize the wait has been worthwhile.

The room designs vary from a white-laced princess room, a Bali-type resort room, a Persian room, a W-concept room which copied the rooms of six-stars' W Hotel in Seoul. There is also a room with a pool table inside, a multimedia room with two computers and a large screen, as well as a Chinese room with a round bath and fabric furniture. There are 31 guest rooms, and each room is uniquely designed, making reservations somewhat difficult.

Location: 648-7, Yeoksam-dong, Gangnam-gu, Seoul
Inquiries: +82-2-553-4737 / e-mail: jellyhotel@daum.net
Homepage: jellyhotel.com (Korean)
Directions: Take Subway Line No.2 to Gangnam Station and go out of Exit No.8 / Walk toward Yeoksam Station and make a left at the 2nd block → Walk past Starbucks Coffee and make a right at the first intersection → Make a right at the first block


Rates: Rates vary according to the theme of the rooms ranging from 70,000 won to 180,000 won.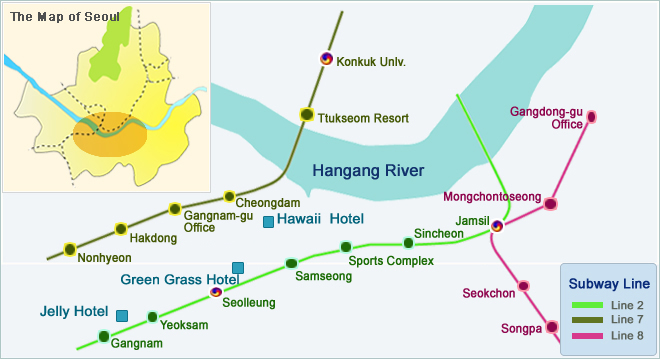 [ Gangnam Related Articles ]