The moment you land at Jeju International Airport you can feel the excitement this island has to offer. The tall, majestic coconut palms outside the airport create the aura of an exotic island far away from Seoul. In this edition, Felix, who claims to have gained a large fan following since his last interview with KTO (see Felix's Learning Korean at a Korean Language Institute), and Hong-seok, who challenged Felix's claims about his charm, go off to explore the island of Jeju and find two fun adventures you can experience as well!

Both in their mid-twenties, these two were especially upbeat about their upcoming adventure on Jeju Island. Felix is an extreme-sports enthusiast who enjoys skydiving and skiing, and Hong-seok enjoys photography and sightseeing. On this trip, one decided to ride an ATV (all-terrain vehicle) and the other choose to go yachting. Visitkorea followed Felix and Hong-seok closely to Jeju, where they embarked on a relaxing yacht trip and an extreme ATV ride, both memorable experiences.
Felix's Recommended Choice – A Thrilling ATV Experience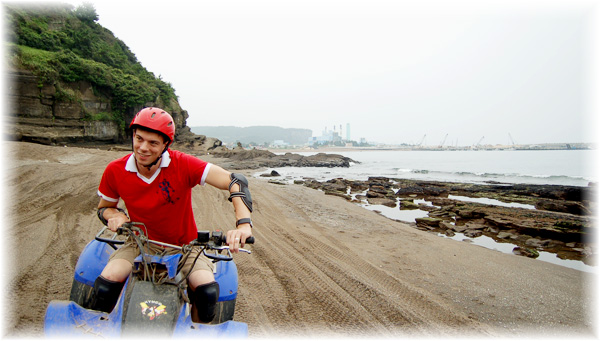 The entrance to Mt. Sanbangsan, the location of Sanbada ATV, is a mere 15-minute drive by taxi from Jungmun Tourist Complex. A popular attraction in Jeju, this site is often frequented by TV stars doing television shows, dramas, and commercials in the area.
Most ATV programs are conducted in the mountains, but Felix enrolled in a riding course that covers both the mountains and the beach. ATV participants are first instructed to place their personal belongings in a basket available at the counter because cameras or other valuables may be lost or damaged during their ride. The tour, which takes about an hour, starts with a brief orientation on how to drive an ATV.

① A helmet, and elbow- and knee-guards are needed, which are available at the office.
② Store your bags and valuables in a basket.
③ At the training center, take a preliminary lesson on how to drive, and how to use the controls of an ATV.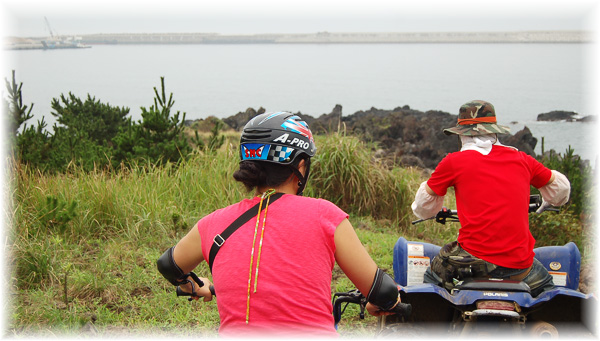 The course starts off easily on a forest trail, but soon riders have to maneuver curves as well as uphill and downhill stretches. One stretch, the thrilling log hurdle, is like riding on a roller coaster.
The ATV course passes through a forest and crosses a gravel road, following the sandy beach along the coast. Riders should follow close behind the guide. When you are going up either a steep grade or steep road, don't slow down out of fear by putting on the brakes. When you climb a steep grade or the uphill road, never slow down out of fear and put on the brake.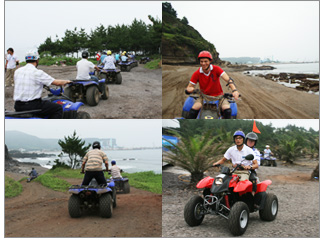 Instead, speed up and go for it. Your wheels can become stuck in the sand, so drive looking straight ahead, and you won't have that problem.

After an hour cruising around on your ATV, you will find yourself drenched in perspiration and realize how intensive the sport really is. If the thrills seem too intimidating, why not try the easier 30-minute program first.
Korea Travel Phone : +82-64-1330 (Korean, English, Japanese, Chinese)
Tel : +82-64-794-0117
Hours of Operation : Every day from 9 am to sunset, All year round
Price :
- Mountain & maze forest trip:
1-person ATV: 25,000 won / 2-person ATV: 40,000 won (15-20 mins.)
- Mountain, maze forest, natural forest, and sandy beach:
1-person ATV: 40,000 won / 2-person ATV: 70,000 won (20-30 mins.)
How to Get There : From Gimpo Airport, take a flight for Jeju (regular daily flights) → At Jeju International Airport, take bus 100 or 300 and get off at Jeju Intercity Bus Terminal → Take a bus for Seogwipo → At Seogwipo Terminal, take a bus for Sanbangsan (05:50~20:40/ Bus comes every 40 minutes. / Travel time: 35 minutes / Bus Fare: 2,300 won)
Hong-seok's Recommended Choice – A Romantic Yacht Ride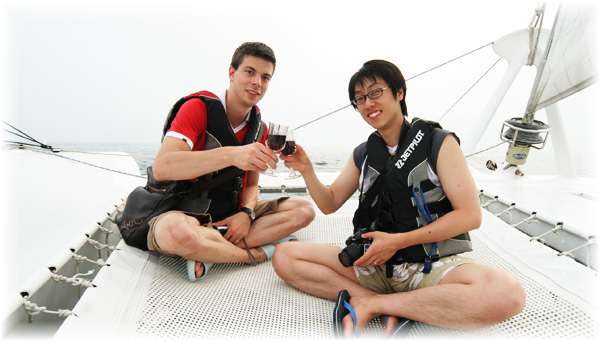 Hong-seok had always wanted to sail in the open sea on a sailboat. Born in a coastal village, he feels a natural affinity for the sea. Although both Felix and Hong-seok insisted they weren't looking forward to a romantic trip with each other, they soon found themselves immersed into the ride and enjoying a friendly glass of wine.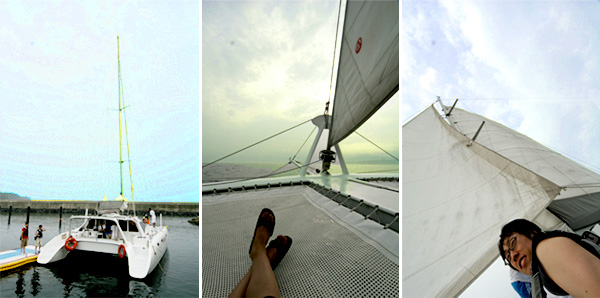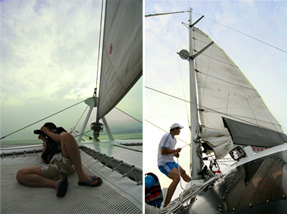 Sailing is still a relatively new sport in Korea. If you are interested in this kind of adventure, you'll need to make advance reservations letting them know the number of people going, time you will be going, and type of package you want. If you call late, there may be nothing available.

The ride starts from the Pacific Land dock, located at Jungmun Beach. You will be asked to fill out a form with your name and passport number as well as asked to wear a life jacket before boarding. You will also be also asked to change into boat shoes as a safety measure against slippery floors and to prevent damage to the boat. However, you can bring your own shoes if you like.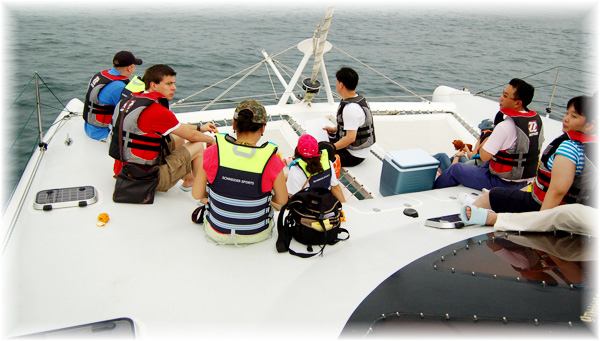 Once on board, you will find an ice chest containing fruits and beverages. As you enjoy complimentary mandarins and hallabong oranges, the trip begins. The first destination is Jusangjeollidae, a popular attraction near Jungmun, which is noted for the strangely-shaped rocks and cliffs. The view is magnificent, a luxury only afforded by those on a sailboat.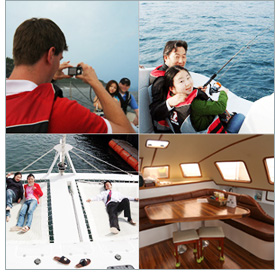 As you enjoy the ride and take souvenir pictures, the sailboat will be venturing far out into the Sea of Jeju. Here, you can take more pictures and relax in the sun. To set a good atmosphere, wine or tea is served. If you are with your sweetheart, this is the perfect romantic time together sharing a glass of wine. After about an hour's ride, the yacht returns back to the dock.

The sailing is especially recommended for those wishing to enjoy the sea of Jeju or those looking for a romantic experience. It is especially good for photo-taking. If you want a more individual experience, try the Private Tour that designed for a small group. This includes deep-sea fishing and eating freshly caught sushi on the spot.
Korea Travel Phone : +82-64-1330 (Korean, English, Japanese, Chinese)
Tel : +82-64-738-2111
Hours of Operation: Sunrise : 09:00, 10:30, 12:30, 14:00, 15:30, 16:30, Sunset: (8 daily departures / Schedule subject to seasonal adjustment / Sunrise & sunset time subject to change)
Price :A 60-minute public tour: 60,000 won (per person)/ A 30-minute tour: 40,000 won(per person)
A 70-minute private tour: 100,000 won (per person) / A 60-minute tour: 80,000 won (per person) / A 30-minute tour: 60,000 won (per person) / A 2-hour tour: 500,000 won (for 5 persons; add 50,000 per person for groups of 6 or more)
How to Get There : From Gimpo Airport, take a plane for Jeju-do (regular daily departures) → At Jeju International Airport, take a limousine bus for Seogwipo (06:20~22:00 / 61 daily departures / Travel time: 50 minutes) → Get off at Jungmun Tourist Resort → The dock is located 100 meters just before Jungmun Beach.