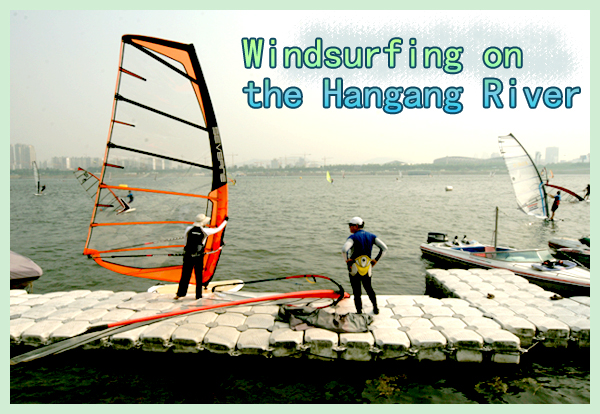 Summer Outdoor Recreation Ⅱ : Windsurfing on the Hangang River


The waterfront of the Hangang River is always packed with people getting on a sightseeing cruise ship or enjoying outdoor activities like biking, inline skating, jogging, or even fishing. If you thought Hangang was nothing more than just a river running through Metropolitan Seoul from east to west, we have news that there is actually a lot more going on out there.

We invite you to the upper stream of the river, a hot spot for wind surfing. Along the river, numerous barges cater to windsurfing or water skiing lovers. Especially, tens of windsurfing clubs line the waterfront between Gangbyeon Station and Hangang Park. For this edition, we visited Zooty Club, where dark suntanned instructors are busy teaching novices how to windsurf. The club may be a good choice for foreigners who want to learn or enjoy windsurfing, since it can take phone reservations in English and offers instructions in English.
Windsurfing – Flower of Water Sports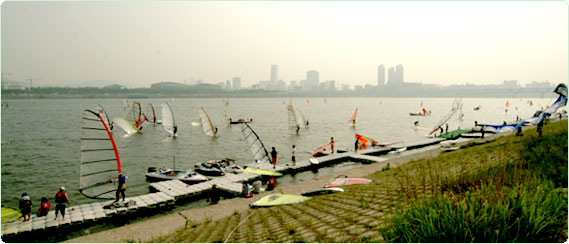 While wakeboarding and water skiing lure outdoor sport lovers to the Hangang River, the most popular recreational sport is definitely wind surfing. Kite boarding is also available here, so if you are seeking high adventure, this is the place to go and enjoy the popular X-games.
Windsurfing is usually a sport enjoyed on the sea; however, the brisk winds on the Hangang have made windsurfing an enjoyable and popular recreational activity for a long time. Here, the sport is enjoyed not just during the summer, but can be enjoyed anytime from early March to the end of October. Thus, you have plenty of time to master all the necessary skills if you are staying in Korea for the long-term. Windsurfing is accessible to anyone regardless of age, and can easily be learned by women as well.
A five-session instruction is enough to hit the waters on your own and offers more value for when compared to a one-time instruction. Another advantage of windsurfing is the freedom of riding to your heart's content on any day. Unlike water skiing or wakeboarding, which require a boat, all you need is a surfboard and you are good to go on your own.


If you are a beginner, you will learn the basic starting positions and get instructions on land and then move into the water to practice the positions.
Basically, you will need a sail, a fin, and a board, which are all provided as part of the instruction fee at the club if you make a reservation for instruction. The club also rents suits, footwear, and life jacket in every size. What you will need to bring is a towel, swimsuit, sun cream, and a hat. Without sun cream and a hat, you will get sun burnt in less than an hour. So unless you really want a deep tan, make sure to bring lots of sun cream and a hat.
Learning the Basics of Windsurfing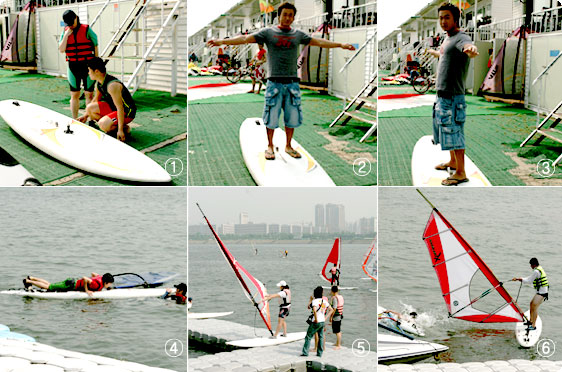 ① For 10 to 30 minutes, you will learn the principles and structure of windsurfing.
②, ③ On land, learn and practice how to maintain balance on the board.
④ In the water, first practice getting up on the board.
⑤ Then, practice sailing.
⑥ Once you learn how to sail on your own, practice until you feel more comfortable.
Kite Boarding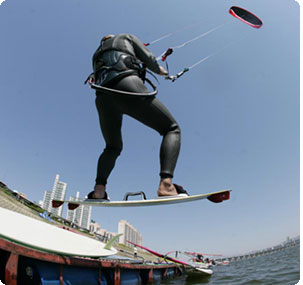 Kite boarding is a recreational sport that combines board and paragliding and is easier to learn than windsurfing. However, caution is advised, as there are risks of injuries if you get blown high in the air or get swirled in sudden gusts of wind. Kite boarding is more appropriate to enjoy in wide-open seawaters, but several clubs offer kite boarding services on the Hangang River.
With 5 to 7 sessions of instruction and some individual practice, you will be able to ride, if yet awkwardly, on the surface of the waters. If you learn and practice for a year, you will likely master the more difficult skills. While kite boarding has its own risks, it is such an attractive sport that can get you hooked once you feel the ecstasy of gliding on the water in high gear or flying up in the air.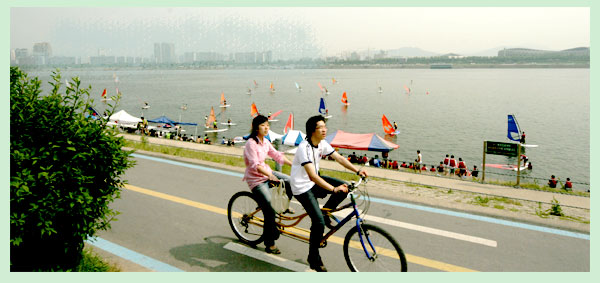 Zooty Club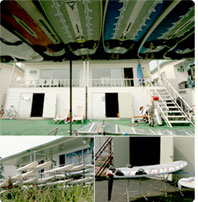 Location: Club house No.25, Ttukseom Waterfront, Jayang-dong 704, Gwangjin-gu, Seoul
Tel.: +82-2-444-8229
Mobile: +82-11-9715-1551
How to Get There: Subway Line 7, Ttukseom Resort Station, Exit 2
→ Walk upstream for about 15 minutes.
→ Zooty is club No.25 / Take Subway Line 2, get off at Konkuk University or Guui stations, and take a taxi.
Price
- Wakeboard 60,000 won/day
- Water ski 50,000 won/day
- Kiteboard annual membership 1,500,000 won (Lessons, boat ride, and equipment rental free for a year) / 5-day 600,000 won
- Wind surfing 4-day 200,000 won / 7-day 300,000 won / monthly membership 400,000 won (Lessons, boat ride, and equipment rental free for a month) / annual membership 900,000 won (Lessons, boat ride, and equipment rental free for a year)

* Call for pricing information on 1-day windsurfing or kiteboard.
[ Related Article ]
Summer Outdoor RecreationⅠ: Water Skiing in Cheongpyeong