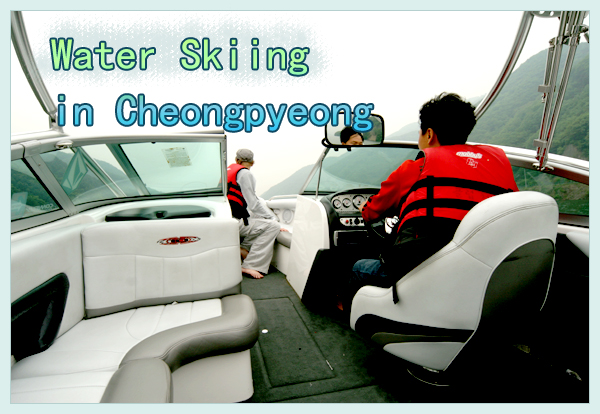 Summer Outdoor RecreationⅠ: Water Skiing in Cheongpyeong


Are you exhausted by the sweltering summer? Looking for alternative activities to sea or mountains? Then, pack your swimsuit and head for Cheongpyeong, where the fresh and cool breeze of Bukhangang River awaits you. Located an hour away by train from Seoul, Cheongpyeong is a mecca for water skiing, wakeboarding, as well as numerous other aquatic recreational activities. Learning and enjoying water sports is a breeze with numerous water sports clubs lining the waterfront and catering to the public's needs.
Originally, Cheongpyeong was a well-known dating destination. In the fall, in particular, the popular driving route to the area lures many young couples who want to take pictures or have a romantic date under autumnal leaves. The Chuncheon rail services the area and has made it a favorite outdoor picnic destination for group travelers. But the real treasure of Cheongpyeong is the outdoor water recreational sports. You may want to just stroll around with your loved one, but you will also find great pleasure by immersing yourself in a water activity.
Water Skiing Season from March to October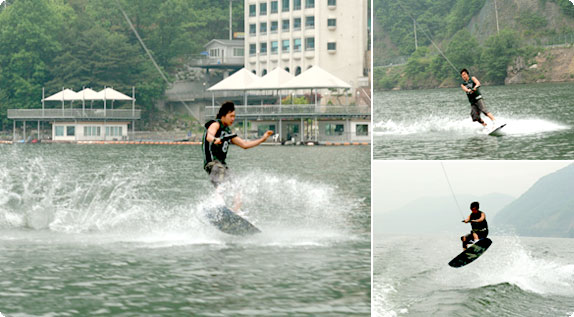 The season usually starts in March and lasts until October. During the winter, the weather is cold and the river may freeze over. The best time for water activities is from one hour after sunrise to one hour after sunset, so anytime between 8 am and 8 pm is good. This allows visitors to visit Cheongpyeong at practically anytime of the day.
According to outdoor enthusiasts, however, the best season to enjoy water sport is the fall when trees change their colors. At this time of the year, visitors have the added pleasure of seeing brightly colored leaves along the river. Despite seasonal preferences, however, Cheongpyeong is literally bursting with legions of vacationers from the first week of March until the end of October.
Favorite Water Sports in Cheongpyeong: Water Skiing & Wakeboarding
Only 5 years ago, water skiing was the unchallenged leading water sports in Korea. Over a few years, however, wakeboarding has started to find a niche in the heart of young sports enthusiasts. These days, the number of wakeboarding buffs continues to grow. The sport is particularly popular among young people and requires a somewhat different outfit, which consists of board shorts worn just below the tailbone and a tight-fitting vest. Topping off with copper-colored muscular physique and advanced tricks, wakeboard riders make not only their own heart pound by the thrill of the sport but also the hearts of those watching them.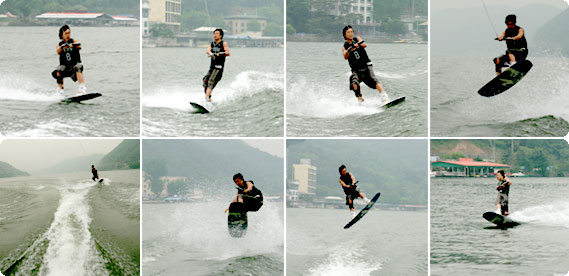 Water skiing, on the other hand, is great for enjoying speed and has the advantage of being easier to learn. After a trial of riding holding a pole attached to a boat, you will most likely be able to glide on the water at the end of a rope. So, if you want to learn a water sport fast, try water skiing first. One lesson is usually not enough to enjoy these sports on your own; you need at least several lessons. The good thing is you don't have to know how to swim, so anyone can try.
A water skiing session involves stretching and learning the basic starting position on land and getting in the water for practice. The lesson on land lasts less than 30 minutes, and there are 2 to 3 on-the-water practice sessions. Note that during the two practice sessions you can easily fall, so don't be too ambitious if you are just beginning.
Learning the Basics of Water skiing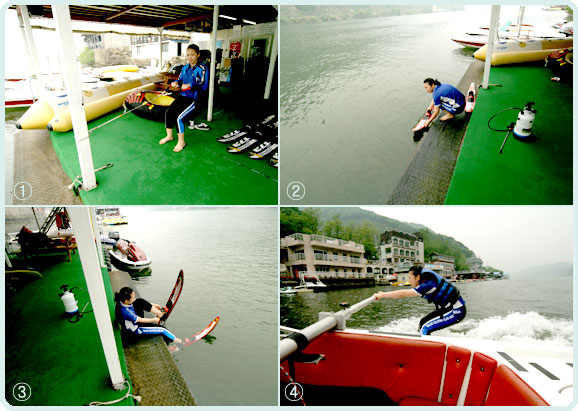 ① After stretching, you will learn the basic starting position using a ski rope tied to a post.
② Wet your skis so that your feet snuggles in easily.
③ Sit at the edge of a barge and put your skis on.
④ Skiers first use a pole tied to the boat when starting to learn water skiing. As they get more comfortable, they move on to a ski rope. Riders should be cautious not to bend their elbows at any time during the ride.

Basic Equipment
Shops have water ski or wakeboard outfits available for free rental. But you must bring your own swimsuit. All types of water recreational activities require a life-saving vest. When riding a banana boat, you must wear a head mask to prevent risks of injury from possible kicks by the person riding in front.
No-Technique Water Recreation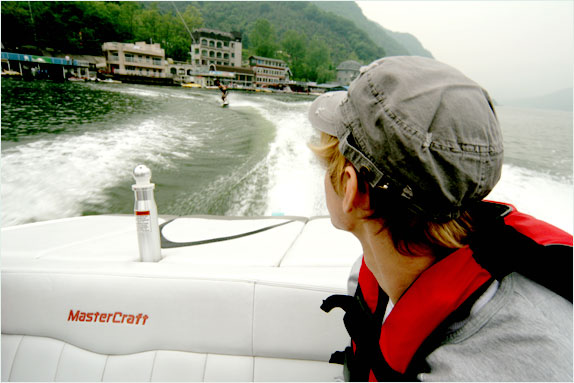 There are a number of water sports that you can enjoy with your friends when you have extra time between your water ski or wakeboard training sessions: peanut boat, named for the unique shape of the boat; banana boat molded into the shape of a yellow banana; and fly fish, named as such because it looks like flying in the sky like parasailing.
A banana boat seats five people and is pulled by a larger powered boat. The climax is when the riders are dunked into the water as the pulling boat makes a sharp turn. Falling off the banana boat is great fun, so it is a great ride to enjoy with friends. A peanut boat seats two people of similar weight as well as couples. It is so fast that riders can actually feel the force of the water rushing by. A fly fish accommodates two people lying on the back. As the speed of the boat increases, it can float off the water surface. Fly fish is a safe and convenient way of enjoying the thrill of aquatic recreation.
If you have any trouble trying any of these water activities, then taking a leisurely ride on a boat on Bukhangang River makes an enjoyable experience in itself. This summer, try a water recreation in Cheongpyeong and enjoy the thrills.
Club Chungho Activities Services
Banana Boat
Peanut Boat
Jet Ski & Boat
Flyfish
Wakeboard
Water Ski
Club Chungho
The club has 3 powerboats in addition to a Master Craft X10, Yamaha jet skis, and numerous other water recreation equipment. Qualified coaches can speak English, and you can make a phone reservation in English.
Tel: +82-31-584-0559/ +82-17-221-0558
Address: Hoegok-ri 741-12, Seorak-myeon, Gapyeong-gun, Gyeonggi-do
How to Get There: Get off at Gapyeong Station in Gyeonggi-do. Free pick-up service is available upon request when making a phone reservation.
Price
- Wakeboard, water ski (on-land/ on-the-water training) 60,000 won
- Wakeboard, water ski one-time ride 15,000 won / Jet ski 10 mins. 50,000 won, 1 hr 200,000 won
- Fly Fish 20,000 won per person / Water sleigh 10,000 won per person
- Peanut boat 30,000 won per ride / Motor boat 50,000~150,000 won
- Fly fish + Peanut boat + Banana boat Package 45,000 won
- Beginner training (water ski, wakeboard) + Fly fish + Banana boat 90,000 won
- Jet ski + Fly fish + Banana boat Package 80,000 won
* Prices are subject to change depending on number of riders and season. Check the price when making a reservation.
Dining Menus
Broiled eels & rice (2 persons) 45,000 won / Dakdoritang (Braised chicken / 2~4 persons) 35,000 won / Barbeque set (Pork + sausage + vegetables/ 2 persons) 28,000 won
* Ask about program options that include dining. Not only does it allow you to enjoy a meal at a more affordable price, but you will also have extra time for recreation.