A Delightful Breath of Fresh Air! Let Your Heart Begin to Dance!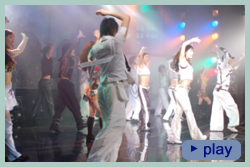 Love Dance (Sa. Choom) began its first performance in November 2004, in Daehangno, the mecca of cultural performances, in a small theater. Love Dance has no spoken lines, and the story unfolds purely by dancing non-stop for a duration of 100 minutes.

The life of Jun, Sun, and Bin are all portrayed from birth until their twenties through various dance genres such as hip hop, jazz, techno, break dance, pop dance, modern ballet, and more.

Except for a few songs, all the stories and acting are expressed through vibrant and powerful dance movements. No words. Love Dance episodes are comic in structure and powerful in movement. They have strong music, and the lights and stage setting all come together in perfect harmony with the dancing of Love Dance. The performance captivates the audience, naturally drawing them to their feet where they can enjoy the performance to the fullest.

→ Go to "Love Dance (Sa. Choom) Musical"

Top Leading Cast: Full of Talented Performers

For more than 1 year, in 350 performances, Korea's top dancers have led this performance. All the leading talents in modern ballet, jazz, hip hop, and more have joined the cast through vigorous and numerous auditions. Love Dance has made the dancers' careers successful to the public. Also, each individual dancer's talents are so exceptional that fan clubs have been created.

'Jun' Played by Choi, Him Chan He makes the audience his buddies through his charm and affection.
'Bin' Played by Lee, Jae Kyu He captivates the audience through his charisma and prowess.
'Sun' Played by Park, Soo A She moves between sensuality and innocence, mesmerizing the audience.
[ Performance in Brief ]
Dates : August 9 ~ December 31, 2006 Weekdays: 8pm / Saturday: 4pm, 7:30pm / Sunday: 5pm (No performance on Mondays)
Place: Algwahaek (Egg & Nucleus) Theater, Daehangno, Seoul
Tickets: 45,000 won
Inquiries: Tel 02-2128-7616/7617
How to get there: Take subway line No.4 (blue) and get off at Hyehwa Station. Then, go out Exit No. 2.
Website: www.lovedance.co.kr
[Map]