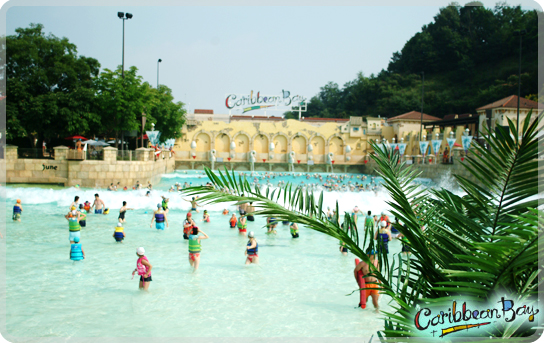 Many people in Korea leave in search of cool waters and mountains during the hot months of July and August. But, wouldn't it be nice to enjoy the fun of the ocean and feel the cool mountain breeze without traveling too far from home? Caribbean Bay's Water Park and Everland Theme Park are the ideal getaway near the city. Everland is surrounded by beautiful nature, and offers various events, a zoo, and exciting rides all year round. Also, Caribbean Bay is Korea's largest water park with a wave pool, slides, and other water facilities, attracting many young people.
We visited Everland and Caribbean Bay with our intern from Hong Kong, Barry Wu, on a one-day course.

:::: Caribbean Bay Information ::::

Opening Period: Indoor 365 Day, Outdoor May - October (Some facilities may not be open from September to October.)
Opening Hours: 09:00AM-19:30PM (Open from 08:30AM on Sunday, Closed at 20:30PM on Sunday, Saturday and National holidays from July 15.)
Contact Number: +82-2-1330 (Korean, English, Japanese, Chinese)
Homepage: www.everland.com (Korean, English, Japanese, Chinese)
Address: 310 Jeondae-ri, Pogok-myun, Yongin-si, Kyonggi-do, Korea 449-715


Buses for Everland are available at Jamsil, Shinchon, Gangnam, Seoul National University of Education, Sadang, East Seoul Bus Terminal, and more. Non-stop express buses are operated by travel agencies, and one way fares cost 5,000 won, and round-trip fares cost 8,000 won. Regular buses with multiple stops are 1,600 won per one way fare. Reservations are required for round-trip non-stop express buses. Weekends and holidays are often heavily booked, so it is safer to reserve your seats one or two days in advance. Although regular buses are available at many stops in Seoul, to save travel time you should take bus No. 5002 from Gangnam or Yangjae Station, or bus No. 5008 from Gangbyeon or Jamshil Station. These buses will take you to Everland within an hour, whereas other buses will take about double the time because they have to make multiple stops.

♣ Preparations
Swim suit, water cap, sun screen, basic facial care
* Swimsuits and water caps are mandatory inside Caribbean Bay and can be rented from June to August. It is highly advisable to wear a safety vest when entering the Wave Pool and it is mandatory to wear a safety vest for inside the red line. The yellow line area is a place where frequent collisions happen.


09:30 AM Caribbean Bay

The tour bus stop is located in front of the main entrance of Everland, and the regular bus stop is located in the parking lot. Caribbean Bay is located right next to Everland, but the ticket boxes and entranceways operate separately. Caribbean Bay has both indoor and outdoor pools, spas, and other facilities.

On weekends during the summer season, you should arrive as early as possible, for it may take a long time to purchase passes and enter the park.



Passes

The day we visited Caribbean Bay, it was during the most expensive Gold Season (June 15 ~ August 20). Regular day passes are 60,000 won, and half-day passes (14:30PM till closing time) are 51,000 won. If you want to visit both Caribbean Bay and Everland, the two-day combination pass (79,000 won) is the most ideal.




Purchasing Swim Wear

We started out early in the morning from Shinchon, and forgot to bring our swim suits, so our only choice was to purchase them first thing when we arrived at Caribbean Bay. Most visitors prefer boxer suits for men and bikinis for women. We purchased boxer suits for 30,000 won each. Also, most pools require you wear water caps, so we purchased one for 6,000 won each. Some people wear caps or head scarves instead of water caps, so the water cap isn't your only option.



Must-do Before Entering the Pool Area

The first thing you need to do upon entering Caribbean Bay is to purchase Bay Coins. They are money vouchers used within Caribbean Bay, and are available for 20,000 won, 30,000 won, and 50,000 won. Inside Caribbean Bay, only Bay Coins are accepted instead of cash. Food, drinks, snacks, and even lockers are purchasable only with Bay Coins. After storing your belongings in the locker, you'll need to rent life vests. These are required in almost every pool within Caribbean Bay.


<img src="http://tong.visitkorea.or.kr/cms/resource_etc/11/260611_image2_1.jpg?&name=image2&index=1"

10:30 AM Enjoy the Thrilling Outdoor Faculties

The best part of Caribbean Bay is without a doubt the Wave Pool. It's a popular filming location during the summer seasons, and you don't want to miss out on the fun. The waves come crashing towards you, once the steam whistles sound, and it feels just like the real thing. Other outdoor facilities include the Adventure Pool, Tube Ride, Surf Ride, and much more.

12:30 PM Lunch on the Outdoor Terrace

Caribbean Bay offers six different outdoor restaurants offering pastas, noodles, fast food, and more. And, there are three indoor restaurants. Of these, Barry Wu chose "Madrid," an outdoor restaurant with a terrace overlooking the entire Caribbean Bay. The food and the view made our meal all the more delicious.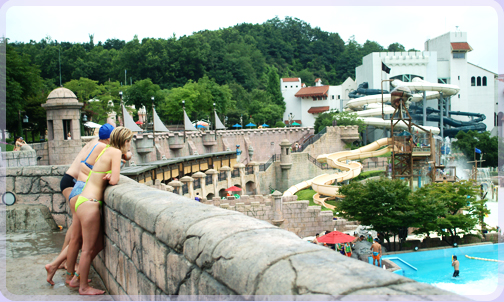 13:30 PM Enjoying the Indoor Facilities

If you've had your fun enjoying the outdoor facilities, the indoor facilities offer a more relaxing sort of fun. The indoor facilities are not as crowded as the outdoor facilities, and they offer the Miracle Spa, Bubble Pool, Massage Pool, and a variety of other spa facilities to help you relax while you have fun. After romping around in the cool waters of the pool, dip yourself in a warm spa, and it'll chase away your fatigue. Caribbean Bay also offers a sauna, where you can relax and watch some TV. Other facilities include the Lazy River, Quick Ride, and more.

15:00 PM Have a Light Snack

With so much fun and excitement, even a hefty meal during lunch will not keep you feeling full for long. A light snack can quench your hunger for the remainder of the day until dinner. We chose a delicious chocolate drink and a waffle.



Souvenirs as a Reminder of the Fun

Caribbean Bay Souvenir Shop offers white dolls wearing hats, bags, stuffed animals, wallets, purses, pencil cases, hats, head scarves, and much more.
If you want a reminder of the fun and excitement of Caribbean Bay, a small gift purchase is a good idea. The items offered at the shop make perfect gifts for friends and family.

Between 5pm and 6pm, most people usually go back home, so try to avoid this time, if you don't want to wait too long in the shower room.
Everland is located on the right side of Caribbean Bay.


16:30 PM Everland

Everland offers a variety of exciting rides, but the most popular facility is the bus safari through the jungle. Everland also holds various festivals and shows for all 365 days a year, something you don't want to miss. Everland is open until late in the evening, giving you more time to enjoy all that Everland has to offer, and you don't have to go to Caribbean Bay and Everland on the same day. The combination pass to Caribbean Bay and Everland is valid for two days, so if you're tired from too much fun at Caribbean Bay, you can visit Everland on the next day. But be sure you don't miss Caribbean Bay and Everland, the two most popular and exciting theme parks in Korea.


:::: Expenses (Based on July 31, 2005) ::::
Transportation : Seoul Gangnam Station ↔ Everland 3,200 won (One way fare 1,600 won)
Caribbean Bay + Everland Pass : 77,000 won (For only Caribbean Bay, the pass is 60,000 won)
Facilities (Purchase of 30,000 won Bay Coin) : Beach Chair 5,000 won / Towel (Middle size) 1,000 won / Life Vest 4,000 won / Indoor Locker 2,000 won
Lunch : Donkase (pork cutlet) Set 9,700 won
Snacks : Ice-Choco ₩3,500, Waffles 1,000 won
Total: 106,400 won

*Bay Coins are money vouchers used as cash within Caribbean Bay for all its services and facilities. The remaining change is exchangeable for cash as you leave Caribbean Bay. If you purchase your Bay Coins with a credit card, only the amount you've used will be charged to your card, so you don't need to worry about change.
* Towels, life vests, and some other items require a money deposit. It's separately charged from rental fees, and the deposit will be returned to you upon return of the item. So, don't forget to return the rented items once you've finished using them.
[ Rentable Items with Bay Coins (Based on 2006 Prices) ]
| | | |
| --- | --- | --- |
| Items | Rent Fee | Deposit |
| Beach Chair | ₩6,000 | None |
| Large Beach Towel | ₩3,000 | ₩4,000 |
| Small Towel | ₩1,000 | ₩4,000 |
| Life Vest | ₩4,000 | ₩2,000 |
| Indoor Locker | ₩2,000 | ₩2,000 |
| Outdoor Locker | None | ₩500 |
[ Caribbean Bay Passes (Based on 2006 Prices) ]
Middle Season (6/1 - 6/30), High Season (7/1 - 7/14, 8/21 - 8/31), Gold Season (7/15 - 8/20)
Adults
Children
Passes
All Day Pass
Middle Season
₩40,000
₩30,000
High Season
₩50,000
₩38,000
Gold Season
₩60,000
₩45,000
Half-Day Pass(After 14:30 PM)
Middle Season
₩34,000
₩26,000
High Season
₩43,000
₩32,000
Gold Season
₩51,000
₩38,000
Two-Day Combination Pass
All Day + Half-Day Pass(For two days, you can use Festival World and Caribbean Bay facilities for one day each)
Middle Season
₩62,000
₩46,000
High Season
₩71,000
₩53,000
Gold Season
₩79,000
₩59,000
[Related Article] A Cool Summer Holiday at the Caribbean Bay!

[Interview]

Name: Barry Wu
DOB: 1984
Current Residence: Seoul, Shinchon
From: Hong Kong, Sha Tin
Hobbies: Swimming, Internet Surfing
Profession: Student at the Chinese University of Hong Kong, Communications Major (Currently an exchange student at Ewha Women's University for one year)



Have you been to a water park like this in Hong Kong?
- Hong Kong used to have such facilities in the old days, but they are no longer there, so I've never had the chance to go. That's why I was more excited about going to Caribbean Bay.

After spending the day at Caribbean Bay, how did you like it?
- The scale of the facilities was grand, and it was so much fun. I really want to come back, once I meet a girlfriend. The visitors were couples, families, or friends, and regardless of their age, everyone seemed to have such a great time. It's a place where everyone can have fun regardless of who you're with.

What did you like the most about Caribbean Bay?
- I really enjoyed the Wave Pool. The waves were like actual ocean waves, and everyone was gulping down much of the water, but no one seemed to be able to leave. The fun is definitely addictive. I'm going back to Hong Kong this September, but I really want to come back to Caribbean Bay.