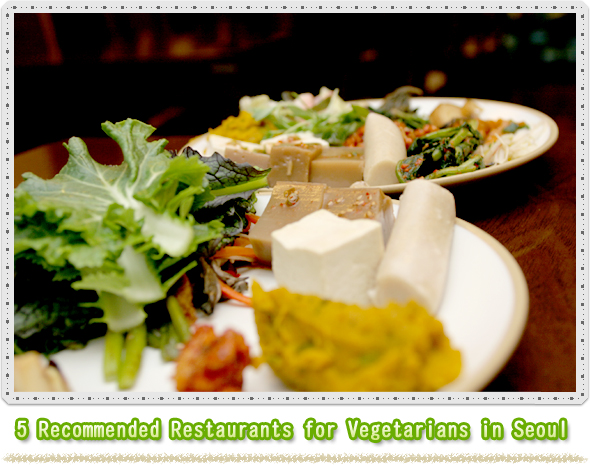 You can find bulgogi, galbi, kimchi, bibimbap, and more of Korea's most representative dishes anywhere in Korea. Kimchi, a representative Korean dish, comes in numerous variations especially in the process of preparation, seasoning, ingredients, which is suitable for vegetarians to eat. However, as for other major Korean dishes, if you are a vegetarian, you may find them difficult to eat. The latest trend in Korean cuisine, the royal court dishes, may be out of the question, and as a vegetarian, you could end up feeling quite ravished. So, to meet the demands of our vegetarian visitors, we have found some appetizing vegetarian restaurants in Seoul. These restaurants are of course ideal for vegetarians, but are also ideal for those wishing to shed a few pounds, wanting to be health-conscious, or for those simply looking for a lighter meal to eat. Let's take a look at some of Seoul's most delicious vegetarian restaurants.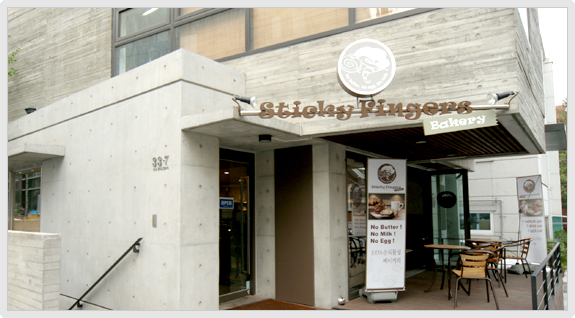 ▒ 100% Vegetable Oil – Sticky Fingers Bakery
"No Butter, No Milk, No Eggs" is the motto of Sticky Fingers Bakery, using only 100% vegetable oil in their ingredients. Instead of milk, butter, and eggs, Sticky Fingers Bakery uses soy milk, and in the place of sugar, the bakery uses quality organic sugar cane. This bakery's headquarters is in the U.S., and as a franchise bakery, all recipes have been localized to please the population of Korean's taste buds, therefore aiming for a less sweet and more simple but soft taste. Sticky Fingers Bakery Korea has also created new recipes and has given their U.S. headquarters with these recipes, attesting to the high skills of the bakers.
The bakery offers organic coffee, a variety of drinks, and a large selection of baked goods. Sticky Fingers Bakery also offers a café area for guests to sit down and relax while enjoying their selected bakery goods. Discard the doubt that you may have about baked goods with only vegetable ingredients, because once you taste what Sticky Fingers Bakery has to offer, you'll feel more than satisfied. All of the baked goods are soft and moiStreet The smell of home baked goods as well as its tastes and shapes will remind you of your mother's home cooking. The bakery offers freshly baked goods twice a day, once in the morning and once in the afternoon. Only the baked goods baked on that day are sold.
Sticky Fingers Bakery's favorites include cinnamon and apple pie, pecan cookies, and morning rolls. Other baked goods include a selection of muffins, cookies, and cakes for special days.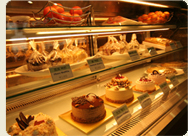 Business Hours: Main Branch 09:00AM-10:00PM (Sat. / Holiday 09:00AM-20:00PM, Closed on Sunday), Shinsegae Department Store, Myeongdong Branch (open during department store hours)
Inquiries: +82-2-542-9726 (Main Branch), +82-2-310-5324 (Shinsegae Department Store, Myeongdong Branch)
Menu: Cookies 2,000 won / Muffins 3,000 won / Morning Rolls 3,500 won / Toast Bread 7,000 won / Banana Bread 3,500 won
Homepage: www.stickyfingers.co.kr (Korean)
How to Get There:
① To Get to the Main Branch: Take Subway Line No.8 Garak Market Station -> Go out of Exit No.3, 5 minute-walk
② To Get to the Shinsegae Department Store (Myeongdong Branch): Take Subway Line No.4 Hwehyun Station -> Go out of Exit No.7 and take the moving walkway that's connected to the department store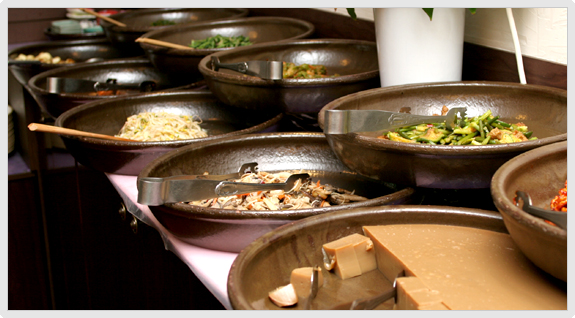 ▒ Endless Servings of Fresh Vegetables – Vegetarians Buffet Restaurant Hangwachae
Hangwachae offers a vegetarian buffet serving fresh organic vegetables and vegetarian dishes. The owner of the restaurant first began cooking vegetarian dishes for her husband who was a vegetarian. When her friends tasted her cooking, they encouraged her to open a vegetarian restaurant, which lead to the opening of Hangwachae. The owner prepares the food as if she were prepared the food for her husband and friends, therefore the ingredients are all fresh and of high quality.
Soup, rice, rice porridge, and Korean pancakes are offered as the basic menu and are also included in the buffet. The rice served is made with 20 different Oriental herbs. The buffet offers some 20 to 30 different dishes. For protein supplements, the buffet also offers walnuts, homemade tofu, and muk (nut jellies). The buffet also offers rice cakes and bananas. One of Hangwachae's most famous dishes is the green salad served with cheonggukjang (thick soybean paste) sauce made from choenggukjang, milk, and papaya. The kimchi is flavored with fruits instead of pickled fish, and Hangwachae also uses only grape oil for its ingredients and cooking.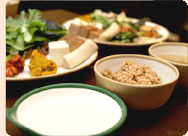 Business Hours: 11:30AM - 14:30PM, 17:00PM-2:30PM
Inquiries: +82-2-720-2802
Menu: Vegetarian Buffet 10,000 won
How to Get There: Take Subway Line No.1 Jonggak Station and go out of Exit No.3 -> Walk straight toward Geumgang Jehwa, and make a left at the intersection of Geumgang Jehwa -> Make a right at Sudo Pharmacy located centrally on Insadong Street -> Walk about 150m and on the left is Hangwachae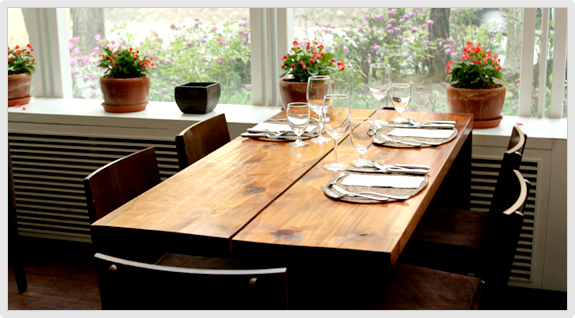 ▒ Bean Specialty Dishes – Congdu Pasta Restaurant
Located at Samcheongdong, the district of galleries, and museums, is also many tasty restaurants. Among the many royal court cuisine restaurants, Italian restaurants, hanjeongsik restaurants, and more, is a bean specialty restaurant using beans and tofu as its main ingredient. The food is mild, and though the restaurant offers only 1 vegetarian course, the course offers bread, salad, soup, and a main dish that is worth trying.
The vegetarian course offers healthy wholegrain bread made with 7 different kinds of grains, grilled pumpkins, mushrooms, eggplants, and other vegetables with balsamic dressing, and spinach salad, making your mouth water. The main course consists of a large serving of mushrooms and asparagus with tofu steak. Don't eat too much bread for the main course itself is quite filling. Of course, more bread is offered for free if you wish to have more. Dessert comes with tofu ice cream and a choice of coffee, green tea, or citron tea. The price for the vegetarian course is a bit high, but is worth experiencing. The restaurant also offers non-vegetarian dishes, so vegetarians and non-vegetarians can dine together without having to worry about meat dishes on the menu.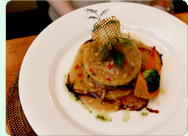 Business Hours: 12:00PM-22:00PM
Inquiries: +82-2-722-0272
Menu: Vegetarian Course (Bread, salad, soup, tofu steak, tofu ice cream, tea) 36,000 won (10% VAT not included)
How to Get There: Take Subway Line No.3 Anguk Station and go out of Exit No.1 -> Walk straight and make a right towards Pungmun Girls High School -> Make a left at Art Sonje Center intersection -> Walk straight and make a right at the car lane. Then walk straight again, and Congdu Pasta will be on the left-hand side.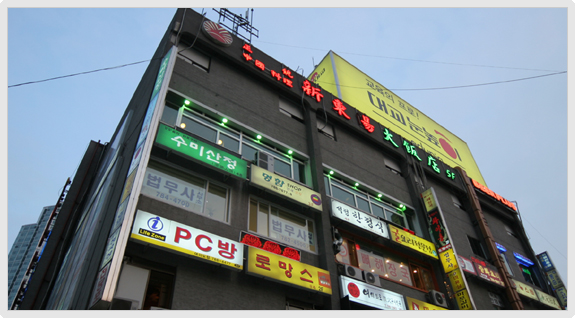 ▒ Chinese Cuisine without Seafood and Meat – Shindongyang Chinese Restaurant
Located at Yeoido, the Shindongyang Chinese Restaurant has large dining halls, and offers a separate vegetarian course meal. The restaurant has been operated by three generations of Chinese emigrants so far, and it serves mainly Peking cuisines, including Taiwan and Setzuan province cuisines. Most of the chefs are also Chinese emigrants, which is the reason why many tourists seek this restaurant out.
Guests can enjoy single vegetarian dishes, but the vegetarian course, which comes with 10 dishes is very famous. The basic serving size for the vegetarian course meal begins with 5 persons, and is \30,000 per person. The dishes include asparagus, mushrooms, green peppers, and more, that is prepared in a Chinese-fashion. If you want to enjoy Chinese dishes without seafood and meat, hop on the subway to Yeoido.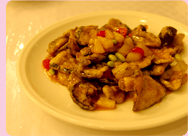 Business Hours: Weekdays 11:00AM-14:30PM, 17:00PM-22:00PM / Weekends 11:30AM-21:30PM
Inquiries: +82-2-782-1754
Menu: Tangsupyogo-beoseot (Tangsu shitake mushrooms 14,000 won, Fried rice 5,000 won, Jajangmyeon 4,000 won, Vegetarian Course 30,000 won / 1 serving (order accepted for at least 5 servings)
How to Get There: Take Subway Line No.5 and get off at Yeouido Station. Then, go out of Exit No.5. It will be the first building on the right (Yeoido General Arcade), 5th Floor
[Related Article] Specialized vegetarian restaurants, from vegetarian buffets to temple fare