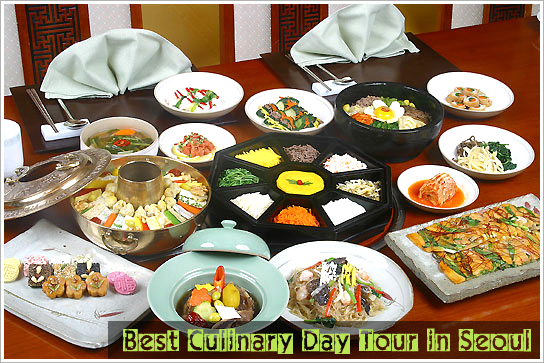 Tour Itinerary
10:30: Samcheonggak (Hanbok and Tea ceremony + Lunch in Korean Royal Cuisine)
14:00: Gyeongbokgung Palace (National Palace Museum + National Folk Museum)
16:00: Insa-dong (Traditional Korean rice cakes and cookies)
18:00: Jongno (Pojangmacha snack food)
Thanks to the popularity of TV miniseries "Daejanggeum: Jewel in the Palace" throughout Asia, the interest in Korean cuisine is at an all-time high. For this edition, we headed to Samcheonggak to learn about the Korean tea ceremony and taste traditional royal cuisine. Samcheonggak offered much more than a mere lunch: it was an enriching cultural experience.
Afterwards, we were off to the popular traditional alleys of Insa-dong, where we found a traditional rice cake café Jilsiru and ordered some beautiful Korean rice cakes and a beverage. How about some Korean cookies? We found a traditional Korean cookie shop called Sanchon Saramdeul right next to Jilsiru. A bag of traditional cookies was a unique experience in itself.

After trying out a variety of local traditional foods, it was time for some great Korean snack foods enjoyed by the younger generation. Late in the afternoon, we found dozens of street stalls called pojangmacha lining the street of Jongno. Here, we indulged in an assortment of snack foods that are both inexpensive and delicious. Like a standing buffet, it means eating shoulder to shoulder with other people, but even this cramped experience seemed to be a part of the Korean culture.

Samcheonggak operates its own shuttle bus free of charge, as there is no public transportation. The most convenient place to take the shuttle bus is in front of the Seoul Plaza Hotel main entrance (Subway line 1, Seoul City Hall station, exit 6) or next to the bus station near Kyobo bookstore (Subway line 5, Gwanghwamun, exit 3). By taxi, it takes about 10 minutes from subway line 5 Gwanghwamun station and the fare is 3,500 won. (The time and fare may differ depending on the traffic conditions and change in taxi fare.)
* Starting from 10 am from Samcheonggak, the free shuttle bus runs every 30 minutes until 19:55 pm. The bus runs 20 times a day. There is no shuttle bus at 2 pm and 8 pm.
→ Click here for Samcheonggak shuttle bus timetable


Samcheonggak (Hanbok and Tea ceremony + Lunch in Korean Royal Cuisine)
Ilhwadang

10:30 am
A great place to immerse yourself in the traditional culture of Korea, Samcheonggak is set amidst a serene and beautifully landscaped forest near the skyscrapers of downtown Seoul. It offers six facilities all housed in beautiful Hanok (traditional Korean architecture): the Ilhwadang features the performance hall and a Korean restaurant; the Cheongcheondang is for various functions and events; the Yuhajeong accommodates traditional music and painting experiences, receptions and meetings; the Cheonchudang is the site for tea ceremonies; the Chwihandang is for arts and crafts; and the Dongbaekeon is for other traditional culture experiences. We planned lunch at the Korean restaurant, and since it opens at noon, we booked a reservation for the classic tea ceremony experience at 10:30 am.

Two tea ceremony programs are available: regular (50,000 won) and deluxe (70,000 won), the difference being that participants wear the traditional Korean dress hanbok during the deluxe program. If you really want to learn about Korean culture, we highly recommend the deluxe course since experiencing the tea ceremony in style and authenticity makes a huge difference. For 90 minutes, you will practice the tea ceremony in the Korean way. The instructor performs the ritual and explains in Korean, while another instructor explains in English. An assistant instructor and one or two additional assistants, depending on the size of the group, will help you during the course.
Tea ceremony (deluxe)
Korean Restaurant in Samcheonggak
After completing the tea ceremony experience, we had lunch at the Korean restaurant. Literally 'The Palace Beyond,' the restaurant is operated by the deluxe Paradise Hotel Busan. It is one of the few restaurants specializing in Korean royal cuisine, and all of its food is prepared by Korea's leading chefs using the freshest seasonal ingredients.
Korean Royal Cuisine
| | | |
| --- | --- | --- |
| | | |
| gujeolpan | royal sinseollo | dry ojeolpan |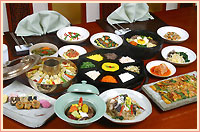 Samcheong Sura

The most popular of Korean royal cuisine is the royal sinseollo, the dry ojeolpan and the fresh gujeolpan. The restaurant offers a number of course specials: "Yuha Sura" (lunch, 39,000 won per person); "Dongbaek Sura" (lunch, 45,000 won per person); "Cheonchu Sura" (55,000 won per person ); "Cheongcheon Sura" (77,000 won per person); "Ilwha Sura" (99,000 won per person / Includes dry ojeolpan, royal sinseollo); "Samcheong Sura"(120,000 won per person / Includes dry ojeolpan, fresh gujeolpan, royal sinseollo)

* The prices above do not include VAT.
Samcheonggak One-day Cultural Experience Program
[Reservation: +82-2-765-3700 (English, Japanese, French)]
| | |
| --- | --- |
| Course | Course Fee |
| Traditional music | 50,000 won |
| Gyubang crafts | 50,000 won |
| Experiencing Hanbok (Regular) | 20,000 won |
| Tea ceremony (Regular) | 50,000 won |
| Tea ceremony (deluxe) | 70,000 won |
| Cuisine (Bibimbab) | 38,000 won |
→ Click here for more on Samcheonggak
We took the Samcheonggak free shuttle bus and got off at the entrance of Gyeongbokgung Palace. It takes about 7 to 8 minutes.



It takes about 15 minutes by walk from Gyeongbokgung Palace to Insa-dong.
>> See map below

Insa-dong (Traditional Korean rice cakes and cookies)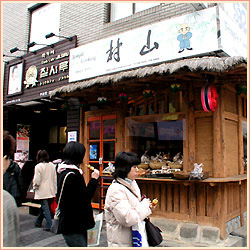 Tteok café 'Jilsiru' on the left, and traditional cookie shop 'Sanchon Saramdeul' on the right

6:00 pm
Insa-dong is a great place to experience the traditions and culture of Korea. While enjoying a walk through the alley, we stopped for some traditional rice cakes tteok and a persimmon shake at the famous 'Jilsiru' café, which is conveniently located in the center of Insa-dong. The equivalent of cake in the West, tteok is made of rice, so two or three small rice cakes are quite filling. Most rice cakes cost 1,500 won and the persimmon shake is 7,000 won. Next to Jilsiru is 'Sanchon Saramdeul,' a traditional Korean cookie shop operated by Sanchon, an Insa-dong restaurant well known for its vegetarian "Buddhist temple" food. Here, you can buy traditional Korean cookies not easily found elsewhere, at relatively inexpensive prices. While some cookie bags cost 10,000 won, most are between 4,000 and 5,000 won. The most popular is the yugwa, which costs 4,000 won a bag.
| | | |
| --- | --- | --- |
| | | |
| Small rice balls at Jilsiru | Tteok cake at Jilsiru | Persimmon shake at Jilsiru |
| | |
| --- | --- |
| | |
| Traditional cookies at Sanchon Saramdeul | Popular Yugwa |
If you entered Insa-dong from Anguk-dong, the end of Insa-dong alley will be Jongno 2-ga. Cross the street in front of Kumkang shoe store and you will find numerous pojangmachas on your right and left.
>> See map below.

Jongno (Pojangmacha snack food)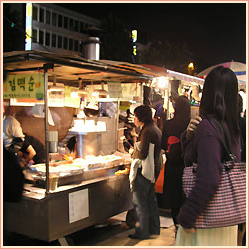 A pojangmacha in Jongno

7:30 pm
By night, Jongno becomes a paradise of pojangmachas. These are the popular wheeled street stalls selling Korea's all-time favorite snack foods, tteokbokki and sundae. Dozens of pojangmachas line the streets of Jongno, and during the winter, the rising white smoke from their griddles lures hungry customers. Interestingly, pojangmachas in Jongno offer an assortment of snacks as one menu offering. For example, the gim- Tteok-sun menu is an assortment of gimbap (rice rolls), tteokbokki (rice-cake morsels in red pepper sauce) and sundae (Korean sausage in hot sauce). A two-selection serving is 2,000 won and a three-selection serving, 3,000 won.
| | |
| --- | --- |
| | |
| Two-selection dish (egg roll + tteokbokki) 2,500 won | Three-selection dish (tteokbokki + sundae + pan-fried green onions and seafood) 4,000 won |
| | | |
| --- | --- | --- |
| | | |
| Tteokbokki (2,500 won per serving) | Pan-fried Kimchi (2,500 won per serving) | Sundae in hot sauce (2,500 won per serving) |
| | | |
| --- | --- | --- |
| | | |
| Fries (2,500 won per serving) | Fish cake skewers (500 won each) | Green onions and seafood pancake (2,500 won per serving) |
Prices are similar at most street stalls. The tteokbokki and sundae are extremely spicy, so if you are not accustomed to hot food, try just one of the two and then choose a scallion- seafood pancake, egg roll, fritter, dumpling, or gimbap. Help yourself to some hot broth from the odeng (simmered fish cake on a skewer), which is free of charge.

* All prices as of May 2010.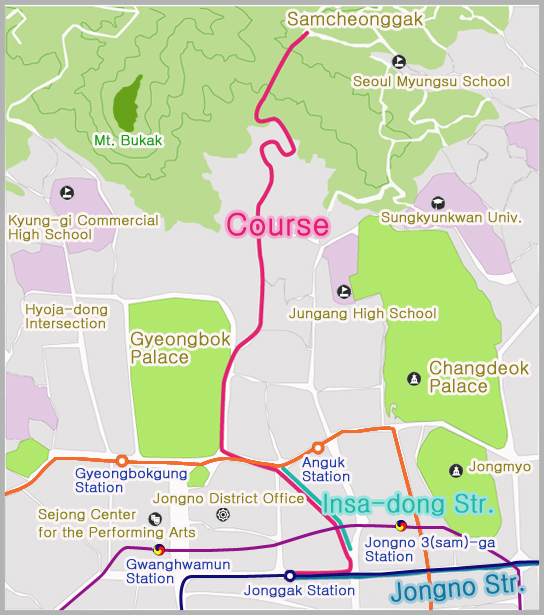 < Total expenses per person, as of May 2010 >
Taxi from Gwanghwamun to Samcheonggak : 3,500 won
Samcheonggak deluxe tea ceremony course : 70,000 won
Cheongcheon Sura :84,700 won(77,000 won per person plus 10% tax)
Insa-dong Jilsiru : 2 rice cakes 3,000 won / Persimmon shake 7,000 won
Insa-dong Sanchon Saramdeul 'Yugwa' : 4,000 won
Jongno pojangmacha 'tteokbokki + sundae + seafood pancake' : 7,500 won
Total : 179,700 won