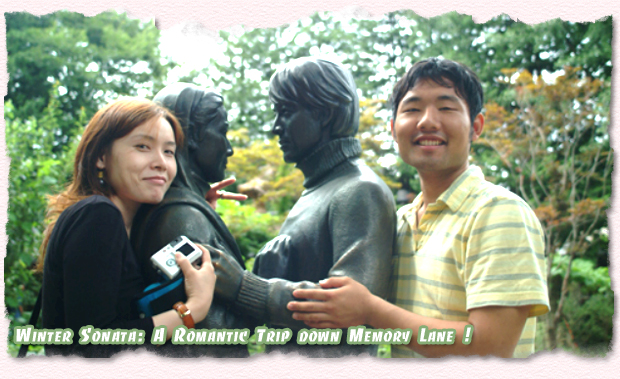 The film locations of Namiseom Island, Chuncheon, and Yongpyong Resort are still a hot spot attracting Winter Sonata's fans all year round, although the drama aired quite some time ago. Namiseom Island offers more than a tour of the Winter Sonata's film location. It is an exquisitely decorated island, ideal for walkers and bicyclers to take a half-day tour. Furthermore, visitors can enjoy skiing the winter slopes while touring the film locations at Yongpyong Resort, or enjoy the green nature of the resorts in the warm seasons. The Japanese language advisor Yano Kaori, and intern Nojawa Nahoumi of Korea Tourism Organization's Overseas Promotion Department visited Winter Sonata's film locations. Let's join them on the three-day tour and experience Winter Sonata.


▒ A Three-day 'Winter Sonata' Best Travel Course Itinerary
Day 1
08:30
Leave from Seoul Cheongnyangni Train Station
09:51
Arrive at Gapyeong Station
10:10
Gapyeong → Namiseom Island
15:45
Arrive at Chuncheon Station
16:00
Jungang Market, Myeong-dong Street Tour
18:30
Chuncheon Myeong-dong Dakgalbi
20:00
Hotel Check-In at Chuncheon Sejong Hotel
Day 2
09:00
Breakfast at Myeong-dong Burger King
10:00
Chuncheon Myeong-dong → Chuncheon Intercity Bus Terminal
13:30
Donghae Intercity Bus Terminal
14:00
Chuam Beach
14:30
Lunch at Chuam Heotjip
17:00
Donghae Intercity Bus Terminal
17:30
Hwenggye Intercity Bus Terminal
17:40
Hwenggye Post Office → Yongpyong Resort
18:00
Yongpyong Resort
Day 3
08:00
Yongpyong Resort
15:00
Yongpyong Resort → Seoul Jamsil
▒ Day 1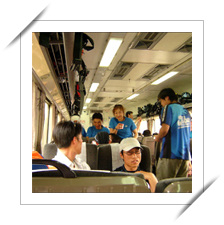 08:30 AM Cheongnyangni Train Station
Get off at Cheongnyangni Station from subway line 1, and once outside you'll see Cheongnyangni Train Station. The Gyeongchunseon Line leaving from Cheongnyangni Station is usually filled with young people going on field trips or couples going on short day trips. You may witness people playing games or singing to guitar accompaniment during the train ride. Breakfast can be taken care of on the train with light sandwiches or Gimbap purchased at the snack bar on the first floor of the train station.
Cheongnyangni → Gapyeong (3,500 won)/ Cheongnyangni → Chuncheon (5,200 won)

Approximately 1 Hour and 10 Minutes from Cheongnyangni Station to Gapyeong Station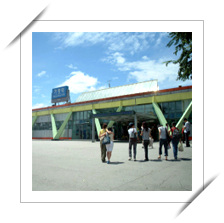 09:51 AM Gapyeong Train Station
Taxis stand in line at the taxi queue in front of Gapyeong Train Station Plaza near the train station. The bus to Gapyeong has long intervals; therefore you may need to wait quite awhile to get a bus. If you are traveling with at least one other person, it's cheaper to just take a taxi. By taxi, you can reach Namiseon Island for about a taxi fare of 3,500 won - 4,000 won.
Tip Taxi: Grab a cab in front of Gapyeong Station (Cab fare is approximately 3,500 won - 4,000 won, and it takes about 5-10 minutes)
Bus: Fare 950 won [Namiseon Island ↔ Gapyeong Bus Schedule]
From Namiseom Island: 07:50/10:10/11:50/13:40/14:10/15:40/16:10/17:10/19:30
From Bus Terminal:07:40/10:00/11:40/13:30/14:00/15:30/16:30/17:00/19:20

Cross the street from Gapyeong Station and go straight in order to reach Gapyeong Bus Terminal → Take the 10:00 AM bus to Namiseom Island → Approximately 10 minutes to destination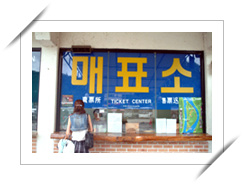 10:10 AM Namiseom Island
Before actually entering Namiseom Island, you first need to purchase tickets at the Ticket Center to take a ferry. The ticket price includes both the island's entrance fee and roundtrip ferry ride. The ferry to Namiseom Island starts to run at 7:30 AM, and the last ferry leaves from the mainland at 9:30 PM. From Namiseom Island, the first ferry leaves at 7:35 AM, and the last ferry to the mainland leaves at 9:50 PM.
Tip [Namiseom Island Ferry Schedule]
Fare: 5,000 won to Namiseom Island: 07:30/08:00/08:40-18:00 (Every 15-20 minutes / On weekends and holidays, every 10-15 minutes) /18:30/19:00/19:30/20:00/20:30/21:00/21:30
From Namiseom Island: 07:35/08:05/08:40-18:00 (Every 15-20 minutes / On weekends and holidays, every 10-15 minutes) /18:35/19:05/19:35/20:05/20:35/21:05/21:35

Purchase the ferry ticket at Namiseom Island Ticket Center → Approximately 5 minutes to destination


Experience Winter Sonata Tour 1 – Namiseom Island
To tour Namiseom Island, you have three options to choose from. First, use a bicycle like the couples did in Winter Sonata. Second, use a tour-taxi, or third, venture around the island on foot. If you don't have enough time, you can use the taxi to save time and to tour comfortably. If you plan to have lunch at Namiseom Island, take as much time needed to tour the island. All you need is about 3-4 hours to see the entire island and what it has to offer. Don't rush through the tour. Instead, take time to enjoy the scenic view and take pictures while posing like the Winter Sonata characters as a remembrance of your trip.
Tour-taxi: Runs from 9AM-6PM / Winter Sonata Course 30,000 won (4 persons standard) / Approximately 30 minutes required for the tour
Bicycle Rentals: 3,000 won per 1 bicycle (30 minutes), 5,000 won (60 minutes)
6,000 won per 1 tandem (30 minutes), 10,000 won (60 minutes)

A Closer Look at Namiseom Island → Map of Namiseom Island

① Snapshot Exhibition from the Filming of Winter Sonata
Across the street from the Norae Museum, snapshots from the filming of Winter Sonata are exhibited on a large board. If you want to see pictures from behind the scenes, the pictures on display offers an enjoyable insight.
② [Lunch] Gyeoul Yeonga Drama Café
This café became famous after the actors from Winter Sonata held an interview over tea. The café walls are decorated with the signatures of actors who visited the café to film the drama, including Lee Byeong Hun, Bae Yong Jun, Choi Ji Woo. The authentic Korean lunch box of kimchi fried rice topped with eggs, heated on top of a furnace, and shook before opening, is offered at only 4,000 won.
③ Winter Sonata Poster
The poster shows Bae Yong Jun and Choi Ji Woo standing at the mouth of the road lined with Dawn Redwood Trees (Dawn Redwood Tress grow up to 20 -25 meters high, with thick leaves, and has very straight single trunks. It is often used to line streets.). You can visit this site, and take a picture imitating Bae Yong Jun or Choi Ji Woo.
④ Bae Yong Jun, Choi Ji Woo Sculpture
A life-size sculpture of Bae Yong Jun and Choi Ji Woo offers a great background for a photo. The sculpture looks very much like the actual actors, arousing the viewers' acclamations.
⑤ Metasequoia (Dawn Redwood Tree) Road
Metasequoia Road, the symbolic backdrop of Winter Sonata, exhibits its beauty all year round. It's a wonderful place to take a stroll with your loved ones, just like Jun Sang and Yoo Jin from the drama. To get a better shot of this beautiful scene, take your picture vertically rather than horizontally.
⑥ Bicycling on the Paper Birch Road
This is the very road covered with fallen leaves where Jun Sang goes on a bicycle ride with Yoo Jin riding on the back. Many visitors ride along this road just like the two characters in Winter Sonata. The lake next to the road makes this road even more romantic and beautiful.
⑦ The First Kiss
In the second episode of Winter Sonata, Jun Sang and Yoo Jin each make a snowman and have fun making their snowmen kiss. Amidst their fun, Jun Sang suddenly kisses Yoo Jin. The backdrop of this first kiss scene still exhibits two snowmen in the image of the two characters.
[Tip] 1. If you follow the large main road at Namiseom Island, you'll come upon a tourist information center, which provides a map of the island and a Winter Sonata filming location map in Japanese, Chinese, English, and Korean. The information center also offers detailed information on Namiseom Island's accommodations, transportations, and facilities in English, Japanese, Chinese, and Korean.
2. Surrounding Namiseom's Island Ticket Center at the entrance and in various locations within Namiseom Island, a variety of Winter Sonata souvenir items are available. The character stickers are 3,000 won, key chains are 6,000 won, and mouse pads are about 6,000 won.


Take a taxi from the taxi queue in front of Naimseom's Island Ticket Center to go to Gapyeong's Train Station (about 10 minutes required) → Take the Chuncheon Line from Gapyeong Station (34 minutes required) The total travel time is approximately 44 minutes


Experience Winter Sonata Tour Ⅱ- Chuncheon
Most of Chuncheon has been a backdrop for the drama Winter Sonata, so as soon as you get off the train at Chuncheon train station your tour begins. The train station itself was a scene in the drama. Chuncheon Train Station is a quaint little station, filled with young people arriving on the Gyeongchunseon Line train.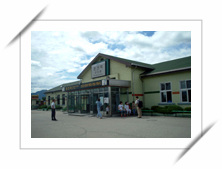 15:45 PM Chuncheon Train Station
After the tour of Namiseom, take the 3:11 PM train to Chuncheon from Gapyeong Station, and in 34 minutes you are at your next destination. The scene where the drama characters leave for the media class field trip was filmed here as well as the scene where Sang Hyuk becomes angry at Yoo Jin for making peace with Sang Joon and walks off. The distance from Chuncheon Station to the city is not far, but the bus comes every hour, therefore a taxi is more convenient.

From the bus station in front of Chuncheon station to Chuncheon Myeong-dong Street, it is about a ten-minute taxi ride.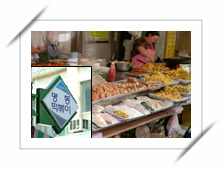 16:00 PM [Snack] Jungang Market 'Myeong- dong Tteokbokgi'(Myeong-dong Tteokbokgi / Shop Name)
The scene of Jun Sang snacking on instant noodles was filmed at Myeong-dong Tteokbokgi. Outside the snack bar hangs a picture of the Winter Sonata and a short explanation. The snack bar is located at the entrance of Jungang Market, straight down Myeong-dong Street, which is easy to find. They also serve twigim (fried food), donuts, mandoo, tteokbokgi, instant noodles, and more. Jungang Market is where Yoo Jin's mother's clothes shop was located, and is also the place where Jun Sang helped Yoo Jin when a drunken man harassed her.

The Myeong-dong Winter Sonata Street is connected to Jungang Market, and is convenient to reach on foot.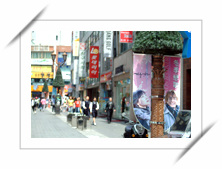 17:00 PM Myeong-dong Street
This was to be the place of rendezvous for Yoo Jin and Jun Sang on Dec. 31, but Jun Sang gets into an accident, and Yoo Jin waits for Jun Sang whom never shows up. Ten years later, the two young lovers revisit this place to remember some old times, and Jun Sang regains his memory under the falling snow. Myeong-dong Street has posters of Jun Sang and Yoo Jin in various places.
So, take a slow stroll while remembering the romantic drama and take souvenir photos as a reminder of your visit.

From Myeong-dong Street, walk toward the right with Jungang Market behind you and you'll enter the Dakgalbi Alley.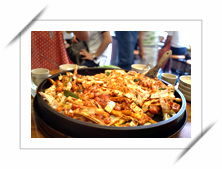 18:30 PM [Dinner] Myeong-dong's Number 1 Dakgalbi
When we think of Chuncheon, Dakgalbi and Makguksu comes to mind. Dakgalbi is a pan-fried boneless marinated chicken dish with cabbage, scallions, sweet potatoes, teok, and more. If you have come in a group of three, just order two servings, and it'll be more than enough for everyone to enjoy. After savoring the taste of dakgalbi, you can fry rice with the leftovers, or finish it off with makguksu. Behind Myeong-dong Street is the long-standing famous dakgalbi alley. Whichever restaurant you choose, you cannot go wrong. The taste and serving amount are all similar.
Myeong-dong's Number 1 Dakgalbi
Address: Gangwondo Chuncheon City Joyangdong 131-9
Tel: +82-33-256-6448 (Korea), +82-33-1330 (Korean, English, Japanese, Chinese)
Price: Dakgalbi 8,500 won / Makguksu 4,000 won / Beer, Soju 3,000 won

As you leave Myeong-dong Street, take a taxi in the direction of Chuncheon Provincial Government Office → Get off at Sejong Hotel
(taxi fare is about 2,000 won, taxi ride is about ten minutes)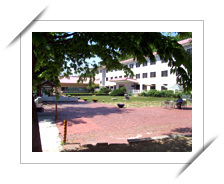 20:00 PM [Lodging] Chuncheon Sejong Hotel
Chuncheon is visited by many tourists, and has a variety of motel and hotel facilities. The street behind Gangwon Ilbo is a motel town with about ten motels. Each lodging facility has different rates according to the seasons, so it's best to make reservations and have information on which facility you prefer. Chuncheon's most famous hotel, Sejong Hotel, is located conveniently near Chuncheon Train Station. It has 68 rooms, and offers discount prices all year round. You can enjoy comfortable facilities for a relatively inexpensive price at Sejong Hotel.
Chuncheon Sejong Hotel
Address: Gangwondo Chuncheon City Bonguidong 15-3
Tel: +82-33-252-1191 (Korean, English, Japanese) / Fax: +82-33-254-3347
e-mail: master@chunchonsejong.co.kr
Hotel Rates: 114,950 won (Jan.-Jun., Sep.-Dec. Weekdays 40% off, Weekends 30% off / Jul.-Aug. Weekdays 30% off, Weekends 20% off)

Take a taxi from the hotel to Myeong-dong Street.
Taxi ride is about ten minutes.

▒ Day 2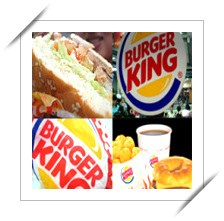 09:00 AM [Breakfast] Myeong-dong 'Burger King'
Myeong-dong's Burger King is where Jun Sang and Yoo Jin were supposed to meet on Dec. 31. This is where Jun Sang filmed the scene where he regains his memory.Burger King offers a low-priced breakfast menu of hash browns, croissant, and coffee. It's nice to enjoy breakfast while looking out at the film location from the first floor of Burger King.

Exit Myeong-dong Street through the Baskin Robin's alley, and take a taxi to Chuncheon Intercity Bus Terminal from across the street.
It takes about ten minutes by cab.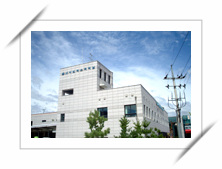 10:00 AM Chuncheon Intercity Bus Terminal
In Episode 8, in the scene where Min Hyung purchases bus tickets for Yoo Jin, smiling and asking her to come back, and sends her to meet Jun Sang was filmed at this bus terminal. Also, the scene where Jun Sang and Yoo Jin see Kang Mi Hee off to Japan was also filmed here. However, the current Chuncheon Intercity Bus Terminal building has been newly renovated, and the bus terminal filmed in Winter Sonata was the old building before renovation. Therefore, it is unnecessary to look for the film spot at the terminal.

Chuncheon → Donghae Bus Schedule (Bus Fare \12,800)
07:10 / 08:00 / 09:00 / 09:30 / 10:40 / 11:30 / 12:20 / 13:35 / 14:05 / 15:15 / 16:00 / 16:30 / 17:00 / 17:40 / 18:30
Chuncheon Intercity Bus Terminal Tel: +82-33- 241-0285 (Korean) / Tour Information Tel: +82-33-1330 (Korean, English, Japanese, Chinese)

1/2 hours from Chuncheon Intercity Bus Terminal to Donghae Intercity Bus Terminal → Takes 20-30 minutes from the taxi stand in front of the overpass in front of Donghae Intercity Bus Terminal to Chuam Beach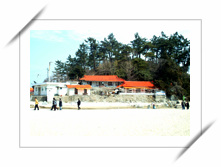 14:00 Chuam Beach
You can take the bus from Donghae Intercity Bus Terminal to Chuam Beach, but the bus runs every hour or more. Therefore, a taxi is more convenient.
The bridge at Chuam Beach is the film location where the two main characters sat together. If you cross the bridge, you'll find the private lodge they stayed amongst the pine grove.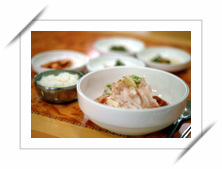 14:30 PM [Lunch] Chuam Hoetjip
A Tourist Information Center stands at the entrance of Chuam Beach, so if you can't decide which restaurant to have lunch in or what menu to choose, you can ask for assistance at the center.
Chuam Beach naturally has many seafood restaurants. If you like raw fish, you can order the Modeum Hoe, and if you want something more affordable that is fresh raw fish, you can order Hoedeopbap. Hoedeopbap has a generous serving of fresh vegetables and raw fish that you mix with rice. It also comes with a variety of side dishes.
Chuam Hoetjip
Tel: +82-33-521-5222 (Korean)
Address: Gangwondo Donghae City Chuamdong 2-0
Menu: Raw Fish (30,000 won-60,000 won), Maeuntang (15,000 won-20,000 won), Hoedeopbap (8,000 won-10,000 won), Daegujjim, Agujjim (20,000 won-30,000 won)
* Prices subject to change according to market prices.

Take a taxi from Chuam Beach to Donghae Intercity Bus Terminal → From there to Hwenggye Intercity Bus Terminal it takes about 30 minutes by bus.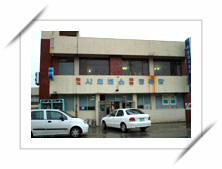 17:30 PM Hwenggye Intercity Bus Terminal
Across the street from Hwenggye Intercity Bus Terminal is a taxi stand. By cab to Yongpyong resort, it takes about ten minutes, and the cab fare comes to about 6,000 won- 7,000 won. However, Yongpyong resort operates a free shuttle bus, therefore the shuttle bus is recommended. The shuttle bus stop is right next to the bus terminal in front of the Hwenggye Post Office.
[Free Shuttle Bus Schedule]
Hwenggye Post Office → Yongpyong Resort: 04:40 / 05:40 / 06:30 / 07:30 / 08:10 / 10:00 / 11:00 / 12:00 / 14:00 / 15:00 / 16:20 / 17:40 / 23:30
Yongpyong Resort → Hwenggye Post Office: 09:00 / 10:30 / 11:30 / 13:30 / 14:30 / 15:20 / 16:40 / 18:30 / 19:30 / 21:00 / 22:30 / 24:20

About 10 minutes by Shuttle Bus From Hwenggye Intercity Bus Terminal to Yongpyong Resort


Experience Winter Sonata Tour Ⅲ- Yongpyong Resort
Yongpyong resort is a major film location of Winter Sonata, and the main characters are seen here often due to their profession in the drama. Therefore, every road and every building at Yongpyong resort is full of Winter Sonata memories. At the first floor lobby of Yongpyong Resort Dragon Valley Hotel, a Winter Sonata tour course pamphlet (in English and Japanese) is available for visitors to take. Take a look around the resort with the Winter Sonata Tour Map.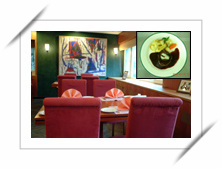 18:00 PM [Dinner] Yongpyong Resort
Restaurant Challet is where Jun Sang and Yoo Jin dine and read tarot cards. The restaurant displays a picture of the two characters dining here. The restaurant also boasts a great view of the slopes, and in the wintertime the view is even more beautiful. For group tourists who make reservations, the same menu served to the two characters is available.The Winter Sonata Course consists of soup, bread, salad, soft drink, steak, and dessert.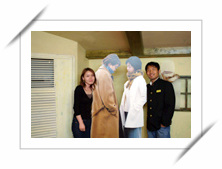 19:30 PM Café
This is the café where Jun Sang plays the piano for Yoo Jin and they have a private dinner party for just the two of them. This café no longer functions as a café but an exhibition area of Winter Sonata.You can try on the very school uniforms Jun Sang and Yoo Jin wore, and take photos just like the couple at the dining table. The café also displays a life-size photograph of Jun Sang and Yoo Jin.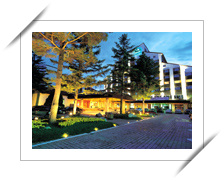 21:00 PM [Lodging] Yongpyong Resort
Yongpyong resort has six lodging facilities: the Yongpyong Hostel, Villa Condominium, Tower Condominium, Yongpyong Condominium, Birchhill Condominium, and the Dragon Valley Hotel.The most frequently sought lodging facility is the Dragon Valley Hotel, which offers a sauna, swimming pool, and a variety of convenient facilities. The third floor of Dragon Valley served as a backdrop for Min Hyung's hotel room exterior in Seoul. The coffee shop on the first floor, and the bar on the second floor also served as film locations. This hotel is ideal for fans of Winter Sonata to lodge in, but Dragon Valley Hotel is very popular, therefore reservations is a must if you want to lodge here.
▒ Day 3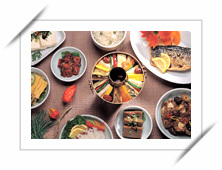 08:00 AM [Breakfast] Korean Restaurant 'Doraji'
If you are using the condo at Yongpyong Resort, you can purchase ingredients from the convenience store on the first floor and cook for yourself. They also offer fast food restaurants that serve breakfast, but the breakfast served at Doraji, a Korean restaurant, is recommended. Doraji is well known for its Sanchae Jeongsik, made with fresh mountain vegetables, and their Hanjeongsik, a traditional Korean full course meal.

Breakfast: Korean Breakfast Set (16,500 won), Ablaone Porridge (13,200 won), Beef Ribs with outer leaves of Cabbage Soup (13,200 won), Pollack Soup with Bean Curd (11,000 won), Bolled Beef Soup with Noodles (11,000 won)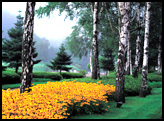 09:30 AM
1. Yongpyong Condo Promenade
The walkway located behind Yongpyong Condo is where Jun Sang and Yoo Jin took a stroll while looking around the renovation area in Episode 4. This is also the place where Yoo Jin took photographs of Jun Sang without his knowing.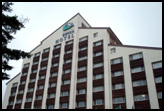 2. Tower Condo
Tower Condo holds the rooms Yoo Jin and Min Hyung stayed in, Room 910 and 920. This condo has only VIP rooms, and the rooms are not open to the public. The lobby of Tower Condo is where Min Hyung (Jun Sang) observed a blueprint while waiting for Yoo Jin.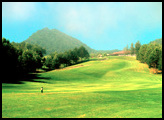 3. Public Golf Course
After choosing Min Hyung (Jun Sang), her family and friends criticize Yoo Jin, and goes to visit the ski resort by herself. Min Hyung follows after Yoo Jin and presents her with a necklace wrapped in snow. This gift-giving scene was filmed at the Public Golf Course. It is open all year except during the winter season.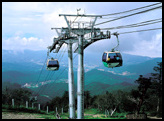 4. Gondola
The Stone Tower located near Dragon Peak as you get off the gondola is where Yoo Jin and Min Hyung make wishes, and Min Hyung holds Yoo Jin's hands while helping her get off the gondola. In front of the second floor restaurant of Dragon Peak, the two young lovers brush snow off each other after a snow fight, and in front of the fireplace in the restaurant, Yoo Jin takes Min Hyung's glasses off to see if he is Jun Sang. On top of the fireplace, a picture of this scene is on display.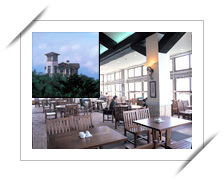 13:30 PM [Lunch] Dragon Peak Restaurant
To go back down from Dragon Peak so soon would be a pity. The Peak Restaurant is located on the second floor of Dragon Peak, where you get a bird's eye view of the natural surroundings of Donghae Sea. It's also the place where Jun Sang and Yoo Jin spent the evening together in front of the fireplace. It offers Western food cuisine, and spaghetti, a favorite dish of theirs.

Lunch: Piaaz Pork Cutlet with Demi-Glace Sauce (16,500 won), Beef Bulgogi Rice (16,500 won), Spaghetti and Garlic Bread (14,300 won), Stir-fried Noodles with Chinese Bean Sauce (5,500 won)
Drinks: Coffee (5,500 won), Green Tea (5,500 won), Beer (5,500 won), Juice (6,600 won), etc
Opening Hours: 09:00-16:00 (Dining is only available on Sat., and Sun., between 11:30-14:30)

From Yongpyong Resort Tower Condo's parking lot, a shuttle bus leaves for Seoul daily at 15:00 → Get off at Seoul Jamsil Station,
the travel time is about 2 hours 30 minutes

▒ Three-day Traveling Expenses(As of Sep., 2005 / 1 Person)
Cheongnyangni → Gapyeong Train Fare
3,500 won
Namiseom Island → Gapyeong Station Bus Fare
950 won
Namiseom Island Admission Fee (including roundtrip ferry)
5,000 won
1 Person Bicycle Rental for 1 Hour
5,000 won
Lunch (Lunchbox at Café Gyeoul Yeonga)
4,000 won
Gapyeong Station → Namiseom Island Taxi Fare
3,500 won
Gapyeong Station → Chuncheon Station Train Fare
1,400 won
Chuncheon Station → Chuncheon Myeong-dong Street Taxi Fare (based on fares offered by Chuncheon Taxi Association)
2,000 won
Snacks (Chuncheon Myeong-dong Tteokbokgi)
Tteokbokgi
2,000 won
Donuts
2,000 won
Dakgalbi
8,500 won
Makguksu
4,000 won
Beer
3,000 won
Chuncheon Myeong-dong Street → Chuncheon Sejong Hotel Taxi Fare
2,000 won
Chuncheon Sejong Hotel Rate (off-season weekday 2 persons)
68,970 won
Chuncheon Sejong Hotel → Chuncheon Myeong-dong Street
2,000 won
Breakfast (Burger King)
Ham Croissant Set
3,400 won
Myeong-dong Street → Chuncheon Intercity Bus Terminal Taxi Fare
3,000 won
Chuncheon Intercity Bust Terminal → Donghae Intercity Bus Terminal Bus Fare
12,800 won
Donghae Intercity Bus Terminal → Chuam Beach Taxi Fare(Basic fare 2km 1,500 won / for every 175m 100 won / Donghae City taxi fare standard)
10,000 won
Lunch (Chuam Hoetjip)
Hoedeopbap
10,000 won
Chuam Beach → Donghae Intercity Bus Terminal Taxi Fare(Basic fare 2km 1,500 won / for every 175m 100 won/ Donghae City taxi fare standard)
10,000 won
Donghae Intercity Bus Terminal → Hwenggye Intercity Bus Terminal Bus Fare
4,700 won
Dinner (Chalet)
Winter Sonata Set
40,000 won
Dragon Valley Hotel Rate (for 2 persons)
242,000 won
Breakfast (Restaurant Doraji at Yongpyong Resort)
Breakfast Set
16,500 won
Cable Car Tour
12,000 won
Lunch (Dragon Peak)
Spaghetti & Garlic Bread
16,500 won
Yongpyong Resort → Seoul Shuttle Bus Fare
14,000 won
Total : 512,720 won
< Map of Namiseom Island >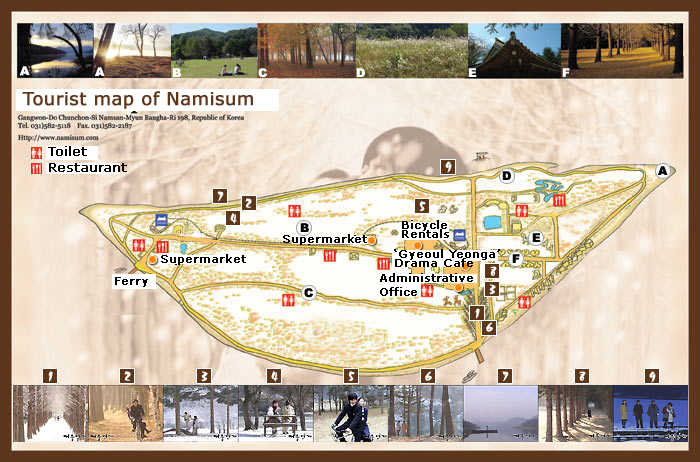 < Map of Yongpyong Resort >