■ Seoul Experience Tour (Half a day)

Course - Jongmyo Royal Shrine – Changgyeonggung Palace – Nolbujip (restaurant) – Daehangno


Experience the past and present of Korea through Seoul Experience Tour which covers Jongmyo Royal Shrine, registered as World Cultural Heritage, and Changgyeonggung Palace which is one of the five major palaces in Seoul, as well as traditional restaurant, Nolbujip and the youthful, cultural streets of Daehangno.



Introduction and Links to Detailed Info.


■ Jongmyo Royal Shrine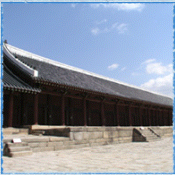 1:00 p.m.

Registered as World Cultural Heritage in 1995, Jongmyo Royal Shrine enshrines the spirit tablets of Joseon Kings and Queens. The simple layout of the construction creates a grave and divine atmosphere. Jongmyo Jere, the Royal Ancestral Rite, takes place on the forth Sunday of May every year. This ritual is accompanied by Jongmyojereak, which includes ritual music and solemn dance. Jongmyo Jere and Jongmyo Jereak were designated intangible cultural assets in 2001. The full tour without the ritual rites takes about 20 minutes.

>> View Detailed Info.

Walk 1 minute
■ Changgyeonggung Palace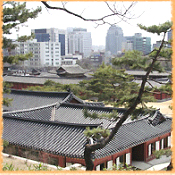 1:20 p.m.

Changgyeonggung Palace can be reached just across the bridge from Jongmyo Royal Shrine. Changdeokgung Palace also stands nearby adjoined by a wall. Myeongjeongjeon is a national treasure and Tongmyeongjeon, Pungidae, and Gwancheondae are designated treasures. Completed in 1909, Changgyeonggung Botanical Garden is a great area to take pictures of trees. With plenty of resting areas to take short walks, a full tour may take about 40-50 minutes.

>> View Detailed Info.

Walk 10 minutes
■ Nolbujip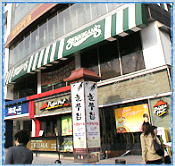 2:30 p.m.

Korean traditional restaurant, Nolbujip is located in Daehangno street. There are no tables and instead, while you sit in one of the big rooms, waiters dressed as Joseon servants bring in the tables with fully prepared meals. 18 different dishes are served just for 1,2000 wonLive flute and guitar performances are held every day from 12:20 p.m. to 2:30p.m., and traditional performance is held from 6:30p.m. to 8:30p.m.


*Phone no. +82-2- 3675-9990~2
*Hours : 11:30a.m.~10:00p.m. (Delivery available until 9p.m.)
*Closed : Chuseok, New Year's Day, and Lunar New Year's Day.
*How to get there : From exit 1 of Hyehwa Subway Station (Seoul Subway line no. 4) walk straight ahead for 2 minutes until arrival at Pizza Hut building. The restaurant is located on its basement floor. (Please see the map below)

Walk 3 minutes
■ Daehangno
4:00 p.m

It takes only 3 minutes from Nolbujip to Maronnier Park, which is the center of Daehangno. It had transformed into a bustling cultural area since Seoul National University was replaced by Maronnier Park and all kinds of art organizations. Variety of performances are held in up to 300 small theatres. Numerous beautifully designed cafes, unique restaurants and bars are plentiful in Daehangno. With the main road at the center, Daehangno is divided into performance and restaurant area in the Maronnier Park direction and shopping area toward the Sungyungwan Univerisity direction.

>> View detailed info
>> Daehangno Column

■ Course Map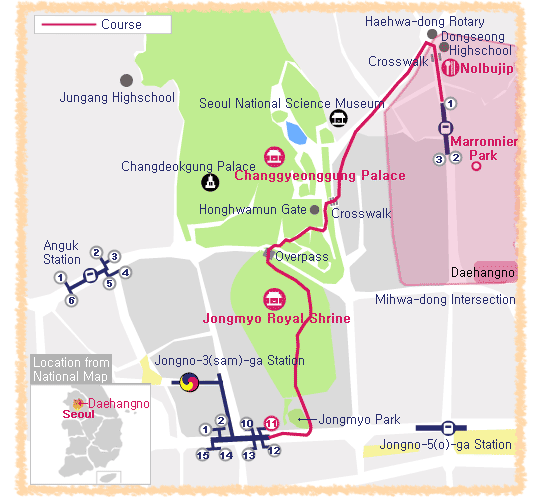 ■ Total Fee as of March 2005

Admission fee for Jongmyo Royal Shrine : 1,000 won (ages 19 to 64)
Nolbujip lunch fee : 12,000 won
Total : 13,000 won

■ TIPS

* As most tourist attractions are free of charge for the elderly over age 65, Jongmyo Royal Shrine has been a resting area for many of the elderly. Jongmyo Royal Shrine and Pagoda Park are such places.

* To reach Nolbujip from Changyeonggung Palace, cross the road from the palace, turn left and walk straight ahead until the road intersection at Hyehwa-dong Rotary. Cross the road and walk to the right for a minute where you will find the Pizza Hut building. There is a large sign on front of Pizza Hut. (Please see the map above)