Day 1
Busan City Tour Bus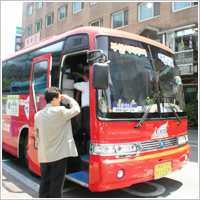 11:10 AM
From Seoul Station, travelers take the high-speed KTX train to Busan at 8 am for arrival at 10:40 am. After leaving the station, turn left towards Arirang Hotel and go to the Busan City Tour Bus stop. A KTX train ticket is good for a 20% discount on a single-day tour bus fare. Details of the popular Taejongdae course are available by clicking on the link below.
http://www.busancitytour.com(Eng, Chn, Jpn)
Taejongdae Course Map
Four daily departures at 9:30 am, 1 pm, 3 pm and 4 pm from Busan subway station
Major Sites : UN Memorial Cemetery, Busan Museum, Gwangalli and Haeundae beaches, Busan Museum of Art
Time: About two and a half hours
Fee: ₩10,000 (20% discount with KTX ticket)
Haeundae Beach Course Map
Four daily departures at 9 am, 11:10 am, 12:50 pm and 3:30 pm from Busan subway station
Major Sites : Yongdusan Park, Yeongdo 7.5 Square, Taejongdae, Jagalchi Market
Time: About three hours
Fee: ₩10,000 (20% discount with KTX ticket)


There are seven stops from Busan subway station to Seomyeon and it takes about 11 minutes.
It takes 11 minutes from Busan subway station to Seomyeon. Fares begin at 900 won and you do not need to transfer.



Lunch at Seomyeon's Famous Food Alley / Shopping / Nail Care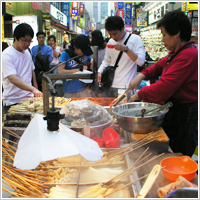 2PM
Seomyeon is a shopping mecca containing Lotte Department Store, Lotte Hotel, Busan Migliore and hundreds of other shops with lower to mid-price fashion items. Restaurants, bars, cafes, nail salons and plastic surgery clinics abound here. The many eateries with low prices and delicious cuisine make this area a favorite haunt for young people.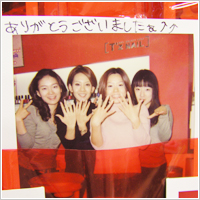 After lunch, travelers go shopping and then head for the nail salon T'z Nail (+82-51-805-8281) behind Lotte Department Store for beauty care. The shop posts rates and nail care details in Japanese and pictures of its Japanese customers. A hand massage and keratin treatment costs an extra ₩10,000. Undergoing the complete nail care package is highly recommended.
Those wishing to purchase Kimchi or dried seaweed can do so at Lotte Department Store's grocery shop in its underground level.

Tteokbokki ₩2,000 / Jeon ₩1,000 / Sundae ₩2,000 / Gimbap ₩1,000 / Dumplings ₩300 / Eomuk ₩300

* Fees: ₩30,000 for nails, coloring, keratin and massage
* Time: About 90 minutes
* T'z Nail – 051-805-8281 / Service in Korean and Japanese / Hours: 11 am to 11 pm / Open everyday except Lunar New Year's Day, New Year's Day and Chuseok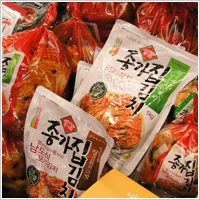 500g pack ₩4,150-₩4,400 / 1kg pack ₩7,800-₩8,100 / Five 200g pack set ₩8,900 / Ten 80g pack set ₩9,450

→ Link to Lotte Department Store in Busan
→ Link to Detailed Map of Seomyeon



It takes about 18 minutes from Seomyeon subway station to Gwangan. The basic fare is 900 won and you do not need to transfer.



Gwangalli Beach Night View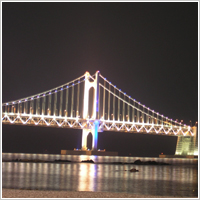 6PM
An amazing night view of Busan is the main attraction here. In the evening, Gwangalli Beach lights up with the brilliant lights from Gwangan Bridge.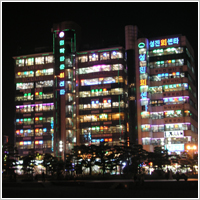 Nearby is the Minrak Town Sliced Raw Fish Center offering a large selection of freshly caught fish. Visitors can eat the fish on the beach while enjoying the night view. The center posts the daily prices of fish.

→ Link to Gwangalli Beach


Going from Gwangalli Beach to Besta Sauna at Dalmaji Hill takes about 15 minutes by taxi and costs 5,400 won. (June 2005).



Besta Sauna (Inn)
8PM
Besta Sauna is located on the top of Dalmaji Hill with an incredible view of Haeundae beach from the facility's huge windows. The wonderful view and clean rooms of the sauna make the price of ₩8,000 an attractive bargain for backpackers.
The sauna is an ideal place for travelers tired from a long day of touring, with a 24-hour massage parlor offering a full body or foot massage for just ₩50,000. A bar also offers food and drinks ranging in price from ₩3,000 to ₩5,000. The traditional snack Bingsu, or cold red bean paste over crushed ice, costs only ₩4,500 to ₩5,000. Breakfast begins at 7am.
Interior of
Besta Sauna
Bingsu
Bar
Massage
Massage Rates
Full Body and Foot: ₩50,000
Full Body: ₩40,000
Foot: ₩30,000
Back or Legs: ₩20,000

→ Link to Dalmaji Hill


Going from Besta Sauna to Yonggungsa Temple by taxi takes about 13 minutes and costs 4,600 won. (June 2005)



Day 2
Yonggungsa Temple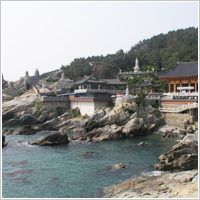 10am
The second day of the course is spent sightseeing around Haeundae Beach. The first stop is Yonggungsa Temple, a temple nestled right next to the coastline of the East Sea and overlooking Haeundae Beach. With a small but clean atmosphere, this Buddhist holy site will make you feel relaxed while offering plenty of fantastic views.
→ Link to Yonggungsa Temple


Many taxis are available in front of Besta Sauna, but few pass by the remote area of Yonggungsa Temple. A quicker alternative is to walk 10 minutes down the hill and catch bus number 181 to Haeundae Beach. The bus runs every 30 minutes and adult fare is ₩900. Going to Haeundae Beach takes about 30 minutes.



Busan Aquarium & Lunch at Bennigan's
12PM
The Oceanis Group of Australia built Busan Aquarium for 39 billion won. The group also operates the Australian Melbourne Aquarium (www.melbourneaquarium.com.au)and Underwater World in Queensland, Australia ( www.underwaterworld.com.au) The Busan Aquarium holds 35,000 sea animals of 250 types in a state-of-the-art facility. Visitors to Busan make it a point to visit the aquarium and spend 60 to 90 minutes going through there. Easy to find, the aquarium is near the entrance to Haeundae Beach.
The building right next to the aquarium houses family restaurants like TGI Friday's and Bennigan's that have affordable lunch menus from 11 am to 4 pm. Bennigan's offers a lunch menu of 17 different items priced between ₩13,000 to ₩17,000. Bread and soup, soft drink and coffee are included. Customers can also receive free bread and butter as a snack to carry on their trip.

Bennigan's : http://www.bennigans.co.kr/main.asp(English)

→ Link to Busan Aquarium


The Busan Aquarium is located at the center of Haeundae Beach. A ten-minute walk along the beach towards the eastern direction of Mipo Harbor will take one there.



From Mipo Harbor, follow the coastline towards Busan Aquarium, and walk 15 minutes in the direction of Haeundae Rail Station to see shopping centers such as Save Zone and Sponge



Horrorwood / Dinner / Gyeongju
4:30PM
Horrorwood debuted last year in Seoul to huge fanfare before moving to Busan. Created by Hollywood special effects company Mirage Entertainment, Horrorwood has 17 maze-like rooms filled with lifelike images of classic fiends like Dracula and ghosts from the movies The Exorcist and Ring. A trip through the horror experience lasts about 20 minutes.

On the fifth floor of Sponge Mall is a korean restaurant, Gangsanmyeonok, which is famous for serving Naengmyeon (cold noodles) and Galbi (beef ribs) over the past 50 years.

Location: Busan Haeundae Sponge, fifth Floor
Admission: ₩9,000 for adults age 19 or older / ₩8,000 for those aged 13 to 18 / ₩7,000 for children age 12 or younger
Hours: Weekdays 2 pm to 10 pm / Weekends & Holidays 12 pm to 10 pm
Tickets: Sponge, first floor
Inquiries: +82-51-4870~1



After arriving at Gyeongju station from Haeundae, take a five-minute taxi ride from the station to the guesthouse Sarangchae



Foreigner Guesthouse Sarangchae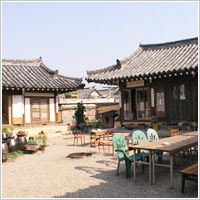 9PM
Sarangchae accepts all visitors but apparently attracts more foreigner guests. The guesthouse is a slightly remodeled traditional house so most rooms have their own toilets and showers. Joint bathrooms and divided showers add to the convenience. Free breakfast is offered of toast, eggs, coffee, green tea and more. Western travelers often share travel information over breakfast. The lounge also has Gyeongju tourist maps and books and is conducive to bring together people. Sarangchae also has a spacious yard for relaxing in the evening with a cold beer and sharing stories.
Sarangchae
Homepage : http://www.kjstay.com/(Kor, Eng)
Contact Number : +82-54-773-4868 / 019-520-4868 (Kor, Jpn)
Rates: Room with toilet & shower ₩25,000 per person (additional guests are ₩5,000 additional each). Room without toilet & shower ₩20,000 per person (additional guests are ₩5,000 additional each.) Rates not subject to change.
Lounge: Stove, microwave oven, gas range, kitchen supplies and refrigerator
Getting There: Five-minute taxi ride from Gyeongju train station for about ₩2,700 (June 2005)
→ Map



Sarangchae is about a five-minute walk away from Daereungwon's wall.



Day 3
Daereungwon – Cheomseongdae Observatory – Gyerim – Banwolseong Fortress – Anapji Pond – Gyeongju National Museum

Daereungwon
Cheomseongdae Observatory

[Daereungwon(40 minute tour)-10 minute walk-Cheomseongdae Observatory(five minute tour)-five minute walk-Gyerim(10 minute tour)-one minute walk-Banwolseong Fortress(20 minute tour)-three minute walk-Anapji Pond(10 minute tour)-five minute walk-Gyeongju National Museum(90 minute tour)] The tour sites listed above are clustered together and located close to downtown Gyeongju. Click on each site for details and photos. For visitors to Gyeongju, this course and trips to Bulguksa Temple and Seokgulam Grotto are essential. Walk along Daereungwon to see the vestiges of the ancient Silla kingdom. Only 23 tombs are visible, but more than 200 others are underground Daereungwon. From the entrance of Daereungwon to the right are more tombs and to the left is Cheomseongdae Observatory, the oldest in Asia.
The forest Gyerim, located between the observatory and Banwolseong Fortress, is the birthplace of Silla Dynasty kings. Banwolseong is a mud fortress and has lost much of its original form, but stand on the fortress's edges with overgrown trees to see all of Gyeongju and its surroundings.
Archery fun in
Banwolseong Fortress
Anapji Pond
Gyeongju National Museum
Seokbinggo, the ice storehouse, is all that is left of the fortress. Visitors can also enjoy archery, horseback riding and traditional games at the Experience Center
Take a small road between the center and Seokbinggo to arrive at stairs leading to a paved road. Follow this road to see a sign pointing to Anapji Pond and Gyeongju National Museum. Follow the sign to arrive at the Shilla Dynasty garden Anapji Pond, then the museum. The museum's interior and exterior are filled with historical remains, many of which are made of gold and create a brilliant display. Visitors can spend many hours to observe everything in detail, but light browsing in the museum takes only 90 minutes.


Hours: 9 am to dawn
Closed during rain
Rates: ₩3,000 for people age 13 or over / ₩2,000 for children age 12 or younger
Inquiries: +82-54-1330 (Kor / Eng / Jpn / Chn)
Time: About 15 Minutes


Daereungwon: ₩1,500 (ages 19-64)
Cheomseongdae Observatory: ₩500 (ages 19-64)
Gyerim: ₩500 (ages 19-64)
Anapji: ₩1,000 (ages 19-64 )
Gyeongju National Museum: ₩400 (ages 24-64)


After the morning course, the recommended lunch is famous wrapped rice in nearby Daereungwon at Sampo Wrapped Rice Restaurant. Take a five–minute taxi ride to the restaurant for about ₩1,500 (June 2005).



Lunch at Sampo Wrapped Rice
12PM
Sampo Restaurant is down the street by Daereungwon's right wall. Taxi drivers know where the restaurant is. About halfway down the road next to Daereungwon is the restaurant. Wrapped rice is a healthy dish containing many fresh vegetables, rice, and meat. Twenty different side dishes are also provided free of charge.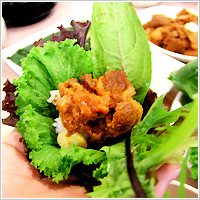 The restaurant not only has good food, but also various displays of old hair ornaments, antique furniture and traditional musical instruments.Leaving the restaurant, walk in the opposite direction of Daereungwon to see a road.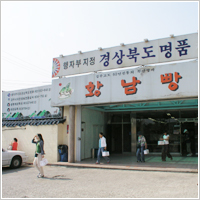 On the opposite side is a special Hwangnam Bread office selling bundles of 10 to 20 loaves. The shop also sells single pieces for tasting at ₩500 each. Facing the bread store walk to the right to reach Palujung Rotary. At the bus stop, take bus numbers 10 or 11 to get to Bulguksa Temple.

Wrapped Rice Regular Course: ₩7,000
Contact Number: +82-54-749-5776 (Korean)
Homepage : www.hwangnam.co.kr(Korean)


Sampo Restaurant (3-minute walk) – Hwangnam Bread Head Office (5-minute walk) – Bus numbers 10 or 11 at Palujung Rotary to Bulguksa Temple (35-40 minute ride / fare ₩1,300 / bus available every 8 minutes)



Bulguksa Temple & Seokgulam Grotto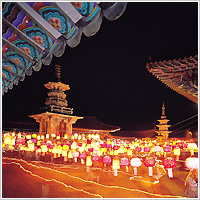 2:30PM
Listed as a World Culture Heritage, Bulguksa is the country's most famous temple. Seokguram Grotto is also a World Culture Heritage and a must-see in Gyeongju. The grotto is a 15-minute bus ride away from the temple and located on the top of a mountain.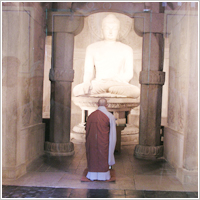 The bus comes 40 minutes past every hour between 8:40 am and 4:40 pm, with the last leaving at 5:20 pm. Bus number 12 stops at the information desk at the temple parking lot. Please plan ahead when visiting either spot, as going through both sites takes up to two hours.

→ Link to Bulguksa Temple
→ Link to Seokguram Grotto



Visitors can take buses 10 or 11 from Bulguksa Temple to Gyeongju rail station. The trip takes 40 minutes and costs ₩1,300. Buses come every eight minutes.


▒ Map of Busan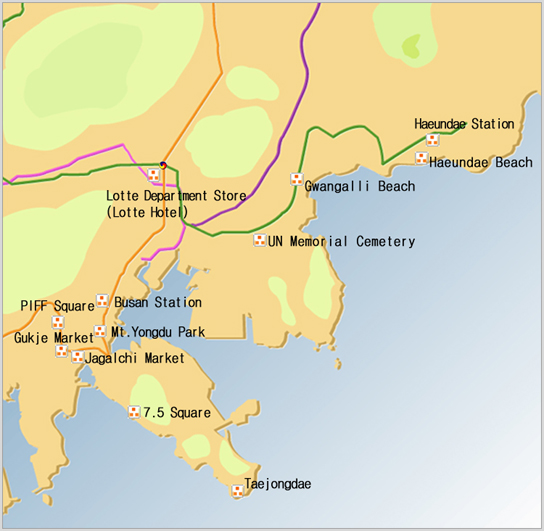 ▒ Map of Seomyeon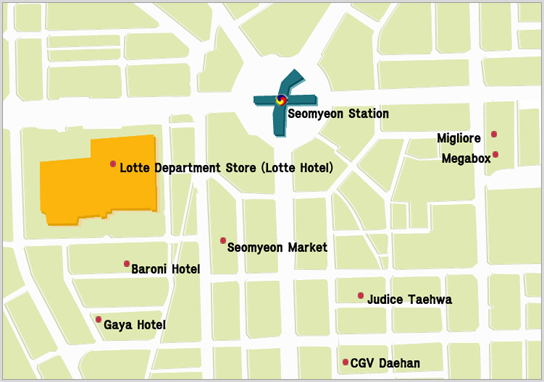 ▒ Map of Gyeongju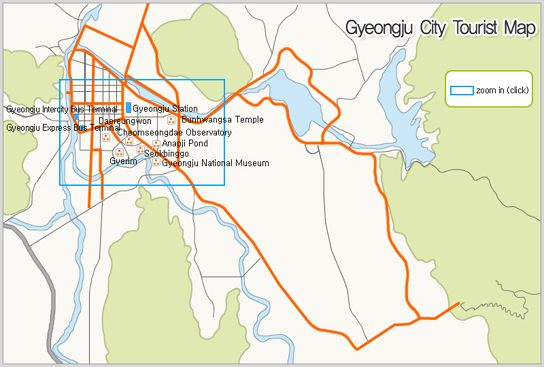 ▒ Estimated Costs (March 2005)
High-speed Train Fare from Seoul to Busan (KTX)
₩44,800
City Tour
₩8,000
Busan subway station to Seomyeon
₩900
Snacks at Seomyeon Food Alley
Tteokbokgi
₩2,000
Jeon
₩1,000
Sundae
₩2,000
Eomuk
₩300
Nail Treatment
₩30,000
Seomyeon subway station to Gwangan
₩900
Minak Town Sliced Raw Fish Center
₩20,000
Taxi Fare from Gwangan Beach to Besta Sauna
₩5,400
Besta Sauna Admission
₩8,000
Besta Sauna Bingsu
₩4,500
Besta Sauna Full Body and Foot Massage
₩50,000
Breakfast at Besta (spicy noodles)
₩4,000
Taxi Fare from Besta to Yongkung Temple
₩4,600
Downtown Bus Fare from Yongkung Temple to Haeundae
₩900
Lunch at Bennigan's
₩14,300 (including 10% VAT)
Roundtrip Ship Excursion to Oryukdo Islands
₩12,100
Horrorwood Admission
₩9,000
Train Fare from Haeundae to Gyeongju (Mugunghwa Class)
₩5,200
Sarangchae Room
₩20,000~₩25,000 per person
Daereungwon
₩1,500 (ages 19-64)
Cheomseongdae Observatory
₩500 (ages 19-64)
Gyerim
₩500 (ages 19-64)
Anapji
₩1,000 (ages 19-64)
Gyeongju National Museum
₩400 (ages 24-64)
Taxi Fare from Gyeongju National Museum to Sampo Wrapped Rice Restaurant
₩1,500
Sampo Wrapped Rice Regular Course
₩7,000
Hwangnam Bread
₩500
Downtown Bus Fare from Palujung Rotary to Bulguk Temple
₩1,300
Bulguksa Temple
₩4,000
Seokguram Grotto
₩4,000
Seokguram Grotto Shuttle Bus Fare
₩1,300
Downtown Bus Fare from Bulguksa Temple to Gyeongju Rail Station
₩1,300
Train Fare from Gyeongju to Seoul (Saemaul Class)
₩33,600
Total Expected Cost : ₩306,300
▒ TIPS
∴ The path connecting Daereungwon, Cheomseongdae Observatory, Gyerim and Banwolseong Fortress is decorated with blossoming yellow rapeseed flowers in spring. The overwhelming beauty of the blossoms often diverts attention away from the historical sites, thus visits are recommended in mid-April.

∴ Anapji Pond holds a free concert every Saturday evening to those paying the 1,000 won admission to the pond. Additionally, lights illuminate the path connecting Daereungwon, Cheomseongdae Observatory, Gyerim, Banwolseong Fortress and the pond in another unique experience.
<tdheight="10">