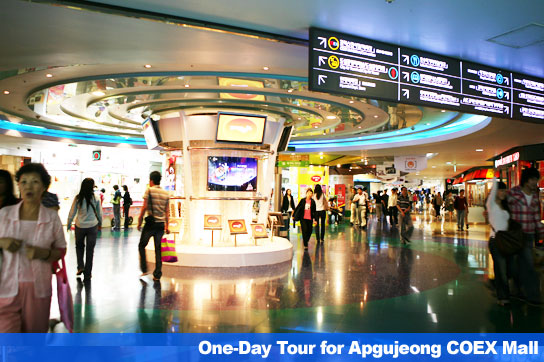 Course: COEX Mall > Lunch at COEX's Foodcourt (Delacourt) or other restaurants available inside the mall > Bongeunsa Temple > Galleria Department Store > Apgujeong Rodeo Street

The Gangnam and Apgujeong areas in Seoul are excellent places to go if you want to have firsthand experience of the rapid economic growth of Korea. These places have established themselves as the center of Korea's economy, culture and fashion. Apgujeong, where Korea's latest fashion trends always start first, can be described as the No. 1 fashion area. It's the place where famous foreign brands launch their first shop in Korea.

Apgujeong has many streets of trendy shops as well as the Galleria department store, which caters to the needs of customers for top brand goods. COEX Mall is located in Samseong-dong which has the Korea City Air Terminal plus high class hotels where many foreign businessmen stay. For these busy people and others working around the clock, here is a one-day sightseeing course around Apgujeong and the COEX Mall. The mall is accessible and directly connected to exit 5 and 6 of Samseong Station (Seoul Subway Line 2), and can also be entered from exit 7 of Bongeunsa Station (Seoul Subway Line 9).
Day 1 Morning - COEX Mall

The COEX Mall has every facility you need for entertainment, such as places for performance and exhibitions, a museum, an aquarium and a theater. There are also restaurants with foods from a variety of countries, and many different shopping areas such as Hyundai department store and other shopping centers. It takes about a day to fully enjoy every part of the COEX Mall. It is advisable for first-time visitors to get a detailed information about the shops and facility details from Customer Service Desk as well as kiosk machines installed in multiple places inside the venue. Even frequent visitors often get lost in the Mall due to its enormous size, but this is part of venture adding more fun of exploring the area!

> COEX Mall
Where to go in the COEX Mall

There are plenty of attractions available inside the COEX. The famous aquarium is worth a visit, as well as retail stores housing both Korean and International brands and fashion items. If you are tired from shopping, maybe you can catch a breath from coffee shops, or visit movie theater to catch up with the latest international or Korean movie at Megabox.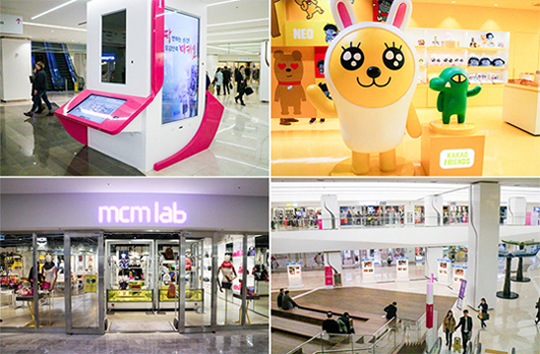 Related column

>
Seoul's Top 5 Underground Shopping Malls

Take the exit in COEX towards the ASEM tower and cross the street, and you can get to Bongeunsa Temple within 5 minutes.


Day 1 Afternoon - Bongeunsa Temple

Bongeunsa Temple, a one thousand two hundred year old temple, hosts many religious activities in the heart of the city all year round. You can find peace and tranquility from the hustle and bustle of the crowded streets when visiting the temple's beautifully arranged garden. The temple is very popular among both Koreans and foreigners when visiting the Gangnam area.
Website: www.bongeun.org (Korean only)

> Bongeunsa Temple

Take local bus No. 4318, 4419, or 143 from the bus stop infront of Exit 3 of Bongeunsa Station and get off at Apgujeong-Rodeo Station bus stop. A 20 to 30 minutes bus ride can be expected, depending on traffic.

Day 1 Afternoon - Galleria Department Store

The Galleria department store, located on Apgujeong boulevard, is famous for its luxurious image. The department store features the latest goods from top brands, such as Gucci, Chanel, and Prada, in its two buildings across the street. It's the place to go for trendsetters who are eager to get the latest models from top designers faster than anyone else.
Tel: +82-2- 3449-4114 (Korean, English, Japanese, Chinese)
Website: www.galleria.co.kr (Korean, English, Japanese, Chinese)

> Galleria Department

From Apgujeong-Rodeo Station (Bundang Line), Exit 6 then walk straight for 3-5 minutes. Soon you'll be greeted with a sign welcoming you to Rodeo street, on the left.
Day 1 Afternoon - Apgujeong Rodeo Street

For anyone who wants to see the latest fashion and culture trends in Korea, Apgujeong is the place to go. Just by looking at people walking on the street, you can gain a grasp of what's in vogue in Korea. At Apgujeong, you can also find foods from all over the world and famous franchise restaurants which opened their first shop here in Korea. The Galleria department store and Rodeo street across the road are popular places among shoppers for high-end goods. These areas are always bustling with people who want to enjoy shopping at a variety of top brand stores and dine out at trendy restaurants.

> Rodeo Street

Go straight along the main road of Rodeo street, and turn left at its end. There you can find Amelie, a restaurant for cake and coffee. About five minutes walk from the entrance of Rodeo street.
* This column was last updated on September, 2015, and therefore information may differ from what is presented here. We advise you to check details from the official website before visiting.
<Last updated in September 22, 2015>