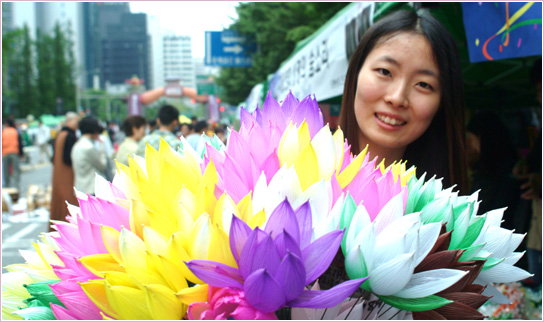 In celebration of Buddha's birthday on May 8, 2005 (May 8th by the lunar calendar), lotus lanterns were glistening in many parts of Seoul. The Lotus Lantern Festival, simultaneously held in Dongdaemun, Jongno, Insa-dong, Jogyesa Temple, and the Gangnam Bongeunsa Temple, is offered for the enjoyment of all, Buddhists and non-Buddhists.

The streets starting from the Millennium Tower at Jonggak Station to Jogyesa Temple were controlled for the event that featured performances, programs/events, and exhibitions that satisfied all five senses. The event presented so much variety with such great success that one day seemed far too short.

Starting from 7:00 pm after sunset, the annual lantern parade took over the streets of Jongno from Dongdaemun to Jogyesa Temple, adding sparkle to the festival. Zhang Wei who in the KNTO e-Marketing Team followed the highlights of the festival that embraces people of all nationalities, ages, genders, and religions.

▒Go to Lotus Lantern Festival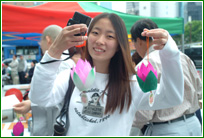 Experience 1. Lotus lantern making
Volunteers provided step-by-step assistance to the participants in making small and large lotus lanterns. Finished lanterns were taken home.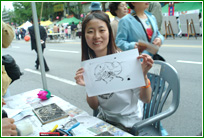 Experience 2. Wood printing
Participants chose from a variety of woodblocks featuring Korean traditional patterns or legendary dragons and made fascinating prints.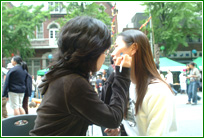 Experience 3. Face painting
Lotus, fish, cat, and other designs were painted on the face. Face painting added a bit of pizzazz to the festival.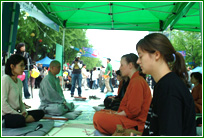 Experience 4. Meditation
Temple-style meditation was taught with the guidance of a monk. This was the most popular program as the participants meditated on their own after learning about correct posture and breathing.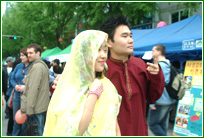 Experience 5. Traditional Indian cultural experience
Participants got a taste of Indian culture by trying on traditional Indian attire and accessories, or stamping henna (stamps of traditional Indian patterns used to print patterns on the hand and foot).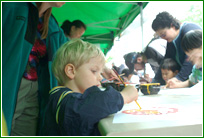 Experience 6. Traditional pattern coloring
Participants placed their favorite colors on design papers. They could choose their own patterns among goblins, masks, flowers, and other Korean drawings.


▒ Blissful Performances to Keep Time With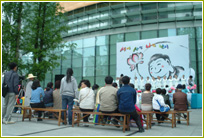 Performance 1. Stage in front of Millennium Tower
Students showcased their best talents on the stage set up in front of the Millennium Tower at Jonggak Station. Their dancing, choir, and singing performances were diverse and great fun, drawing the attention of many pedestrians.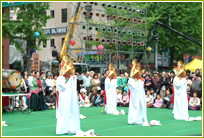 Performance 2. Main stage on the street adjoining Jogyesa Temple
Exciting performances by monks were staged at the traffic-controlled street fronting Jogyesa Temple. Various Buddhist dances and musical performances were enthusiastically staged.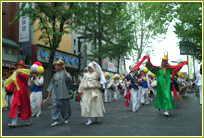 Performance 3. Samullori
A group of people led by a samullori ensemble marched from Jogyesa Temple to Insa-dong, adding passion to the festival. People who were out for a weekend shopping in Insa-dong joined the march towards the lantern parade.

▒ Demonstrations Filled with Marvelous and Surprising Sights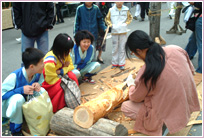 Demonstration 1. Totem pole making
making Totem poles, which can still be found in provincial villages, are designed to protect the village and serve as guideposts that mark the boundaries of a village. An artisan was making a totem pole in the heart of Jongno, a sight that is not easy to capture nowadays.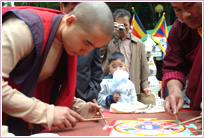 Demonstration 2. Mandala making
Tibetan monks demonstrated the production of mandala, the most representative art form of Buddhism. The demonstration drew a great deal of public attention.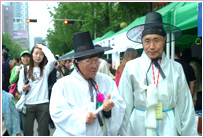 Demonstration 3. Traditional culture
Traditional cultural demonstrations included formalities on wearing hanbok (the traditional clothing), writing the family precept, and hand acupuncture therapy.
▒ The Highlight of the Festival – the Lantern Parade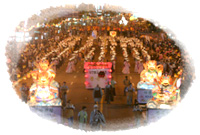 The lantern parade, which went on from 7:00 pm till 9:30 pm, was beyond imagination. The highlight of the festival was the beautifully decorated traditional lanterns as well as the splendidly dressed participants of the parade. To assure a good spot to get the best view of the parade, it was necessary to arrive way before the 7:00 pm starting time.
▒ On-the-scene Interview
Rowena came to Korea on a business trip. She took time out from her schedule to get in some sightseeing. What did she feel at the Lotus Lantern Festival? Here is a brief street interview with Rowena:

Q: What did you like about the lantern festival?
A: First, the streets were packed with a lot of people, so it was really exciting. And there were lots of things to experience hands-on. I am not a Buddhist but I like being part of this, enjoying good times with so many people. And I also made a lotus lantern on my own. That was truly enjoyable.

Q: How did you learn about this festival?
A: I happened to be in Insa-dong and learned that there would be a lantern festival. This event seemed to be open to everyone, even to non-Buddhists. So, I tried a few experiences and I learned a little bit about Buddhism.

Q: Do you know the significance of the paper carnation on your chest?
A: Well, I was told it is Parent's Day today. In Korea, people pin red carnation flowers on parents' chests on this day, so I thought of my parents at home and made this myself. I thought I might put it on my chest to keep it nice until I see my parents.

Q: Do you have plans to visit Korea again or take part in another festival?
A: Next time I come to Korea, I will make sure I have more leisure time. If there were other festivals as splendid as the lotus lantern festival where you enjoy the festivities with lots of people, I would definitely come for that.
▒ Photo Gallery