Long known for its medicinal powers, ginseng has been used as a preventative and proactive tool in warding off disease. Ginseng is one of Korea's most well-known roots, with known medicinal uses dating back thousands of years. This popular root isn't easy to come by. Too make matters worse, as Korea lacks many natural resources, the ginseng root is difficult to cultivate. To satisfy the high export demand of ginseng, Punggi has been successfully manufacturing ginseng dating back to the times of the Goryeo Dynasty 1122. Since this time Goryeo ginseng has prevailed internationally as Korea's prominent ginseng. 28 year old American, Susan Crawford, head out to the Punggi Ginseng Festival in Punggi, Yeongju, Gyeongsangbuk-do Province to experience the traditions of Punggi.
Punggi Ginseng Festival

Located in the midst of the Sobeaksan Mountains in Gyeongsangbuk-do Province, the Punggi countryside has historically been know as Ginseng country. Ginseng farms have been well established in this region since the 16th century, and are presently Korea's most famous area for the cultivation of ginseng. Here, ginseng is cultivated at heights of 400-500 meters in the highlands of the Sobeaksan Mountains. This cool climate and fertile land is what makes Punggi Ginseng so strong. The Punggi Ginseng Festival coincides with harvest time in early October. One can purchase fresh ginseng that was picked one to two days before the festival begins. Many visitors enjoy the experience of digging up their own ginseng. This festival is lively and full of various events that are sure to please all.
Highlights of the Punggi Ginseng Festival
1. The Best Ginseng Contest

| | | |
| --- | --- | --- |
| [1st place] | [2nd place] | [3rd place] |
There are four things to look for when selecting the 'BEST' ginseng. The first thing to look for is the cleanliness of the root as well as how much the root should take the form of a person. Second, the thickness of the outer layer and the weight are examined. Third, as the length is examined, one looks for the form of eight lovely leg-like shapes. Lastly, the ginseng should be raised for 6 years (When ginseng is grown for more than six years, the root hardens and loses its medicinal effects. Ginseng that grows in the wild does not lose its effects over time.) If visitors to the festival wish to purchase award winning ginseng, they must contact the owner of farm where it was produced.
2. Ginseng Cookers Contest

| | | |
| --- | --- | --- |
| [1st place: Ginseng Cheese Gimbap(김밥)] | [2nd place: Ginseng Samsaekpyeon(삼색편)] | [3rd place: Ginseng Tangsuyuk(탕수육)] |
This popular contest displayed the various ways that ginseng can be utilized in cooking. This contest looks for original ideas combined with delicious tastes. This year's first place was awarded to the creator of Ginseng Cheese Gimbap. The cheese reduces the powerful aroma and the bitter taste of ginseng. Second place was given to the maker of Ginseng Samsaekpyeon (a traditional style rice cake), and third place was awarded to the creator of Ginseng Tangsuyuk (Korean style sweet and sour pork). Susan especially enjoyed the Ginseng Tangsuyuk saying that it was a dish that many foreigners would enjoy.

*Traditional Korean foods and drink

Samgyetaang (삼계 탕)

Chicken, ginseng, glutinous rice, jujubes, ginger, and other nutritious ingredients are boiled until the broth becomes a whitish color. This traditional Korean dish is most enjoyed in the summer to help the body overcome the heat. Koreans believe that hot cures hot.
Ginseng Rice Porridge

Ginseng is combined with rice, jujubes, and an assortment of other healthy foods, and then boiled over a long period of time. This rice porridge is often given to those suffering from illness or fatigue. The effects of ginseng in the porridge are known to help those suffering from coldness in the hands and feet. Ginseng is known to bring stamina, while jujubes tend to warm the body.

Ginseng Tea

Ginseng and Jujubes are boiled over a long period of time producing a uniquely Korean tea. The bitterness of the ginseng is lessened in the boiling process making it easier to drink.
| | | |
| --- | --- | --- |
| | Susan's fun times in Punggi | |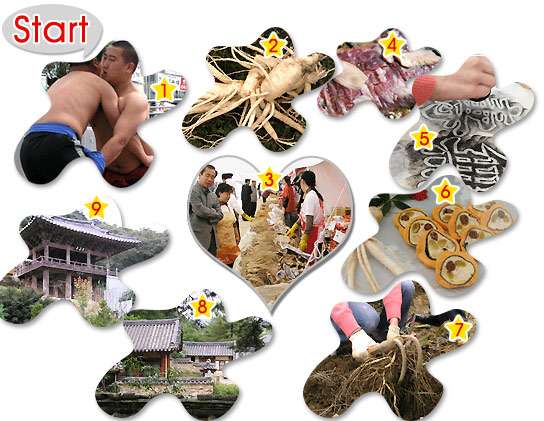 Arrive at the festival (10 : 00) – 1, Observe Ssireum(traditional wrestling) Contest(10 : 30) – 2,View the winning ginseng from the 'Best' Ginseng Contest. 3, Explore ginseng market and purchase ginseng related goods. (11:30) – 4, Lunch(ginseng galbi)(12:30) – 5, Make Takbon(traditional print)(13:00) – 6, stop by the Ginseng Cookers Contest(13:30) – 7, experience digging up ginseng at farm(14:30) – 8, Visit Sosu Seowon , Confucian School(16:00)- 9, Buseoksa Temple (18:00)
1. Ssireum Contest
Before beginning this festival, the youthful local participants are given ginseng to increase their stamina before beginning the competition. As seen in the picture to the left, two opponents tightly grab the cloth wrapped around the waist, and use their strength to maneuver one person to the ground. Ssireum is one Korea's most traditional sports and is still enjoyed by many.
2. View the winning ginseng from the 'Best' Ginseng Contest. (Highlight of Festival)
3. Explore the ginseng market and purchase ginseng related goods.
One can purchase fresh ginseng that was picked one to two days before the festival begins at reasonable prices. Susan bought some Ginseng candy hoping to benefit from its medicinal effects.
* Ginseng Candy (900g) – 8,000won / Ginseng Jelly (250g) – 5,000won / Ginseng 750g – 20,000~35000won(prices vary according to grade of ginseng)
4. Lunch (Ginseng Galbi)
Near the festival grounds, Susan enjoyed Punggi's local cuisine of ginseng galbi (seasoned grilled beef). The galbi is marinated in a seasoning that contains ginseng. The result is a softer beef with less of a beefy smell. This delicious local favorite is a must when in Punggi.
* Ginseng Pork Galbi(200g) - 6,000 won / Ginseng Galbi (domestic beef)(500g) - 30,000won
5. Takbon (traditional prints) Making Experience
The provincial region of Yeonju is famous for Buseoksa Temple. Duplicates of Chinese characters from the temple were at the takbon (traditional prints) booth. Susan enjoyed making her own prints by patting ink on mulberry paper. The activity is free and visitors can bring their prints home.
6. Ginseng Cookers Contest (Highlight of Punggi Ginseng Festival)
7. Experience Digging up Ginseng
up Ginseng For those who have yet to journey to a ginseng farm, this event is a must. All needed equipment is supplied free of charge and a one meter area of land is given to dig up all the ginseng you want. There is no participation fee, but be warned that people must buy all of the ginseng that they dig up.
Hours : 10:00 ~ 17:00
Transportation : There is a free shuttle bus that comes approximately every 30 minutes at the main festival grounds transporting visitors to nearby ginseng farms.
8,9. 8,9 Visit Sosu Seowon Confucian School and Buseoksa Temple
There are many famous places to see while in the Yeonju area. Two such places are Buseoksa Temple and Sosu Seowon Confucian School. Click on a picture for more detailed information.
▶ All you wanted to know about Ginseng!
◎ What does Korean Ginseng look like??
Korean ginseng is known to take the general shape of a person, with a body(2) consisting of a head(1), legs(3), and smaller roots(4).
◎ Type of Ginseng
"Undried Ginseng(or Fresh Ginseng, 수삼)
The picture to the left illustrates ginseng that has yet to be processed. The root consists on 70-80% water. This causes the ginseng to be damaged easily or spoil quickly, resulting in difficulties in long term storage.
White Ginseng(백삼)
White ginseng has been used in dried form for a long time to improve quality and storage and to reduce volume and weight since Fresh ginseng is a form of ginseng picked from dry field and contains about 75% moisture and it is difficult to maintain freshness and quality longer than a week.


[For Domestic markets] [For foreign markets]
Red Ginseng
Cultivated for four to six years, the picture to the left shows dried red ginseng in its original form. After removing the moisture from the root, the ginseng can be good for over 10 years and is said to generate approximately 8 special benefits to the body. Red ginseng has been produced and sold throughout Korea from 1899 to 1996.

The picture to the left indicates Korean ginseng that is only for domestic sales, while the picture to the right indicates ginseng that is produced for foreign markets. One small mark is all that differentiates the two.
◎ The benefits of Ginseng

1. Restores the weak and fatigued.
2. Improves circulation.
3. Reduces stress and calms the mind
4. Replenishing effects for body fluids
5. Good for people with diabetes
6. Helps protect lungs by warding off disease associated with breathing problems
7. Strengthens the stomach and intestines
8. Aides in removing poisons from the body, good for skin disorders.
◎ The way to choose the best Ginseng

1. Undried ginseng
Undried ginseng should not be thick and reddish. The shape should take on a human like figure and be slightly thicker in the middle. It is good to have many short legs.
2. White ginseng
Since the white ginseng is dried, it typically has many creases. The thicker the creases, the better. The body of the ginseng should certainly have a head; this area should be thick and long. The main body area should also be thick.
3. Red ginseng
The Korean government has been controlling the production of red ginseng for the past 100 years through the Korea Ginseng Organization. Presently, most Korean red ginseng passes through the Korea Ginseng Organization. Check the label on the package to verify the ginseng has passed through the Korea Ginseng Organization.
Where can ginseng be purchased?

Ginseng can be purchased in large department store in Korea. Red ginseng can be easily purchased through one of the branch offices of the Korea Ginseng Corp.
Contact numbers for foreign sold ginseng

Korea Ginseng Organization, Taiwan Branch Office : 886-2 -8773-6222
Korea Ginseng Organization, Los Angeles Branch Office : 1 -213-629-2304
Korea Ginseng Organization, Hong Kong Branch Office : 852 -2850-6236