* Ap means 'front area' in Korean. So when one says 'E-dae Ap', they are referring to the area in front of E-dae, known as Ewha Womens University.



[Introduction to E-dae Ap]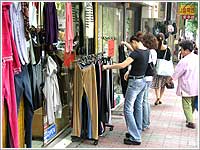 The E-dae Ap area has been established for quite some time. Situated just in front of Ewha Womens University, this area has been greatly influenced by the female population boasting a cutting edge fashion district and a wide variety of eateries. From subway line 2, exits 2 and 3 bring you into the heart of this district. While the main street has much to offer, the many alleyways are the backbone of E-dae Ap. These alleys are filled with accessory shops, clothing stores, shoe shops, eateries, quaint cafes, hair salons, and many small-sized shops catering to those people looking for unique items. This area is also attracts all kinds of people looking to find famous hair salons, and manicure and makeup shops.
[Famous Places]
There are many trendy restaurants here to suit the tastes of the female college population. Cake shops, bakeries, Korean snack food shops, western and Korean-style restaurants, cafes, and pubs fill line the streets of E-dae Ap.
[Fun at E-dae Ap]
1. Fortune telling cafes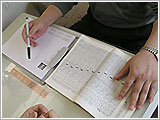 Why not have a fun night out with your friends and get your fortune told? Sit back and enjoy a cup of coffee while the fortune teller comes right to your table. An additional 10,000 won will buy you approximately 30 minutes time with a psychic. Most of the cafes don't have interpreters, so bring along a friend that can translate. Take subway line 2 and get off at the Ewha Womens University station. Go out exit 2 and head towards the university. Look for signs with '사주카페' (saju cafe) written on them.
2. Manicures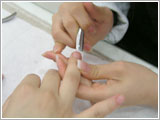 For those looking for a manicure or pedicure, there won't be can problem finding a place in E-dae Ap. The manicure shops in this area are clean and well kept. The workers are usually welcoming and accustomed to foreign faces. It takes about 40~50 minutes for a manicure and costs approximately 15,000 won. For an additional fee you can get a hand massage which is guaranteed to leave you refreshed with soft supple skin. Take subway line 2 and get off at the Ewha Womens University station. Go out exit 2 and the manicure shops will be visible while heading towards the university.
[Tourist Information]
A tourist information center is located in front of Sinchon Train Station providing pamphlets, maps and other travel information in English, Japanese, and Chinese. The guides in these booths are able to speak English, Japanese, and Chinese.

Location : 60-11 Daehyeon-dong, Seodaemun-gu, Seoul1
Languages : Englisn, Japanese, Chinese
Hours
* Monday - Friday
March - October : 9:00 a.m. - 6:00 p.m.
November - February : 9:00 a.m. - 5:00 p.m.
* Saturday
Year round : 9:00 a.m. - 12:00 p.m.
Closed : Every Sunday, January 1, Lunar New Year, Korean Thanksgiving, national holidays
How to get there : Head towards the main gate of Ewha Womens University and walk along the right-hand side of the road for about 5 minutes.
[Interview]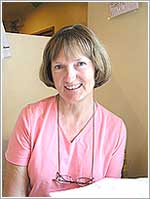 A popular hangout for foreigners in this area is the International House (아이하우스). On this day T2K met up with Helga Hirle from Germany who is studying Korean.

T2K : How did you first learn about the International House?
Helga: I read about it in the Korea Herald and looked online for more information.
T2K : So, what do you like about the International House?
Helga : You can learn Korean one on one for free! And the atmosphere is very comfortable here
T2K : What do you think about the area near Ewha Womens University?
Helga : It's really an area for the young. This youthful and energetic mood is uplifting.
T2K : Have you shopped much in this area?
Helga : Yes, I have bought shoes. They are fashionable and comfortable. Unfortunately, the clothing in this area is designed for young, thin women, so I can't really find my size here.
T2K : : Is there anything that you would like to say those visiting or shopping in this area?
Helga : I would have to say just walking around the lively streets is good idea. Look around and enjoy yourself.

[Transportation]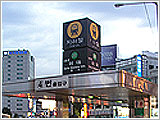 Location : Area in front of Ewha Womens University, Daehyeon-dong, Seodaemun-gu, Seoul
For additional information call the Travel Phone : +82-2-1330 (English, Japanese, Chinese)
Transportation : Take subway line 2 and get off at the Ewha Womens University station. Go out exit 2 or 3. The area from the subway stop to Ewha Womens University is 'E-dae Ap'.