[Introduction to Jeonju]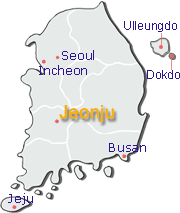 The culturally abundant city of Jeonju can be found in the middle of the Korean peninsula. This historical city dates back to the Baekje Kingdom. Gyeon Hwon founded the nation after the dissolution of the three kingdoms in 892. Jeonju became the capital city, and provided present day Jeonju full of many treasures including a Traditional Korean village. It is recommended that tourists visiting Jeonju, begin at this unique village. The village area includes a traditional hot spring and is surrounded by many popular tourist spots. This is a must-see for foreign tourists. The Joseon Dynasty was founded by Taejo Yi Seong-gye. His portrait is enshrined in this city. Other cultural gems include Pungnammun Gate, Jeonju Confucian School, Jeonju Traditional Life Experience Park, Jeonju Traditional Craftworks Exhibition Hall, Jeonju Treasures Center, Gangam Calligraphy Museum, Jeonju Traditional Culture Center, and Jeondong Catholic Cathedral, well known in Korean Catholic history. In addition, the Jeonju Traditional Culture Center gives visitors the unique experience of life in a traditional Korean house, known as 'Hanok' in Korean. The Jeonju Hanok Living Experience Center also gives visitors traditional style accommodations in a comfortable setting. This is a great experience for foreigners.

Aside from the Hanok Living Experience Center, there are many other great places to visit, such as the Pan Asia Paper Museum, Jeonju World Cup Stadium, and Deokjin Park. Deokjin Park delights visitors in July and August with Lotus flower plants reaching heights of several feet high. If you have additional time, try visiting the nearby cities of Namwon, Muju, Jinan, and Jeongeup. During the autumn months, the Jeongeup mountain area is beautiful with its incredible fall foliage. Perhaps the most well known aspect of Jeonju is the food. One of Korea's most famous foods originates from this area, Jeonju bibimbap. This delicious dish combines bean sprouts, Chinese bellflowers, spinach, dropwort, mushrooms, beef and other scrumptious foods with sesame oil, red pepper paste and other nutritious seasonings. A bean sprout soup mixed with rice is also a favorite dish of this area. Jeonju is also known for its variety of side dishes served, usually around 10 on a table.

The spirit of Jeonju can be found in its lively festivals. Some of these festivals include the Jeonju International Film Festival, Jeonju Daesaseupnori, Jeonju Sori Music Festival, World Calligraphy Biennale of Jeollabuk-do, Jeon Pungnam Festival and Jeonju Paper Culture Festival which highlights some of Jeonju's most celebrated items including traditionally made Korean paper, fans and igang wine.

Land size : 206.25㎢
Population : 624,849 people (statistics from 2006)
[Tourist Attractions in Jeonju]
[Food in Jeonju]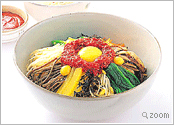 Jeonju's most well known food is by far Jeonju bibimbap. It consists of rice topped with such tasty foods as bean sprouts, Chinese bellflowers, spinach, dropwort, mushrooms, and beef. These ingredients are mixed together before they're eaten. This dish is not only delicious, but also full of nutrition. Other famous foods from this region are kongnamul gukbap (a bean sprout soup mixed with rice) and hanjeonsik (plentiful Korean style dinner menu). kongnamul gukbap is prepared by first putting a bean sprout soup in an earthen bowl, then adding the essential seasonings, and lastly boiling the mixture. This dish is usually served with a plethora of side dishes making for a most enjoyable meal. The side dishes may change with each season, being that the freshest ingredients of the season are used. Igang wine is often enjoyed with these foods in Jeonju. This wine is made from rice barley, polished rice, cinnamon, ginger, and pears. This sweet and savory wine is said to reduce fatigue and benefit your mind, body, and soul.
[Accommodations in Jeonju]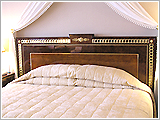 If you are looking for a unique lodging experience, the Jeonju Hanok Village is the place for you. This facility is ideally situated to make touring easy and is highly recommended for foreign tourists. The Traditional Life Experience Park should also be a must-do on your list. If you need a hotel in the area, the Hotel Riviera is ideally situated in the Hanok village area.
[Transportation]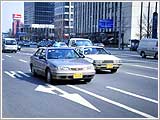 When touring Jeonju, it is a good idea to use local city busses and taxis. The Jeonju Hanok Village area is full of things to do. Everything is in close proximity, so walking between points is suggested. When leaving the village area, take advantage of one of the many local city busses.