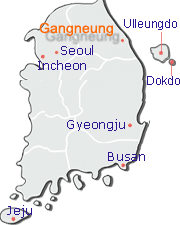 On the eastern portion of the Korean peninsula, looking over the East Sea lays one of Korea's most well known Tourist destinations, Gangneung. Such cultural treasures as Daegwallyeong and Odaesan can be found here. Dating back to the Goryeo Dynasty, this city in Gangwon province has played a very important role. Presently, in Gangneung, we can still see Gangneung Confucian School, Gaeksamun, and Ojukheon, as well as many other cultural relics. The Dano Festival, dating back centuries, has become one of Gangwon provinces most famous festivals. From the well developed highways and railways, to the convenient local transportation, it is an ease to travel from Seoul to Gangneung. When traveling by express bus from Seoul to Gangneung it takes approximately 3 hours, while by airplane it is merely a 1 hour flight. Some of the most well known tourist spots in Gangneung include: Gyeongpo Pavillion, Gyeongpo Lake, Gyeongpo Beach, Ohdaesan Sogeumgang, Jumunjin Beach, Jumunjin Harbor, Chamsori Gramophone Edison Museum, Seonkyojang (mission), Ojukheon Residence, Ohjukheon Municipal Museum, Unification Park, Jeongdongjin, and Gangneung Confucian School. With plenty of things to see, Gangneung is the ideal tourist destination all year round.

Population: 233,812 people (statistics from 2001)
Land size: 1,040㎢
There are many methods of transportation that can be used to get to Gangneung. However, in regards to cost and time, the express bus is your best bet with only a 3-hour drive. If you wish to fly into Gangneung, it is only a 1-hour ride with one additional hour for your ride from the airport to the main Gangneung area (totaling a 2-hour trip). The trip by train is slightly longer with a travel time of 6 to 8 hours. Most people opt for the night train and sleep on the way and arrive just in time to see the famous sunrise at Jeongdongjin Beach. When traveling by train, you can depart from Seoul's Cheongnyangni Station. Depending on the day, there are usually 4~9 trains departing for the Gangneung area. Gangneung's Gyeongpo Lake is in the center of the tourist area. There are many local buses that will help make your trip more convenient. Stop off at the Gangneung Tourist Information Center for more information.