What should be on top of your list of places to go and things to see while visiting Seoul? If you're having trouble finding a gem among the excess places to visit, start at some of Seoul's best tourist sites selected by tourists.


■ Number 1: a gathering place of traditional culture, Insa-dong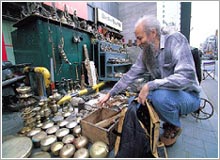 To experience the traditional culture of Korea while remaining in the heart of the city, try Insa-dong. With art galleries, traditional craft stores, antique art dealers, traditional tea houses, and traditional restaurants, it is simply the place in Seoul for tourists wanting to experience traditional Korea. The area is especially good for finding antiques in- old paintings, ceramics, wooden vessels, and antique furniture can all be found in abundance at Insa-dong. The 70 or so art galleries in the area also make Insa-dong ideal as a cultural space. In 1999, England's Queen Elizabeth visited the area and heaped praise upon the old artworks that she saw there. Insa-dong is designated as car-free on weekends (Saturdays from 14:00-22:00, Sundays from 10:00-22:00), and a flea market sets up in the streets with people peddling their antiques, accessories, and artworks. Travelers from abroad also gather here with wares from the world over, so the flea market items are not just limited to items Korean in nature. But because the streets of Insa-dong are narrow and complex, make sure to pick up a map at the Tourist Information Center before starting out.

More Information:
Sightseeing > Destinations > Insa-dong,
Major shopping districts > Insa-dong


■ Number 2: the premier ancient palace of Korea, Gyeongbokgung Palace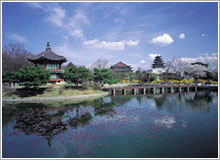 Gyeongbokgung Palace was the main residence and palace of the royal family during the Joseon Dynasty (1392-1910), and boasts an impressive 600 years of history. Built by Taejo Seonggye Lee (ruled 1392-1398), founder of the Joseon Dynasty, the palace was completed in 1395 after the capital of the nation was changed from Gaeseong to Hanyang (current Seoul). The 495,000㎡ area of Gyeongbokgung Palace includes the 'Geunjeongjeon', the main hall where official ceremonies took place and government officials could see the King, the 'Gyeonghoeru', where banquets were given for diplomatic reaons, and 'Hyangwonjeong', an artificial island created inside a pond. Also located within the palace is the National Folk Museum, to help further the understanding of the lives of Korea's ancestors. Take a walk along the stone walls of Gyeongbokgung Palace, and tourists will come across the Cheongwadae (also known as the Blue House, the presidential mansion of Korea). A portion of the palace is currently being reconstructed, and it is estimated to be finished by October of this year.

More Information:
Sightseeing > Destinations > Gyeongbokgung Palace


■ Number 3: Korea's greatest marketplace, Namdaemun Market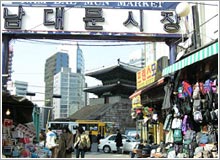 Namdaemun Market is a truly massive, all-inclusive marketplace for clothing, children's wear, accessories, shoes, kitchen items, regional specialty items, imported items, and more. The market offers a wide range of merchandise at affordable (and often downright cheap) prices, and most stores act as both retailers and wholesalers. The market has managed retain the feel of a traditional marketplace, which lends it a very earthy appeal- the stores and stalls offer much to see, making the market ideal not only for shoppers but for sightseers as well. Most stores at Namdaemun Market only open for certain hours according to their own needs, so it's a good idea to plan a trip ahead of time according to the desired items. Mt. Namsan is nearby, making the two locations a great pair for a combined excursion.

More Information: Namdaemun Market,
Major shopping districts > Namdaemun Market


■ Number 4: The Mecca of fashion, Dongdaemun Market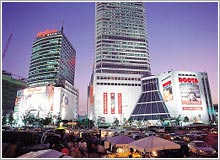 Dongdaemun Market is dubbed a fashion mecca due to the large number of shopping malls and smaller retailers that concentrate on sell clothing and accessories. It is more clothing-oriented than Namdaemun Market. Doosan Tower, Migliore, Freya Town, and Hello apM are just a few of the 20 or so major shopping malls in the area- prices are cheap and shopping is easy. The malls deal mostly in accessories, women's wear, menswear, and shoes- everything for your head to your toes. Most of the merchandise is on top of current trends and styles. Dongdaemun Market is more crowded at night than during the daytime, because small boutique and shop owners from Korea's regional areas and even overseas flock to the market at night to buy for their stores. The market makes for a unique nighttime excursion.

More Information: Dongdaemun Market,
Major shopping district > Dongdaemun Market


■ Number 5: The apex of Seoul's night view, Mt. Namsan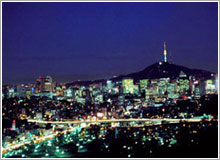 265m above sea level, Mt. Namsan is a symbolic mountain located in the center of Seoul. While is has a relatively low elevation, the surrounding areas make the view a fantastic one, which explains the popularity of the mountain as a resting place for Seoul's citizens. At the top of Mt. Namsan are the Palgakjeong Pavilion, Seoul Tower, and a marine aquarium, and on the way up are the Namsan Library, fountain, and botanical garden. The summit can be reached by taking the hiking trail or by riding a cable car. A breathtaking view of Seoul can be had at the Palgakjeong Pavilion, and tourists who climb the Seoul Tower (479.7m above sea level) are rewarded further with a view that reaches as far as the sea at Incheon's harbor. When night falls, a view of Seoul's twinkling lights and neon signs unlike any other can be enjoyed at Mt. Namsan. Located nearby is the Namsangol Traditional Korean Village and Namdaemun Market.

More Information:
Sightseeing > Destinations > Mt. Namsan