■ Introduction


One of the best ways to tour in Jeju, one of Korea's finest resort areas, is to rent a car. Jeju is abundant in pleasant, peaceful drive courses with beautiful scenery and a good highway system. There are numerous scenic roads and two cross-island roads north and south, and east and west. Traffic is usually light except in Jeju City and Seogwipo, but even there it is not particulary congested. The best drive course is probably Ilju Road (Road 12), which goes around Jeju Island along the coast. This highway connects with coastal roads right down to the shore where you can see emerald beaches and rocky inlets, and feed the seagulls. The other courses are inland. Jeju is a volcanic island with Mt. Hallasan, created 100-300 thousand years ago, in the middle. About 500 parasite volcanic cones called oreum dot the island.
The inland courses take you to beautiful scenes of Mt. Hallasan, parasite cones, and various walls and structures made with the ubiquitous black basaltic lava.



■ Coastal Drive Course

Ilju Road is Jeju's oldest road. Anywhere along it the ocean spreads before your eyes offering breathtaking vistas. Among Jeju Island's 11 coastal drive courses, four clearly stand out above the rest.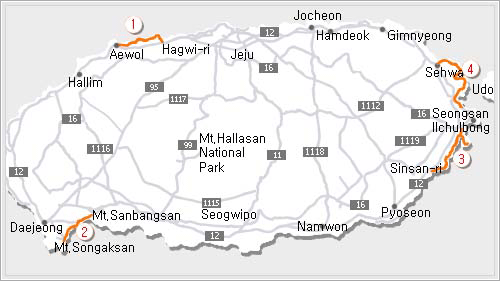 1. Hagwi ~Aewol Course
Take Ilju Road from Jeju City to Hallim, and turn towards the ASEA Broadcasting Station in Hagwi-ri. There is seven-kilometer drive course showing a wonderful view of the black lava shoreline, emerald beach and rare wild flowers.
You can stop at the observation platforms or cafes and relax in a picturesque setting. On days when the waves
are high, it is great to watch them crashing over the rocks.


2. Mt. Songaksan ~ Mt. Sanbangsan Course
It is a wonderful drive course about 5.6 kilometers. If your car is smaller than a 12-passenger van then drive up Mt. Songaksan for some peaceful ocean scenery and fabulous views of Hyeongjeseom Island and Mt. Sanbangsan. It is also worth going to Yongmeori (Dragon Head Shore) and the Hamel Monument, both at the base of Mt. Sanbangsan. Hendrick Hamel was a shipwrecked Dutch sailor who spent many years in Japan and Korea around the turn of the 17th century before returning home and writing Europe's first report about Korea.


3. Sinsan-ri ~ Seongsan Inchulbong (Sunrise Peak) course
Along Road 12 from Pyoseon to Seongsan, is an SK fuel station. Pass it and take the coastal road to Sinyang Beach, Seopjikoji, and Seongsan Ilchulbong (Sunrise Peak). Also enjoy gathering shells and strolling around at a fishing spot along the shore in Jongdal-ri. Along the coastal road you can see stone towers that look like they might be breakwaters, but actually built by people who believe this effort will help grant their special wishes.


4. Sehwa ~ Seongsan Inchulbong (Sunrise Peak): recommended
A habitat of the munjuran (Crinum), Tokkiseom Islet is about 1.6 kilometers from Sehwa on the way to Seongsan. You can walk to the islet at low tide, but don't linger too long or you might get your trouser legs wet wading back to the mainland. Two kilometers up the road is the bird habitat Hadori, quite well known; stepping across the stones to the islet here imparts a marvelous feeling that will bring you back to do it again. Continuing along the curving road is an observation platform in Jongdal-ri, made of an old ship from which you can see Udo Island and the magnificent Seongsan Ilchulbong (Sunrise Peak).


* A habitat of Munjuran (Crinum), Tokkiseom Islet
You can see the small Tokkiseom Islet from an observation pavilion five minutes from Sehwa towards Seongsan along the coastal road, 50 meters from the beach. This is the only place in Korea to see crinum tiger lilies. The islet is filled with blooming lilies from July to September.


* Seasonal bird habitat, Hadori
Next to Tokkiseom Islet is a reservoir where storks, spoonbills, and various rare birds spend the winter from September to December. Also it is popular among photographers for its thick forest and excellent view of Mt. Hallasan.


■ Inland Roads Drive Course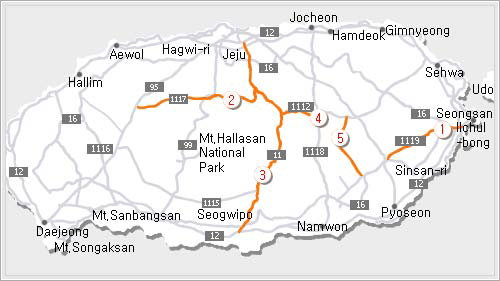 1. Road 1119
Here is a well-known drive course for eulalia reeds, the road from Seongsan Ilchulbong to Seongeup Folk Village, tall standing eulalia on both sides of the road turn silver in the autumn season and wave gracefully in breeze. Mt. Hallasan and the volcanic oreum mounds spread before you. The Seongeup-to-Seongsan course is better than the other direction from Seongsan to Seongeup because you can see Seongsan Ilchulbong, a dramatic cratered volcanic cone perched out on its own little peninsula. Spend an hour or so scaling the stone stairs up the side to its crenellated rim and…what a view! Especially at sunrise.


2. Road 1117 (Mid-mountain Road)
This is called the autobahn of Jeju, connecting West Industrial Road (Route 95), 1100 Road (Route 99), and the 5-16 Road (Route 11). These 19 kilometers takes you through a wonderful reed course in the fall. An ocean view and beautiful rippling silver eulalia fields creates a unique scene. Gwaneumsa Temple halfway between 1100 and 5-16 Roads is decorated with beautiful fall foliage. People like to visit at night for a really dramatic view.


3. 5-16 Road over Mt. Hallasan
This scenic road connects Jeju City with Seogwipo, 41.2 kilometers. It passes through Seongpanak Resting Place at 720 meters above sea level, and you will enjoy several picturesque views halfway up Mt. Hallasan. One place in particular: a kilometer-long tree tunnel covers the sky, extremely beautiful.


4. Road 1112, cryptomeria forest road
Road 1112, leading into 5-16 Road, features an exotic landscape with cryptomeria on both sides of the road. Tall, straight trees grow as dense as a North American forest. Stop along the road to take a romantic stroll.


5. Rape flower road
Jeju is well known for beautiful yellow rape flowers that emerge in splendor in March and April. Pause along the way as you drive the flower-lined roads. Try Road 16 from Seongeup Folk Village to Namwon, and turn right at the sign for Jeongseok Air Museum.


■ How to rent a car

A rental car information desk is near the arrival gate at Jeju International Airport (first floor, Domestic). Here are four rental companies with prices all about the same. It is usually possible to rent without a reservation.


| | |
| --- | --- |
| Rental Car Company | Теlephone |
| Jeju Rent a Car | +82-64-742-3307(Kor) |
| Geumho Rent a Car | +82-64-743-8107(Kor/Eng/Jap.) |
| Jeju Rental Car Service Associaton | +82-64-747-4301(Kor/Eng/Jap) |
| AVIS Rent a Car | +82-64-749-3773(Kor/Eng/Jap) |
1. Be sure to check the car for any possible scratches or dents at the outset, and the level of fuel in the tank, and make sure these conditions are mentioned on the rental contract.
(Renters are responsible for damage and for leaving the same amount of fuel.)
2. You will be able to drive the car directly from the airport.
3. Return the car to the parking lot at the airport.
(Upon returning the car, its condition and fuel tank level will be checked by an employee of the rental company, together with you. Any unreplaced fuel or damage to the car will be charged to the renter's account.)


* Requirements
Age: over 21 years old
Driving experience: one year
License: Valid international drivers license
Passport
* Maps
Maps are free at the Rental Company or the Tourist Information Desk at the airport.


[Notes on driving]
1. Unmanned cameras
Traffic is light on Jeju Island, so resist the temptation to speed because unmanned cameras are watching! Speed limits in Jeju are 50 kilometers per hour inside city, 60 on two-lane roads, and 80 on four-lane roads. Renters are responsible for any violation of traffic laws.

2. 5-16 Road (Road 11) and 1100 Road (Road 99)
The roads passing over Mt. Hallasan are steep and curvy in places. Going downhill, do not depend too much on the brake, rather utilize lower gears to provide slowing resistance from the engine. If you do happen to smell overheating from the brakes, stop and let them cool. This is true of motorcycles, as well.