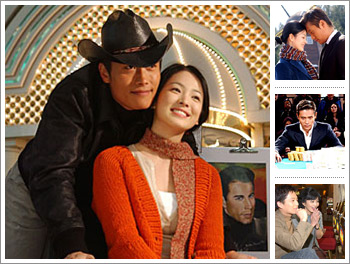 1. All in

On March 3, 2003, eighteen reporters from Hong Kong, Taiwan, Singapore, and Thailand were in a bustle in Jeju International Airport. Why did they come to Jeju Island, one of the most beautiful places in Korea? The answer is All In, a special TV drama produced by SBS (Seoul Broadcast System) based on the true story of Min-su Cha, a pro gambler and a pro janggi(Korean chess) player. Mr. Cha is the model for the main character In-ha Kim, played by Byeong-heon Yi. Mr. Cha has had an even more dramatic life than what was portrayed in the drama. He went to Las Vegas with only 18 dollars and became a millionaire. All In is a story about a passion for success, victory and defeat in business and at the casino, and a love sorrowful and pure. It was inspired by Mr. Cha's fiction-like life.

Before this drama came on the air, East Asians were interested in the main actress Hye-gyo Song and actor Byeong-heon Yi
Byeong-heon Yi plays an orphan who became a great pro gambler, and his sweetheart is Hye-gyo Song. These two make this drama extremely popular with a program rating of over 40 percent in Korea. They received hard training in Las Vegas and at a special casino in Korea. While making the film in Las Vegas the whole staff applauded their talents and hard work.

Also, Jeju Island is in the news quite a bit these days and the All In drama sets there are becoming popular. Many tourists have already visited the sets at Seobjikoji and other studios, and more tourists are expected to come steadily. All In has already signed a contract with G-TV in Taiwan, and is hoping to be exported to I-TV in Thailand, Hong Kong and Singapore.



2. Main Story

In-ha Kim (Byeong-heon Yi) is an orphan and grows up with gambler Chi-su Kim. He falls in love with Su-yeon Min (Hye-gyo Song) and makes friends with Jeong-won Choi (Seong Ji), the son of hotelier Do-hwan Choi (Deok-hwa Yi). Jeong-won becomes In-ha's best friend, he meets In-ha's girlfriend Su-yeon, and falls in love with her.
In-ha is accused of murder by Jeong-won's father and makes an escape to the United States. In Las Vegas he meets a teacher of card games and becomes a professional gambler. After he wins the World Poker Championship, he returns to Korea to run a casino and hotel business. Back home, he contends for victory and success with his friend but rival Jeong-won.



3. Main Actors





1)Yi, Byeong-heon (Kim, In-ha)

Website: www.leebyunghun.com
Date of birth: July 12, 1970
Profile: height 178 cm ; weight 72 kg ; interests, collecting hats and caps and traveling; skills, swimming, taekwondo, snowboarding, arm wrestling.
Ideal type woman: "comfortable as a friend"
TV Dramas: Naeireun Sarang (Love in tomorrow), Areumdaun Yeoin (Pretty Lady), Happy Together, Baegya 3.98, Areumdaun Naldeul (Beautiful Days) etc.
Movies: Run away, Nae Maeumui Punggeum (The Harmonium in My Memory), JSA (Joint Security Area), Jungdok (Addiction), Beonjijeompeureul Hada (Bungee Jumping Of Their Own)



2)Song, Hye-gyo (Min, Su-yeon)

Website: http://songhyekyo.sidushq.com
Date of birth: Feb 2, 1982
Profile: height 164cm ; weight 45 kg ; interests, watching movies, shopping, singing ; skills, swimming, playing piano, figure skating
Ideal type man: good-looking, warm-heart, and full of love
TV Dramas: Haengjin(Parade), Baeya 3.98, Sunpung Sanbuingwa (Sunpung OBGYN Hospital), Suhocheonsa (An Angel), Hotelier, Gaeuldonghwa (Autumn Romance)





3)Ji, Seong (Choi, Jeong-won)

Date of birth: Feb 27,1977
Profile: height178cm; weight 70 kg; interests, skiing, singing; skills, baseball, hapgido
Ideal type man: a woman who loves her job and loves other people
TV Dramas: Masinneun Cheonghon (A Delicious Proposal), KIST, Gyeolhonui Beopchik (Rules of Marriage), Haetbit Sanyang (Catching a Sunbeam), Hwaryeohan Sijeol (Glorious Days)
Movie: Hwiparam Gongju (Princess Whistle)



4) Bak, Sol-mi (Seo, Jin-hui)

Date of birth: Jan 3, 1978
Profile: height 170cm ; weight 45 kg ; interests,playing games, reading comic books, creating her own image ; skills, swimming, playing piano
Ideal type man: Warm smile and romantic
TV Dramas: Papa, Uri Jip (My Home), Gyeouryeonga (Winter Love song), Nappeun Yeojadeul (Bad Girls)
Movie: Piui Gyeolhon (A Bloody Marriage)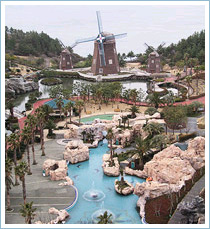 1) Lotte Hotel
Address: 2812-4 Saekdal-dong, Seoguipo-si, Jeju-do (located in Jungmun Resort)
Tel: +82-64-731-1000 (Korean/English/Japanese)
Website:
http://www.lottehotel.co.kr/
(Korean/English/Japanese)
Directions: take an airport limousine bus (No. 600) from Jeju Airport to the Lotte Hotel, every 15 minutes, a 50-minute ride

One of the most famous locations on All In is the Lotte Hotel, renowned as the best hotel in Korea for romantic scenery and exotic atmosphere. You can enjoy the beautiful Jeju scenery overlooking the Pacific and the romantic atmosphere of a Dutch windmill on a lakeside cliff. The windmill shows up frequently in important scenes in the drama.
You will see the scene when Su-yeon first meets In-ha at the Lobby Lounge,and Jeong-won and Su-yeon miss bumping into each other by seconds at stairs of the Lobby. Su-yeon gives a gift to In-ha at the bench in front of the windmill, and after In-ha is promoted, he looks over the beach from the observation platform there. There are now signposts with scene decriptions and lines from the drama at each of these places.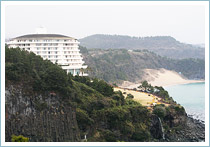 2) Hyatt Hotel
Address: 3039-1 Seakdal-dong, Seguipo-si, Jeju-do (located in Jungmun Resort)
Tel: +82-64-733-1234 (Korean/English/ Japanese)
Website: http://www.hyattcheju.com
Directions: take an airport limousine bus (No. 600) from Jeju Airport to the Hyatt Hotel, every 15 minutes, a 50-minute ride

The 'Sea World Hotel' in the drama is the Hyatt Hotel. The two ambitious men, Do-hwan and Jeong-won succeed in the casino business at this hotel. The presidential suite on the 11th floor is a place for making plans, and is where Jeong-won falls in love with Su-yeon. Jeong-won thinks about Su-yeon at the balcony which looks out over the beautiful cobalt Pacific Ocean.
At the Island Lounge, Jeong-won drinks with Su-yeon and realizes that she still thinks about In-ha. She is drunk and stays the night in the Jeong-won's suite. In the Japanese restaurant Dadami Room, Jeonwon has a meeting with intentions to marry the daughter of a power holder.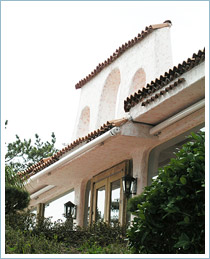 3) Paradise Hotel Jeju
Address: 511 Paradise Hotel Jeju, Topyeong-dong, Seogwipo-si, Jeju-do
Tel: +82-64-763-2100 (Korean/English/Japanese)
Website:
www.paradisehotelcheju.co.kr
(Under construction as of May 2010)
Directions: take the airport limousine bus (Nos. 300 or 600) from Jeju Airport to the Paradise Hotel Jeju, every 15 minutes, an hour and 20 minutes' trip

Built where former Korean President Seung-man Yi had his villa, this hotel first opened in 1963 in a Mediterranean style. It is located near Jeongbang Falls at Seogwipo Beach and offers a truly majestic view of the ocean and surrounding cliffs. Honeymoon House is the Korean restaurant in this hotel with a sweet decor, proud to serve the traditional teas of Jeju Island and a high quality menu. In the drama, Su-yeon has dinner with Jin-hui in this restaurant. Other sets in the drama include the living room and lobby of the hotel's honeymoon suite, and a walk around the suite is shown.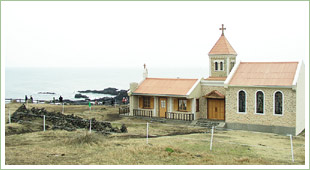 4) Seobjikoji
Address: Sinyang-ri, Seongsan-eup, Namjeju-gun, Jeju-do
Directions: take a local bus from Jeju City Local Bus Terminal (Or Seogwipo Local Bus Terminal) to Sinyang-ri, and then walk to Seobjikoji, an hour and 30 minutes' trip

A great many travelers are visiting Seobjikoji as a result of All In becoming popular. Along the Jeju coastal road from Jeju-si City, winding past a fishing village, you arrive at Seobjikoji. Here lies a fascinating view of the serene, clear blue waters, a wide stretch of green grass, a rock 30m high and 15m wide jutting skyward from the sea (with its own legend), and a lighthouse. This beautiful scenery serves as the backdrop for drama sets including a Catholic church, a convent and a nursery school. More and more people are expected to visit this picturesque place. Seobjikoji's exotic and beautiful scenery has attracted many moviemakers. Famous Korean movies such as Danjeokbiyeonsu and Yijaesuui Nan (the Uprise of Yi Jae-su) were filmed here.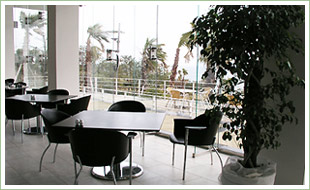 5) Gamdogui Uija (Director's Chair), a movie theme cafe
- Address: 2381 Namwon-ri, Namwon-eup, Namjeju-gun, Jeju-do
- Tel: +82-64-764-8383 (Korean)
- Museum Hours: 11:00-19:00
- Menu: Haemul Ttukbaegi (hot and spicy seafood soup), 10,000 won, Galchi Jorim (hard-boiled hair-tail fish), 12,000 won, Donkkaseu Deopbap (pork cutlet and rice), 12,000 won, beefsteak, 18,000
- Directions: take a limousine bus from Jeju Airport to Seogwipo, then a taxi to the cafe Gamdokui Uija, an hour and 10 minutes' trip

Before Su-yeon goes to the USA to study, she meets Jeong-won in this cafe. You can enjoy the pristine seashore through the glass windows and take a lovely walk outside. There is the Jeju Sinyoung Cinema Museum nearby with exhibitions entitled "Honors", "Special Effects", "Animation", and "Filming Experience", presenting the past, present and future of film making. Techniques ranging from the amateur to the cutting-edge are exhibited in a fun way for easy understanding. You can also take a picture with Korean traditional hanbok clothes.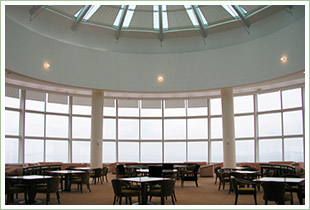 6) International Convention Center Jeju
Address: 2700 Jungmun-dong, Seogwipo-si, Jeju -do
Tel: +82-64-738-7890
Website: http://www.iccjeju.co.kr(Korean/English/Japanese)
Directions: take the airport limousines bus (No.600) from Jeju Airport to Jungmun Resort, every 15 minutes, a 45-minute ride.

The International Convention Center Jeju located in Jungmun Resort opened on March 22, 2003.
Tamna Hall has a maximum capacity of 3,500 people. Meetings of up to 1,100 people may be held in Halla Hall-assemblies, banquets, lectures, movie presentations and other types of events. Samda Hall can handle 500 people and is divisible into two. These halls can be arranged flexibly for different sizes and types of conferences, performances or other events.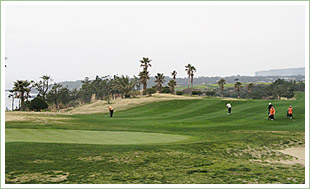 7) Jungmun Golf Course
Address: 2101 Saekdal-dong, Seogwipo-si, Jeju-do
Tel: +82-64-735-7241~2
Course: 18 holes, a total of 6,820m
Directions: Take limousine bus (No. 600) from Jeju Airport to Jungmun Resort, every 15 minutes, a 45-minute ride.

In the scene Jeong-won and his father play golf, In-ha receives a lesson in here .
Located in Jungmun Resort on the southern coast, this 18-hole course offers exotic southern coastal views. It is Korea's only seaside course, above seashore cliffs and a plunging valley. Golfing is all year round on evergreen lawns amid surrounding beauty. Off the fairways in the rough, Jeju Island's unique indigenous plants grow wild. You may enjoy famous tourist attractions nearby such as Jungmun Beach and Cheonjiyeon Falls and a variety of fascinating facilities and attractions.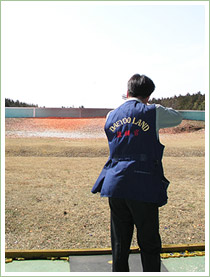 8) Daeyu Land
Address: 144 sangye-dong, Seogwipo-si, Jeju-do
Tel: +82-64-738-0500
Website: http://www.daeyooland.net
Business Hours: 9:00~18:00
Fare
Hunting: 100,000 won (Including 10 rounds and clay-shoot, 145,000 won)
Sporting clays 20 rounds: 30,000won
Target shooting, rifle or handgun: 12 rounds for 30,000 won
Directions: take an airport limousine bus No. 600 from Jeju Airport to the Shilla Hotel and take a taxi to Daeyu Land, a one-hour ride

Daeyu Land offers bird hunting, sporting clays, and rifle and pistol target shooting all year round, with ultra-modern facilities. You can have shotgun rental, hunting dog, suit and shoes, and a guide, for a hundred thousand won. You can get in a round of practice with clay pigeons for 30,000 won, and cartridges are 1,000 won apiece. Afterwards, you can go out for pheasant or quail in about three hours. You can also enjoy the pheasant-breeding farm, clubhouse, and, of course, the large hunting ground. In the drama, Jin-hui and her father meet Jeong-won and his father at Daeyu Land after shooting clays.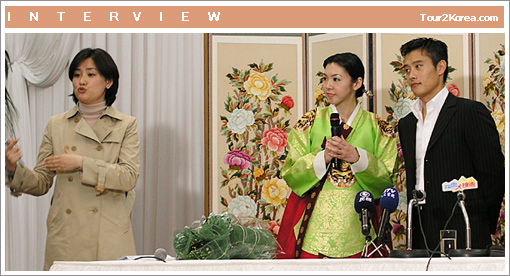 1) Taiwan press corps.
Q: You are a pro gambler in this drama. Do you have talent for gambling?
A: I didn't know how to gamble - only learned for this drama.
Q: I heard that All In has the highest popularity rating for a TV drama. What is the main reason?
A: I really appreciate it. The main reason is the ability and the efforts made by our director and the writer. Also I believe the story is very interesting, based on a true story. The actors also worked very hard.
Q: You are very handsome actor with good acting ability. What do you say about that?
A: (Smile) When I was young I thought I was a good-looking guy. I don't believe that any more. But I do think I'm a charming person. Thank you for saying so.
Q: Do you have any plan to visit to Taiwan?
A: I have been Taiwan once for my movie JSA, and would like to go again if I get a chance.
Q: All In will be telecast in Taiwan. Do you have any wish about that?
A: I hope it is not dubbed in Taiwan because dubbing cannot transmit an actor very well. Though it is not easy to read subtitles, I hope it they subtitle the film instead of dubbing.
Q: Could you say hello to your Taiwan fans?
A:I am really grateful for my fans in Taiwan. I do hope you all enjoy and love All In.


2) Hong Kong press corps.
Q: How do you feel about acting with an actress Hye-gyo Song?
A: She is very pretty and I worried a little about acting with her, but after we did the scenes together, my worries blew away.
Q: What kind of woman type do you like?
A: I don't have any particular type. My type can change when I meet a lovely woman. I guess I like to be comfortable with a woman as my best friend.
Q: What do you think about Hye-gyo song?
A: She is very mature woman in character. Sometimes I feel she is more mature than I, even though I'm older.
Q: Would you like to come to Hong Kong?
A: I haven't finalized any plans, but I do have friends in Hong Kong. It will be fun to go there.
Q: I heard All In is a very popular program in Korea. Is there any possibility of continuation of the drama?
A: No, there isn't


3) Singapore press corps.
Q: I heard that during filming there is very little time.
A: I didn't sleep for four days once. I asked my mom to pack my stuff, picked it up at the airport, and took off for the USA. I was finally able to sleep on the flight. When I watched my own acting, I couldn't remember everything I had done!
Q: What did your mom say?
A: She said that it was hard to understand why that happened to us. (Smile)
Q: In the move you are accused of murder. Do you have any real life experience of being disgraced unfairly?
A: Sure, many times -I was misunderstood to have passed gas in an elevator (smile). But never anything serious.
Q: You have a fan club in Singapore. Do they have any effect on you?
A: Yes, I think about my fans a lot. Thanks very much.
Q: Did you ever go to movie with your fans?
A: Yes. I feel responsible to them to act as well as I can. But sometimes I acted thoughtlessly because I was so busy. It feels sorry for that.
Q: Have you ever felt seriously in love, as in this story?
A: Yes, in fact I have.
Q: Will you make your debut abroad?
A: I hope so. Now, I try to do my best here in Korea. Later I can think about acting abroad.
Q: Many scenes were filmed on Jeju-do Island. Where was your favorite place?
A: It took all our time to film, and we were limited in being able to tour around. One my favorite places, though, was Seobjikoji. This is a wonderful place, very cool. I felt refreshed there.


4) Thailand press corps.
Q: In Thailand Korean music and drama have begun to be known over the last two years. How do you feel about that?
A: I am impressed that even though Koreans and Thai share different cultures and language, we can enjoy the same works and music.
Q: We are supposed to import All In. What do you think?
A: Why don't we talk about that after it happens? (Smile) All In is a big scale drama about man's life. It is kind of love story, but it is different from boy-meets-girl story such as Gyeulyeonga (Winter Love Song) and Gaeuldonghwa (Autumn Romance). If Thais like a big-scale drama, I'm sure you will like it. I hope you will love this drama.