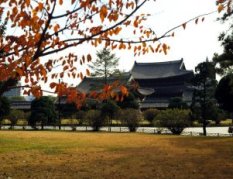 Gyeongbokgung is a palace erected during the reign of King Taejo, founder of the Joseon Dynasty (1392-1910) which was the final kingdom in Korea. It is one of the representative Joseon palaces along with Changdeokgung, Changgyeonggung and Deoksugung Palaces. Inside Gyeongbokgung are the majestic throne hall Geunjeongjeon, and Gyeonghoeru, a beautiful reception hall set in a lotus pond. The hall was used to hold parties for visiting Chinese envoys and ranking government officials. The National Museum of Korea and the National Folk Museum are also on the palace compound.

Gyeongbokgung is well loved for the walking roads around its walls, ideal for half a day of leisurely, shady strolls among the trees and flowers with time to drop by art galleries and sidewalk cafes. The roads here are quiet.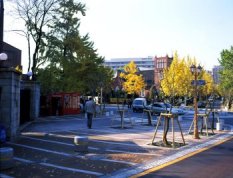 Hyojaro
The first impression of Hyojaro is the lack of traffic. The area seems to have been left behind the times, in contrast to the rest of Seoul with its pell-mell development over the past 40 years. There is a need to protect the security of Cheongwadae, of course, but development of the area has also been restricted for several decades to preserve Gyeongbokgung's cultural assets. An elementary school, secondary schools and a university moved to other areas long ago, and the only public facilities remaining are those related to Cheongwadae security. Commercial buildings are few.
Thanks to the building restrictions many neighborhood residences retain their traditional Korean form. Not much is really special on this road except the Jean Art Gallery and Jean Art Center opposite Yeongchumun and the western entrance to the National Museum of Korea. In the residential block behind Jean Art Gallery, one can find a huge white pine stump. Until 30 years ago this tree, more than 600 years old and designated as National Monument No. 4, boasted an imposing appearance, five meters in circumference, 16 meters high and bushy with foliage. It served as a symbol of the village and overlooked a children's playground. Today the stump stands almost forgotten in a narrow space filled with houses.
The Rose of Sharon Garden is bustling with tourists disembarking from buses and children on school outings. Mugunghwa Dongsan was formed after the safe house there was demolished in 1993 and a well, mock fortress and a resting place were set up in its place. Along the 240-meter-long path around the garden are flower beds with 7,700 beds of wild flowers, particularly irises, collected from around the nation. There are also 1,500 trees and shrubs of 13 species including a great many Rose of Sharon bushes. The embassy of the Holy See is behind the Rose of Sharon Garden, as is Chilgung, meaning "palace for seven concubines."
Memorial tablets of six concubines of Joseon King Sukjong plus one for the mother of King Yeongjo are enshrined there, but it is closed to the public.
In front of the Garden are a Phoenix-sculpture fountain and Daegogak, built in memory of the spirit of the Sinmungo drum that commoners would strike to appeal directly to the king about their grievances and difficulties. Hyojadong Sarangbang, a memorial and exhibition hall of photos of the transformation Seoul has undergone through its more than 600 years of history and displaying gifts that Korea's presidents have received from abroad is also there along with a souvenir shop. Hyojadong Sarangbang is open from 09:00~18:00 Tuesday through Friday and 09:00~17:00 on Saturdays, Sundays and public holidays. It is closed on Mondays (Tel. 82-2-731-0683). Yeongbin-gwan where parties for visiting state guests are held is nearby.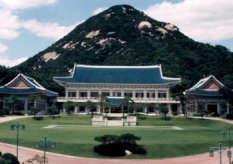 Cheongwadae-gil
On each side of Cheongwadae-gil, entering at fountain square, one encounters a row of well-tended maples, pines, and pine nut trees. Royal azalea and pansy beds are set about in harmony. It really is beautiful, and the feeling reaches a post-card climax upon arrival at Sinmumun and with Cheongwadae across the road backdropped by Bugak Mountain.
Continue the walk to the junction with Samcheongdong-gil, where Chunchugwan stands, the presidential press conference hall.
Individual tours to Cheongwadae can be arranged from 10 a.m. to 5 p.m. Friday through Saturday in April, May, September and October. No more than 1,300 persons may visit Cheongwadae each day. Individual bus-tour tickets are distributed upon presentation of ID at the Cheongwadae Tour Information Office, near the east entrance to the National Museum of Korea, from 09:00 to 15:00. Reserved tour groups up to 50 are possible between 10:00 and 17:00 from Tuesday to Saturday except in January, February, July and August: submit group member's personal references by mail at least four weeks in advance.
Inquiries on Cheongwadae tours: Tel. 82-2-730-5800 Fax 82-2-770-0646
Homepage:www.cwd.go.kr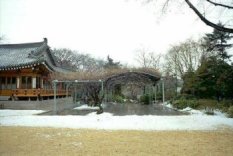 Samcheongdong-gil
Samcheongdong-gil is lined with famous art galleries including Gallery Hyundai, Geumho Gallery, Growrich Gallery, Artsonje Center, Gallery Hak Go Jae (another name for Art Space Seoul), Geum San Gallery, Gukje Gallery, Gallery Ihn and others. Also here is the fine temple Beopnyeonsa, Lee Rhee-za Korean Costume Exhibition Hall, the French Cultural Center, Jeong Dok Library, and various cafes and restaurants.
Since each art gallery building on Samcheongdong-gil has a unique architectural design, appreciating the buildings themselves can be a nice experience.
Many have their own cafes, restaurants, or craft shops, so you can enjoy the paintings, some shopping, and lunch all under one quaint roof.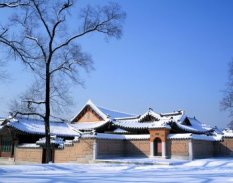 Gallery Hyundai
Gallery Hyundai has a craft shop, an art shop selling decorative articles, and four floors of exhibition halls. There is also a restaurant on the top floor offering different menus every day at reasonable prices.
Tel. 82-2-734-6111~3 Fax 82-2-720-7000
Gukje Gallery
Gukje Gallery presents planned exhibitions only. On the 2nd and 3rd floors is a French Italian restaurant and cafe. Live fish is used for most of the menu but coffee and sandwiches are available, too, as well as 110 kinds of wine from all over the world.
Tel. 82-2-735-8449
Artsonje Center
While Artsonje Gallery in Kyeongju mainly deals with contemporary paintings, the Artsonje Center covers entire genres of paintings encompassing both the past and the present. It breaks the line between museum and art gallery. It holds a 250-seat small auditorium, a reference material room, a small art shop and the restaurant "Artissimo" (Tel. 82-2- 730-6240).
Admission is 2,000 won for adults and 1,000 won for students and children.
Closed on Mondays.
Tel. 82-2-733-8944 Fax 82-2-733-8948
Homepage: http://www.artsonje.org/eng/index.html
Art Space Seoul (Gallery Hak Go Jae)
A traditional Korean house likely to be mistaken for a restaurant, this gallery opened in March of 1996 with the aim of introducing the contemporary works of young painters. It is a branch of the Gallery Hak Go Jae which specializes in ancient paintings in Insa-dong. Admission is free, but the gallery is closed when there is no planned exhibition.
Tel. 82-2-737-8305
Beopnyeonsa Temple
This temple holds three Buddha images, of the past, present, and future, as well as four different images of great Buddhist saints.
The temple strikes its bell in prayer for Korean unification and world peace. In addition to the Puril Gallery (Tel. 82-2-733-5590) you will find a traditional tea house Yeondawon (meaning "lotus tea garden"), a Buddhist paraphernalia and a book store.
Tel. 82-2-733-5388
Jazz Story
Jazz Story is a restaurant decorated with recycled articles.
On the ceiling is an upside-down bicycle; here and there hang a stopped wall clock or a little brass kettle; years-old accumulations of candle wax pile up in various corners. A live show is staged every evening with guitar music, piano music and renditions of jazz.
Tel. 82-2-725-6537
Jinsun Book Cafe
Jinsun Book Cafe is a two-story cafe with a small garden, its shelves full of books. It was established by publisher investment.
Open 11:00 to 23:00 year-round, coffee, cocktails, beer and spaghetti are available.
Tel. 82-2-723-5977