Busan

Busan is fast brewing a name for itself as a haven for coffee lovers. Certain enclaves like Dalmaji Hill are beloved by visitors for their vibrant café, restaurant and art scenes. Although international and homegrown coffee chains such as Starbucks and Coffine Gurunaru are aplenty, Dalmaji's independent cafés are just as busy, drawing customers in with distinct decor and creative spaces that showcases the owners' artistic and crafty endeavors.
Coffee aficionados will also be spoilt for choice at Gwangalli Beach, a popular gathering place where the half-moon, fine sand beach is curved around a cove spanning the Gwangan Bridge. Gwangalli begets its "Café Town" nickname from the sheer number of trendy cafés along a bustling strip that includes a cultural center, a museum, theaters for plays and movies, an art gallery, seafood restaurants and fashionable stores touting famous Korean and international labels.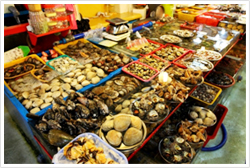 Jagalchi Market, Korea's largest seafood market, is a huge complex where the day's fresh catches and a wide selection of dried marine products unfailingly reel in visitors from far and wide. On the ground floor, rows upon rows of fresh seafood vendors sell a mind-boggling array of seasonal fish, and raw fish samplings and a central market for buying dried seaweed and marine products can be found one level up.
Gyeongju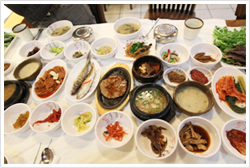 An hour from Busan is the city of Gyeongju, which some consider home to Korea's best ssambap, a lavish feast where rice is eaten wrapped in fresh greens such as lettuce, napa cabbage, kelp seaweed and dried laver. A variety sauces, like doenjang, can be added to the wrap along with any of the 20-30 types of robustly flavored Korean banchan (side dishes), grilled, and pan-fried dishes.
Jinhae

Jinhae is known for its bibimbap and budae jjigae, a stew of ham, sausage, noodles and vegetables tossed into a hot pot.
Street food

Street food snacks such as tteokbokki (rice cakes cooked in a spicy chili paste with pieces of fish cake), sundae (rich and flavorful Korean sausage filled with rice, noodles and meat), fish cakes on skewers cooked in a rich broth, steamed or fried mandu (dumplings) with noodles, meat or kimchi fillings, corn dogs and roasted squid, cuttlefish, or chestnuts are cheap and filling.


Busan

For culture, art and history buffs, Busan and its neighboring cities have plenty of interesting sights, landmarks and attractions. A few famous places include the area where families reunited following the Korean War (1950-1953) and the Forty Steps Culture & Tourism Theme Street that features lifelike sculptures of refugees displaced after the Korean War.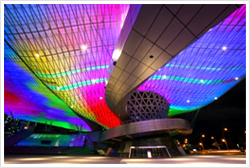 Film enthusiasts will be drawn to the Busan Cinema Center, the venue of the Busan International Film Festival (BIFF). Equipped with three movie theatres and a multi-purpose performance hall, the building is fitted with over 120,000 LED lights under its roofed stage resulting in quite the sight at night. Over at the BIFF Square in Nampo-dong, movie fans can enjoy identifying hand prints of international celebrities cast into the plaza pavement.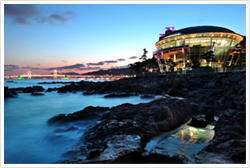 Visitors who are politically inclined will find Nurimaru APEC House, a three-storey building adorned with a Korean-style "jeongja" (pavilion) on Dongbaekseom Island. The significant landmark houses various memorabilia from the 2005 Asia Pacific Economic Conference (APEC) and offers a first-hand look at the actual spaces used by the global leaders who attended the meeting.
Gyeongju

The lasting impressions of Buddhism, which was adopted in the 6th century by the Silla Kingdom, can still be seen through the many relics in Gyeongju. Among the major historical sites found here are Bulguksa Temple and Seokguram Grotto, both designated as UNESCO World Cultural Heritage sites. Home to the Dabotap and Seokgatap pagodas in front of Daeungjeon (main hall), Bulguksa's detailed craftsmanship and art of the 8th century are reminders of the Silla Dynasty's rich spiritual heritage.
Similarly, the dome-shaped, 1,200 year-old Seokguram Grotto is a testament to the dynasty's expertise in architecture, science, geometry and art. Bonjonbulsang, the gigantic seated Buddha statue inside the stone cave reflects the essence of Korean Buddhist art during the Unified Silla Kingdom.

The Shilla Millennium Park is an edutainment theme park highlighting the history and culture of the Silla Period (57 B.C. – 935 A.D.). Besides reproductions of symbolic architecture such as Emile Tower, Seokbinggo and aristocratic houses, the sprawling park was an outdoor film set for the famous Korean show "Queen Seondeok".